« Israeli Researcher Finds Cure for Leukemia. British Doctors Campaign to Expel Israeli Physicians From World Body | Main | Palestinian Officials Seeking Greater Ties with Iran »
February 22, 2016
Updated: YWCA in Jerusalem Removes Hate-filled Lenten Reflection from Website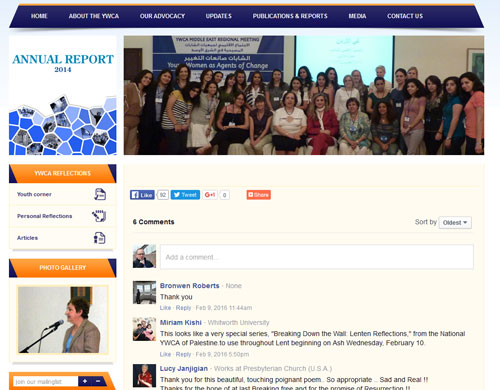 The YWCA Chapter located in Jerusalem, which bills itself as the YWCA of Palestine has, as of this writing, removed a hateful Lenten Reflection produced by an American missionary from the United Church of Christ.
CAMERA exposed and documented the hostility and falsehoods included in the reflection, edited by Rev. Loren McGrail in an article posted on Friday, February 19, 2016.
The Lenten Reflection was posted on the WYCA's website here, but readers who click on the link will not find the document.
The Jerusalem Post covered the controversy with this article.
The image above shows how the URL in question is currently displayed.
CAMERA commends the YWCA in Jerusalem for doing the right thing.
Update 10:44 a.m.: The document in question is still available on the YWCA's website, it's just that the link to the document has been removed. The URL for the PDF still provides access to the document in question.
Posted by dvz at February 22, 2016 09:54 AM
Comments
Guidelines for posting
This is a moderated blog. We will not post comments that include racism, bigotry, threats, or factually inaccurate material.
Post a comment