« CAMERA Researcher Authors Book About Esther, Anti-Judaism and Israel | Main | A Closer Look at Who Funds Breaking the Silence »
May 07, 2015
Amnesty International Rejects Proposal to Investigate Anti-Semitism
Amnesty International, a human rights non-governmental organization (NGO), purports to do research and lobbying on behalf of those suffering from human rights violations. Indeed, they proudly claim, "we investigate and expose the facts, whenever and wherever abuses happen.�
These facts and abuses, however, apparently do not extend to incidents involving Jews. At its annual conference, Amnesty International rejected a proposal (468-461) to research the recent uptick of anti-Semitic behavior and expression in the U.K.
Amnesty's UK press officer, Neil Durkin, argued that the proposal – the lone proposal rejected at the conference – had a "single focus� that was not aligned with their broad, indiscriminate purview.
Durkin's "single focus� argument fails to hold water because the organization performed a "single focus" study on anti-Muslim discrimination in Britain in 2012.
The proposal regarding anti-Semitism was put forth based on reports by the All-Party Parliamentary Group Against Anti-Semitism and the Community Security Trust – two agencies that track attacks against Jews.
The studies revealed that such incidents doubled in frequency in 2014 – to 1,168 total cases - and reached their highest point since 1984, when they began tracking such incidents. In fact, corresponding with Operation Protective Edge, July alone had 314 incidents. In total, nearly one half of the 1,168 recorded incidents included explicit references to Gaza or Palestinians. This data reveals that attacks against Jews were prompted by both anti-Semitic and anti-Israel sentiments. Moreover, the data establishes that anti-Semitism is rising at a rate that should concern a human rights NGO to the degree that a report is necessary. Failing to address the anti-Semitism spike is failing to "investigate and expose the facts, whenever and wherever abuses happen.�
Amnesty and its employees exhibit a pattern of anti-Israel and anti-Jewish bias. In November an Amnesty employee explicitly linked Israel and ISIS on twitter and was not disciplined or censured in any way.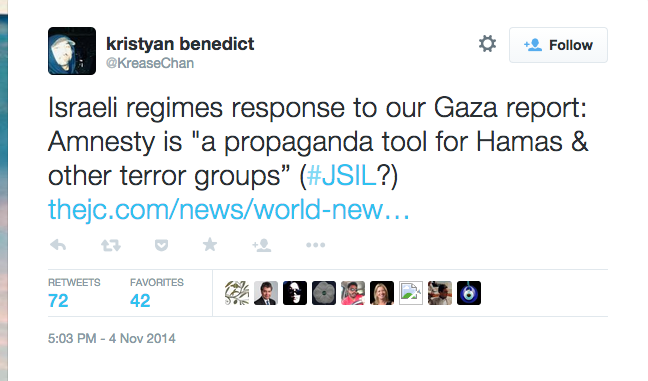 Kristyan Benedict is a UK Campaigns Manager at Amnesty International. His tweet (shown above) uses a hashtag: #JSIL, intended to evoke "Jewish State of the Levant.� The hashtag specifically references ISIL (Islamic State of Iraq and the Levant), the alternative name for ISIS (Islamic State of Iraq and Syria). Despite a very negative response on Twitter, and more importantly, his horribly offensive and inaccurate comparison, Mr. Benedict was not disciplined by Amnesty.
Especially given this context, the fact that Amnesty rejected the proposal minimally demonstrates that they are not beholden to their own standards of researching and reporting all abuses of human rights. More likely, it reveals that, to them, human rights may be a fundamental issue deserving of research and lobbying…just so long as Jews are not the victims.
Posted by ns at May 7, 2015 01:55 PM
Comments
Guidelines for posting
This is a moderated blog. We will not post comments that include racism, bigotry, threats, or factually inaccurate material.
Post a comment