« The Moral Blindness of the World Council of Churches | Main | Robert Mackey's "Open Source" Journalism Anything But »
July 22, 2014
Did Newsweek Promote Fake Atrocity Video? Will ISM Produce Video for Inspection?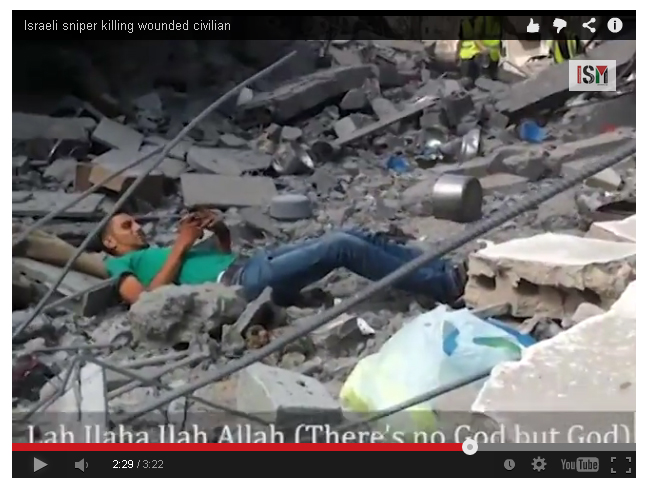 Is this young man a victim of an Israeli sniper?(Screenshot of ISM video)
The International Solidarity Movement, a radical anti-Israel organization that has condoned acts of terror against the Jewish state, is alleging that an Israeli sniper killed a young man in Gaza during the recent fighting between the IDF and Hamas. The ISM posted a video of the alleged sniper attack on its website on July 21, 2014.
Later that day, Newsweek posted an article about the video on its website and quoted ISM activist Joe Catron.
"We all just watched a man murdered in front of us,� said Joe Catron, an American ISM activist in Gaza who confirmed his account to Newsweek.

"He was trying to reach his family in Shuja'iya. He had not heard from them and was worried about them. They shot him and then continued to fire as he was on the ground,� Catron added.
Catron, who declared an unknown Israeli soldier guilty of murder, is not a disinterested observer, but a radical anti-Israel activist who has appeared a number of times on PressTV, which the ADL describes as "the Iranian government's primary propaganda tool to promote a wide range of pernicious anti-Semitic conspiracy theories in English to a worldwide audience.� This ADL report provides extensive background about the hateful antisemitic conspiracy theories that have been broadcast on this network.
According to the ADL report, Catron who appears regularly on PressTV, said the following on the network in 2012: "Well, it appears to me that the United States is, as obviously as we know, co-opted by the Israeli lobby, so is the United Nations and Israel is simply using the United States to buy what it wants..."
Catron's radical anti-Israelism can be seen in a Tweet posted on July 21, 2014:


Newsweek's reliance on Catron as a source, and its failure to disclose his radical hostility toward Israel and its supporters is patently irresponsible given the manner in which anti-Israel partisans have successfully introduced manipulated images and staged video into the Western media. For a discussion of this phenomenon, see Richard Landes' website, "The Second Draft.�
Blogger Thomas Wictor has raised some interesting questions about the ISM video in a post he wrote here. Two parts of the video deserve close scrutiny in light of Wictor's challenge.
The jump between the images between 2:23 and 2:24 indicates that some editing has taken place. Wictor writes that "Suddenty [the victim] goes from being beside the cameraman to lying in the only cleared-out space in the rubble.� Wictor has a point.
And viewers who look at the the section between 2:27 and 2:30 lends credence to Wictor's assessment that the alleged victim is applying fake blood to his hand. Is it a cell-phone the victim is holding (and if yes, why?) or is it a tube of fake blood as Wictor asserts?
Catron and the International Solidarity Movement have been challenged (on Twitter) to post the original, unedited footage of the event on the Internet. Here is Catron's response:
Accompanying Catron's ad hominem is an offer to provide the unedited video to news outlets. Will Catron and the ISM follow through? Will they make the entire video available (if they get it), for closer inspection by media outlets?
Will Newsweek follow up on the offer? Will other news outlets?

Posted by dvz at July 22, 2014 01:20 PM
Comments
The daily mail of Britain had this as it's main story on it's website. The public rations damage to Jews and Israelis is already huge. They need to be challenged in court for disseminating such a story without knowing all facts first and I'm appealing to you, begging you, to start a legal process. Please set a precedent.
Posted by: David Bennett at July 22, 2014 02:18 PM
Posted by: Mohammed at July 22, 2014 06:53 PM
Posted by: Jen Jones at July 22, 2014 07:07 PM
Posted by: George at July 23, 2014 12:39 AM
When I watch this video, and listen to the comments, you can see the "setup" coming, it's so obvious. One would imagine that Newsweek would be a bit skeptical, but not when it comes to Israel, I guess.
Posted by: Naftali at July 23, 2014 10:46 AM
the narrator (mohammed abdellah) of the sniper video looks and speaks suspiciously like the guy that appears around 2:04 of this video (he appears in at least one other hospital video). if i remember correctly he was the same "doctor" in cast lead who was giving the fake cpr:
Posted by: ben s. at July 24, 2014 12:55 AM
I read this a couple days ago, but this am I just happened to catch a detail: On Sunday the 20th, Fox 2 broadcast video of rescue workers evacuating this same neighborhood (I recognized that distinctive ambulance). They were wearing very distinct, professional safety vests with logos and accompanied by several TV personnel. These are quite different from what the characters in this video are wearing. From the looks of things the neighborhood was cleared long before this asinine video was made.
Posted by: Jennifer at July 28, 2014 09:24 AM
Guidelines for posting
This is a moderated blog. We will not post comments that include racism, bigotry, threats, or factually inaccurate material.
Post a comment