« Rupert Murdoch Apologizes for Netanyahu Cartoon | Main | Yahoo Runs Deceiving Photo with Reuters Article »
January 29, 2013
In Ha'aretz Ethiopian Contraception Story, Another Problematic Headline
Last fall, a false Ha'aretz headline and story -- later retracted -- that a majority of Israelis support apartheid policies gave great cheer and sustenance to the anti-Israel crowd, and also made some inroads in mainstream western media outlets. (Of course, among the former, the subsequent correction was ignored.)
Now, Ha'aretz brings a new story which excites those who like to write about "Nazi Israel." In a news story and Op-Ed a few weeks ago, and in another news article this week, Ha'aretz has reported that Israeli authorities forced Ethiopian women to receive shots of Depo Provera, a contraception that lasts three months, in order to immigrate to Israel.
The original headline of the December 2012 Op-Ed was:
The revelation that Israel is sterilizing Ethiopian women adds to a shameful history of abuse of powerless women and communities
Just like the case of the false apartheid poll headline, Ha'aretz editors were compelled to retract this one as well. The new subhead is:
Israel's patronizing and inhumane treatment of Ethiopian women is nothing new
The following correction appears at the bottom of the page:
The Op-Ed, by Efrat Yardai, still ends with the notion that Israel was forcibly sterilizing Ethiopian women:
If they tried to sterilize me or take my children away, I think I would be talking nonsense too.
The original news story generated thousands of Facebook likes and hundreds of tweets. And the follow up article yesterday, a page-one article alleging that for Israeli officials "first time acknowledged the practice of injecting women of Ethiopian origin with the long-acting contraceptive Depo-Provera," is gaining traction in the mainstream media, including the Los Angeles Times. The headline in Ha'aretz's print edition follows: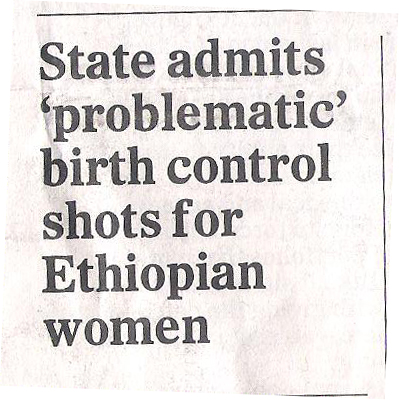 Ha'aretz reports:
A government official has for the first time acknowledged the practice of injecting women of Ethiopian origin with the long-acting contraceptive Depo-Provera.

Health Ministry Director General Prof. Ron Gamzu has instructed the four health maintenance organizations to stop the practice as a matter of course.

The ministry and other state agencies had previously denied knowledge or responsibility for the practice, which was first reported five years ago.

Gamzu's letter instructs all gynecologists in the HMOs "not to renew prescriptions for Depo-Provera for women of Ethiopian origin if for any reason there is concern that they might not understand the ramifications of the treatment.�
The Los Angeles Times, in contrast, reports that Gamzu's letter is not a confirmation of claims that Israel forcibly administered the shots to Ethiopian women:
The ministry official's letter stressed the new guidelines did not constitute a position on the claims and relate to all women, not just those from Ethiopian
See also Elder of Ziyon's excellent post on this topic, in which he cites a 2005 study showing that Ethiopian women favored the Depo Provera shots, which could be administered without the husbands' knowlege:
Because contraceptives may introduce social discord, leading at times to intimate partners' violence amongst African couples, women of low bargaining powers often resort to family planning methods that are suitable to covert use.

Women can take injections of Depo-Provera while visiting a health facility and remain protected against unwanted pregnancies for three months. This may be done without their husband's knowledge and without the bother of having to remember to take the pill or to undergo clinical procedures that are involved when opting for implants or intrauterine devices. Consequently, a general pattern that has been observed in the contraceptive method mix in sub-Saharan Africa and elsewhere in the developing world is the predominance of injectables.
Posted by TS at January 29, 2013 06:58 AM
Comments
I'm actually genuinely confused on this issue. I was under the impression that the Ha'aretz article spoke of how the women were not aware of the purpose of the injections and were given them by force. Although that's an incredibly large claim, neither the LA Times nor the Elder of Ziyon article refute this. Can someone clear this up?
Thanks!
Posted by: ZG at January 29, 2013 10:59 PM
Posted by: Zoya at June 8, 2016 03:27 AM
Guidelines for posting
This is a moderated blog. We will not post comments that include racism, bigotry, threats, or factually inaccurate material.
Post a comment