« Karl Vick Selectively Reports on Poll of Palestinians | Main | When Israel is Bombed, Where is the Outrage, or the Reporting? »
July 18, 2011
Guardian Cherry Picks Poll Results to Conceal Palestinian Extremism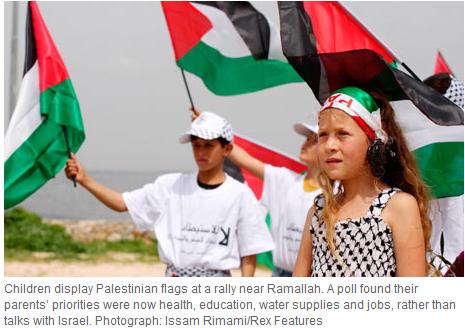 [The above photograph and caption accompanied a Guardian report on plans to put Palestinian statehood to a UN vote]
Harriet Sherwood's analysis piece in the Guardian on July 16 offers an example of the deceptive coverage that characterizes the British newspaper's treatment of the Israeli-Palestinian conflict. Reporting on a recent poll by Stanley Greenberg, Sherwood wrote
A recent opinion survey carried out in Gaza and the West Bank by the respected US pollster Stanley Greenberg found that at the top of the priority list for Palestinians were jobs, healthcare, water shortages and education. Mass protests against Israel, and even pursuing peace negotiations, came way down. Asked to choose, two-thirds favoured diplomatic engagement with Israel over violence.
By Sherwood's account, one would believe the Palestinians to be moderate, practical and seeking some way out of the impasse with Israel. But she neglected to report what most of the poll questions (from a preview of the report in the Jerusalem Post) revealed: Unfettered extremism and hatred towards the Jews.
Here are some examples of what Sherwood did not report:
-- 73 percent agree with the Hamas Charter's urging Muslims to kill Jews wherever they can find them
-- 92 percent opposed any form of sharing Jerusalem with the Jews
-- 53 percent favored teaching songs about hating Jews to school children
-- 66 percent see the "two-state solution as an interim stage en route to the ultimate goal of a single Palestinian state in all the territory between the Jordan River and the Mediterranean Sea"
CIF watch has an excellent discussion of Sherwood's piece: Peace: Harriet Sherwood's Palestinian Caricature
Posted by SS at July 18, 2011 12:05 PM
Comments
Posted by: anon at July 18, 2011 04:04 PM
Posted by: camera at July 19, 2011 03:58 PM
Guidelines for posting
This is a moderated blog. We will not post comments that include racism, bigotry, threats, or factually inaccurate material.
Post a comment