« CNN's Fareed Zakaria Declares That Israel Does Not Want Peace | Main | When TV Interviews of Ilhan Omar Constitute Journalistic Malpractice »
July 07, 2020
Boston TV Station WCVB Teamed Up With Terrorist Supporter CAIR
WCVB-TV (channel 5) (Boston's ABC network affiliate) recently misled area viewers about a matter involving antisemitic propaganda. This occurred on its local Sunday show Cityline hosted by Karen Holmes Ward who is described by the television station as "Director of Public Affairs and Community Services as well as host and executive producer of CityLine, WCVB's award-winning weekly magazine program which addresses the accomplishments, concerns and issues facing people of color living in Boston and its suburbs."
Curiously, WCVB deemed the aftermath of George Floyd's murder an opportune moment to re-air a CityLine broadcast about the negative reaction to Member of Congress Ilhan Omar's comments that were widely condemned as antisemitic.
The broadcast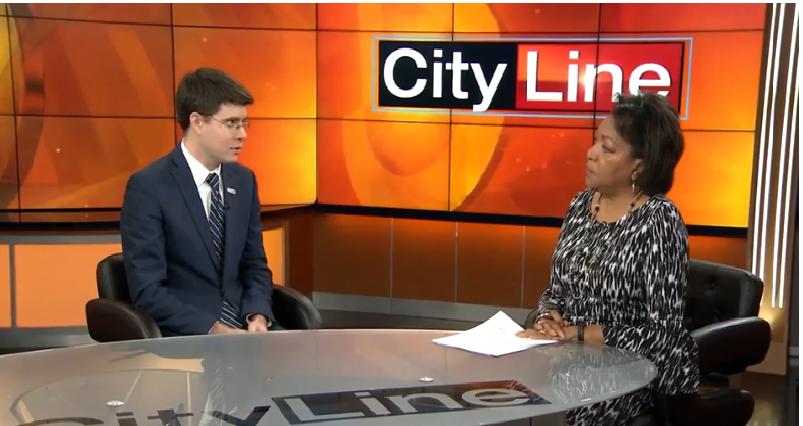 John Robbins (of CAIR) and Karen Holmes Ward (WCVB host)
The May 31, 2020 CityLine, focusing on the Boston area Muslim community, featured an interview with John Robbins, the executive director of the Massachusetts chapter of CAIR, designated an unindicted co-conspirator in a criminal conspiracy to help fund Hamas.
Ward, noting that Ilhan Omar's comments led to a U.S. House of Representatives resolution condemning antisemitism and other forms of hate, asked Robbins about his view that Islamophobia, rather than the nature of Omar's remarks, were driving criticism of Omar's comments that were akin to classic antisemitic propaganda. "That's in the pot along with anti-black racism," responded CAIR's Robbins, apparently understanding that linking Omar's critics with anti-black racists demonizes them yet more.
Ward asked, "Do you feel politicians on both sides are treating her [Omar] harsher because she is Muslim?" "Over and over again," answered Robbins.
Ward pointed out that Omar's words are thought to denigrate the Jewish community, but even this, she suggests, is a solely Jewish-centric view, turning to Robbins to confirm that "in the larger world" Omar's views are not necessarily considered antisemitic. She asks: "In fairness to the Jewish community, many feel her comments were inappropriate. How are her comments being interpreted to the larger world?"
"She [Omar] apologized for anyone offended by that … [but] the idea is that anybody should be able to freely criticize any individual lobbying organization in the U.S.," argued Robbins, adding, "Our hope is that this could be a breakthrough moment in which American Muslims can feel open to discuss any issues without taboo affecting our community, especially those in the Palestinian community who have felt they have not been able to discuss important issues."
But what's the evidence that Palestinians and other Muslims have fear, or reason to fear, to openly state their views on important issues? The host fails to ask. Meanwhile, viewers were left in the dark about what CAIR and Ilhan Omar are really all about.
• In a November 2012 tweet, Omar accused Israel of "hypnotizing the world," while insinuating that her fellow lawmakers are purchased by Jewish money, and that the Jewish Americans among them have dual loyalties. Her comments meet the widely accepted International Holocaust Remembrance Alliance (IHRA) definition of antisemitism, used by the U.S. State Department and others.
• In February 2019, Omar voiced the antisemitic dual loyalty trope while referring to American Jewish supporters of Israel, "[There is] the political influence in this country that says it is okay to push for allegiance to a foreign country."
• In February 2019 Omar tweeted, "It's all about the Benjamins, baby!" in response to a report about AIPAC, a pro-Israel organization. Omar's tweet echoed a longstanding antisemitic trope — in particular, the implication that Jewish political influence operates entirely ("all about") through money. The tweet refers to the fact that a representation of Benjamin Franklin is on the $100 bill, the largest U.S. dollar bill in circulation.
• In March 2019 Omar stated "some people [who] did something" — in describing the Islamist terrorists who killed thousands of Americans on Sept. 11, 2001.
Why at this time of racial unrest including sometimes violent protests, would a Boston TV station rebroadcast a segment in which a disreputable source accuses critics of antisemitism of being racists?

WCVB viewers deserve better.

Posted by MK at July 7, 2020 04:13 PM
Comments
Guidelines for posting
This is a moderated blog. We will not post comments that include racism, bigotry, threats, or factually inaccurate material.
Post a comment