« CNN's Amanpour Condemns "power grab" By Israel's Prime Minister and Others | Main | Reuters Arabic Misidentifies Dome of Rock »
April 02, 2020
When Palestinians Like Checkpoints
To some pundits, it goes without saying that checkpoints in the West Bank should be discussed with the bleakest of terms.
The checkpoints Israel erected in the West Bank during waves of Palestinian suicide bombings are understood by Israelis to be life-saving, and there is no shortage of examples they could point to of would-be bombers stopped at a checkpoint before they could reach their target.
Outside of Israel, though, they are often cast in a different light. They inflict "moral and physical suffering" for no other reason than to "humiliate and intimidate another people," insisted a pair of foreign visitors to the West Bank wrote the New York Times international edition, having once passed through a checkpoint.
"I can no longer endure the anxiety" caused in part by traffic created by checkpoints, insisted Raja Shehadeh, a frequent New York Times contributor who just last week absurdly claimed Israel's curfew on the West Bank in 2002 was imposed as "normal life" continued in the Jewish state, though 2002 was a year of relentless Palestinian suicide bombings and hundreds of Israeli deaths, unprecedented in Israeli history.
"Some of the checkpoints create terror rather than prevent it," declared the head of an advocacy group.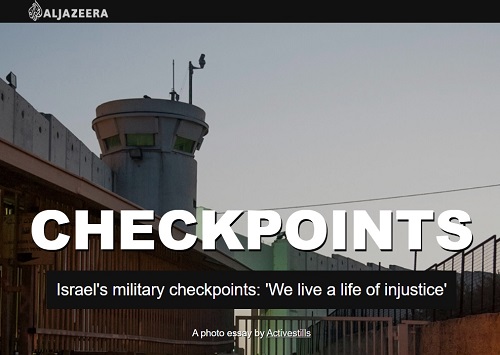 It was striking, then, to hear NPR correspondent Daniel Estrin reference West Bank checkpoints this Tuesday on Morning Edition as follows:
There are over a hundred cases of Palestinians who have caught the [corona]virus in the West Bank. … And Palestinian authorities very quickly imposed lockdowns even earlier than Israel did, much stricter lockdowns. It's very difficult to move around in the West Bank. Palestinians can't drive between cities. There are checkpoints that Palestinian security officials have set up. And Palestinians are rallying around their leadership right now. They like these strict measures.
The approval of these "strict measures" makes sense. Burdensome interventions like checkpoints are sometimes necessary to save Palestinian lives. When the alternative is hospitalization or death for sick Palestinians, they not only can handle restrictions on movement, but welcome them.
Editors rushing to print hyperbole about Israeli measures might also keep in mind that burdensome interventions like checkpoints are also sometimes necessary to save Israeli lives, too.
Posted by gi at April 2, 2020 11:14 AM
Comments
Guidelines for posting
This is a moderated blog. We will not post comments that include racism, bigotry, threats, or factually inaccurate material.
Post a comment