« Italian Artist Posts Image of Jewish Ritual Murder on Facebook Page | Main | When Palestinians Like Checkpoints »
April 01, 2020
CNN's Amanpour Condemns "power grab" By Israel's Prime Minister and Others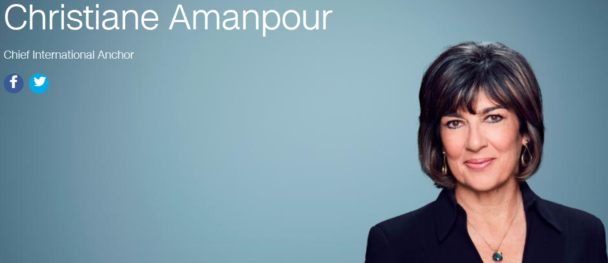 We've said it often, but it's worth repeating: Anyone interested in reasonably unbiased information about Israel (at least) should avoid the broadcasts of CNN's Chief International Correspondent and Anchor, Christiane Amanpour.
In characterizing responses to the Coronavirus epidemic, Amanpour asserted on March 31: "Many leaders are using this crisis to grab special powers and violate civil rights… And Israel and even the U.K. grab emergency powers without an end in sight."
The first third of the broadcast consisted of a conversation with William Burns, former U.S. Deputy Secretary of State, "about pandemic and politics."
Amanpour asserted that there is
a power grab by Prime Minister Netanyahu. He's managed to consolidate his power even though he didn't win the election. And Benny Gantz, his opposition, has essentially given up his choice to form a government and decided to go into an emergency government of national unity. And Netanyahu has closed down courts and everything, which presumably, you know, inoculates him from the corruption trial that he was about to face.
But this charge contains typical Amanpour disinformation. As CAMERA's Tamar Sternthal pointed out in responding to the same disinformation by others: "But Netanyahu did not shut down the courts. Nor did he delay his own trial. Nor have the courts been shuttered, though their activities have been curtailed… it was Justice Minister Amir Ohana, a Netanyahu ally, who ordered the courts to restrict their activity."
And Amanpour asks Burns, "What does this all mean for that part of the world?"
Burns replies obligingly:
Well, I think in Israel, I mean, the pandemic has provided, in a sense, of a new political lease on life for Prime Minister Netanyahu. He can fight the criminal indictments that have been brought against him from the prime ministry assuming this government is formed, he can begin to rehabilitate his political image. It's not for nothing that, you know, a lot of Israeli political commentators call Netanyahu the magician… But, you know, at this moment, it seems as if, you know, what's being strengthened is an attitude in an Israeli government that doesn't see the urgency in trying to revive a two-state solution.
Amanpour responds here by ending the conversation, "Bill Burns, thank you so much for joining us. Thank you very much, indeed."
Indeed – Amanpour unsurprisingly fits Israel's response to the pandemic into her anti-Israel narrative.
Posted by MK at April 1, 2020 04:16 PM
Comments
Guidelines for posting
This is a moderated blog. We will not post comments that include racism, bigotry, threats, or factually inaccurate material.
Post a comment