« 'Fake News' Catches Up With Haaretz's Chemi Shalev | Main | Media Story About Ultra-Orthodox Responsibility for Lengthy El Al Delay Disputed »
July 11, 2018
One Haaretz Page-One Sentence, Lots of Errors
One sentence in a page-one article of Haaretz's's English print edition yesterday packed in multiple errors. Headlined "Netanyahu: Israel to close commercial Gaza crossing over airborne firebombs," the article erred:
Palestinians began flying the devices into Israel after many weeks of protests at the Gaza-Israel border in which over 130 demonstrators were killed by Israel Defense Forces sharpshooters and some 4,000 were wounded by live fire.
This sentence is wrong on multiple counts.
First, as Haaretz itself has previously reported, the kite attacks began less than two weeks after the "March of Return" events began on March 30, not after "many weeks of protests at the Gaza-Israel border." As Almog Ben Zikri reported April 16 ("Gazans Fly Firebombs Tied to Kites Into Israel, Sparking Several Blazes"):
Gaza Palestinians have begun flying kites with firebombs attached to them over the border fence into Israeli territory. Officials from the Eshkol region adjacent to the border informed residents on Sunday that the firebombs had caused several fires but had not caused injuries.

In the first incident last Wednesday [TS: ie April 11], a blaze was put out in the vicinity of Kibbutz Be'eri, where fire investigators found a burnt kite.

Two days later, on Friday, the Israeli army reported that demonstrators on the Gazan side of the border fence had attempted to fly a kite with a Molotov cocktail attached to it into Israeli territory. The kite fell to the ground in the Gaza Strip and caused no injuries.

On Saturday, a kite string was found in the vicinity of another fire near Kibbutz Be'eri. That was followed on Sunday by a kite in the colors of the Palestinian flag that fire investigators found at a blaze near Kibbutz Kissufim.

The Israeli army spokesman's office said on Sunday that three kites with Molotov cocktails attached to them have been located, and that two of them started fires near the border fence.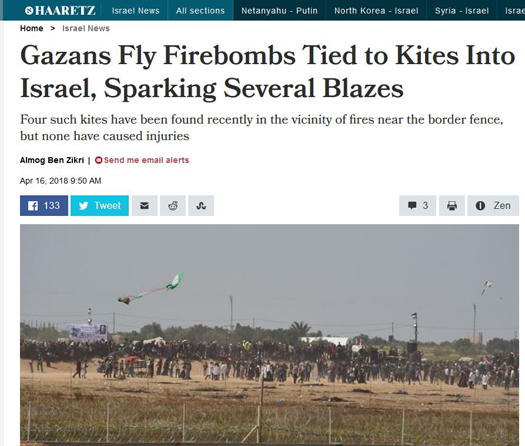 Second, at the time that Palestinians started launching the kite attacks, at most 33 Palestinians had been killed and some 1000 reportedly wounded; not 130 and 4,000, respectively, as reported. As Ben Zikri reported (ibid):


Thirty-four Palestinians have been killed by Israeli army weapons fired near the border fence and more than 1,000 have been wounded by live weapons fire.

In last Friday's protests, one Palestinian was killed and more than 230 wounded.
Third, even until now, it is not true that "130 demonstrators were killed," because as even Hamas acknowledges, active and armed combatants were among the casualties. Among those killed were those who attacked Israelis with firebombs, gunfire, rocks, grenades and pipe bombs. On June 21, The Los Angeles Times corrected the identical error, stating:


Gaza kites: In the June 19 Section A, an article about the use of kites as weapons in the Gaza Strip said the Israeli military has killed about 130 protesters in Gaza. Those killed include armed militants, as well as one press photographer and one medic.
The error-ridden sentence does not appear in the online version of this article. Nor does it appear in the Hebrew edition. CAMERA alerted editors about the inaccuracies. As of this writing, they have yet to publish a correction.
Posted by TS at July 11, 2018 02:58 AM
Comments
Guidelines for posting
This is a moderated blog. We will not post comments that include racism, bigotry, threats, or factually inaccurate material.
Post a comment