July 11, 2018
Media Story About Ultra-Orthodox Responsibility for Lengthy El Al Delay Disputed
Israeli journalist Sivan Rahav Meir reports in The Times of Israel today ("That Ultra-Orthodox flight delay? It didn't happen") that media claims, based on a Facebook post by Israeli rapper Chen Rotem, that a group of ultra-Orthodox men refusing to sit next to women delayed a flight for over an hour are not true. According to Meir, both a passenger on the flight and El Al dispute the claim, saying the bulk of the delay occurred even before passengers boarded, and that the seating delay lasted for approximately five minutes.
Passenger Katriel Shem-Tov wrote to Meir:
"Dear Sivan, I was on that flight from New York, the one that the media reported 'took off an hour and a quarter late because of the Haredim.' My wife and I celebrated our silver wedding anniversary and at 6 p.m., we were supposed to take off on our way home. However, before we even boarded, there was an announcement of a 45-minute delay and take-off would be at 6:45 p.m. The same information appeared on the screen in the departure lounge. Of course, the delay had nothing to do with any of the passengers.

"Boarding took a long time, 'till at least 7:10, I believe. My guess is that the whole business with the Haredim didn't take more than five minutes. Of course, I am not justifying their behavior and one should not cause a delay of even one minute. I am Haredi myself, but I have never seen such behavior like theirs.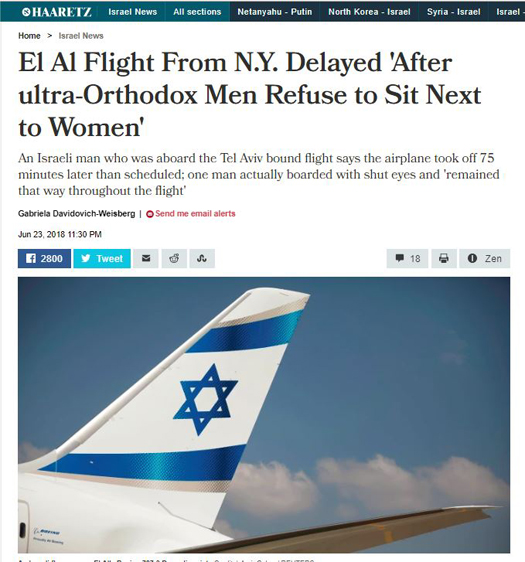 El Al told Meir:
The details that were reported about the incident were not accurate, to put it mildly. In actual fact, the delay was totally unconnected to the incident. The plane's journey to the runway at the airport in New York took about one hour and had nothing to do with the incident. Taking care of the two passengers who refused to sit in their allocated places occurred after the plane had already left the gate and only took a few moments. We will continue to do our best to transport our customers safely, comfortably, and according to schedule.
According to Haaretz ("El Al Flight From N.Y. Delayed 'After ultra-Orthodox Men Refuse to Sit Next to Women,'" June 23):
An El Al Israeli Airlines flight from New York to Tel Aviv was delayed last week by more than half an hour.

Such delays are not out of the ordinary, but the reason for this specific delay, according to an Israeli rapper who was aboard the flight, was the refusal of a group of ultra-Orthodox male passengers to sit next to women on the aircraft. . . .

Efforts by the flight crew to resolve the situation were initially unsuccessful and the men were only willing to speak to male members of the flight crew, Rotem wrote, adding that Orthodox or ultra-Orthodox male passengers expressed abhorrence at the four men's conduct. Members of the crew threatened that if the four would not take their seats, they could disembark immediately, Rotem wrote.

"While on the El Al plane they were dealing with matters of practical theology and personal faith versus the rights of the individual and civil order, 12 planes from other carriers jumped the line ahead of Flight 002. The flight to Israel took off an hour and 15 minutes late."
Posted by TS at 04:42 AM | Comments (0)
One Haaretz Page-One Sentence, Lots of Errors
One sentence in a page-one article of Haaretz's's English print edition yesterday packed in multiple errors. Headlined "Netanyahu: Israel to close commercial Gaza crossing over airborne firebombs," the article erred:
Palestinians began flying the devices into Israel after many weeks of protests at the Gaza-Israel border in which over 130 demonstrators were killed by Israel Defense Forces sharpshooters and some 4,000 were wounded by live fire.
This sentence is wrong on multiple counts.
First, as Haaretz itself has previously reported, the kite attacks began less than two weeks after the "March of Return" events began on March 30, not after "many weeks of protests at the Gaza-Israel border." As Almog Ben Zikri reported April 16 ("Gazans Fly Firebombs Tied to Kites Into Israel, Sparking Several Blazes"):
Gaza Palestinians have begun flying kites with firebombs attached to them over the border fence into Israeli territory. Officials from the Eshkol region adjacent to the border informed residents on Sunday that the firebombs had caused several fires but had not caused injuries.

In the first incident last Wednesday [TS: ie April 11], a blaze was put out in the vicinity of Kibbutz Be'eri, where fire investigators found a burnt kite.

Two days later, on Friday, the Israeli army reported that demonstrators on the Gazan side of the border fence had attempted to fly a kite with a Molotov cocktail attached to it into Israeli territory. The kite fell to the ground in the Gaza Strip and caused no injuries.

On Saturday, a kite string was found in the vicinity of another fire near Kibbutz Be'eri. That was followed on Sunday by a kite in the colors of the Palestinian flag that fire investigators found at a blaze near Kibbutz Kissufim.

The Israeli army spokesman's office said on Sunday that three kites with Molotov cocktails attached to them have been located, and that two of them started fires near the border fence.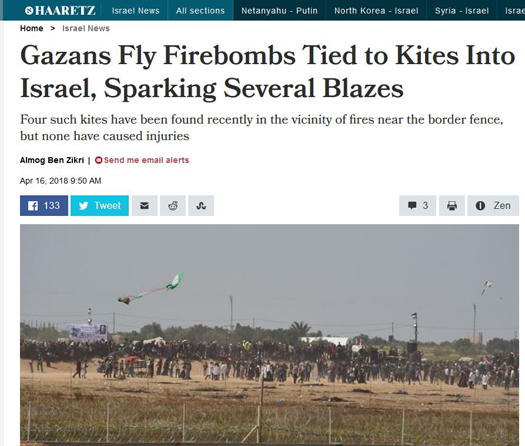 Second, at the time that Palestinians started launching the kite attacks, at most 33 Palestinians had been killed and some 1000 reportedly wounded; not 130 and 4,000, respectively, as reported. As Ben Zikri reported (ibid):


Thirty-four Palestinians have been killed by Israeli army weapons fired near the border fence and more than 1,000 have been wounded by live weapons fire.

In last Friday's protests, one Palestinian was killed and more than 230 wounded.
Third, even until now, it is not true that "130 demonstrators were killed," because as even Hamas acknowledges, active and armed combatants were among the casualties. Among those killed were those who attacked Israelis with firebombs, gunfire, rocks, grenades and pipe bombs. On June 21, The Los Angeles Times corrected the identical error, stating:


Gaza kites: In the June 19 Section A, an article about the use of kites as weapons in the Gaza Strip said the Israeli military has killed about 130 protesters in Gaza. Those killed include armed militants, as well as one press photographer and one medic.
The error-ridden sentence does not appear in the online version of this article. Nor does it appear in the Hebrew edition. CAMERA alerted editors about the inaccuracies. As of this writing, they have yet to publish a correction.
Posted by TS at 02:58 AM | Comments (0)