« AFP Whitewashes Gaza's Serial Arsonists as 'Activists' | Main | Former PCUSA Moderator Advocates for "Activist" Who Harassed Palestinian Reformer »
June 20, 2018
PCUSA Stands By While Palestinian Activist Harassed by Extremist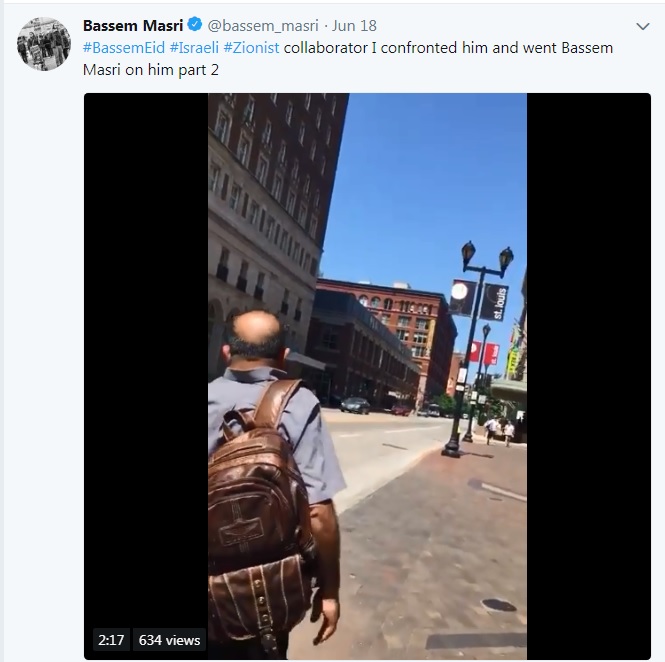 Palestinian human rights activist Bassem Eid walks away from an aggressive and hostile "intersectionality" activist Bassem Masri outside the Presbyterian Church (USA)'s General Assembly taking place in St. Louis. (Screenshot from Twitter.)
Palestinian human rights activist Bassem Eid was harassed and accused of being a "traitor," a "spy" and a collaborator after criticizing Palestinian elites at the General Assembly of the Presbyterian Church, USA currently being held in St. Louis, Missouri.
These accusations, which, in Palestinian society, could be used to justify violence against Eid, were leveled by Palestinian American activist Bassem Masri, who was attending the proceedings at the invitation of the Israel-Palestine Mission Network of the Presbyterian Church, a PCUSA institution with a long history of promoting hostility toward Israel and its Jewish supporters in the United States.
Curiously enough, Masri himself videotaped himself harassing Eid and then posted the videos on Twitter. In the videos, which were posted on Twitter on Monday June 18, 2018, Masri can be heard accusing Eid of betraying the Palestinian people. In one video, Masri calls Eid, "a f-----g collaborator," a "piece of s—t" and a "sympathizer with the Zionists." In another video, Masri calls Eid gasus — Arabic for spy. "He speaks on behalf of the Jewish lobby," Masri said.
These accusations could very well incite people to harm Eid, a regular speaker in the United States, upon his return home. (Eid divides his time between East Jerusalem and Jericho.) "People will watch the video where I am called a traitor. This is a clear call to kill me," Eid said.
Despite the hostility directed at him by Masri, the videos indicate Eid kept his composure during the confrontations. At one point, Eid asks Masri to stop talking to him. Masri refused.
"I can talk to whomever I want," Masri says in the video. "Call the police. This is America. I have freedom of speech." At this point, Eid says, "You are threatening me. You said you are going to kill me."
In response, Masri calls Eid a liar. "You're a collaborator with the Israelis. You're an Arab Zionist." Moments later, Masri declares "You're turning your back on your people."
Eid says that prior to taking the videos, Masri twice threatened to kill him.
The first threat took place during a break in the meeting where Eid was testifying and the second threat took place as he went down an escalator in the America's Center Convention Complex in St. Louis, Missouri. (This writer attempted to contact Masri through Twitter for a response, but has yet to receive a reply.)
Masri was not in the room when Eid testified before Committee 12 (the Middle East Issues Committee) on Monday, June 18, 2018, but Eid thinks that someone who was in the room during the proceedings called Masri to the convention center where the PCUSA's General Assembly was taking place.
During a 15-minute break, Eid went to a water cooler for water where Masri first confronted him. Eid reported that Masri said, "Are you Bassem Eid? I'm going to kill you."
Masri then followed Eid down the escalator out of the building and started filming him after he made a similar threat. Eid says Masri followed him until he got to his hotel where he called people from Presbyterians for Middle East Peace (PFMEP), the organization that had invited him to speak at the General Assembly.
After speaking with PFMEP leaders, Eid spoke to the security officials at the convention center and also to the police. Masri showed up again at the convention center after his confrontation with Eid and upon his arrival, he was told not to approach Eid during the proceedings of the PCUSA's Middle East Committee. He was also told that Eid was free to say whatever he wanted during the meetings.
Eid's friends and supporters are criticizing the denomination for failing to protect Eid from further harassment after the initial confrontation. In particular, they are condemning the PCUSA for not banning Masri from the GA proceedings.
Instead of ejecting Bassem Masri, an "intersectionality" activist known for popularizing the chant "Pigs in a blanket smell like bacon," that was heard at anti-police rallies in 2014, PCUSA officials allowed to attend the proceedings of the Assembly's Middle East Committee where Eid had testified and where he was still present.
Masri was seen talking and interacting with Anna Balzer, an activist with the U.S. Campaign for Palestinian Rights, which along with IPMN, has been agitating in favor of anti-Israel overtures at the PCUSA's General Assembly. Neveem Ayesh, an activist who took a selfie with Baltzer reposted a video from Masri's Facebook page in which Masri accuses Eid of being a collaborator and called him an Uncle Tom. (This link has apparently been deleted, but a screenshot can be seen below.)
People from Presbyterians for Middle East Peace kept asking PCUSA staffers to have Masri removed from the room where Committee 12 (the committee charged with dealing with overtures related to the Middle East) was meeting, says Luke Moon from the New York-based Philos Project who is attending the General Assembly.
"This guy threatened one of our guys and here he is walking around," Moon said.
PCUSA staffers never acted on this request. "He was sitting with IPMN, Sabeel and U.S. Campaign [for Palestinian Rights] staffers. They were all together."
In a Times of Israel blog, PFMEP member Michael Gizzi provides some information about what happened after Masri returned to the convention center after harassing Eid. Gizzi reports that PCUSA officials would not bar Masri from the proceedings for reasons of free speech. At no point was Masri barred from attending the Middle East Committee meeting, which ended yesterday.
People in the pro-Palestinian activist community who are attending the PCUSA's General Assembly, and who apparently have the denomination's ear when it comes to setting policy, have a fair degree of contempt toward Bassem Eid. In a batch of photos and videos that the previously mentioned Neveen Ayesh posted on her Facebook page, she typed
My lights at the end of dark tunnels

Minus Bassem Eid, we don't claim you.
According to the Rev. J. Herbert Nelson, the Stated Clerk of the PCUSA, Masri was attending the proceedings of the PCUSA's General Assembly at the invitation "of one of the our official networks," a reference to the Israel-Palestine Mission Network of the Presbyterian Church (USA), an organization with a sordid history of promoting anti-Israel (and in some instances, antisemitic) propaganda in its efforts to "educate" Christians about the Arab-Israeli conflict.
In a public statement published in the General Assembly newsletter, Nelson appears to excuse Masri's naked hostility and obvious attempt to intimidate Eid into silence. In the statement, Nelson declared that when "passion" about controversial issues "boils over" at the PCUSA's General Assembly, "we have to deal with the results." Nelson continued: "This appeared to be the case as Mr. Masri perceiving Mr. Eid (representing an advocacy group often seen as slow to criticize Israel) to be a Palestinian traitor to the Palestinian cause, became abusive and threatening."
The PCUSA "took the strongest measures that seemed advisable, short of banning Masri, who was the invitee of one of our official networks [the IPMN], from the committee or from the convention center," Nelson wrote.
Eid reports that acts of intimidation like what he endured outside the PCUA's General Assembly in St. Louis are routine under the rule of the Palestinian Authority in the West Bank and Hamas in the Gaza Strip. This makes him wonder why the Palestinian elites in both the PA and Hamas are so often supported by the PCUSA in its statements about the Israel-Palestine conflict.
"How can it be you are supporting my oppressors?" he asked. "This is what God said?"
Posted by dvz at June 20, 2018 06:47 PM
Comments
I also was testifying that morning on the same issue and met Mr. Eid outside the Committee Room, where he conveyed to me what had happened. In handling the situation, it was clear to me that church officials had no intention of taking any clear and public responsibility for Mr. Masri's behavior. Whether their irresponsibility was due to a bias against opponents of IPMN, which favors anti-Israeli (and sometime anti-semitic) sentiments, or their unwillingness to exert any responsibility for protecting attendees of the General Assembly, I can't say. But, it is clear, if there is a problem, particularly one of precipitous violence at a General Assembly event, that you walk away for your own protection. The "strongest measures," were weak and petulant. One is not safe in such circles.
Posted by: Jill Schaeffer at June 21, 2018 02:04 PM
Guidelines for posting
This is a moderated blog. We will not post comments that include racism, bigotry, threats, or factually inaccurate material.
Post a comment