« Former PCUSA Moderator Advocates for "Activist" Who Harassed Palestinian Reformer | Main | 'Fake News' Catches Up With Haaretz's Chemi Shalev »
June 25, 2018
Media Largely Ignore Alleged Hamas Payment to Dead Baby's Family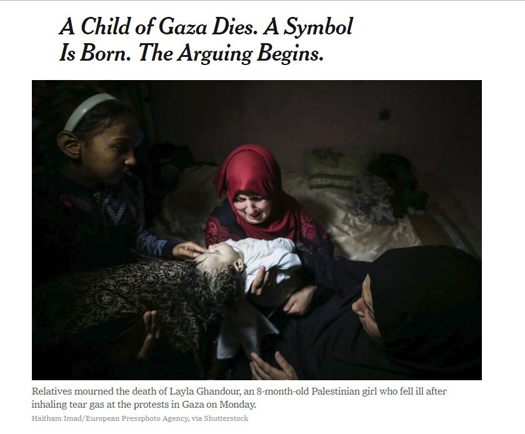 A New York Times caption which definitively claims that Layla Ghandour "fell ill after inhaling tear gas," despite the fact that the accompanying article itself acknowledges that the story involving tear gas was disputed
Western media outlets have largely ignored a significant development in the story of eight-month-old Layla al-Ghandour of the Gaza Strip, whose May 15 death was widely reported when her family claimed that she accidentally ended up at the border clashes and was killed by Israel's use of tear gas. According to the indictment of Layla's relative, Mahmoud Omar, Hamas paid the family to claim that tear gas caused her death though the real culprit was a blood condition, which also killed her brother the year before.
According to Haaretz ("Hamas Paid Gaza Family $2,200 to Blame Israel for Baby's Death, Indictment Says"):
Under interrogation in Israel, Omar, who is Layla al-Ghandour's cousin, said Hamas leader Sinwar paid the baby's family 8,000 shekels ($2,200) to accuse Israel of the death of the 8-month-old. The claim came despite the fact that members of the family had previously said that she died of a blood disorder, a condition that the baby's six-month-old brother apparently also died of last year.

When news surfaced of the claim that Layla al-Ghandour had died from inhaling tear gas, Israeli army officials cast doubt on the allegation, saying that the army had evidence that called the family's claim into question.

According to the indictment against Omar, on the day that Layla al-Ghandour died, Omar's mother called him while he was participating in a demonstration near the border fence and told him about the child's death. Omar is said to have been told on returning home that the baby had died of the same blood disease that took the life of her brother.
Numerous media outlets which dedicated entire stories to the disputed circumstances of Layla's death, and others which unequivocally blamed it on tear gas, despite the fact that the Associated Press had reported that a Gaza doctor noted the preexisting condition and expressed doubt that she was killed by tear gas, have ignored the new information concerning Hamas' alleged payment to the family.
Exceptions to the vast majority of Western media outlets which ignored the development, UPI and Agence France Presse did commendably report that Omar said Hamas leader Yihya Sinwar paid his family to falsely blame Layla's death on tear gas.
Posted by TS at June 25, 2018 05:53 AM
Comments
Guidelines for posting
This is a moderated blog. We will not post comments that include racism, bigotry, threats, or factually inaccurate material.
Post a comment