« Newsweek Headline Fail on Israeli Attacks in Syria | Main | PCUSA Stands By While Palestinian Activist Harassed by Extremist »
June 19, 2018
AFP Whitewashes Gaza's Serial Arsonists as 'Activists'
June 20 Update: Multiple Media Outlets Amend Captions Calling Gaza Arsonists 'Activists'

Numerous Agence France-Presse photo captions in the last couple of days misidentify Gazans responsible for airborne arson attacks which destroyed 28,000 dunums of Israeli farmland and nature reserve land. The smoke from these deliberately set fires two days ago caused 1000 turkeys to choke to death. The arsonists also launched explosives-laden kites and balloons across the border, reaching a highway and even the roof of a home.

AFP captions misidentified these serial arsonists as "activists" or "protesters." A sampling of these erroneous captions follows:
Palestinian activists fill hilum [sic] gas in a ballon [sic] that will be attached to flammable materials to be flown toward Israel, at the Israel-Gaza border, in Rafah in the southern Gaza Strip on June 17, 2018. SAID KHATIB / AFP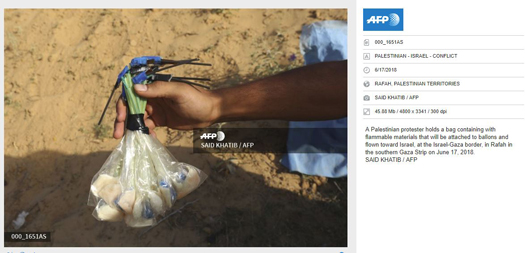 A Palestinian protester holds a bag containing with flammable materials that will be attached to ballons [sic] and flown toward Israel, at the Israel-Gaza border, in Rafah in the southern Gaza Strip on June 17, 2018. SAID KHATIB / AFP
An Israeli man and a boy extinguish a fire in a filed next to Kibbutz Beeri reportedly caused by inflamable [sic] material attached to kites and flown across the border to Israel by activists in the Gaza strip on June 18, 2018. Kite-borne fire bombings have reportedly caused significant damage to Israeli fields. MENAHEM KAHANA / AFP
"Arson" refers to the very specific crime of purposefully setting property on fire, which is precisely what these people are doing. But AFP did not once use this clear and accurate terminology, and instead opts for the misleading and grossly inaccurate terms: "activists" and "protesters."
Haaretz's English print edition yesterday published one of the AFP captions which had referred to "A masked Palestinian activist launches a balloon with flammable material . . . " Haaretz editors went to the trouble of amending the caption: changing the wording from "activist" to "protester."
See also: "CAMERA Prompts Improved Reuters Captions on Palestinian Arson Attacks," June 5
Posted by TS at June 19, 2018 03:04 AM
Comments
Guidelines for posting
This is a moderated blog. We will not post comments that include racism, bigotry, threats, or factually inaccurate material.
Post a comment