« May 2018 | Main | July 2018 »
June 26, 2018
'Fake News' Catches Up With Haaretz's Chemi Shalev
Yesterday, Haaretz ran a news analysis by veteran reporter Chemi Shalev which, in part, castigated President Trump and Israeli Prime Minister Netanyahu for depicting "the media's reports and opinions . . . as 'fake news'" ("By Bashing the Media, Trump and Netanyahu Foster Their Tribalist, Right-wing Support"). Ironically, Haaretz today published a correction about that very column, clarifying that "a quote was attributed erroneously to Justice Minister Ayelet Shaked, which she did not say."
What exactly was the quote "which she did not say"? Shalev wrote:
Reacting to allegations made last year by Police Chief Roni Alsheikh that police officers investigating Netanyahu were being harassed and followed, Shaked noted that the police commander was "the new protected darling of the left and the media."
But as Israeli journalist Amit Segal (of Channel 2 and Makor Rishon) tweeted, the quote, in fact, derives from an anonymous talkback to an article in Rotter, an Israeli news site, which mentions both Alsheikh and Shaked in the context of investigations of Netanyahu.
That Haaretz was compelled to correct a fake quote in a news analysis, which ironically dismissed complaints about "fake news" as a deplorable political ploy, is reminiscent of a recent New York Times correction later dubbed "the correction of the year."
Haaretz deleted the fake quote from its digital article, but, contrary to standard journalistic practice, did not alert readers to the change.
Posted by TS at 05:02 AM | Comments (0)
June 25, 2018
Media Largely Ignore Alleged Hamas Payment to Dead Baby's Family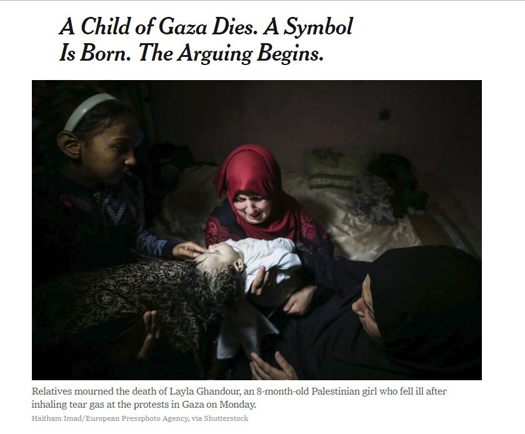 A New York Times caption which definitively claims that Layla Ghandour "fell ill after inhaling tear gas," despite the fact that the accompanying article itself acknowledges that the story involving tear gas was disputed
Western media outlets have largely ignored a significant development in the story of eight-month-old Layla al-Ghandour of the Gaza Strip, whose May 15 death was widely reported when her family claimed that she accidentally ended up at the border clashes and was killed by Israel's use of tear gas. According to the indictment of Layla's relative, Mahmoud Omar, Hamas paid the family to claim that tear gas caused her death though the real culprit was a blood condition, which also killed her brother the year before.
According to Haaretz ("Hamas Paid Gaza Family $2,200 to Blame Israel for Baby's Death, Indictment Says"):
Under interrogation in Israel, Omar, who is Layla al-Ghandour's cousin, said Hamas leader Sinwar paid the baby's family 8,000 shekels ($2,200) to accuse Israel of the death of the 8-month-old. The claim came despite the fact that members of the family had previously said that she died of a blood disorder, a condition that the baby's six-month-old brother apparently also died of last year.

When news surfaced of the claim that Layla al-Ghandour had died from inhaling tear gas, Israeli army officials cast doubt on the allegation, saying that the army had evidence that called the family's claim into question.

According to the indictment against Omar, on the day that Layla al-Ghandour died, Omar's mother called him while he was participating in a demonstration near the border fence and told him about the child's death. Omar is said to have been told on returning home that the baby had died of the same blood disease that took the life of her brother.
Numerous media outlets which dedicated entire stories to the disputed circumstances of Layla's death, and others which unequivocally blamed it on tear gas, despite the fact that the Associated Press had reported that a Gaza doctor noted the preexisting condition and expressed doubt that she was killed by tear gas, have ignored the new information concerning Hamas' alleged payment to the family.
Exceptions to the vast majority of Western media outlets which ignored the development, UPI and Agence France Presse did commendably report that Omar said Hamas leader Yihya Sinwar paid his family to falsely blame Layla's death on tear gas.
Posted by TS at 05:53 AM | Comments (0)
June 22, 2018
Former PCUSA Moderator Advocates for "Activist" Who Harassed Palestinian Reformer

This is a screenshot of a video of a June 18, 2018 meeting in an office of the America's Center Convention Complex in St. Louis, Missouri. The meeting took place after the person recording the video, Bassem Masri, posted video of himself harassing Palestinian human rights activist Bassem Eid in the convention center. The man on the far right is Fahed Abu Akel, past moderator of the PCUSA. (Screenshot from www.pscp.tv.)
By now Snapshots readers are familiar with Bassem Masri's ugly harassment of Palestinian reformer Bassem Eid at the General Assembly (GA) of the Presbyterian Church (USA) currently taking place at the America's Center Convention Complex in St. Louis, Missouri. (The GA, which will ratify a number of overtures condemning Israel while remaining silent about the misdeeds of Hamas and the Palestinian Authority, ends tomorrow.)*
What they don't know is how a prominent Presbyterian leader, former moderator Fahed Abu Akel, defended Masri's "right" to stay in the convention center even after abusing Eid, who was an invited guest of Presbyterians for Middle East Peace. Nor do they know that Akel said that the victim of Masri's abuse, had "lied" to the General Assembly's Middle East Committee.
Here's the rundown:

After Eid criticized the PCUSA's failure to hold Palestinian elites accountable for their misdeeds while testifying before commissioners at the PCUSA's General Assembly on Monday, June 18, 2018, Masri followed him out of the convention center and onto the street.
As he followed Eid, Masri called the Palestinian reformer a number of ugly epithets including "traitor," "collaborator" and "spy." He did this in the convention center itself and also out on the street outside the building. It is all caught on video that Masri himself posted on the internet. A previous blog post about this can be seen here.
It was a shocking display of hostility that the PCUSA failed to address in a responsible manner.
Masri should have been barred from the convention center and from the proceedings of the General Assembly.
Eid and the other people attending the meetings of the GA's Middle East Committee should have been protected from Masri's abusive behavior.
Unfortunately, he was allowed to remain in meeting room where he sat with anti-Israel activists including people from the denomination's very own Israel-Palestine Mission Network (IPMN).
Interestingly enough, the security staff at America's Center Convention Complex seemed intent on taking a harder line with Masri than the PCUSA itself.
This can be discerned from a video posted by Masri himself on Twitter. In this video, which can be seen here, a woman, presumably from the PCUSA, makes a heartfelt plea for Christian hospitality "to make sure that everyone here is safe and taken care of — everyone."
It's hard to know exactly what the woman wanted security officials at the convention center to do, but her request would seem to militate in favor of Masri's expulsion from the convention center.
If that's the case, her message was undermined by Fahed Abu Akel, a past moderator of the PCUSA's General Assembly (and one of the people who helped turn the denomination into a strong hold of anti-Zionism).
Akel, amazingly enough, defended Masri's right to attend the proceedings at the convention center, despite the awful behavior on the video. This is what he said:
My request would be as a past moderator, I've known him since he was a teenager, I think. He is a guest of our group. He ate lunch with us and I don't see in the video any threatening and I don't think he's a threat.
At this point a security official from the convention center says, reasonably enough, "But what I do see is him disturbing the peace of someone else, so…"
Masri then interrupts the official and states that he has a first amendment right to do what he did. He adds that he was one of "the voices of the Ferguson Movement" and that "I've done this all the time to people, to police officers and stuff and I never get arrested for disturbing the peace."
This prompts Fahed Abu Akel to chide Masri. "But right now if I invite you to my Presbyterian Church and [you] speak without my permission … You don't have the right."
Masri declares, "I was outside," prompting Ahed to speak. "He knows the law. OK," he said before chuckling.
"I know the law," Masri declares. "I am a candidate for State Representative."
At this point the participants of the discussion talk over each other, but the security officer can be heard to say, "I hear all that, but actually you were in the building when the video started."
Then Fahed Abu Akel speaks to Masri. "For the sake of reconciliation. I heard the man [Eid] and he lied like hell. I'm not going to say anything else but still I'd like for you to feel welcome and there's no need for us to do this stuff in public."
Later, after Masri reaffirms his right to behave the way he did (and in passing calls Eid "a collaborator with Israel") Abu Akel states "I'd like for you not to do it. After we leave town, do anything you want."
This is what the video reveals:
First, for all his bluster, Masri has only lived in Jerusalem for two years while the man he insulted and harassed has lived in Jerusalem and the West Bank all his life. This raises a question: Who is more qualified to speak about what is happening in Palestinian society? Masri who lived there for two years as a teenager? Or Eid who has lived there all his life? Who has more at stake, really?
Second, we learned that Fahed Abu Akel, a former PCUSA moderator, and well-known partisan in the debate over Israel, lobbied security officials to allow Bassem Masri to continue to attend the proceedings of the PCUSA's General Assembly. He offered this defense despite the terrible abuse Masri heaped upon someone who had been invited to speak by a group opposed to the denomination's anti-Israel agenda.
This same moderator said that Bassem Eid, the man who Masri abused, had "lied" even after declaring he was speaking in the "spirit of reconciliation." And he still told Masri he wanted him to "feel welcome" despite his abusive behavior.
Apparently, the offer of "safe spaces" is not extended to people who criticize Palestinian leaders at the PCUSA's General Assembly.
*(Clarification: An overture which deals with the violence in the Gaza Strip declares that the church does not "condone" the misdeeds of Hamas. It doesn't flat-out condemn Hamas, but it doesn't condone its actions.)
Posted by dvz at 11:09 AM | Comments (0)
June 20, 2018
PCUSA Stands By While Palestinian Activist Harassed by Extremist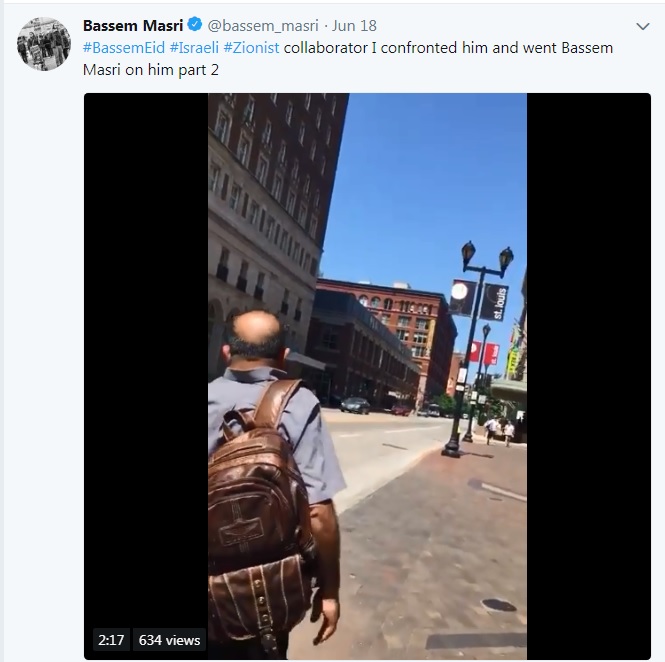 Palestinian human rights activist Bassem Eid walks away from an aggressive and hostile "intersectionality" activist Bassem Masri outside the Presbyterian Church (USA)'s General Assembly taking place in St. Louis. (Screenshot from Twitter.)
Palestinian human rights activist Bassem Eid was harassed and accused of being a "traitor," a "spy" and a collaborator after criticizing Palestinian elites at the General Assembly of the Presbyterian Church, USA currently being held in St. Louis, Missouri.
These accusations, which, in Palestinian society, could be used to justify violence against Eid, were leveled by Palestinian American activist Bassem Masri, who was attending the proceedings at the invitation of the Israel-Palestine Mission Network of the Presbyterian Church, a PCUSA institution with a long history of promoting hostility toward Israel and its Jewish supporters in the United States.
Curiously enough, Masri himself videotaped himself harassing Eid and then posted the videos on Twitter. In the videos, which were posted on Twitter on Monday June 18, 2018, Masri can be heard accusing Eid of betraying the Palestinian people. In one video, Masri calls Eid, "a f-----g collaborator," a "piece of s—t" and a "sympathizer with the Zionists." In another video, Masri calls Eid gasus — Arabic for spy. "He speaks on behalf of the Jewish lobby," Masri said.
These accusations could very well incite people to harm Eid, a regular speaker in the United States, upon his return home. (Eid divides his time between East Jerusalem and Jericho.) "People will watch the video where I am called a traitor. This is a clear call to kill me," Eid said.
Despite the hostility directed at him by Masri, the videos indicate Eid kept his composure during the confrontations. At one point, Eid asks Masri to stop talking to him. Masri refused.
"I can talk to whomever I want," Masri says in the video. "Call the police. This is America. I have freedom of speech." At this point, Eid says, "You are threatening me. You said you are going to kill me."
In response, Masri calls Eid a liar. "You're a collaborator with the Israelis. You're an Arab Zionist." Moments later, Masri declares "You're turning your back on your people."
Eid says that prior to taking the videos, Masri twice threatened to kill him.
The first threat took place during a break in the meeting where Eid was testifying and the second threat took place as he went down an escalator in the America's Center Convention Complex in St. Louis, Missouri. (This writer attempted to contact Masri through Twitter for a response, but has yet to receive a reply.)
Masri was not in the room when Eid testified before Committee 12 (the Middle East Issues Committee) on Monday, June 18, 2018, but Eid thinks that someone who was in the room during the proceedings called Masri to the convention center where the PCUSA's General Assembly was taking place.
During a 15-minute break, Eid went to a water cooler for water where Masri first confronted him. Eid reported that Masri said, "Are you Bassem Eid? I'm going to kill you."
Masri then followed Eid down the escalator out of the building and started filming him after he made a similar threat. Eid says Masri followed him until he got to his hotel where he called people from Presbyterians for Middle East Peace (PFMEP), the organization that had invited him to speak at the General Assembly.
After speaking with PFMEP leaders, Eid spoke to the security officials at the convention center and also to the police. Masri showed up again at the convention center after his confrontation with Eid and upon his arrival, he was told not to approach Eid during the proceedings of the PCUSA's Middle East Committee. He was also told that Eid was free to say whatever he wanted during the meetings.
Eid's friends and supporters are criticizing the denomination for failing to protect Eid from further harassment after the initial confrontation. In particular, they are condemning the PCUSA for not banning Masri from the GA proceedings.
Instead of ejecting Bassem Masri, an "intersectionality" activist known for popularizing the chant "Pigs in a blanket smell like bacon," that was heard at anti-police rallies in 2014, PCUSA officials allowed to attend the proceedings of the Assembly's Middle East Committee where Eid had testified and where he was still present.
Masri was seen talking and interacting with Anna Balzer, an activist with the U.S. Campaign for Palestinian Rights, which along with IPMN, has been agitating in favor of anti-Israel overtures at the PCUSA's General Assembly. Neveem Ayesh, an activist who took a selfie with Baltzer reposted a video from Masri's Facebook page in which Masri accuses Eid of being a collaborator and called him an Uncle Tom. (This link has apparently been deleted, but a screenshot can be seen below.)
People from Presbyterians for Middle East Peace kept asking PCUSA staffers to have Masri removed from the room where Committee 12 (the committee charged with dealing with overtures related to the Middle East) was meeting, says Luke Moon from the New York-based Philos Project who is attending the General Assembly.
"This guy threatened one of our guys and here he is walking around," Moon said.
PCUSA staffers never acted on this request. "He was sitting with IPMN, Sabeel and U.S. Campaign [for Palestinian Rights] staffers. They were all together."
In a Times of Israel blog, PFMEP member Michael Gizzi provides some information about what happened after Masri returned to the convention center after harassing Eid. Gizzi reports that PCUSA officials would not bar Masri from the proceedings for reasons of free speech. At no point was Masri barred from attending the Middle East Committee meeting, which ended yesterday.
People in the pro-Palestinian activist community who are attending the PCUSA's General Assembly, and who apparently have the denomination's ear when it comes to setting policy, have a fair degree of contempt toward Bassem Eid. In a batch of photos and videos that the previously mentioned Neveen Ayesh posted on her Facebook page, she typed
My lights at the end of dark tunnels

Minus Bassem Eid, we don't claim you.
According to the Rev. J. Herbert Nelson, the Stated Clerk of the PCUSA, Masri was attending the proceedings of the PCUSA's General Assembly at the invitation "of one of the our official networks," a reference to the Israel-Palestine Mission Network of the Presbyterian Church (USA), an organization with a sordid history of promoting anti-Israel (and in some instances, antisemitic) propaganda in its efforts to "educate" Christians about the Arab-Israeli conflict.
In a public statement published in the General Assembly newsletter, Nelson appears to excuse Masri's naked hostility and obvious attempt to intimidate Eid into silence. In the statement, Nelson declared that when "passion" about controversial issues "boils over" at the PCUSA's General Assembly, "we have to deal with the results." Nelson continued: "This appeared to be the case as Mr. Masri perceiving Mr. Eid (representing an advocacy group often seen as slow to criticize Israel) to be a Palestinian traitor to the Palestinian cause, became abusive and threatening."
The PCUSA "took the strongest measures that seemed advisable, short of banning Masri, who was the invitee of one of our official networks [the IPMN], from the committee or from the convention center," Nelson wrote.
Eid reports that acts of intimidation like what he endured outside the PCUA's General Assembly in St. Louis are routine under the rule of the Palestinian Authority in the West Bank and Hamas in the Gaza Strip. This makes him wonder why the Palestinian elites in both the PA and Hamas are so often supported by the PCUSA in its statements about the Israel-Palestine conflict.
"How can it be you are supporting my oppressors?" he asked. "This is what God said?"
Posted by dvz at 06:47 PM | Comments (1)
June 19, 2018
AFP Whitewashes Gaza's Serial Arsonists as 'Activists'
June 20 Update: Multiple Media Outlets Amend Captions Calling Gaza Arsonists 'Activists'

Numerous Agence France-Presse photo captions in the last couple of days misidentify Gazans responsible for airborne arson attacks which destroyed 28,000 dunums of Israeli farmland and nature reserve land. The smoke from these deliberately set fires two days ago caused 1000 turkeys to choke to death. The arsonists also launched explosives-laden kites and balloons across the border, reaching a highway and even the roof of a home.

AFP captions misidentified these serial arsonists as "activists" or "protesters." A sampling of these erroneous captions follows:
Palestinian activists fill hilum [sic] gas in a ballon [sic] that will be attached to flammable materials to be flown toward Israel, at the Israel-Gaza border, in Rafah in the southern Gaza Strip on June 17, 2018. SAID KHATIB / AFP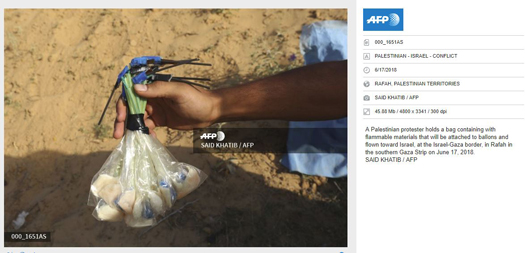 A Palestinian protester holds a bag containing with flammable materials that will be attached to ballons [sic] and flown toward Israel, at the Israel-Gaza border, in Rafah in the southern Gaza Strip on June 17, 2018. SAID KHATIB / AFP
An Israeli man and a boy extinguish a fire in a filed next to Kibbutz Beeri reportedly caused by inflamable [sic] material attached to kites and flown across the border to Israel by activists in the Gaza strip on June 18, 2018. Kite-borne fire bombings have reportedly caused significant damage to Israeli fields. MENAHEM KAHANA / AFP
"Arson" refers to the very specific crime of purposefully setting property on fire, which is precisely what these people are doing. But AFP did not once use this clear and accurate terminology, and instead opts for the misleading and grossly inaccurate terms: "activists" and "protesters."
Haaretz's English print edition yesterday published one of the AFP captions which had referred to "A masked Palestinian activist launches a balloon with flammable material . . . " Haaretz editors went to the trouble of amending the caption: changing the wording from "activist" to "protester."
See also: "CAMERA Prompts Improved Reuters Captions on Palestinian Arson Attacks," June 5
Posted by TS at 03:04 AM | Comments (0)
June 18, 2018
Newsweek Headline Fail on Israeli Attacks in Syria
A grossly misleading Newsweek headline ("Israel Bombs Syria to Stop Refugees Fleeing to Europe, Netanyahu Says," June 14) falsely suggests that Israeli Prime Minister Benjamin Netanyahu said that Israel is bombing Syria in order to stop refugees from fleeing to Europe.

He did not. According to Haaretz, he did cast Israeli attacks on Syria -- meant to prevent the flow of Iranian weapons to Hezbollah and to curb Iranian entrenchment in Syria -- "as potentially helping to stem a Syrian Sunni Muslim refugee exodus to Europe." In other words, Israel's attacks, meant to curb Iran in Syria, also may have the by-product of slowing the tide of refugees, he reportedly stated.
Haaretz elaborated:


Netanyahu accused Iran, which has been helping Damascus beat back a seven-year-old rebellion, of bringing in 80,000 Shi'ite fighters from countries like Pakistan and Afghanistan to mount attacks against Israel and "convert" Syria's Sunni majority.




"That is a recipe for a re-inflammation of another civil war - I should say a theological war, a religious war - and the sparks of that could be millions more that go into Europe and so on ... And that would cause endless upheaval and terrorism in many, many countries," Netanyahu told an international security forum.




"Obviously we are not going to let them do it. We'll fight them. By preventing that - and we have bombed the bases of this, these Shi'ite militias - by preventing that, we are also offering, helping the security of your countries, the security of the world."
CAMERA has contacted Newsweek to request clarification of the headline. Stay tuned for an update.
June 19 Update: Amended Headline is No Improvement
Newsweek yesterday amended the flawed headline, but unfortunately the newer version is neither more clear nor more accurate. It states: "Israel Bombs Syria, Stopping Refugees Fleeing to Europe, Netanyahu Says."
CAMERA notes Haaretz's straight-forward and accurate headline on the very same subject: "Israeli Strikes on Iranian Targets in Syria Slowed Refugee Flow to Europe, Claims Netanyahu." Haaretz's reference to "strikes on Iranian targets" makes clear that Iran was the target of the Israeli strikes. In contrast, both the original and the amended Newsweek headlines mislead, falsely suggesting that Israeli bombings of Syria were directed at refugees, or at stopping them from fleeing to Europe.
CAMERA continues to call on Newsweek to clarify its headline.
Posted by TS at 02:36 AM | Comments (0)
Los Angeles Times Errs on Argentina Cancellation
A June 15 Los Angeles Times sports article (online here, "Lionel Messi needs a World Cup while Iceland is just happy to be playing in one"), Kevin Baxter errs about the Argentinian team's cancellation of the game against Israel in Jerusalem:
First the Argentines were routed 6-1 by Spain, then starting goalkeeper Sergio Romero was sidelined because of an injury and then on their way to Russia they caused an international incident by stopping in Jerusalem to play Israel in a friendly.

That didn't get a friendly greeting from the Palestinians, so the Argentine soccer association canceled the game.
The team never "stopped" in Jerusalem. The trip itself -- not just the game -- was canceled following Palestinian threats to the team. Moreover, the euphemistic statement that the Argentinians "didn't get a friendly greeting from the Palestinians" covers up the fact that players and their families received death threats which the Argentine foreign minister termed "worse than ISIS" ("Argentine soccer team cancels match in Israel amid death threats against Messi").

Significantly, FIFA has begun proceedings against the Palestinian Football Association chief. AFP reported June 14 ("FIFA says acting over Palestinian FA chief's Messi comment"):
FIFA said Thursday it has started disciplinary proceedings against the Palestinian Football Association's chief, after he called for protest against Lionel Messi and his plan to play with Argentina in Jerusalem.

"The FIFA disciplinary committee has opened disciplinary proceedings against the president of the Palestinian Football Association, Jibril Rajoub," a spokesman for the world body said in a statement to AFP.

Its decision, he wrote, "came as a result of his statements, widely reported in the media, with respect to the international friendly match that was scheduled to take place on 9 June 2018 between Israel and Argentina."

He said he could not elaborate while the proceedings were ongoing.

Rajoub had demanded that the Barcelona star not take part in the pre-World Cup friendly against Israel and called on fans to burn shirts bearing his name if he did.

Messi, Rajoub said at a June 3 press conference, "has tens of millions of fans in the Arab and Muslim countries... we ask everyone to burn their shirts which bear his name and posters (with his image)."
CAMERA has contacted The Los Angeles Times to request a correction. Stay tuned for an update.
See also: "CAMERA Prompts Washington Post Correction On Canceled Jerusalem Soccer Match"
June 21 Update: Stealth Correction
The Los Angeles Times has issued a stealth correction to the online article, quietly changing the false reference to the Argentinians "stopping in Jerusalem" to "planning a trip to Jerusalem." Contrary to standard journalistic practice, The Los Angeles Times has not informed readers of the change. Also, as of this writing, the article was not corrected in print. Finally, the article still does not explain that the Palestinian's less than "friendly greeting" included death threats.
Posted by TS at 02:04 AM | Comments (0)
June 17, 2018
CNN's Ben Wedeman Falsely Reports No Soldiers Injured in Gaza Border Violence
In a June 7 broadcast and online here, Ben Wedeman incorrectly reported that in the course of the ongoing "March of Return" violence at the Gaza border, "No Israeli soldiers were killed or injured during the protests."
The IDF Spokesperson's Unit has confirmed to CAMERA that in the course of the "March of Return" clashes, between March 30 and June 12, 11 soldiers have been injured in the violent events at the border. This figure does not include soldiers injured by rocket and mortar attacks during this time period.
CAMERA has relayed the information to CNN and urges the network to correct. Stay tuned for an update.
Posted by TS at 03:36 AM | Comments (0)
June 12, 2018
Where's the Coverage? Hezbollah Helps Hamas Build Terror Camps, Israel Calls for U.N. Help
Well equipped Hamas operatives

Hezbollah, the Lebanese-based, Iranian-backed terrorist group is helping Hamas build rocket factories and terror training camps in southern Lebanon, according to a Jerusalem Post report. Hezbollah's assistance violates several United Nations Security Council Resolutions. But it does not, apparently, merit news coverage.
A June 10, 2018 dispatch by Jerusalem Post military correspondent Anne Ahronheim noted that Israel has called for the U.N. to intervene. Israel's Ambassador to the UN, Danny Danon, said:
"Hamas is strengthening its ties with Hezbollah. With the approval and support of Iran, Hamas is working to establish its capabilities in Lebanese territory as well. The cooperation between Hezbollah and Hamas crosses borders. Israel does not intend to sit idly when facing new and old threats and will do whatever is necessary to protect its citizens."
Like Hezbollah, Hamas is a U.S.-designated terrorist organization. Both groups call for Israel's destruction and are fiercely antisemitic and anti-American.
Israel noted that Hezbollah's decision to aid the Gaza Strip-based Hamas violates UNSCR 1701 which, among other things, calls for the "full implementation of the relevant provisions of the Taif Accords, and of resolutions 1559 (2004) and 1680 (2006), that require the disarmament of all armed groups in Lebanon, so that, pursuant to the Lebanese cabinet decision of 27 July 2006, there will be no weapons or authority in Lebanon other than that of the Lebanese State."
That is, Hezbollah's decision—indeed the existence of Hezbollah itself in Lebanon, where it exerts de facto control of the government—is a violation of the Taif Accords, and other United Nations resolutions.
As CAMERA noted in a March 28, 2018 Washington Examiner Op-Ed entitled "Israel may be facing a five-front war," Iran and its terror proxies, including Hezbollah and Hamas, may be preparing to attack the Jewish state from several different fronts. Yet, the media has largely ignored this growing security challenge. Many major U.S. news outlets, including The Washington Post, The Baltimore Sun, Politico, and others, failed to report Israel's request for U.N. intervention.
Hezbollah has a long history of working with and training Palestinian terrorist groups. The Palestine Liberation Organization (PLO) trained Iran's Islamic Revolutionary Guard Corps, as CAMERA documented in a May 16, 2018 Jerusalem Post Op-Ed ("How the PLO Helped Create Iran's Islamic Revolutionary Guards"). The IRGC itself trained—indeed, largely created—Hezbollah, which later worked with the Guards to train operatives from Hamas, Palestinian Islamic Jihad (PIJ), and al-Qaeda in Lebanon's Bekka Valley. As Ronen Bergman recounted in his 2018 book Rise and Kill First: The Secret History of Israel's Targeted Assassinations, Hezbollah passed its knowledge of suicide and car bombings—employed in Lebanon in the 1980s—to the other terrorist groups.
The head of Hamas in Gaza, Yahya Sinwar, declared on May 22, 2018 that his group had "excellent" relations with Hezbollah. The press—which at the time was busy omitting Hamas's role in orchestrating violent demonstrations at the Israel-Gaza border—largely failed to report Sinwar's comments and also downplayed Iran's support for the violent "protests" which themselves mimicked a tactic employed by Hezbollah on Israel's northern border on May 15, 2011 ("The Palestinian 'Return March:' A Futile Publicity Stunt," Jerusalem Center for Public Affairs, March 28, 2018).
Posted by at 03:54 PM | Comments (1)
AFP Captions Whitewash Berlin Al Quds Rally
According to The Jerusalem Post ("Heavy Turnout at Al-Quds Rally in Berlin Calls for Israel's Destruction"), participants at the June 9 anti-Israel Al Quds march in Berlin chanted "Zionists are the perpetrators" and "Zionists anywhere, you will lose everywhere." The Jerusalem Post detailed:


A photograph of the protest showed a sign comparing Zionism to Nazis. Lebanese flags were also on display. Many of the marchers were Hezbollah supporters and members. Berlin's domestic intelligence agency said in 2017 that 250 Hezbollah members operate in the capital city. The US, Israel, the Arab League, Canada and the Netherlands designated all of Hezbollah a terrorist organization. Germany refuses to outlaw all of Hezbollah.

A pro-boycott Israel sign was also shown at the rally, with the words: "Boycott Israel, Free Palestine." Berlin's total population is roughly 3.7 million.

"The law entitles the radical Muslim organization, with conditions, to assemble. A demonstration against the existence of Israel on the streets of Berlin is still intolerable," BZ journalist Kai Ritzmann wrote on Saturday.

BILD journalist Antje Schippmann tweeted, "Also again at today's antisemitic al-Quds march in Berlin: Ayatollah Hamidreza Torabi."

Torabi, who heads the Islamic Academy of Germany – part of the Iranian regime owned Islamic Center of Hamburg, is a key organizer of the al-Quds. The Islamic Center buses pro-Hezbollah and pro-Iranian regime members and activists to the annual event.
Yet Agence France Presse captions about the march maintained that participants were "against the presence of Jewish settlements in Israeli-occupied territories," ignoring that they actually oppose Zionism, and thus the existence of the Jewish state in any borders, not just in the West Bank.
A sampling of AFP's erroneous captions falsely alleging that the protesters merely oppose Israeli settlements follows. (Note the sign calling for the boycott of Israel, not just the settlements. Note also the presence of the anti-Israel Jewish sect Neturai Karta with signs stating "Zionism and Judaism are extreme opposites." There is zero indication that the marchers are simply opposed to Jewish settlements in the West Bank.)
A protester holds a sign reading "Boycott Israel, free Palestine" during a Quds-day Demonstration on the occasion of the so-called "Al-Quds day" in Berlin, on June 9, 2018. The "Quds day" (the day of Jerusalem), a commemoration first initiated by Iran in 1979 to fall on the last Friday of the holy month of Ramadan expresses support for displaced Palestinians and against the presence of Jewish settlements in Israeli-occupied territories. Tobias SCHWARZ / AFP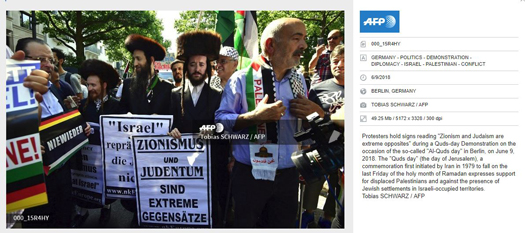 Protesters hold signs reading "Zionism and Judaism are extreme opposites" during a Quds-day Demonstration on the occasion of the so-called "Al-Quds day" in Berlin, on June 9, 2018. The "Quds day" (the day of Jerusalem), a commemoration first initiated by Iran in 1979 to fall on the last Friday of the holy month of Ramadan expresses support for displaced Palestinians and against the presence of Jewish settlements in Israeli-occupied territories. Tobias SCHWARZ / AFP
Protesters take part in a Quds-day Demonstration on the occasion of the so-called "Al-Quds day" in Berlin, on June 9, 2018. The "Quds day" (the day of Jerusalem), a commemoration first initiated by Iran in 1979 to fall on the last Friday of the holy month of Ramadan expresses support for displaced Palestinians and against the presence of Jewish settlements in Israeli-occupied territories. Tobias SCHWARZ / AFP
CAMERA has contacted AFP to request corrections of these captions. As of this writing, AFP has yet to set the record straight.
See also: "AFP Last to Correct Its Own Arabic Mistranslation"
Posted by TS at 02:29 AM | Comments (0)
June 07, 2018
Palestinian Fire Kites Are No Child's Play
Palestinians set Israeli fields ablaze with fire kites
Much of the media has been either ignoring or minimizing the incendiary kites launched by Palestinians into Israeli territory.
The New York Times, for example, describes them as "flimsy-framed sails with tails meant to carry crude incendiary devices" -- part of a "David vs. Goliath" "protest" against Israel....
Newsweek describes them as a non-lethal response by Palestinian protesters to those Palestinians who have been "shot dead by Israel Defense Forces" during "demonstrations"...
But an article by Gatestone Institute's Bassam Tawil tells it like it is:
*There are two important factors that the international community needs to notice regarding the fire kites that the Palestinians are sending to Israel from the Gaza Strip. First: those who are launching the kites are making it clear that their ultimate goal is to kill as many Jews as possible and bring about the obliteration of Israel. Second: the Palestinians see all Jews living in Israel as "settlers.

*The Palestinians are now also telling us that the terror kites they are sending to Israel accord with what the Quran orders Muslims to do in the fight against the "infidels." They apparently see the flaming kites as part of the jihad (holy war) against the enemies of Allah and Islam.

*The jihad of the Palestinians against Israel is the same jihad that ISIS, the Muslim Brotherhood and other Islamic jihadi groups have also been waging on the "infidels" and "enemies of Islam" in the US, EU and other non-Muslim countries. We are witnessing a well-organized campaign of terror orchestrated by terrorists and activists belonging to Hamas and other Palestinian groups in the Gaza Strip.
Posted by RH at 12:11 PM | Comments (0)
June 06, 2018
Where's the Coverage? Israel Foils Assassination Plot Targeting Netanyahu and Others

Israeli authorities uncovered and thwarted a terrorist cell that planned to murder top governmental officials, including the country's prime minister, Benjamin Netanyahu, and the mayor of Jerusalem, Nir Barkat. However, many major U.S. news outlets have ignored the story.
On June 5, 2018, the Shin Bet, Israel's domestic intelligence agency that is akin to the FBI, announced that they had arrested three member of the Popular Front for the Liberation of Palestine General Command (PFLP-GC), in connection with the case. The three men had been indicted two days prior.
Ynet reporter Yoav Zitun noted:
"One of the suspects is Muhammad Jamal Rashdeh, 30, from the Shuafat refugee camp in east Jerusalem, who holds an Israeli identity card and has served time in prison in the past for terrorist activity. The investigation revealed that he had planned the attacks with guidance from terrorist elements abroad, including a terror operative from Syria."
The terror cell had also "planned terror attacks against buildings belonging to the American Consulate and against a delegation of Canadian representatives staying in Jerusalem in a bid to train the Palestinian Authority forces in the West Bank." Rashdeh was arrested on April 24, 2018, according to a Times of Israel report ("Shin Bet says it thwarted plot to assassinate prime minister, Jerusalem mayor," June 5, 2018).
The PFLP-GC is a U.S.-designated terrorist group that is based in Damascus, Syria and receives Iranian support. The group has carried out numerous attacks against Israelis and was active in the Syrian civil war, fighting on behalf of dictator Bashar al-Assad.
A foiled terror plot to murder Israel's prime minister and other top Israeli officials, as well as Americans and Canadians, is certainly newsworthy. However, as of this writing, many major U.S. news outlets have failed to cover the story. The Washington Post, The New York Times, NPR, USA Today, The Baltimore Sun, Politico, and others have failed to cover the story. By contrast, The Jerusalem Post, The Times of Israel, the U.K.-based Express, and The New York Post, provided coverage.
This is not the first time that the Western media ignored a story about a thwarted Palestinian plot to murder Israeli government officials. As CAMERA noted at the time, U.S. press outlets also ignored a foiled Feb. 2018 plot by Palestinian Islamic Jihad operatives to murder Israeli defense minister Avigdor Liberman ("The Media Ignores Foiled Plot to Assassinate Israel's Defense Minister," Feb. 20, 2018).
By failing to cover advanced terror plots targeting the country's leadership, the media effectively minimizes the security challenges facing the Jewish state.
Posted by at 01:58 PM | Comments (0)
U.S. Official: Iran's Support for Hezbollah Greater Than Previously Thought
Hezbollah head Hassan Nasrallah

The Islamic Republic of Iran's support for Hezbollah might be greater than previously thought. Tehran gives the Lebanese-based terrorist group $700 million a year, according to recent remarks by the U.S. Treasury Department's undersecretary for terrorism and financial intelligence, Sigal Mandelker.
Mandelker's comments were made on June 5, 2018 at the Foundation for Defense of Democracies (FDD), a Washington D.C.-based think tank. The figure supplied by the treasury official is "three times" what was "previously estimated," according to a report by The National, a daily newspaper published in the United Arab Emirates ("Iran pays Hezbollah 700 million a year, says U.S. official," June 5, 2018).
As CAMERA noted in its 2016 backgrounder on the terror group, Hezbollah calls for the destruction of Israel and has carried out attacks against Jewish people throughout the world. The organization exerts de facto control over the Lebanese state and has launched wars against Israel, most recently in 2006. The group is also deeply anti-American; prior to the Sept. 11, 2001 al-Qaeda terrorist attacks, Hezbollah was responsible for murdering more Americans than any other terror group.
Hezbollah engages in illicit activities to raise funds, including narcotics trafficking and smuggling arms, ivory, and diamonds. In a June 2016 speech, Hezbollah head Hassan Nasrallah stated: "We are open about the fact that Hezbollah's budget, its income, its expenses, everything it eats and drinks, its weapons and rockets, come from the Islamic Republic of Iran."
Prior to Hezbollah's involvement in the Syrian civil war—in which the terror group and Iran fought to keep Syrian dictator Bashar al-Assad in power—the group was thought to receive $200 million a year from Tehran. However, Mandelker's comments indicate that Hezbollah is thought to receive at least three times that figure.
Joyce Karam, a reporter for The National, noted that Ms. Mandelker also "accused the Iranian regime of using shell and front companies, and forging documents to conceal its tracks in order to 'fund terrorists, support weapons of mass destruction proliferation or exploit its own people through corruption and human rights abuses.'"
The U.S. Treasury official also stated that Iran's Central Bank is guilty of moving funds on behalf of Hezbollah and Iran's Islamic Revolutionary Guard Corps' (IRGC) Quds Force, which is responsible for training terror groups abroad. In previous years, the IRGC Quds Force has trained operatives from Palestinian Islamic Jihad, Hamas and al-Qaeda, among other U.S.-designated terrorist organizations.
Posted by at 12:53 PM | Comments (0)
June 01, 2018
Where's the Coverage? 14 Members of Congress Call to Halt PA Aid
U.S. Secretary of State Mike Pompeo

In a widely underreported move, fourteen members of the United States Congress called upon the U.S. State Department to "immediately suspend all aid payments to the Palestinian Authority." The PA is dominated by the Fatah movement and rules the West Bank (Judea and Samaria).
The Congressional members sent a letter to U.S. Secretary of State Mike Pompeo on April 27, 2018. Highlighting the PA's policy of paying terrorists and their families for carrying out attacks, the letter requested that the U.S. cease U.S. aid payments to the authority. The representatives noted:
"In March 2018 Congress took a clear and bi-partisan stance on how aid dollars are to be used by the PA by passing the Taylor Force Act. This law prohibits U.S. taxpayer funds from being made available to the PA if they continue their practice of paying terrorists and their families. Yet, despite clear Congressional intent, media reports have stated that the PA's 2018 budget has codified this practice. The budget sets aside 8% of its total to the so-called 'martyr's fund,' which amounts to over $350 million in U.S. taxpayer funded aid."
Further, the 14 signatories cited a report by Palestinian Media Watch (PMW), a non-profit organization that monitors Arab media in eastern Jerusalem, the Gaza Strip and the West Bank. PMW had translated a Jan. 14, 2018 speech by PA President Mahmoud Abbas, in which the Palestinian leader declared:
"There is something that the Americans are telling us to stop - the salaries of the Martyrs and the Martyrs' families. Of course, we categorically reject this. We will not under any circumstances allow anyone to harm the families of the prisoners, the wounded, and the Martyrs. They are our children and they are our families. They honor us, and we will continue to pay them before the living."
Citing these "disturbing" comments, the Congressional members wanted to know how many foreign aid dollars went to the PA "that were then used to fund terrorists prior to the passage of the Taylor Force Act," as well as "what measures are you planning to take to enforce the law and suspend aid to the PA…?"
The PA's policy of offering financial incentives to commit acts of terror is frequently ignored or obfuscated by major media outlets. For example, prior to the passage of the Taylor Force Act, The Washington Post's "Fact Checker" column minimized and misled about the PA's "Pay to Slay" program—prompting a rebuttal from CAMERA in the Washington Examiner ("U.S. Media Are Covering Up Palestinians' Pay to Slay Policy," March 21, 2018).
A letter from more than a dozen members of Congress to a U.S. Secretary of State calling to cut aid to a nominal ally should be newsworthy. However, many major news outlets, such as The Washington Post, USA Today, The Baltimore Sun, Politico, among others, ignored it. By contrast, The Washington Free Beacon provided a full-length report ("Congress Seeks Showdown on Ending U.S. Aid to Palestinians," May 1, 2018).
Posted by at 10:57 AM | Comments (0)