« April 2018 | Main | June 2018 »
May 30, 2018
Some Real Self-Criticism at CATC
<
Activists attending the Christ at the Checkpoint Conference in the West Bank view anti-Trump graffiti on the security barrier near the checkpoint between Bethlehem and Jerusalem. Speakers at the conference, which began on Monday, May 28, 2018 and will last until Friday, June 1, 2018, have lamented the role American Evangelicals played in putting Donald Trump into the White House. They have been less vocal about the lack of democratic institutions in Palestinian society. (Photo: Dexter Van Zile)
The central problem with Palestinian Christian witness about life in the Holy Land is that its criticism is almost invariably directed at Israel and its supporters in the West. Very little is said about the misdeeds of Palestinian elites even though the decisions they have made have contributed greatly to the continued existence of the conflict between Israel and the Palestinians. The people who are most responsible for Palestinian suffering – Palestinian leaders – are not subjected to the type of prophetic criticism that Christians are called to provide.
This problem is clearly on display at the Christ at the Checkpoint Conference taking place this week in Beit Jala. At this conference, organized by Bethlehem Bible College, there has been very little criticism of the misdeeds of the Palestinian Authority in the West Bank and Hamas in the Gaza Strip at the ongoing Christ at the Checkpoint Conference organized by the Bethlehem Bible College.
There is, however, a huge amount of criticism of Evangelicals in the U.S. for helping President Donald Trump get elected to the White House in the 2016 election. Trump's election and his decision to move of the U.S. Embassy from Tel Aviv to Jerusalem is clearly a shock to CATC conference organizers and attendees. One conference organizer, Alex Awad (a Palestinian Christian who now lives in the United States) described Trump's election as a dark cloud brought about by White Evangelicals who put him into office.
"They helped elect a president who dashed our hopes as Palestinians," Awad said the first night of the CATC conference which began on Monday. "He brought us a nightmare." Awad went onto encourage Evangelicals in the audience to increase their efforts to put pressure on Israel to end the occupation and to change American foreign policy in the Middle East.
The irony is palpable. Christians who are not free to speak their mind in Palestinian society and haven't been able to vote in a presidential election since 2005 are effectively telling Christians in the U.S. how they should have voted in the 2016 election.
To a certain extent, the failure of Christians to speak truth to the powers that be in Palestinian society is understandable because neither the PA nor Hamas tolerate public criticism from anyone, Christian or Muslim, in the areas they control. To confirm just how dictatorial political life is in Palestinian society, in 2017 the PA just imposed laws regarding social media. These laws make criticizing the Palestinian Authority a criminal act.
One report indicates that these new laws "gives the public prosecutor's office unlimited powers to surveil Palestinian citizens, intercept their online communications, and arrest them for airing their opinions and political views online." People who are convicted of using the internet to undermine "social harmony" can be sentenced to 15 years hard labor.
Such tyranny in Palestinian society is a huge obstacle to peace in the Holy Land because it allows both the PA and Hamas to put Palestinian young people into harm's way without being held accountable by their parents or by the young people themselves. Palestinian elites can effectively send young men into violent confrontations with the IDF without any real public debate over whether or not it's a good idea to do so – all because the people who hold power in Palestinian society will not tolerate the humiliation of being criticized in public.
Polling data indicates that many Palestinians support a two-state solution, but because democratic institutions are non-existent in the West Bank and Gaza, rank-and-file Palestinians have no mechanism to make it happen. All they can do is worry about who will replace the ailing Mahmoud Abbas and hope that the process to find his successor does not descend into civil war. These are not subjects being discussed at the current Christ at the Checkpoint conference even though they are the most crucial issues facing the Palestinian people.
Ironically enough, one institution in Palestinian society where leaders are willing to subject themselves to public criticism is its Evangelical community.
While most of the CATC conference has been devoted to condemning Israel and its Evangelical supporters in the U.S. one speaker did speak prophetically, calling on Palestinian and Israeli Evangelical churches to accord greater power and influence to women.
Shireen Awwad Helal, the dean of students and an instructor at the Bethlehem Bible College which organizes the CATC conference used the story of Hagar in Genesis to highlight the suffering of women in society. The story of Hagar, Helal said, showed God's concern for the welfare of women even when the people in their lives disdain them. She spoke of some of the anti-women sayings that permeate Palestinian society such as "Women are born with half a brain," "A woman's anxiety over her daughter goes to the grave," and "No matter what you do or where you go, you'll always end up in the kitchen."
These anti-woman ideas affect the life of churches in Palestinian society, Helal reported. Palestinian Christian schools have it written in their employee contracts that women teachers will be dismissed if they become pregnant, Helal reported. To confront the problem, Helal declared, it's time for Christian churches and to bring women into leadership positions.
"You can enforce our inferior status or you can help us overcome it by insisting that women should be equally represented among the speakers, theologians, and figures you meet when you come here," she told the audience, which gave her a standing ovation after she gave her speech on Wednesday night.
Helal's speech forcefully and courageously challenged the elites in the Palestinian Christian church, some of whom were in the audience in front of her. It was a gutsy act.
Hopefully, Helal's example of courageous public speech and tolerance for public criticism on the part of elites will someday become the norm in Palestinian society and then maybe peace will have a chance.
One can hope.
Posted by dvz at 05:24 PM | Comments (0)
Michael Brown Exposes Double-Standard at Christ at the Checkpoint
Michael Brown speaks at the Christ at the Checkpoint Conference on May 29, 2018. (Photo: Dexter Van Zile)
Every two years, the ritual is repeated. The organizers of the Christ at the Checkpoint Conference, a so-called peacemaking conference held every even-numbered year at the Orient Palace Hotel in Beit Jala, invite a Messianic Jew to defend Israel before an audience of Evangelical Christians, some of whom have come to the West Bank to hear and relate stories of Jews behaving badly and then use these stories to feed an unwholesome bitterness toward Israel.
The invitation is given by conference organizers from the Bethlehem Bible College, an Evangelical college in Beit Jala, to demonstrate that they are willing to listen to people who disagree with them. It's not as if the organizers really want to hear or acknowledge what he has to say, but instead hope to deploy the Messianic Jew as a prop to lend credibility to their anti-Zionist narrative.
It's an obvious set-up, but the the Messianic Jew, who desperately wants to be taken seriously as a believer in Jesus and as a Jew who loves Israel, says yes. He knows full well other speakers at the conference will do everything they can to counteract his defense of Israel, but the invitee concludes that if he says agree to speak, no one will speak on Israel's behalf at the conference.
During his talk, the Jewish believer in Jesus acknowledges that the Palestinians are suffering, laments this suffering and then offers an apologia of Israel's efforts to defend itself, most notably the security barrier and the checkpoint. Everyone applauds his sincerity and for a few moments, expresses sympathy for the Israelis.
But by the time the conference is over, the Messianic Jew's presence at the Christ at the Checkpoint has been forgotten, or worse, used to remind Evangelicals in attendance that Israel is the sovereign state of the people who have rejected Jesus. The message implicit in the talk is that if only more Jews in Israel accepted Jesus as their messiah, like that guy on stage, the conflict between the Israel and the Palestinians would have ended years ago.
But that's not how it happened during this year's Christ at the Checkpoint. Not by a long shot.
Instead of defending Israel's efforts to defending itself and leaving it at that, Michael Brown, a conservative radio host and a Jewish believer in Jesus, went on the offensive. Brown, who spoke at the conference on May, 29,2018, began by describing his problems with the conference.
"I have already been grieved by things I heard from leaders in private, comparing Israel to Hamas, vilifying Palestinian Christians who have a different perspective, CATC encouraging tours of the blatantly propagandistic Walled Off Hotel, which distorts the past and the present and accuses Israel of ethnic cleansing," Brown said.
Brown didn't stop there. He challenged Palestinian Christians, especially the folks who organized the CATC conference, to "Openly express your disagreements with the Palestinian Authority and Fatah and Hamas. Otherwise, the feeling is that you're in harmony with them."
It was a legitimate challenge, because, as in year's past, the first night of this year's conference (which continues until Friday) was dedicated to Palestinian Christians saying nice things about the Palestinian Authority leadership and allowing the PA to attack Israel. (And this year, one Christian from outside the region, Bishop Efraim Tendero, secretary-general of the World Evangelical alliance called Mahmoud Abbas, a man of peace in this land." High praise for a man who complained about Jews desecrating the Temple Mount with their "filthy feet" a few years ago.)
Brown didn't just chide CATC organizers for their apparent submission to the PA. He called on conference organizers to condemn the tendency of Palestinian leaders to celebrate the murder of Israelis in terror attacks. He made this plea after recounting the details surrounding the murder of Fogel family in 2011: "Rabbi Yaakov Cohen, a neighbor who entered the house with their 12-year-old daughter (who returned from a youth event to find her slaughtered family), told the Ynet website that her two-year-old brother 'was lying next to his bleeding parents, shaking them with his hands and trying to get them to wake up, while crying … The sight in the house was shocking.'" Brown said.
"Today, the families of the murderers, Amjad Awad and Hakim Awad, receive regular payments from the PA as part of their pension. In fact, it is reported that PA payments to families of terrorists and prisoners amount to roughly 10 percent of the PA budget," he added.
Then Brown made a direct plea: "Will you join me today in renouncing this?"
He also described how Israelis respond to the deaths of civilians at the hands of their government when in 2002, Israeli forces killed Salah Shehade who according to one source, "had direct involvement in attacks that killed 474 people and wounded 2,649 between July 2001 and July 2002."
But in killing Shehade, Brown reported, they also "killed his wife, his daughter, his assistant, plus ten other civilians, including seven children, the youngest less than one year old. One hundred fifty people were wounded. Israeli intelligence relied on bad information, as a result of which so many others were killed or wounded, since he alone was targeted." Brown continued: "When word of this got out, there were national protests in Israel, including the rebellion of air force pilots who had been involved in previous bombing missions. The nation rose up to protest the shedding of innocent Palestinian blood – even in the process of killing a mass murderer."
Brown then asked the Palestinian Christians to follow the example set by the Israelis and hold their leaders accountable. "The least you could do as followers of Jesus is stand with me in denouncing your government's celebration of terrorism," he said."I understand you have challenges as a Christian minority in a Muslim society, but somehow, your voices of dissent must be heard."
It was a powerful speech. In addition challenging CATC organizers to confront Palestinian violence, Brown asked them to condemn replacement theology and to "put Jesus at the center of the conflict" and to demonstrate this action, by expressing "love for the Israeli people." This is a tough challenge, because as Brown declared, "CATC is far better known for standing against Israel than standing against Hamas and for the Gazan Christians."
Conference spokesperson Rev. Dr. Munther Isaac knew the challenge was coming (he even had a copy of Brown's speech before it was given) and should have been able to provide an irenic and substantive response.
Instead, he reacted with shocking disdain for the issues Brown raised, saying he and his colleagues were "tired" of having to deal with the issues and questions Brown raised in his talk, because "they seem to place all the blame on us, the oppressed."
Isaac went on to say that he too could talk about the suffering endured by his community and could show pictures of the victims of Israeli violence but that he didn't want to get into a competition about who suffered more. He also declared that radical Jewish groups and politicians celebrate when Palestinians are killed, as if there were an equivalence between the incitement in Palestinian and Israeli society when there isn't. Hamas- and PA-run television stations regularly demonize Jews and the Palestinian Authority (and the Jordanian government) regularly allows for call of incitement on the Temple Mount. Demonization of the other permeates Palestinian society in ways that it simply does not in Israel.
Instead of confronting the problem of incitement and the celebration of murder by both the PA and Hamas who use antisemitism as a unifying political agenda, Isaac tried to change the subject.
"The real question we should be asking asking as followers of Christ," Isaac said, "is 'What drives people to do these violent things?' This is the real question you should be asking. The question you should be asking is how do we together work to address the systems and structures of injustice and oppression that create these violent actions of some Palestinians. How do we as followers as Christ come together in humbleness and deal with the causes and ideologies that exclude and demonize?"
Isaac also complained about a double-standard used to judge Palestinian violence. "Why is every Israeli violence self-defense? Why is every Palestinian violence terrorism?"
"How ironic that Evangelical Christians that supported the war in Iraq and support a war in Iran condemn and criticize the Palestinian people for violent acts of certain groups among us." He also said that the Christ at the Checkpoint has previously condemned all forms of violence but that it's just that people are not listening. Isaac, who like many other CATC speakers, has repeatedly and regularly condemned Christian Zionism at conferences over the past decade, simply couldn't be bothered to repeat these previous condemnations of Palestinian violence.
In his response, Isaac missed an opportunity to send a message to Israelis and Jews throughout the world that yes, he and his fellow Palestinian Christians understand how frightening it is for them to see Palestinian leaders laud and reward the killers of Israeli women and children.
Instead of acknowledging the obligation of his fellow Christians to speak truth to power in Palestinian society – and not just condemn Israel – Isaac spoke in vague terms about "systems" and "structures" that cause people to engage in acts of terror, as if the concept of sin – which CATC speakers use so often to condemn Israel – should not be used to assess Palestinian behavior.
Apparently, in Isaac's world, it's theological condemnation for Israel, sociological explanations for the Palestinians.
Brown's direct challenge to Palestinian Christians highlighted this troubling double-standard.
In sum, Michael Brown did Christians throughout the world a great service by highlighting the inability of Palestinian Christians to speak truth to power in Palestinian society. Hopefully, conference organizers will take Brown's message to heart in the days ahead.
Posted by dvz at 12:31 AM | Comments (2)
May 29, 2018
Why Does a NY Times Journalist Want to Suppress an Anti-Hamas Article?
A New York Times journalist thinks the Wall Street Journal shouldn't have published an opinion piece criticizing Hamas's anti-Israel propaganda campaign. The reporter, Declan Walsh, is one of the Times reporters who has covered the recent clashes along the Gaza Strip's border with Israel.
The first to suggest the article should have been spiked was Gregg Carlstrom, a correspondent for The Economist:
Why do newspapers give Israeli mouthpieces space to accuse journalists (including their own!) of being naive, incompetent apologists for terror? https://t.co/PIYieXDmac

— Gregg Carlstrom (@glcarlstrom) May 21, 2018
Walsh concurred. "Fair question," he responded on Twitter.
Fair question https://t.co/CUC4dZpFfT

— Declan Walsh (@declanwalsh) May 21, 2018
What arguments does the Wall Street Journal piece make that are so egregious, so beyond the pale, that they prompted these two journalists to wish editors had suppressed it? And what exactly did the author of the Op-Ed, an Israeli army spokesman, say about journalists being "naive, incompetent apologists for terror"?
In fact, the piece was almost entirely focused on Hamas, its goals, and its propaganda. It charged Hamas leaders with lying when describing the Gaza demonstrations they organized as a "peaceful protest," and lamented that "much of the world simply fell for it." And it said that "some in the media helped Hamas by publishing its lies rather than facts."
And …that's all.
The irony is striking. Carlstrom and Walsh are criticizing journalists — in this case Wall Street Journal opinion editors — because they seem to believe criticizing journalists should be taboo. How to make sense of the self-contradiction in their call for self-censorship?
In the case of the New York Times writer, Declan Walsh, it could be that the criticism in the Journal piece struck a bit too close to home. Walsh is one of the New York Times reporters who've counted Hamas gunmen that opened fire on Israelis, and Palestinians planting explosives, as supposed "protesters" killed by Israel.
So criticism of Wall Street Journal opinion editors is okay. But criticism of "some journalists" — maybe, for example, journalists who outrageously count gunmen as protesters? — is, conveniently out of bounds according to Carlson and Walsh.
You can read the piece the reporters wanted suppressed by clicking here.

Posted by GI at 05:31 PM | Comments (0)
May 28, 2018
Distorted History at Christ at the Checkpoint 2018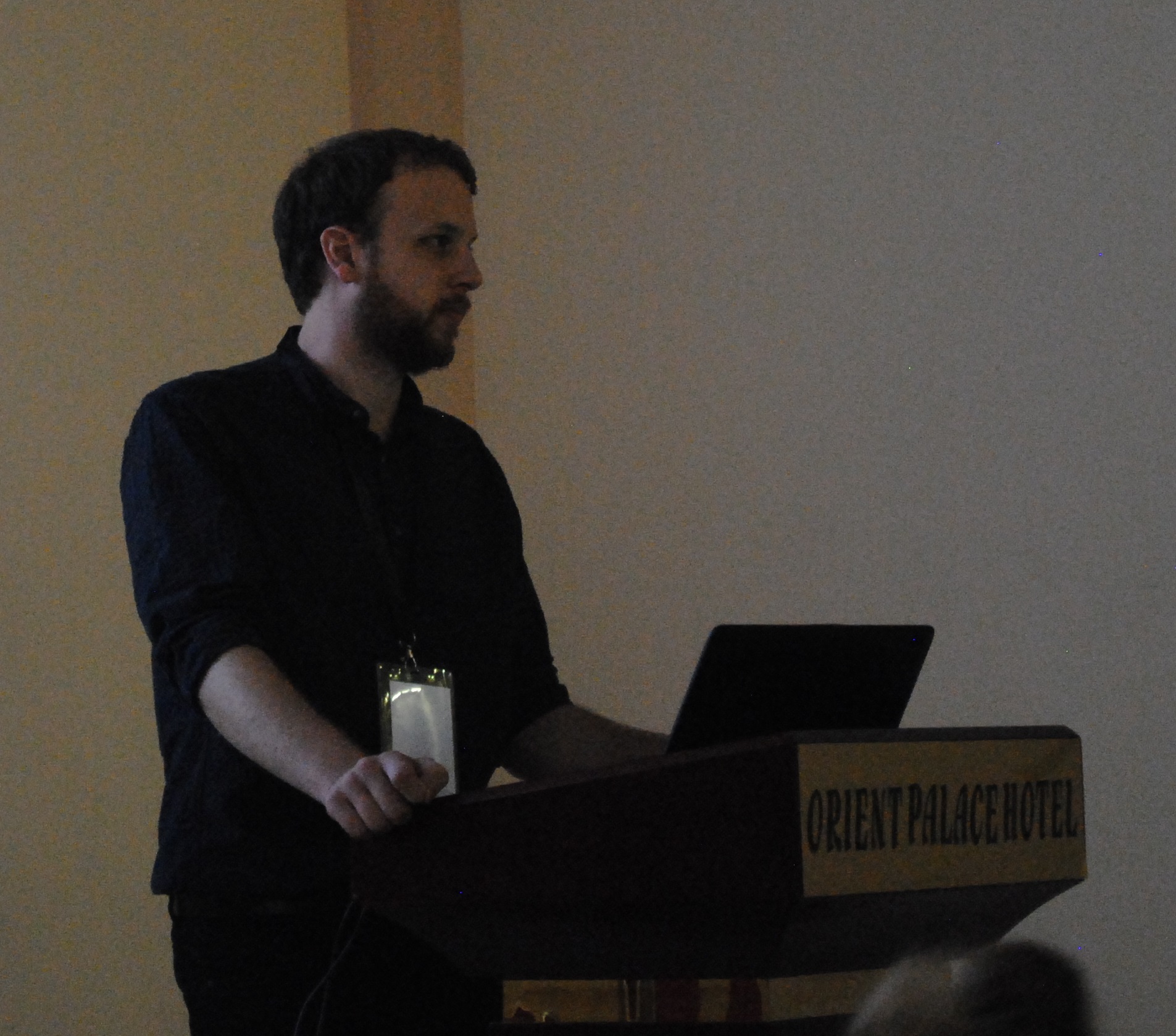 Jack Munayer speaks at the Christ at the Checkpoint, 2018. (Photo: Dexter Van Zile)
May 28, 2018 marks the first day of the Christ at the Checkpoint Conference, a so-called peacemaking event organized by the Bethlehem Bible College, a non-denominational Evangelical institute of higher learning located in Beit Jala in the West Bank. Speakers from around the world purport to inform attendees about the Israel-Palestinian conflict and how Evangelicals, particularly those in the United States and Europe, can help bring the conflict to an end.
On the afternoon prior to the first night of the conference, which is held every two years, organizers host an orientation session where first-time attendees are instructed in the history of the conflict. This year's session was offered by Jack Munayer, an Israeli citizen who like his father Salim, has been particularly harsh in his description of Israel and its supporters.
Munayer, who was introduced as an "expert" by Gary Burge, a former professor at Wheaton College in Illinois, offered a particularly one-sided depiction of the Arab-Israeli conflict. For example, he described the expulsion of Arabs from Lydda during the 1948 War as premeditated act of ethnic cleansing perpetrated by Israel without informing his audience of more than 100 listeners, most of them first-time attendees, that Arabs were expelled from the city after a previously agreed upon truce was violated by the inhabitants of the city. It was this violation that precipitated the expulsion that Munayer describes.
During the question and answer period, Munayer was asked how the Palestinians have come to grips with with the legacy of the Grand Mufti of Jerusalem, who assisted the Nazis in the Holocaust and also broadcast virulent Jew-hatred into Muslim countries in the Middle East during World War II, once telling his listeners in a radio address to "kill the Jews wherever you find them."
Munayer's response was telling.
He said "I think that the Palestinians are split. There would be different opinions of what they think of the Grand Mufti of Jerusalem." Munayer then stated, "I don't accept the premise that the Grand Mufti of Jerusalem helped accelerate [or] encourage the Holocaust in any manner. I don't think that there are any Palestinians or any serious Holocaust historians that will accept that either."
Munayer's response is simply shocking. The Grand Mufti's participation and support for the murder of Jews in Europe is well-documented. He recruited Bosnian Muslims to serve in Hitler's SS and also wrote letters to Nazi officials to stop planned exchanges of Jewish children for German POWs held by the allies during the war.
As a German official testified before the judges at Nuremberg, "The Mufti was an accomplished foe of the Jews and did not conceal that he would love to see all of them liquidated…"
Why is what the Grand Mufti said and did during the Holocaust important today? Because the man is a national hero to many Palestinians. President Mahmoud Abbas described him as such in 2013.
The Christ at the Checkpoint has a well-documented tendency to condemn Israel while failing to hold Palestinian leaders to account for their misdeeds. Munayer's refusal to acknowledge the role that the Grand Mufti played in the Holocaust is a clear sign to his fellow Israeli citizens that he is not serious about promoting the cause of peace. If there is to be peace between Arab and Jew in the Holy Land, one issue the Palestinians must confront forthrightly is the Mufti's impact on both communities.
Posted by dvz at 05:24 PM | Comments (0)
May 22, 2018
Iran is Funding Hamas's Violent 'Protests' at the Border, Media M.I.A.
Iran's Supreme Leader, Ayatollah Ali Khameini

The Islamic Republic of Iran is behind the recent Hamas-orchestrated violent demonstrations—dubbed the "March of Return"—at the Israel-Gaza border, according to Israeli authorities. Yet many major U.S. news outlets have failed to report Tehran's role.
Israel's domestic intelligence agency, the Shin Bet, stated:
""From the information we have, it appears Hamas is encouraging and sending protesters to the border fence in order to carry out violent acts and damage security infrastructure. In addition, it was found that Iran is providing funding to Hamas in order for it to carry out these violent activities along the Gaza Strip's border fence."
As CAMERA has detailed (see, for example "Palestinian Nazi Flags and Hamas Talking Points," JNS, April 26, 2018) Hamas and other U.S.-designated terrorist groups have been organizing the demonstrations, interspersing armed operatives among civilians being used as human shields. Most of those killed in the demonstrations by the Israeli Defense Forces (IDF) have been linked to terror organizations.
Hamas is one of many terror groups funded by the Islamic Republic, which the U.S. State Department has listed as the leading state sponsor of terrorism. The group has long supported Hamas, Palestinian Islamic Jihad (PIJ), and others participating in the "March of Return." Like Hamas, Iran's ruling theocrats have called for Israel's destruction and genocide of the Jewish people.
Iranian-backed groups have also recently offered 100,00 U.S. dollars to blow up the recently opened U.S. embassy in Jerusalem ("Iranian Group Offer $100,000 Reward for Bombing U.S. Jerusalem Embassy," Newsweek, May 15, 2018).
Major U.S. news outlets, including The Washington Post, The Baltimore Sun, USA Today, and others, have ignored the Shin Bet's statement about Iran's role in the "march." By contrast, The Times of Israel and The Jerusalem Post each filed reports detailing the comments by Israeli officials.
The press has largely failed to provide unbiased, balanced and accurate coverage of the Hamas-led demonstrations, which have been ongoing since late March 2018. Many journalists have omitted or minimized Hamas's role and ignored readily available photographic and video evidence showing armed terrorists attempting to infiltrate and bomb Israel's sovereign border. Both The New York Times and The Washington Post, among others, have continued to refer to "protesters" killed by the IDF long after Hamas itself has acknowledged that many of them were terrorists.
A state-sponsor of terrorism has been identified as supporting what the media has, in Orwellian fashion, termed "non-violent" and "organic protests." And the press can't be troubled to report it.
Posted by SD at 02:48 PM | Comments (1)
May 21, 2018
Are Gaza Gunmen "Protesters"? NY Times Refuses to Say
After repeatedly insisting that "Israeli soldiers killed 60 protesters" during clashes last Monday, May 14, the New York Times is refusing to clarify whether its count of supposed protesters includes the eight armed Hamas fighters who, according to the Israeli army, opened fire on on Israeli soldiers.
A Times article first published on May 15 reports that 60 Gazans were killed during the classes, attributing that number to Palestinian officials. It goes on to say that, according to the Israeli army, "eight of the dead … were armed Hamas militants in civilian clothes who tried to storm the fence in northern Gaza and attacked Israeli forces with grenades and pipe bombs before being killed in a shootout" while another three were killed "while laying an explosive device." So far so good.
But if at least 11 of those killed were reportedly armed fighters engaged in hostilities, why do subsequent New York Times pieces claim that "60 protesters" were killed that day?
When CAMERA asked about this apparent misuse of language, the Times insisted that its reporting on the events is accurate. When asked to clarify whether that means its reporters concluded, contrary to Israel's assertion, that none of the 60 killed were in fact shooting at Israelis or planting explosives, or if not whether it means the newspaper feels comfortable describing armed militants among the 60 dead as "protesters," editors declined to comment.
It's a straightforward question, and it should be forthrightly answered. The New York Times promises to treat readers it "as openly as possible." Other journalistic codes of ethics consider accountability to be a core ethical guideline. The Society of Professional Journalists code, for example, says journalists should "clarify and explain news coverage and invite dialogue with the public over journalistic conduct."
It's not asking too much to request some transparency on a narrow and straightforward question about the paper's reporting on the 60 "protesters." And by refusing to clarify, the newspaper looks as though it has something to hide. Why?
May 25 Update: A New York Times editor has told CAMERA that that it is accurate and appropriate to describe Hamas gunmen that opened fire on Israeli soldiers as "protesters."
Posted by GI at 03:13 PM | Comments (1)
May 15, 2018
Bahrain Says Israel Has a Right to Self-Defense, and the Media Shrugs
Bahrain's Foreign Minister and then-U.S. Secretary of State John Kerry

The foreign minister of the Arab nation of Bahrain, Sheikh Khalid al-Khaalifa declared on May 10, 2018 that Israel has a right to defend itself. The remarks, which came after an Iranian-Israeli confrontation in Syria, mark a sharp break with the past, in which Arab countries condemned the Jewish nation's use of self-defense. Nonetheless, many major U.S. news outlets did not cover the story.
On Twitter, Al-Khalifa proclaimed:" "As long as Iran has breached the status quo in the region and invaded countries with its forces and missiles, any state in the region, including Israel, is entitled to defend itself by destroying sources of danger."
Multiple U.S. news organizations failed to note al-Khalifa's comments, including The Washington Post, The New York Times, USA Today, and The Baltimore Sun, among others. Several outlets, however, did note the historical significance of the comments, including The Times of Israel ("Bahrain backs Israeli strikes on Iranian targets in Syria"), The Jerusalem Post ("Bahrain and Israel: Quo Vadis?"), the Algemeiner ("Bahrain: Israel is 'Entitled to Defend Itself'")—even the Beirut Daily Star.
As CAMERA has detailed ("Where's the Coverage? Bahrain Foils Terror Plot," Jan. 11, 2016), Bahrain has frequently found itself attacked and subverted by the Islamic Republic of Iran, which has sought to manipulate the Gulf nation's sizable Shi'ite Muslim population. Hezbollah, the Lebanese-based, Iranian-backed terror group, has been involved in several plots to overthrow the Bahraini government. Top regime apparatchiks in Tehran routinely assert that Bahrain belongs to Iran, as the Middle East Media Research Institute (MEMRI) has documented (see, for example "Editor Close to Khamenei Says Bahrain Belongs to Iran," March 11, 2018).
Bahrain is but one of several Arab nations, including, most notably, the Kingdom of Saudi Arabia, which have lessened their antipathy towards Israel in the face of Iranian imperialism and aggression.
Yet, some pundits and reporters are prone to asserting that Israel is increasingly "isolated" or "losing global influence." However, recent events—even when underreported—prove otherwise.
Posted by SD at 11:26 AM | Comments (0)
Reuters Backgrounder on Jerusalem Misleads on Holy Sites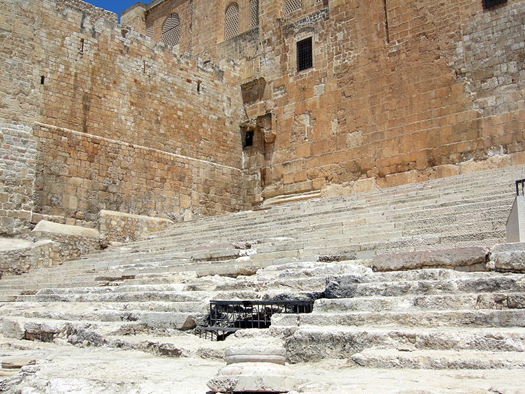 Steps leading to the Temple Mount entrance on the southern side, one of several above ground remains of the Temple complex
A Reuters feature yesterday meant to explain and unpack the complexities of Jerusalem misleads on the city's holy sites ("The U.S. is opening an embassy in Jerusalem. Why is there a furor?")
First, about the Temple Mount/Haram al-Sharif, the article states: "Muslims regard the site as the third holiest in Islam, after Mecca and Medina." While noting that the site is the third holiest in Islam, the article fails to note that the very same site is the most sacred in Judaism. In the past, Reuters has commendably fixed this egregious oversight.
In addition, the same article errs that the Temple Mount "was home to the Jewish temples of antiquity but all that remains above ground is a restraining wall for the foundations built by Herod the Great." In fact, there are several surviving above ground remains in addition to the western, southern, eastern and northern retaining walls. Extant features abutting the southern wall include a broad stairway leading up to the Temple Mount's entrance and two gates, known as Huldah Gates, which provided access to the Temple Mount (Hershel Shanks: Jerusalem: An Archeological Biography, p. 143). Some of the interior part of the Herodian Double Gate (which is one of the Huldah Gates) is also still intact. In addition, an area called "Robinson's Arch," in the south-western corner of the Temple complex, still remains. In his book, Shanks provides details concerning numerous other remnants.
CAMERA has contacted Reuters editors to request a correction. Stay tuned for an update.
Posted by TS at 05:11 AM | Comments (1)
AFP Captions Call Jerusalem Parade Participants Settlers
Numerous Agence France-Presse photo captions generalized all participants in Sunday's Jerusalem Flag Parade as "settlers," despite the fact that the crowd hailed from across Israel, within the Green Line, as well as outside. A sampling of the misleading captions follows:
Isreali [sic] nationalist settlers wave their national flags in front of the Western Wall in Jerusalem's Old City on May 13, 2018, as they celebrate the Jerusalem Day with the dome of the Rock in the background. For Israelis, Sunday is Jerusalem Day, an annual celebration of the "reunification" of the city following the 1967 Six-Day War. MENAHEM KAHANA/AFP
Israeli youths hold their national flags in Jerusalem on May 13, 2018, as Israeli nationalist settlers celebrate the Jerusalem Day in the Old City. For Israelis, Sunday is Jerusalem Day, an annual celebration of the "reunification" of the city following the 1967 Six-Day War. Thomas COEX/AFP
An Israeli man confronts a Palestinian woman at Damascus gate in Jerusalem on May 13, 2018, as Israeli nationalist settlers celebrate the Jerusalem Day in the Old City. For Israelis, Sunday is Jerusalem Day, an annual celebration of the "reunification" of the city following the 1967 Six-Day War. Menahem Kahana/AFP
CAMERA yesterday contacted AFP to request a correction. The wire agency has yet to clarify.
Posted by TS at 03:01 AM | Comments (0)
May 13, 2018
CNN Arabic Calls Western Wall 'Al Buraq'
May 16 Update: CAMERA Arabic Prompts CNN Arabic Correction on 'Al Buraq' Wall
Jack Ma visits the Western Wall May 2018 (Photo from Western Wall Heritage Foundation)
Early this month, Alibaba CEO Jack Ma visited the Western Wall, donning a kippah and honoring the holy Jewish site, a remnant of the Jewish Temple compound. On what basis, then, did CNN Arabic refer to the site using its Muslim name, "Al Buraq wall"?
As CAMERA Arabic earlier noted, a CNN Arabic story seems to violate CNN practice by referring to the Western Wall, one of Judaism's holiest sites, by a Muslim name, "Al Buraq Wall." The May 2 article ("Founder of the 'Ali Baba' group to visit Israel and meet Netanyahu"), says of Ma's visit to the Jewish holy site: "Activists on social networking photographed Ma, standing by the Wall of Al-Buraq in Jerusalem during his visit to Israel."
Use of an Islamic name in context of a visit intended to honor the site's special status in Judaism is clearly inappropriate and misleading. Furthermore, not only does CNN in English not use the term "Al-Buraq" wall to refer to the Western Wall, but CAMERA Arabic has confirmed that CNN Arabic has not used this misleading term in the past.
CAMERA has contacted CNN to request modification of the terminology. Stay tuned for an update.
Posted by TS at 07:43 AM | Comments (1)
May 10, 2018
Hamas: We Are 'Leading' the 'Great Return March'
Hamas's logo for the 'Great Return March,' which depicts all of Israel as 'Palestinian land'

Hamas, the U.S.-designated terror group that rules the Gaza Strip, has admitted that they are leading the violent demonstrations that have taken place every Friday at the Israel-Gaza border since late March 2018. Some news outlets, however, have portrayed the demonstrations as an organic and "non-violent protest," effectively minimizing the involvement of the terror group.
As CAMERA has highlighted, Hamas, Palestinian Islamic Jihad (PIJ), the Popular Front for the Liberation of Palestine (PFLP), and other terrorist organizations have interspersed operatives among thousands of Palestinian civilians who have gathered at the border. Some were armed with firearms, explosives, and other weapons and sought, under the cover of human shields, to illegally cross into Israel ("Hamas Uses Human Shields and The Washington Post," The Daily Caller, April 4, 2018).
The other objective of the so-called "Great Return March" has been to incur civilian casualties, with terrorists using mirrors and burning tires to obscure the vision of Israeli snipers targeting terror leaders in the crowd. Hamas and others have hoped that they can score a propaganda victory against the Jewish state. And the media seems determined to help.
Many major media outlets have ignored the fact that most Palestinians killed in the demonstrations have been linked to terror groups. According to a April 26, 2018 report by the Meir Intelligence and Terrorism Information Center, as many as eighty percent of Palestinians killed were associated with terrorist groups—including some who presented themselves as journalists.
The Washington Post has been a particularly prominent offender. Long after it was revealed that many of those slain were terrorists—and long after Hamas acknowledged that it had several operatives killed at the border—The Post has continued to publish reports omitting this crucial information. For example, a May 8, 2018 dispatch claimed "Israeli troops have fatally shot dozens of protesters on the border during a six-week-long 'March of Return' against the loss of Palestinian land ("U.S. Embassy Opening in Jerusalem is modest but highly symbolic")." The paper did not note that most of those "fatally shot" were terrorists. Further, Hamas leaders have repeatedly stated—including during the recent operations at the border—that they consider all of Israel to be "Palestinian land." Indeed, their charter and insignias say as much.
In fact, terrorist groups have orchestrated the "protests"—many of which have featured Nazi imagery, such as "kite bombs" with swastikas painted on them, and calls for genocide of Jews ("Palestinian Nazi Flags and Hamas Talking Points," JNS, April 26, 2018). And they've been clear about why.
In a May 9, 2018 speech, Hamas leader Yahya Sinwar called for the next week of protests to be "decisive" and stated: "We are supporting, even leading, them ("Hamas leader: Next week's border protests will be 'decisive,'" The Times of Israel)."
In remarks prior to the launch of the "Great Return March" strategy, Sinwar called for marchers to "eat the livers" of Israelis. This was also ignored by The Post, which, ostrich-like, has continued to file dispatches about "protests" supposedly over "the loss of Palestinian land."
Posted by SD at 09:12 PM | Comments (0)
May 09, 2018
Journalist: Hezbollah Shows 'More Maturity' Than Israel
Hezbollah Secretary General Hassan Nasrallah

A Los Angeles Times special correspondent, Nabih Bulos, declared on Twitter on May 7, 2018, that Hezbollah ("Party of God") shows "more maturity" than Israel. Hezbollah is a Lebanese-based, Iranian-backed, U.S.-designated terrorist group that calls for Israel's destruction and has murdered hundreds of Americans.
The reporter's comments were made after the May 7, 2018 elections in Lebanon. Hezbollah has exercised de facto control over the Levantine state. The elections witnessed a strong showing by Hezbollah and its allies in Lebanon. However, as Tony Badran, analyst for the Washington D.C.-based think tank Foundation for Defense of Democracies, noted in November 2017: "Hezbollah's domination of the country is already complete."
The organization—once described by then-U.S. Deputy Secretary of State Richard Armitage as the "'A Team' of terrorists"—is larger and more powerful than the Lebanese Armed Forces (LAF). After the election, Jonathan Schanzer, a former U.S. Treasury Department terror analyst, noted as much, tweeting: "Hezbollah has an arsenal larger than most armies in the Middle East, it controls chunks of Lebanese territory and key assets, it can launch a war whenever it pleases without Lebanese buy-in, and now has increased control over Lebanese politics."
Schanzer's point about Hezbollah domination is correct. Lebanon's president and commander-in-chief, Michel Aoun said in a Feb. 12, 2016 interview with Egypt's CBC, that Hezbollah's "arms are not contrary to the state project; otherwise we could have not tolerated it. It is an essential part of Lebanon's defense." Aoun has even described Hezbollah as a "complement" to the LAF. And as CAMERA has highlighted, the country's armed forces have been caught aiding and working with the terror group.
Bulos, however, took exception to the interpretation that Hezbollah exerts strong control over Lebanon. The reporter, whose work has appeared in The Los Angeles Times, The New York Times, Al-Jazeera, among elsewhere, even made an astonishing statement about the terror group, tweeting to Schanzer that:
"How about you actually visit Lebanon, talk to Hezbollah, and see what they are firsthand? It's a powerful armed group, yes, but it also has a strong social and political element that often shows more maturity than many other players in the region, including your allies."
Bulos did not respond when asked if "your allies" was referring to the principal U.S. ally in the region: Israel. However, it seems to be a fair assumption that this was at least one of the countries that he was referring to.
Of course, many "powerful armed groups" have included "strong social and political elements," including Nazis, neo-Nazis, the KKK, Hamas, and others. This does not make them "moderate" or "mature."
For its part, Hezbollah has confirmed that all of its financial support comes from the Islamic Republic of Iran, which the U.S. State Department has listed as the chief state sponsor of terrorism. As CAMERA's 2016 Backgrounder on the group has detailed, Hezbollah has an international reach, with operatives throughout Latin America, the Middle East, Europe, and Asia.
In the years after its 1982 creation, the group organized terror-training camps in Lebanon's Bakaa Valley, in which other terrorists, including al-Qaeda members, received tutelage. Hezbollah was an early proponent of suicide bombings, and the group has kidnapped and murdered journalists, and perpetrated numerous terrorist attacks, including plane hijackings and blowing up both an Israeli embassy and a Jewish community center in Argentina, in 1992 and 1994, respectively. As CAMERA has recently noted ("Iran Has Sleeper Cells in the U.S.," April 20, 2018), the terror group has sleeper cells in the U.S., where it has also sought to perpetrate terrorist attacks.
Since the organization's beginning, Hezbollah has instituted Islamist rule under many areas directly under its control. In 1987, the CIA reported that the sale or transport of liquor were prohibited in the Bekaa Valley, women were also forbidden from interacting with men in public, civil crimes are punished according to the Koran and Western education and influences are prohibited. In one example of the group's vehement antisemitism, Hezbollah's head, Hassan Nasrallah, stated on April 9, 2000 "The Jews invented the legend of the Nazi atrocities."
It's hard to see how a journalist can assert that Hezbollah has "more maturity" than a democratic U.S. ally like Israel and still maintain a modicum of credibility when reporting about the Middle East. But perhaps that is not a concern for Bulos, who was one of several American journalists to attend a conference in 2016 that was organized by a society run by Syrian dictator Bashar al-Assad's father-in-law ("Assad Regime's Grotesque PR Conference in Damascus Uses Western Reporters to Whitewash War Crimes," Tablet Magazine, Oct. 31, 2016). The purpose of that conference, according to Middle East analyst Lee Smith, was to raise "money for the [Assad] regime and its war effort, in part by relieving sanctions against major regime figures." Assad has committed a number of war crimes against his own people; murdering thousands of civilians with chemical munitions and barrel bombs. He is also a state sponsor of terrorism.
Several U.S.-sanctioned Assad regime officials participated in the conference alongside Bulos and several other journalists.
Posted by SD at 11:11 AM | Comments (1)
May 08, 2018
Hamas Telegram Channel Celebrates Bin Laden on the Anniversary of His Death

A telegram channel named for Hamas' Izz Al-Din Al-Qassam Brigades heralded Osama bin Laden, the founder of al-Qaeda, on the seventh anniversary of the terror leader's death. Hamas, an antisemitic U.S.-designated terrorist group that rules the Gaza Strip, is sometimes inaccurately portrayed in the press as merely a Palestinian nationalistic "resistance movement" to Israel; often minimizing or obfuscating on the group's Islamist agenda.
A May 8, 2018 report by the Middle East Media Research Institute (MEMRI), a non-profit organization that translates Arab, Russian, and Iranian media, noted that the telegram channel "published several messages about the late Al-Qaeda leader" on May 2, 2018. That channel has approximately 3,000 members. Additional eulogies were also posted on a separate Hamas forum.
Messages on the channel called Bin Laden a "lion," an "educator" and an "innovative imam," among other accolades. One message stated: ""On that day [May 2, 2011], we lost one of the knights of our nation, which only Hamas lamented at the time." Attached to that message were several death notices that the group published following Bin Laden's May 2, 2011 death.
Images of Bin Laden, along with several poems, were also posted on the channel and in Hamas's forum.
Al-Qaeda and Hamas both call for Israel's destruction and the genocide of Jews. The two groups also share an Islamist agenda; opposing secular rulers and seeking to impose their brand of Islam upon every segment of society. Matthew Levitt, a former U.S. Treasury Department terror analyst, noted in his 2006 book Hamas: Politics, Charity and Terrorism in the Service of Jihad, that Bin Laden identified "Hamas founder Ahmed Yassin," as one of his "prominent ideological influences." Bin Laden's brother-in-law, Muhammad Jamal Khalifa, even maintained "relations with Hamas members" while working for a a charity called the Muwafaq Foundation in the Phillipines.
Levitt also pointed out that although the two groups don't formally share an affiliation, "there is enough significant overlap in Hamas and al-Qaeda financing networks that informal person-to-person cooperation" in the area of funding is "probably inevitable."
Nonetheless, some policymakers and pundits often seek to downplay Hamas' Islamist sympathies and agenda. Journalists such as Robert Fisk and Max Blumenthal often whitewash Hamas's objectives and tactics. In truth, the two groups—while having some significant differences—still have many important similarities, including a hatred of the West and Israel and a virulent antisemitism.

Posted by SD at 03:12 PM | Comments (1)
May 01, 2018
Revealed: Palestinian 'Journalist' Killed at Gaza Border was a Terrorist
PFLP operatives

A Palestinian journalist who died from wounds received during the Hamas-led "Great Return March" has been identified as a terrorist. Ahmed Abu Hussein, a journalist who worked with Bisann News and Voice of Palestine Radio, was a member of the Popular Front for the Liberation of Palestine (PFLP), a U.S.-designated terror group, according to an April 30, 2018 report by the Meir Amit Intelligence and Terrorism Information Center (ITIC).
Hussein was wounded on April 13, 2018, during violent demonstrations at the Israel-Gaza border. His death was announced on April 25, 2018. Hamas and other terrorist organizations have encouraged thousands of Gazans to cross the border with Israel, interspersing armed operatives among unarmed civilians. As CAMERA noted in an April 26, 2018 JNS Op-Ed, Hamas hoped that by purposefully exposing Palestinians to injury and creating a no-win situation for Israel, the so-called "Great Return March" would delegitimize the Jewish state ("Palestinian Nazi Flags and Hamas Talking Points").
The majority of the Palestinians killed by the Israeli Defense Forces (IDF) have been linked to terrorist groups ("Think Tank: Majority of Gazans Killed During the 'Great Return March' Were Terrorists," CAMERA, April 26, 2018). And Ahmed Abu Hussein can be added to that list.
ITIC noted that after Hussein's death, the PFLP hung "death notices…saying that the organization mourned the death of its member" and red "PFLP flags were also carried" during his funeral. On April 28, 2018, the PFLP held a memorial service for Hussein the Jabalia refugee camp. Images of top PFLP leaders, such as Abu Ali Mustafa, "decorated" the service. The PFLP's "armed wing" is named after Mustafa, a co-founder of the group who was killed by the IDF during the Second Intifada (2000-05).
ITIC's report featured pictures of the memorial service, as well as posts from Hussein's Facebook page, in which he celebrated PFLP terror attacks.
Several media outlets that reported Hussein's injury and subsequent death merely described him as a reporter. The New York Times, The Associated Press, The Washington Post, and others referred to Hussein as a "journalist." So did the Committee to Protect Journalists (CPJ), which called Hussein a "Palestinian photographer for the Gaza-based Voice of the People Radio." CPJ omitted that Voice of the People Radio is affiliated with the PFLP—a fact listed in ITIC's report.
Posted by SD at 01:02 PM | Comments (2)