« March 2018 | Main | May 2018 »
April 26, 2018
NBC's CAIR-Less Coverage

The Council on American Islamic Relations (CAIR) portrays itself as a U.S. civil rights organization. However, as numerous terrorist analysts and the U.S. government itself has noted, CAIR is an unindicted co-conspirator in the 2009 Holy Land Foundation (HLF) retrial—the largest terrorism financing case in the nation's history. NBC, however, has treated the organization as a credible source on the subject of Islamic extremism.
In an April 23, 2018 article, "John Bolton presided over anti-Muslim think tank," NBC reporter Heidi Przybla used CAIR to attack Bolton, who is currently the National Security Adviser to President Donald Trump, and Gatestone Institute.
NBC quoted CAIR spokesman Ibrahim Hooper, who claimed that Gatestone is "a key part of the whole Islamaphobic cottage industry on the Internet." Hooper asserted that Bolton's association with Gatestone was "very disturbing."
However, NBC failed to inform readers about CAIR's troubling history. As CAMERA noted in an Aug. 9, 2016 Washington Times Op-Ed, at least five former staff or lay leaders from CAIR have been indicted, arrested or deported on weapons or terrorism-related charges. In an out of court settlement with the website www.anti-cair-net.org, the council did not contest assertions that it was founded and funded by some members of Hamas—a U.S.-designated terrorist group that rules the Gaza Strip and calls for the destruction of Israel.
As CAMERA's July 2009 Special Report "The Council on American Islamic Relations: Civil Rights or Extremism?" pointed out, CAIR's executive director, Nihad Awad, stated in 1994: "I am in support of Hamas." Richard Powers, an Assistant Director for the FBI, even sent a statement to members of the U.S. Congress, stating that the bureau was ceasing official cooperation with CAIR and its executives until the council could resolve, "Whether there continues to be a connection between CAIR or its executives and Hamas."
Hooper himself was once quoted as saying that he "wouldn't want to create the impression that I wouldn't like the government of the United States to be Islamic sometime in the future (Minneapolis Star-Tribune, April 4, 1993)."
Prior to working for CAIR, Hooper worked for the Islamic Association for Palestine (IAP), which fundraised for Hamas in America. In 2004, IAP was held civilly liable in a federal district court for financing the terrorist group. That ruling was upheld in 2008. At the HLF trial it was revealed that "numerous donation checks … made payable to … IAP" were "deposited into HLF's bank account," in some cases with the memo line, "for Palestinian Mujahideen [holy warriors] only."
As CAMERA has highlighted, CAIR has a history of skewing statistics and data—a charge that NBC levels at Gatestone. NBC's treatment of CAIR as a credible source—while failing to disclose disturbing aspects of the organization's history and ties—evidences careless reporting.
Posted by SD at 03:56 PM | Comments (0)
April 24, 2018
After Six Corrections, LA Times Again Errs on 'Palestine' Terminology
After half a dozen corrections in over a decade, The Los Angeles Times again uses the term "Palestine" to refer to Palestinian Authority areas. In an April 19 movie review about the first female sharia jurist ("The Judge"), Kenneth Turan writes:
Al-Faqih's research revealed that that lack was caused only by custom and convention, not the tenets of the Hanafi school of Islamic thought followed in Palestine.
The most recent Los Angeles Times correction on this issue, from last June, also concerned a calendar item. The June 28 correction states:
Roger Waters: An article in the June 22 Calendar section about Roger Waters' new album said Waters supports Palestinians' rights but incorrectly referred to tensions between Israel and Palestine. It should have said tensions between the Israeli government and the Palestinians.
Earlier Los Angeles Times corrections of the identical error were:


"Gerald A. Larue: In the Sept. 22 LATExtra section, the obituary of USC religious scholar Gerald A. Larue referred to archaeological digs in Palestine. The digs occurred in Israel and the West Bank." (Sept. 22, 2014)

"Carter speech: An article in Friday's California section included a subhead saying former President Carter urged students to travel to Palestine. The area referred to is the Palestinian territories." (May 5, 2007)

"Istanbul Biennial -- An article in the Dec. 11 Calendar section about an international art exhibition included Palestine in a list of nations from which artists had contributed works. It should have said the Palestinian territories." (Dec. 23, 2005)

"Bail bonds investigation–An article in the California section Sunday about the arrest of American Liberty Bail Bonds owner Adnan 'Dan' Yousef and members of his family reported that they had ties to Palestine. The reference should have been to the Palestinians territories." (Sept. 29, 2004)

"Palestinian film–Articles about Palm Springs International Film Festival that ran in Calendar on Dec. 20 and Jan. 8 referred to the movie 'Divine Intervention' as coming from Palestine. They should have said the Palestinian territories." (Jan. 13, 2004)
CAMERA has contacted The Times to request a correction. Stay tuned for an update.
Posted by TS at 07:03 AM | Comments (0)
AFP Calls Eastern Jerusalem Palestinian Territory
The influential news agency Agence France Presse has taken it upon itself to redraw the map, placing eastern Jerusalem in the Palestinian territories. In the April 22 article ("No boycott fear, say organisers of 'Giro' in Israel"), AFP errs:
In a bid to avoid political tensions, the routes [of the Giro d'Italia cycling contest] carefully avoid the Palestinian territories, namely east Jerusalem and the West Bank.
Eastern Jerusalem is not and never was Palestinian territory. Since 1967, eastern Jerusalem has fully been under Israeli control. From 1948 to 1967, it was occupied by Jordan. Before, that it was part of the British Mandate. The Nov. 29, 1947 partition plan had called for Jerusalem to be a corpus separatum, an international city administered by the UN for 10 years, at which point the city's status was to be decided in a referendum. Before the British Mandate, the city was under Ottoman control, and so on. Going back through history, at no point was any part of the city "Palestinian territory."

The Associated Press corrected the very same error this past February. The February 21 correction stated:


In a story Feb. 21, The Associated Press reported that east Jerusalem is Palestinian territory occupied by Israel since 1967. The story should have made clear that this was quoting a speech by Palestinian President Mahmoud Abbas to the U.N. Security Council. The Palestinians claim east Jerusalem as the capital of a future state, a position backed by most of the international community. Israel considers the entire city, including the eastern sector, to be its undivided capital.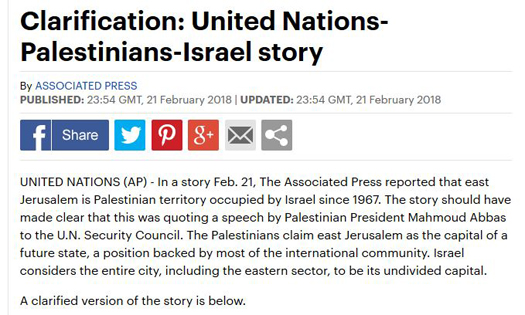 The AFP article is also partially wrong regarding the West Bank, of which only areas A and B are under total or partial Palestinian Authority rule. Area C is completely under Israeli rule. Area C was never under Palestinian rule, and Areas A and B came to be the Palestinian territories for the first time in history thanks to the Oslo Accords in the 1990s. (The West Bank's pre-1967 history parallels that of eastern Jerusalem.)
An AFP statement at the bottom of the article promises "accurate" coverage. If that's the case, AFP should follow the AP's commendable lead and correct the erroneous claim that eastern Jerusalem is part of the Palestinian territories.
May 2 Update: AFP Removes Reference to Jerusalem as 'Palestinian Territories'
In an April 30 article ("Israel hopes for revelation by hosting start of Gyro cycling race"), AFP did not again misidentify eastern Jerusalem as part of the Palestinian territories. The improved, though still flawed, language refers to "mainly Palestinian east Jerusalem, which Israel occupied over 50 years ago and later annexed in a move not recognised by the international community."
Posted by TS at 03:19 AM | Comments (0)
April 23, 2018
Poll: Majority of Palestinians Fear Their Own Government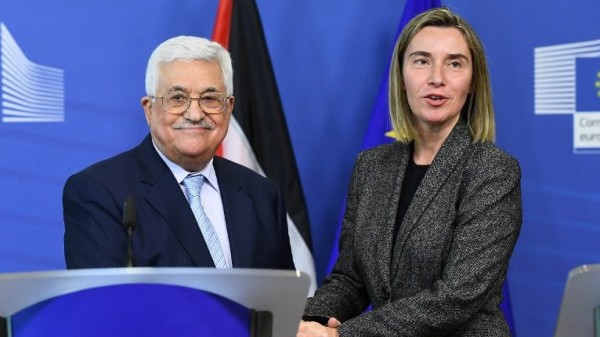 PA President Mahmoud Abbas and European Union Foreign Minister Federica Mogherini

A majority of Palestinians living in the West Bank (Judea and Samaria) fear the Palestinian Authority (PA), according to a poll by the Palestinian Center for Policy and Survey (PSR). The PA, dominated by the Fatah movement, rules the West Bank and is a major recipient of U.S. and international aid.
The PSR survey was published on March 27, 2018. It noted that 65 percent of Palestinians answered "no" when asked if "people in the West Bank today [can] criticize the authority without fear." The answers to other poll questions led PSR to conclude that "a shadow of pessimism, frustration, and despair" has left the Palestinian public "with no trust in its leadership and very little optimism about the medium or even the long-term future."
Nearly two-thirds of Palestinians polled believe that the PA security services eavesdrop on phone calls of citizens and "more than 60% believe that such eavesdropping is done illegally and without any just cause." This finding comes after accusations by a former Palestinian intelligence head that PA President Mahmoud Abbas setup an electronic surveillance unit in mid-2014 to monitor political opponents and critics ("Abbas' government sued over alleged CIA-backed wiretapping," Feb. 6, 2018, Associated Press).
Indeed, dissatisfaction with Abbas is extremely high, according to the poll, which noted that 68 percent of the public demand that the octogenarian ruler—who is currently in the thirteenth year of a four-year term—resign. Abbas also controls the Fatah movement and the Palestine Liberation Organization. As CAMERA has detailed, he has become increasingly autocratic in recent years; suppressing dissent, imprisoning journalists and consolidating complete control over the entities that he leads (see, for example "The Growing Autocracy of the Palestinian Authority," Oct. 7, 2017, The Times of Israel).
Abbas has refused to hold elections—and perhaps for good reason. According to the PSR survey, if an election were held, Ismail Haniyeh, a top leader of Fatah's rival, Hamas, would defeat Abbas. Similarly, Fatah's Marwan Barghouti, a younger Palestinian leader and rival, would also defeat Abbas. Barghouti is imprisoned in Israel for carrying out several terror attacks during the Second Intifada (2000-05).
Although Abbas is unpopular—a mere 33 percent said that they were satisfied with his performance—the Fatah movement is slightly (36 percent) more popular than Hamas (31 percent). A minority of Palestinians (23 percent) said, "Palestinian democracy is good or very good." By contrast, a majority (57 percent) said, "democracy in Israeli is good or very good."
The PA itself is extremely unpopular. PSR reported: "Perception of corruption in PA institutions stands at 78% and a majority of 52% views the PA as a burden on the Palestinian people while 41% view it as an asset for the Palestinian people."
The survey also showed that 48 percent of Palestinians polled in the West Bank and the Gaza Strip support "an armed intifada" (violent uprising) against Israel. PSR elaborated:
"When given three options to choose from, the largest percentage (35%) chose armed resistance as the most effective means of establishing a Palestinian state next to the state of Israel while 31% chose negotiation and 25% chose non- violent resistance effective. Three months ago, 44% indicated that armed resistance is the answer and 27% sided with negotiation. When the public is asked if it supports each of the following the responses were different: 74% support joining more international organizations; 63% support popular non-violence; 48% support a return to an armed intifada; and 49% support dissolving the PA. Support for a return to an armed intifada is higher in the Gaza Strip (67%) compared to the West Bank (39%), in cities and refugee camps (51% and 49% respectively) compared to villages/towns (34%), among the religious (55%) compared to the somewhat religious and the non-religious (43% each), among those who are opposed to the peace process (74%) compared to supporters of the peace process (34%), among men (52%) compared to women (45%), among those whose age is between 18 and 22 (58%) compared to those whose age is 50 years or above (48%), among Hamas supporters (74%) compared to supports of Fatah and third parties (36% and 42% respectively), among students (70%) compared to housewives and laborers (43% and 45% respectively), and among holders of BA degree (54%) compared to holder of elementary education and the illiterates (35% and 48% respectively)."
The public opinion poll was conducted from March 14-17, 2018 and used a sample size of 1200 adults that were interviewed face to face in 120 randomly selected locations. The survey has a margin of error of three percent. PSR's survey can be found here.
Posted by SD at 02:39 PM | Comments (0)
LA Times Replaces Solid AP Headline With Biased Headline
"Hamas vows revenge for key member killed in Malaysia," was the perfectly accurate and straightforward Associated Press headline (reproduced here in The Washington Post) about the killing Saturday of key Hamas member Fadi Batsh in Malaysia.
But The Los Angeles Times, which published the AP story in the April 22 print edition on page 4, replaced AP's solid headline with the following biased and misleading headline: "Hamas says Israel killed scholar; Militant group vows revenge over what it calls an assassination in Malaysian capital."
Readers who glance only headlines, as so many so often do, would reasonably conclude that the man killed was a quiet intellectual, immersed, perhaps, in the intricacies of Islam. The Times' skewed headline does not even specify that the "scholar" was a Hamas member, never mind an important Hamas member.
The accompanying article begins:
The Gaza Strip's ruling Hamas militant group said Saturday that a man who was gunned down in Malaysia was an important member of the organization, accusing Israel of being behind the brazen killing.

Hamas said Palestinian engineer Fabi Batsch was a "loyal" member and a "scientist of Palestine's youth scholars." It gave no further details on his scientific accomplishments but said he had made "important contributions" and participated in international forums in the field of energy.
Nine paragraphs later, the most intrepid readers learn: "However, Israeli media reported that he was also deeply involved in the Hamas drone development program."
Thus, while the original AP headline commendably stuck to the important facts about which all agree -- that Fadi Batsh was a key member of Hamas -- The Los Angeles Times headline whitewashes the star engineer of the designated terror organization as no more than a "scholar," not even one linked to the group.
Posted by TS at 05:21 AM | Comments (0)
April 20, 2018
Iran Has Sleeper Cells in the U.S.—And the Media is Fast Asleep
Hezbollah head Hassan Nasrallah

The Islamic Republic of Iran has proxies serving as "sleeper cells" in the U.S., according to sworn congressional testimony. Yet, U.S. news outlets have largely neglected the story.
Several "intelligence officials and former White House officials confirmed to Congress" on April 17, 2018, that "Iranian agents tied to the terror group Hezbollah have already been discovered in the United States," according to a Washington Free Beacon article by reporter Adam Kredo ("Iranian-Backed 'Sleeper Cell' Militants Hibernating in U.S., Positioned for Attack," April 17, 2018). The officials told members of Congress that it would be "relatively easy" for Iran to use its proxies to carry out attacks in the U.S.
Hezbollah is a Lebanese-based, Iranian-backed, U.S.-designated terrorist group. Hezbollah calls for Israel's destruction and has murdered hundreds of Americans, as CAMERA detailed in its 2016 backgrounder on the organization.
Michael Pregent, an adjunct fellow at the Hudson Institute, a Washington D.C.-based think tank, and a former intelligence adviser to U.S. Army Gen. David Petraeus, told the U.S. Congress that Hezbollah was "as good or better at explosive devices than ISIS," "better at assassinations and developing assassination cells" and "better at targeting." Indeed, as CAMERA has noted, former U.S. Deputy Secretary of State Richard Armitage referred to Hezbollah as the "A team" of terror groups.
Although the majority of analysts testified that Iranian proxies like Hezbollah pose a threat to the U.S. homeland, many news outlets failed to report their testimony. A Lexis-Nexis search showed that The Washington Post, The Baltimore Sun, USA Today, among others, did not report the analyst's remarks. By contrast, The Washington Free Beacon provided a detailed report.
The failure of journalists to cover the story is striking considering the gravity of the testimony. Emanuele Ottolenghi, a senior fellow at the Foundation for the Defense of Democracies and author of The Pasdaran: Inside Iran's Islamic Revolutionary Guard Corps, testified:
"A survey of cases prosecuted against Hezbollah operatives in the past two decades shows that the terror group remains a threat to the security of the U.S. homeland and the integrity of its financial system. Iran and Hezbollah sought to carry out high casualty attacks against U.S. targets multiple times. Additionally, they built networks they used to procure weapons, sell drugs, and conduct illicit financial activities inside the United States."
Ottolenghi noted that U.S. law enforcement arrested two Hezbollah operatives, Samer El Debek and Ali Mohammad Kourani, indicting them in May 2017 for "casing targets for possible future terror attacks." Both were members of Hezbollah's External Security Organization (ESO), also known as the Islamic Jihad Organization (IJO) or External Security Apparatus (ESA). ESO is tasked with carrying out terrorist attacks and other operations, such as money laundering and drug smuggling, throughout the world.
The two Hezbollah operatives—both naturalized U.S. citizens—underwent military training in Lebanon and procured explosives, as well as night-vision goggles and drone technology. Ottolenghi testified that El Debek scoped out potential targets, including New York's John F. Kennedy and La Guardia International Airports and the U.S. Armed Forces Career Center in Queens, New York. In 2007, Iranian proxies planned to blow up the fuel tanks at JFK airport, but were thwarted by authorities.

Nader Uskowi, a former policy adviser to the U.S. Central Command, told Congress that Iran is believed to have an auxiliary fighting force of around 200,000 militants spread across the Middle East—many of them battle hardened from fighting in the Syrian Civil War. "It doesn't take many of them to penetrate this country and be a major threat," Uskowi said. "They can pose a major threat to our homeland."
Such a threat warrants coverage from news providers; not silence.
Posted by SD at 01:19 PM | Comments (2)
April 19, 2018
Where's the Coverage? Iranian Drone Shot Down by Israel Was Armed
Iran's Supreme Leader, Ali Khamanei

Israeli officials have recently disclosed that an Iranian drone shot down by the Israeli Defense Force (IDF) on Feb. 10, 2018 was armed. However, many major U.S. news outlets have failed to provide readers with the update.
The Iranian-made unmanned aerial vehicle (UAV), or drone, was shot down thirty seconds after it entered Israeli airspace. The IDF also responded by carrying out airstrikes on the T-4 base in Syria where the drone was launched. An Israeli aircraft was downed in the incident, which received extensive—if often flawed—media coverage.
As CAMERA detailed, several major U.S. press outlets carried headlines that confused the order of events and/or minimized Iran's role in provoking the incident. The Washington Post, for example, initially filed a report with a misleading caption that falsely claimed that Israel used the Iranian drone attack as a "pretext" for its response. Following intervention by CAMERA, The Post corrected ("Updated: The Washington Post Corrects Claim That Israel Used Iranian Drone as 'Pretext' for Attack," CAMERA, Feb. 11, 2018).
On April 13, 2018, the IDF revealed that the drone was armed with explosives. The IDF stated:
"An analysis of the flight path and operational and intelligence research performed on parts of the Iranian UAV that entered our territory on February 10 shows it carried explosive material and its mission was to carry out a destructive operation."
Israeli officials said that they did not know the drone's precise intended target in Israel. The Times of Israel noted that the IDF's statement, "came after the airstrike in Syria this week — blamed on Israel by Syria, Iran and Russia — reportedly killed 14 people, including seven Iranian military advisers, one of whom was a colonel in the Islamic Revolutionary Guard Corps air force."
Israel's admission, and its recent targeting of Iranian bases in Syria, is seen as evidence of increasing tensions between Tehran and its proxies and Jerusalem. Iran's rulers routinely call for the destruction of the Jewish state.
Yet, many U.S. news outlets have failed to update readers with the IDF's important disclosure. USA Today, The Baltimore Sun, and others who covered the February 10th incident, did not note that the drone was armed when it violated Israeli airspace. The Washington Post, which provided several reports at the time of the drone attack, merely reprinted an Associated Press dispatch ("Israel Says Iran Drone Downed In Feb Was on Attack Mission," Feb. 13, 2018).
Those who count on the media for balanced coverage of the Middle East and Israel deserve the full story—and too many in the press aren't providing it.
Posted by SD at 01:45 PM | Comments (0)
April 18, 2018
The Presbyterian Church USA Is Obsessed With Israel
Here's a good rule of thumb. If someone from the Presbyterian Church (USA) tries to tell you their peacemaking agenda is not about the Jews, you can be sure it's about the Jews.
The Presbyterian Church USA, a dying mainline church with a long history of attacking Israel, will convene its General Assembly in St. Louis Missouri in June 16-23, 2018.
As of this writing, there are nine resolutions before the committee charged with issues related to the Middle East.
Eight of those nine resolutions are related to Israel.
Only one is related to the ongoing civil war in Syria, which has cost half a million people their lives.
In the course of this war, the Assad regime has used chemical weapons to drive thousands of people from their homes. The regime has been accused of running extermination camps where its opponents are murdered and their bodies placed in mass graves.
The Assad regime has gassed its opponents, dropped barrel bombs on people lined up at bakeries to get bread. It has strafed, shot and starved half a million people, driven millions of Syrians into exile and displaced millions of its citizens internally.
Despite these manifest crimes against humanity, the denomination's peace activists have gotten one — only one — overture on the agenda of the PCUSA's upcoming General Assembly.
And this overture does not even mention Syrian President Bashar Al Assad or the Assad regime by name!
The background for the overture, does however, blame U.S. sanctions against the Syrian government for the a downward spiral of the country's economy which has caused a decline in the standard of living:
A key factor contributing to this downturn has been the sanctions imposed by the United States. Those sanctions, enacted in order to punish the Syrian government for its support of terrorism, violence, and human rights abuses, have had a major impact on the welfare of all Syrian citizens.
There is something seriously wrong with the PCUSA and in particular, its General Assembly.
Posted by dvz at 01:00 PM | Comments (0)
April 17, 2018
Haaretz Editorial Repeats Inaccuracy About East Jerusalem Arabs
Despite the fact that just last month Haaretz corrected a news story which erred on the status of east Jerusalem Arabs, an April 10 editorial again misrepresents about the rights of this population, stating:
Palestinians in Jerusalem, comprising almost 40 percent of its population, are not citizens of the country. . .
In fact, as last month's correction indicated, some seven percent of east Jerusalem Arabs hold citizenship.
The Independent also corrected the identical error last month. The Independent's March 11 article originally stated that "Arabs living in [Jerusalem] do not have citizenship."
Following communication from CAMERA's UK Media Watch, The Independent corrected its story, which now accurately reports that "most Arabs" in the city don't have citizenship.
In March 2015, CAMERA prompted a New York Times correction which made clear that those Jerusalem Arabs with Israeli citizenship may vote for Knesset election.

As of this writing, Haaretz has failed to amend its editorial.
Posted by TS at 03:57 AM | Comments (1)
April 13, 2018
AP and Times of Israel Correct, Haaretz Retains "Explosive Bullets" Charge
Update: To its credit, Haaretz has also corrected its piece.
After intervention by CAMERA, the Associated Press and Times of Israel have commendably corrected stories relaying the outlandish claim that gunshot injuries with exit wounds larger than entry wounds are evidence of "explosive bullets." You can find further details on that here.
Haaretz, which also published the misleading story, has thus far neglected to correct their copy.
We've contacted editors at Haaretz, and will update this space as needed.
Posted by GI at 01:24 PM | Comments (0)
April 12, 2018
New York Times Bias on Full Display in Editorial
Today's NYT editorial is predictable, touting the same message the Times touts day after day in its news pages, Op-Eds and editorials: Israelis are bad and Palestinians are their innocent victims. The editorial, "Israel's Violent Response to Nonviolent Protests" includes all the familiar tropes employed by the Times to demonize Israel. It is all rather formulaic by now.
1) Present Israeli version of events as allegation but adopt Palestinian claims as truth:
- Israel has said some Gazans have tried to toss crude explosives, shoot weapons and breach the barrier....
- The government claims that the protests are a cover for a more violent Hamas agenda...
vs.
- But, in general, the protests have been peaceful...
- but in the face of unarmed civilians it could do so with nonlethal tactics...
- There has been no apparent reason for Israel to use live ammunition.
In fact, on the same day the editorial came out, supposedly peaceful, non-violent Palestinians detonated an explosive device near an Israeli bulldozer in the buffer zone near the security barrier.
2) Dismiss Israeli claims, even when your reasoning lacks any logic:
- The Israeli military has said its forces did not intentionally shoot journalists. But that assertion was undercut by Avigdor Lieberman, the Israeli defense minister, who said on Tuesday that Mr. Murtaja was a Hamas captain who had used a drone to collect intelligence on Israeli forces. That volatile charge is at odds with independent news reporting and, if it is false, could put other journalists at grave risk.
How exactly does Lieberman's claim that Murtaja is, in fact, a Hamas captain trying to collect intelligence "undercut" the assertion that Israel did not deliberately target journalists???? It doesn't. On the contrary, if Murtaja was indeed a Hamas operative collecting intelligence, then it would support Israel's claim that soldiers were not targeting journalists.
3) At the same time, accept the claims of overtly partisan organizations, identifying them as neutral human rights groups, and quote or cite them to bolster your own partisan claims:
- Human Rights Watch said it reviewed videos of the protests... showing that victims posed no threat to Israeli troops.
- Meanwhile, B'Tselem, an Israeli human rights group, urged Israeli soldiers to disobey open-fire orders because using live ammunition against unarmed people is unlawful.
Both Human Rights Watch and B'tselem routinely bend the facts in their obsessive attempts to delegitimize the Jewish state.
4) Emphasize the difference in the numbers of casualties to imply that Israel is using disproportionate force against Palestinians:
- three wars between Israel and Hamas that have killed thousands of Palestinians and about 100 Israelis...
- Since the protests began, Israeli forces have killed at least 29 Palestinians and wounded more than 1,000...There have been no known Israeli casualties.
The Israeli Defense Force's mission is to defend the Israeli people, keeping them out of harm's way and keeping harm away from them. The mission of Hamas and Palestinian Islamic Jihad, by contrast, is to eradicate the Jewish state, sacrificing their people to become suicide bombers, human shields and otherwise urging their people to put their lives at risk by carrying out attacks on Israelis and the Israeli Defense Forces or breaching the security barrier to flood into Israel.
5) Always present Palestinians as blameless victims without any responsibility or agency. For example:
- .protests that over the past two weeks have drawn tens of thousands of Palestinians to Gaza's border with Israel, demanding to return to lands their families lost in the 1948 war that accompanied Israel's founding.
Whose fault was the 1948 war, launched by Arab armies with the intent of eradicating the nascent Jewish state?
Whose fault is it that the Palestinians have rejected every offer of statehood because they insisted they would not accept a Jewish state in the region?
Whose fault is it when someone is hurt or killed while in the process of attacking or trying to kill someone else?
Posted by RH at 04:24 PM | Comments (1)
Official Palestinian TV Broadcasts Holocaust Denial
Haj Amin al-Husseini meeting with Adolf Hitler

Two days before Holocaust Remembrance Day, an official Palestinian Authority (PA) TV channel broadcasted claims that Jews "colluded with Hitler."
On April 10, 2018, PA TV aired an interview with Hani Abu Zeid, a Palestinian political analyst and commentator. The Middle East Media Research Institute (MEMRI), a non-profit that translates Arabic, Persian and Russian media, reported on the incident:
Hani Abu Zeid: "The [Israeli] soldier, the officers behind him, and even the Israeli war [sic] minister, and above him, Netanyahu should stand trial as war criminals. The accumulation of cases, one after the other... The Israelis will end up shedding tears of blood [out of regret] for their current conduct. They used to cry about the false Holocaust in the days of Hitler, the scope of which was not that large. I'd like to point out..."
Interviewer: "The [Holocaust] is a lie that they spread worldwide."
Hani Abu Zeid: "Yes, it was a lie, and many Israelis, or many Jews, colluded with Hitler, so that he would facilitate the bringing of settlers to Palestine."
As the United States Holocaust Memorial Museum has noted: "Holocaust denial and minimization or distortion of the facts of the Holocaust is a form of antisemitism."
Yet, Holocaust denial remains commonplace in much of the Arab world, including in Palestinian society and culture. PA President Mahmoud Abbas, for example, claimed in his doctoral dissertation—done under Soviet auspices—that the Holocaust was exaggerated.
PA TV itself often broadcasts Holocaust denial and revisionism. As Palestinian Media Watch (PMW), a non-profit organization that monitors Arab media in the West Bank, eastern Jerusalem and the Gaza Strip, detailed in an April 11, 2018 report. PMW noted that recent PA TV broadcasts edited out pictures of American soldiers liberating concentration camps and "erased the images of corpses in striped concentration camp uniforms…and presented photos of the remaining dead bodies as Arab victims of Jews in 1948." PA TV also "claimed that the Jewish fighters burned Arabs in ovens in" Israel's 1948 War of Independence.
These lies and attempts to appropriate the Jewish people's suffering in the Holocaust demean the historical record. They also obscure an important fact: Palestinian Arab leaders, such as Haj Amin al-Husseini, actively colluded with Hitler and sought the destruction of worldwide Jewry.
As CAMERA noted in a Dec. 27, 2017 Washington Jewish Week Op-Ed, Abbas has called al-Husseini "a pioneer."
Posted by SD at 03:25 PM | Comments (0)
'Moderate' Fatah Names Children's Summer Camp After Murderer
Khalil al-Wazir and Yasser Arafat, Abbas' predecessor

Fatah, the movement that dominates the West Bank-ruling Palestinian Authority (PA), has named a children's summer camp after a terrorist. Major media outlets routinely describe both Fatah and the PA as "moderate."
An April 7, 2018 report by Palestinian Media Watch (PMW), a non-profit organization that monitors Arab media in the West Bank (Judea and Samaria), the Gaza Strip and eastern Jerusalem, provided details.
PMW cited an article in Al-Hayat Al-Jadida, the official daily newspaper of the PA, which noted:
"The Fatah Movement's Jenin branch, in cooperation with [Fatah's] Jenin region leadership, held the third coexistence camp under the title Martyr Abu Jihad Camp (i.e., terrorist, responsible for murder of 125), and this was at the [PA] National Security [Forces] camp Horsh Al-Saada. The camp will last for an entire month, three days a week, and 600 students from the [Fatah] High School Shabiba will participate in it."
Abu Jihad was the nom de guerre of Khalil al-Wazir, one of the founders of Fatah. Among other atrocities, al-Wazir planned the 1978 Coastal Road Massacre, in which Palestinian terrorists murdered 38 civilians—11 of them children. He also oversaw the assassination of U.S. diplomats in Khartoum, Sudan, in March 1973. In total, an estimated 124 Israelis were murdered in terrorist attacks that al-Wazir planned and/or participated in.
Israeli commandos killed al-Wazir on April 16, 1988. Yet, Palestinian officials frequently herald him as a hero, celebrating his crimes. Al-Quds University in Jerusalem has an Abu Jihad museum that honors the murderer. The university is supported by the PA and receives grants from European governments. It also has a partnership with Bard College, a university in New York ("Palestinian University Honors Terrorist With 'Cultural Event,'" CAMERA, Feb. 16, 2016).
As CAMERA has noted, the current Vice President of Fatah, and the deputy to PA President Mahmoud Abbas, is a man named Mahmoud al-Aloul. Al-Aloul served as al-Wazir's deputy and is also nicknamed Abu Jihad. His February 2017 ascension to Fatah's number two post was widely ignored by major media outlets like The Washington Post and USA Today.
The press often describes Fatah as "moderate," ignoring its persistent support, political, social, economic and otherwise, of anti-Jewish violence. As CAMERA has highlighted, Palestinian summer camps, sports tournaments, T.V. shows—even street names and clothing stores—frequently glorify those who murder Jews.
In a speech four days after the Op-Ed in an official PA daily, Fatah and authority head Mahmoud Abbas claimed "we are fighting terrorism more" than the U.S. ("Abbas decries 'big conspiracy' facing Palestinian cause," The Times of Israel, April 11, 2018). Most Western press outlets ignored Abbas' assertion—and not a single one has reported on Fatah's summer camp plans.
Posted by SD at 02:07 PM | Comments (0)
CAMERA Op-Ed Highlights Trends in Media Coverage of Israel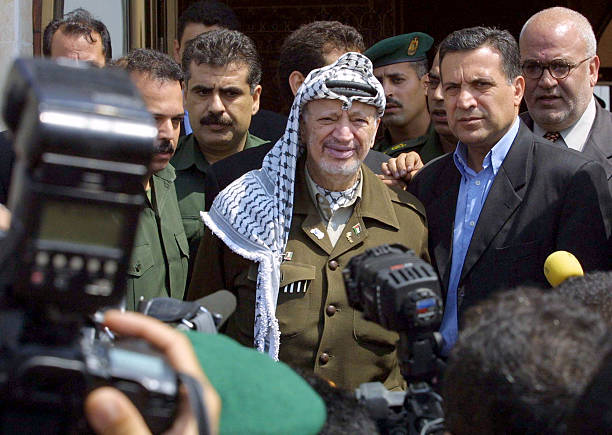 (Note: The following is an excerpt of a full-length article in the Spring 2018 issue of Jewish Policy Center's inFOCUS Magazine)
In his 1985 book Double Vision: How The Press Distorts America's Views of the Middle East, the American-born Israeli writer Ze'ev Chafets catalogued the ills that plagued U.S. news media coverage of the Middle East in general, and Israel in particular. Chafets, who had served as the director of Israel's Government Press Office, noted that "the choices that have shaped the American press's approach to the Middle East in recent years have been influenced by a complex mixture of inexperience, parochialism, radical chic, economic self-interest, U.S. government manipulation, and the strong-arm news-management techniques of the Arab world."
More than three decades since Chafets' book first appeared, Western media coverage of Israel has increasingly come under fire from writers, analysts and organizations that charge the Fourth Estate with an ingrained bias against the Jewish state. And indeed, there is much that the press gets wrong about Israel. In key ways, the media fails to provide readers with a full and accurate depiction of the country.
The principle problem is narrative. Like all people, journalists are not immune from having their own preconceived notions warp their analysis. As Matti Friedman, a former Associated Press reporter, noted in a Nov. 30, 2014 Atlantic Monthly article about media bias and the Middle East, "the news tells us less about Israel than about the people writing the news." He's right. It also tells us a lot about how the news gets reported.
As both Chafets and Friedman have observed, Israel is the victim of an obsessive media focus. The country of eight million receives a disproportionate level of coverage thanks, in no small part, to the safety and freedom that it provides the press in an increasingly unsafe region—and world – that is filled with governments and groups who menace – and sometimes murder – reporters. As Friedman noted in an Aug. 26, 2014 Tablet Magazine article, the AP alone had "significantly more" correspondents covering Israel than it had in "China, Russia, or India, or in all of the 50 countries of sub-Saharan Africa combined," and higher than the total number of employees in all the countries in which the so-called "Arab Spring" erupted. This fixation has a distorting effect that is complicated by a narrative that is widely embraced by many in the press.
Israel, the thinking goes, is an obstinate nation that exaggerates—and even creates—many of the threats that menace it. Israel could have peace if only it wanted to. By contrast, the Palestinian Arabs are seen as a native people oppressed by a Jewish colonial entity. Accordingly, Palestinian acts of terrorism are excused—even celebrated by some—as "resistance." This line of thinking—what Chafets called "radical chic" in the 1980s—is not new. But acceptance of it has grown.
Read the rest of the article here.
Posted by SD at 11:27 AM | Comments (0)
April 09, 2018
Top Palestinian Official: Hamas is Using Human Shields in Gaza for Media Coverage
Mahmoud al-Habbash. Image courtesy of Palestinian Media Watch

A high-ranking Palestinian Authority (PA) official, Mahmoud al-Habbash, has said that Hamas is sending civilians to die in violent demonstrations along the Israel-Gaza border in order to influence media coverage. Habbash serves as the Supreme Sharia (Islamic law) judge and an adviser on Islamic affairs to Mahmoud Abbas, the President of the PA.
Mahmoud al-Habbash's remarks were made in an April 6, 2018 sermon at PA headquarters in Ramallah and were subsequently translated by Palestinian Media Watch (PMW), a non-profit organization that monitors Arab media in the West Bank, Gaza Strip and eastern Jerusalem.
Hamas has helped orchestrate the so-called "Return March," in which thousands of Gazans violently demonstrated—some with molotov cocktails, burning tires and firearms—along the border with Israel. As CAMERA detailed in an April 4, 2018 Daily Caller Op-Ed, those committing violence are purposefully interspersed alongside civilians—in order to create casualties. Hamas hopes that by using human shields and causing the deaths of their own people, international public opinion—often influenced by uncritical media reports—will single out Israel for opprobrium.
Yet, many major U.S. news outlets have played into Hamas' objectives by failing to note the Gazan-based terror group's strategy. In his televised sermon, al-Habbash said:
"The Palestinian people... doesn't care about those [Hamas] with 'the emotional stories of heroism,' those with the slogans of heroism - slogans that when you hear them, you think that the people saying them are inside the Al-Aqsa Mosque after they liberated it. And afterwards you discover that they're only selling illusions, trading in suffering and blood, trading in victims, [saying]: 'You Palestinians, our people, go and die so that we'll go to the TV and media with strong declarations.' These [Hamas] acts of 'heroism' don't fool anyone anymore."
The Fatah movement, a long-time rival of Hamas, dominates the PA. Al-Habbash's comments illustrate the deep cynicism of both groups. Although his top religious affairs adviser admitted that Hamas is trying to create civilian casualties for propaganda purposes, on March 30, 2018, PA President Abbas claimed that Israel was "fully responsible" for the deaths of human shields used by Hamas ("Abbas says Israel fully to blame as Gaza death toll rises," The Times of Israel, March 30, 2018). Nonetheless, Abbas was in the audience when Al-Habbash delivered his sermon and didn't express a word of disagreement with his adviser.
PMW's report on Al-Habbash's comments can be found here.
Posted by SD at 11:30 AM | Comments (0)
April 08, 2018
Where's the Coverage? Syria Violates Demilitarized Buffer Zone with Israel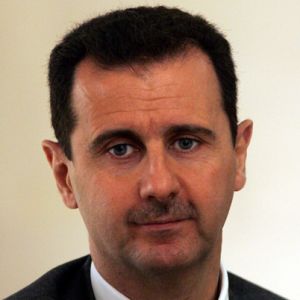 Bashar al-Assad

The Syrian government of Bashar al-Assad has placed tanks and heavy artillery inside a demilitarized border zone with Israel. Although Assad's move violates a "decades-old agreement," it was widely ignored by major U.S. media outlets.
On April 5, 2018, The Times of Israel reported that the Assad regime is "preparing an offensive to retake southern Syria and the Syrian Golan Heights from rebel groups," and is placing both tanks and heavy artillery inside the buffer zone to do so. However, as TOI reporter Michael Bachner pointed out: "The step violates the Agreement on Disengagement signed in 1974 between Israel and Syria, which concluded the Yom Kippur War." That Arab-initiated war was fought in October 1973 between a Soviet-supported Arab-coalition, led by Egypt and Syria, against Israel.
The Agreement on Disengagement created the United Nations Disengagement Observation Force (UNDOF), which has been responsible for patrolling the buffer zone since 1974. The outbreak of the Syrian Civil War in 2011, however, led to the UNDOF's evacuation from the area. Since then, several al-Qaeda linked terrorist groups have operated in the area, according to The Times of Israel report.
Syria's violation of a long-standing agreement—forged in the aftermath of a famous and bloody war—should be news. Yet most major U.S. news outlets have failed to report it. A Lexis-Nexis search of The Washington Post, USA Today, The Baltimore Sun, among others, shows no original reporting of the development. By contrast, both The Times of Israel and Ha'aretz offered full-length reports.
The Assad regime's decision to violate the agreement is ominous. Syria has consistently refused to make peace with the Jewish state—repeatedly waging wars against Israel and supporting terror groups that seek its destruction. In previous years, Syria has supported Fatah, the Palestine Liberation Organization (PLO), and the Popular Front for the Liberation of Palestine-General Command (PFLP-GC), among other terrorist organizations.
Hezbollah, the Iranian-backed, Lebanese-based terror group, has fought in the Syrian Civil War, in support of Assad. From its Lebanese enclave, Hezbollah routinely attacks Israel, most recently in a bloody thirty-four-day war in the summer of 2006. As CAMERA noted in a March 28, 2018 Washington Examiner Op-Ed, the advent of the Syrian Civil War has provided Hezbollah, as well as its Iranian masters, with a new front to assault the Jewish state ("Israel may be facing a five-front war").
The weakening of Assad's power and legitimacy as a result of the civil war, and his dependence on the Russian and Iranian-supported forces that have prevented his overthrow, has only increased Moscow and Tehran's influence in both Syria and the region. Some analysts have warned that Assad-ruled Syria is becoming a vassal state for Iran ("The Iranian dream of a reborn Persian Empire," The New York Post, Feb. 1, 2015).
On several occasions over the last several months, Israel and Syria have engaged each other in the area formerly under UNDOF's control. A June 2017 U.N. Security Council resolution "condemned the use of heavy weapons, including tanks, by both the Syrian armed forces and armed groups in the area of separation." The Times of Israel reported that Israel plans to protest Syria's recent violation before the United Nations.
Assad's decision to occupy the demilitarized zone might lead to more conflict with Jerusalem.
Bachner noted that Hezbollah "has established a Golan regional command center, with a hundred of its operatives located in south Syria and a thousand other local residents being paid regular salaries by the organization." As CAMERA detailed in the Examiner, Hezbollah has vastly increased its capabilities, but its mission—Israel's destruction—remains unchanged.
Posted by SD at 09:49 PM | Comments (0)
April 03, 2018
UPDATED: Reuters Corrects on Israel's Capital
UPDATED: In response to CAMERA's request, Reuters corrected an error about Israel's capital.
Original blog post: Reuters has fallen into the same trap as some other irresponsible media outlets that refer to Tel Aviv as Israel's capital and/or seat of government. It demonstrates at best an ignorance of the geography of the countries being covered and at worst a political bias that twists facts to dismiss Israel's capital city of Jerusalem. In a story about Saudi Crown Prince Mohammed's acknowledgement of a Jewish right to self-determination in Israel, Reuters refers to the rapprochement between Riyadh and "Tel Aviv" to denote the seats of government of Saudi Arabia and Israel. Below is a screenshot:
CAMERA has previously prompted numerous corrections of this journalistic error in other publications and has contacted Reuters to correct.
Reuters editors have responded that they regret the error and have corrected it. The correction now refers to "the two countries" rather than "Riyadh and Tel Aviv." Below is a screenshot of the corrected copy:
Posted by RH at 04:24 AM | Comments (0)