« February 2018 | Main | April 2018 »
March 28, 2018
Tour de France in Gaza?
Reuters published a series of photographs March 26 depicting, according to the captions, "a marathon in the southern Gaza Strip Monday." The full caption on all of the Reuters photographs below reads:
Palestinians attend a marathon near the border with Israel, in the southern Gaza Strip March 26, 2018. REUTERS/Ibraheem Abu Mustafa


Without any additional information and context, readers would assume that these young Palestinian bikers are out for some good wholesome, patriotic (as indicated by the flags) fun exercise, (which should be good news to Hami Almadhoun of American Near East Refugee Aid (ANERA), who has insisted that Gaza's polluted beach provide the only recreation.)
But there's more to the Gaza bike "marathon" than Reuters is saying. The Arabic signs on the boys' bikes state (translation by CAMERA Arabic): The Return March, Islamic Jihad Movement.
The United States, the European Union, Israel and Canada all regard Islamic Jihad as a terror organization. The biking event is part of the preparation for this Friday's Hamas and Islamic Jihad-backed "Right of Return" march, an campaign to formally kick off this Friday, Passover eve, in which thousands of Gazans will converge on Israel's borders.
Gazan Tour de France this is not. Another photo agency, Agence France Presse, in contrast to Reuters, at least gave the minimal context regarding the nature of the Islamic Jihad-backed biking event. Its captions state:
Palestinian children ride bikes near the border with Israel on the outskirts of Khan Yunis in the southern Gaza Strip, as they take part in the "Right of Return" cycling race on March 26, 2018.
Haaretz, "Israel's leading daily newspaper," ran one of the Reuters images on the top of yesterday's front page with the inadequate caption: "Palestinians attending a marathon in the southern Gaza Strip Monday."
Posted by TS at 03:46 AM | Comments (0)
Ahed Tamimi's Time Served Lost in Haaretz Translation
Last week, Ahed Tamimi, the Palestinian teen filmed while she was hitting an Israeli soldier, reached a plea agreement in which she was sentenced to eight months in prison, including three months already served, plus a 5,000 shekel fine. As Haaretz's Hebrew edition reported (CAMERA's translation):
Tamimi, who was filmed hitting a soldier, was sentenced to eight months in prison, three of which she already served, and a fine of 5,000 shekels.
The English version of the same article by Yotam Berger, however, dropped the fact that the sentence included time already served. It states ("Palestinian Teen Ahed Tamimi Reaches Plea Bargain, to Serve 8 Months in Israeli Prison"):
Palestinian teen Ahed Tamimi reached a plea bargain with military prosecution on Wednesday, according to which she is to be sentenced to eight months in prison. … In addition to the eight month jail sentence, she is to pay a fine of 5,000 shekels ($1,437).
In addition, a second story on Haaretz's English site, attributed to both Reuters and Haaretz, also does not include the information about the three months served.
While The Evening Standard has commendably added this information after initially omitting it, as of this writing Haaretz has yet to add the fact that Tamimi's sentence includes the three months served.
For more instances of "Haaretz, Lost in Translation," please see here.
Posted by TS at 02:24 AM | Comments (0)
March 27, 2018
Where's the Coverage? Thousands March Against Antisemitism in the U.K.
A picture of the March 26, 2018 protest before the UK Parliament. Image courtesy of The Guardian newspaper

On March 26, 2018, thousands of people in the United Kingdom took to the streets to protest antisemitism by the British Labour Party. Yet, several leading U.S. news outlets—many of which have professed concern with rising antisemitism—failed to fully cover the event.
Britain's Jewish Leadership Council and the Board of Deputies of British Jews organized the protest. According to a report by the Jewish Telegraphic Agency (JTA), "approximately 2,000 people gathered outside the houses of Parliament in London," to highlight their concern that the Labour Party and its leader, Jeremy Corbyn, are "enabling anti-Semitism in the party."
As JTA noted, Corbyn has called Hezbollah and Hamas—both terrorist groups that are committed to Israel's destruction—"friends." Several Labour Party officials, such as Ken Livingstone, a former mayor of London, have engaged in forms of Holocaust denial and minimization. Others have repeatedly propagated antisemitic tropes. A 2016 Labour-led inquiry tasked with investigating these charges was labeled by some, including several Labour Party members, a "whitewash" and a "sham."
More recently, the journalist David Collier revealed that several top Labour Party officials, as well as several journalists, belonged to a Facebook group that routinely posted antisemitic material ("BBC Reporter Revealed To Be A Member of Secret Anti-Israel Facebook Group," BBC Watch, March 7, 2018). Initially, Corbyn denied knowingly belonging to the group. However, it was later revealed that he had commented on several posts and was an active member.
Several days before the March 26, 2018 protest, it was revealed that Corbyn had supported the creator of an antisemitic mural in 2012.
In response, the Board of Deputies of British Jews and Britain's Jewish Leadership Council issued an open letter decrying antisemitism in the Labour Party and noting that Corbyn has a history of "siding with antisemites."
Thousands of people protesting antisemitism by a major U.K. political party and its leader—potentially the Prime Minister of a leading U.S. ally and world power— is a newsworthy event that some have labeled a "crisis." But several major U.S. news outlets have failed to properly cover it.
For example, the print editions of both The Washington Post and The New York Times declined to provide any original reporting on the demonstration against antisemitism in the Labour Party. Both papers have London bureaus—and thus, the staff and the resources to do so—but instead they merely chose to republish short wire service briefs from the Associated Press and Reuters. The AP brief published by The Post was a mere nine sentences.
The print editions of other major media outlets, such as USA Today and The Baltimore Sun, entirely omitted any mention of the protests.
All of these outlets have, in recent months, published editorials and Op-Eds highlighting rising antisemitism. However, as CAMERA noted in a March 16, 2018 Times of Israel Op-Ed ("The Washington Post's Skewed Coverage of Antisemitism"), some in the press selectively cover antisemitism; often failing to fully cover it when it emanates from anywhere but the far right.
In a Nov. 23 2017, commentary entitled "How to Protect Against Fake 'Facts,'" Washington Post opinion writer David Ignatius warned against media outlets becoming overly reliant on "news services such as the Associated Press or Reuters." Ignatius expressed concern about the press disseminating false and/or misleading information:
"We live in an information ecosystem," he wrote. "If it becomes polluted, all the creatures that depend on the ecosystems are at risk. We say that sunlight is the best disinfectant. But that's true only when the sun shines brightly."
But the media spotlight wasn't shining on the March 26, 2018 demonstration against antisemitism. Without fair and impartial press coverage, this toxic age-old hatred will only continue to spread. And history is clear: This puts everyone—not just the Jewish people—at risk.

Posted by SD at 03:47 PM | Comments (2)
March 21, 2018
Los Angeles Times Dubs Convicted Terrorists 'Political Prisoners'
Rise above the noise! Go below the surface! Enjoy top-quality reporting, enjoins a recent Los Angeles Times ad campaign.
Instead, though, a recent movie review provides readers with noise instead of top-quality reporting, erroneously stating about the 1976 hijacking of Air France Flight 139:
In June 1976, two German and two Palestinian revolutionaries -- the nomenclature varies from "freedom fighter" to "terrorist" depending on which side you're on -- hijacked an Air France flight from Tel Aviv to Paris and directed it to Entebbel, Uganda, to demand the release of 52 political prisoners. ("Negotiations, maneuvers in a fine political thriller," page E5, and online here. Emphasis added.)
The term "political prisoner" has a very distinct and well understood definition, and applies to those imprisoned for their political views. This definition does not apply to the 53 convicted terrorists, 40 held in Israel, six in West Germany, five in Kenya, and one each in Switzerland and France, whose release the hijackers demanded.

For instance, among them was Kozo Okamoto, a Japanese terrorist who carried out a deadly 1972 attack in Israel's Lod Airport, killing 24 people. Ronald Fritsch, a member of an offshoot of the Baader-Meinhof group and imprisoned in West German, was convicted of the 1975 kidnapping of politician Peter Lorenz. Fritz Teufel, another member of the same Baader-Meinhof offshoot and also imprisoned in West Germany, was convicted of robbery, firearms offenses and belonging to a criminal organization. Another name on the list was Andreas Baader, of the Red Army Faction, convicted of the arson bombing of a Frankfurt department store. Ulrike Meinhof, Baader's comrade in the RAF, was another whose release was demanded. She was charged with numerous murders and the formation of a criminal organization. Among the prisoners held in Israel was Archbishop Hilarion Capucci, charged with smuggling arms to Palestinian terrorists. (Four Kalashnikov rifles, two pistols, 220 pounds of dynamite and several detonators were found in his car in Jerusalem, as The New York Times noted in his 2017 obituary.) Israel also was holding Fatima Barnawi, who was serving a life sentence for planting a bomb in 1967. The prisoner held in Switzerland was Petra Krause, a German-Italian awaiting trial for explosives offenses. The five held in Kenya were imprisoned after an Israeli warning that the PFLP was about to attack an El Al flight in the Nairobi airport. (More details on the prisoners are here.) Is "political" the correct terminology for this activity?

As The Los Angeles Times correctly reported on the 10th anniversary of the hijacking ("10th Anniversary of Hostage Rescue," Dan Fisher, July 3, 1986):


Two West German and two Palestinian gunmen took it over and ordered it to Uganda. Joined by three accomplices at Entebbe Airport and supported by the troops of then-President Idi Amin, the hijackers demanded freedom for 53 jailed terrorists and a $5-million ransom. (Emphasis added.)
In addition, the reference to the hijackers as "revolutionaries" -- in reviewer Katie Walsh's unfortunate words, "the nomenclature varies from 'freedom fighter' to 'terrorist' depending on which side you're on" -- is extremely problematic. Nowhere does Walsh note that the Palestinians were members of the Popular Front for the Liberation of Palestine, recognized by the United States government as a terror group, and the Germans were members of the notorious Baader-Meinhof group, responsible for a wave of terror attacks.
Posted by TS at 05:23 AM | Comments (1)
March 14, 2018
Haaretz Deposes Hamas in Gaza
A prominent pull quote in Haaretz's print edition last week ("The slow death sentence of cancer patients in Gaza," March 7, page six) states, in quotation marks:
"Gaza is controlled by the Israelis, the Egyptians and the Palestinian Authority, none of whom seem to care or take our condition seriously."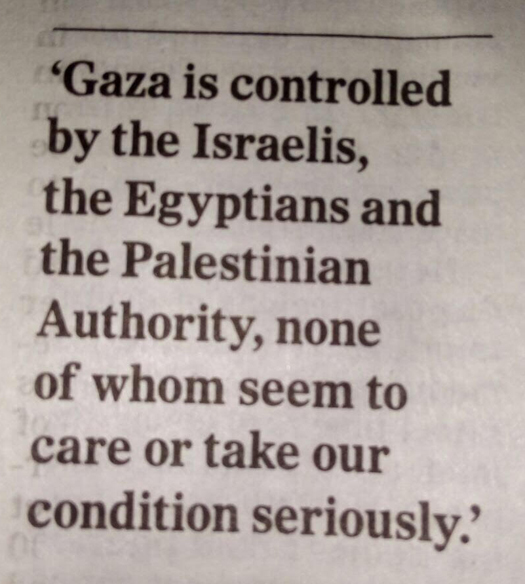 Hang on a minute. Israel, Egypt and the Palestinian Authority control Gaza? What about Hamas, which has ruled since June 2007?
The quotation marks indicate these were the speaker's direct words, and not a paraphrase. The purported speaker is Gaza cancer patient Hana (pseudonym), but the Haaretz editor who selected this pull quote did not accurately quote her. This is what Hana actually said, according to the article:
Cancer treatment is not available in Gaza and access to treatment outside of Gaza is controlled by the Israelis, Egyptians and the Palestinian Authority, none of whom seem to care, take our condition seriously or deal with us in urgency.
Hana's statement -- that access to the outside is controlled by Israel, Egypt and the PA -- is more factually accurate than the erroneously rendered pull quote which ignores that it is Hamas which has primary control of the Gaza Strip.
Beyond the erroneous pull quote which overlooks Hamas' control of the territory, the article itself also gives Hamas a pass. Writer Dr. Manal Massalha, who sets out to cover the difficult circumstances which Gaza cancer patients face, ignores the difficulty that Hamas creates for the highly vulnerable cancer patients: reportedly exploiting them, coercing them to smuggle funds or instructions to terrorists when they enter Israel for treatment.
Twice before, Haaretz's English edition had ignored Hamas' exploitation of cancer patients, and only added the information (which had originally appeared in the paper's Hebrew edition), after CAMERA objected.
Posted by TS at 07:21 AM | Comments (2)
March 11, 2018
Los Angeles Times Fails to Correct on Judaism's Holiest Site
The Los Angeles Times has failed to correct an article last week which misidentified the Western Wall as Judaism's holiest site. The March 4 story by Noga Tarnopolsky ("Netanyahu begins visit to U.S., putting aside personal and political troubles at home") claims:
This encounter with a usually friendly arm of American Jewish leadership comes as Netanyahu's relations with some American Jews are at a nadir, following his abandonment of a 2016 deal that would have allowed the liberal streams of Judaism that represent the majority of American Jews an equal place to pray at the Western Wall, widely regarded as Jerusalem's holiest site for Jews.
Jewish religious sources and authorities consider the Temple Mount Judaism's holiest site.

While many media outlets have wrongly identified the Western Wall as Judaism's holiest site (and subsequently corrected), that distinction belongs to the Temple Mount. The Temple Mount is the site of the first and second Jewish temples which housed the Holy of Holies (the inner sanctuary where the Ark of the Covenant was located). The Western Wall, a retaining wall of the Temple Mount compound, obtained its holy status due to its proximity to the Holy of Holies. It is the holiest site where Jewish prayer is permitted.
That many media outlets and even some Jews wrongly identify the Western Wall as Judaism's holiest site doesn't make it so, and The Los Angeles Times' repetition of misinformation is a great disservice to readers. While the majority of Americans do not know what GOP stands for, The Los Angeles Times would hardly report that it is "widely regarded to stand for 'Government of the People,'" and leave it at that, as if the false information is correct.
Media outlets which have previously corrected the identical Western Wall error include Haaretz, The New York Times (on multiple occasions), The Independent, BBC, National Geographic, Agence France Presse, The Washington Post, and The Los Angeles Times (2004 photo caption), among others.

Posted by TS at 04:34 AM | Comments (0)