« New York Times, and the Continuous Mischaracterization of BDS | Main | NY Times: "Hard-Line" Jews Support Recognition of Jerusalem as Capital »
February 08, 2018
Los Angeles Times Errs on Commercial Imports to Gaza
Flat screen television sets at Kerem Shalom crossing on their way to Gaza from Israel, 2012 (photo by Adam Levick)
In their Los Angeles Times article yesterday ("Neither Israel nor Hamas wants another war in Gaza. . . "), Noga Tarnopolsky and Rushdi Abu Alouf err: "Egypt's border with Gaza is closed and Israel allows only trucks carrying food or other humanitarian necessities in and out."
Israel allows commercial goods in and out of the Gaza Strip -- not just humanitarian goods. In fact, according to the United Nations' Office for the Coordination of Humanitarian Affairs Gaza Crossings' Operation Status: Monthly Update (December 2017), in December, 10,327 truckloads of commercial goods entered the Gaza Strip from Israel. This compares to just 460 truckloads of what the United Nations terms humanitarian goods. In other words, the amount of commercial goods which entered the Gaza Strip was more than 22 times greater than the amount of humanitarian goods which entered that month. This ratio is pretty much consistent for all of 2017.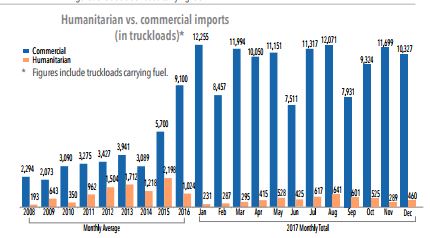 Since 2010, has allowed just about everything into Gaza without restrictions aside from weapons and goods that it considers dual-use items (ie military and civilian use).
Among the commercial items are appliances such as televisions and washing machines. As The Jerusalem Post reported Jan. 9, 2017 ("Shin Bet foils smuggling ring that sought to help Hamas in Gaza"):
According to the Shin Bet, the smuggled goods had been hidden inside of electronic goods, such as televisions, washing machines and refrigerators. During the investigation, the Shin Bet discovered that Massalma had assisted Abu Siriya in November in smuggling hundreds of cameras inside washing machines that had been imported from the West Bank to the Gaza Strip.

"The smuggling method that was discovered by the security forces underscores the efforts undertaken by Hamas, via its collaborators, in order to build up its strength and cynically exploit the commercial permits given by Israel for the benefit of the civilian population in the Gaza Strip," the Shin Bet said.
CAMERA has contacted The Times to request a correction. Stay tuned for an update.
Posted by TS at February 8, 2018 06:28 AM
Comments
Guidelines for posting
This is a moderated blog. We will not post comments that include racism, bigotry, threats, or factually inaccurate material.
Post a comment