« Civilian Bounties, Quartz, Haaretz & Lousy Translations | Main | Echoes of the Past: German Tanks and the Turkish Government Assaulting Minorities »
January 30, 2018
President of Bethlehem Bible College Expresses Thanks for Antisemitic Comment
Jack Sara, president of Bethlehem Bible College, either can't recognize antisemitism when he sees it or is OK with it.
In a Facebook discussion underneath one of his articles at The Christian Post, a website that caters to English-speaking Evangelical Christians in England and the U.S., Sara express warm words of thanks to an anti-Israel commentator who called Christian supporters of Israel "shabbos goys" and hurled the epithet "Zio-supremacists" at supporters of Israel who take issue with the narrative put forth by Bethlehem Bible College. These phrases are decidedly antisemitic and most responsible Christian leaders would condemn their use.
Not Jack Sara.
In response to the ugly comments, which were issued in defense of one of his articles at The Christian Post, Sara wrote, "Mic P J Fletch Thank you so much for your affirming words, this is just a sample of what we have to keep up with such people!" (Warning: Do not click on Mic P J Fletch's Facebook page unless you are willing to go down a deep rabbit hole of antisemitic conspiracy theories.)
Here is a screenshot of the discussion in question, with the relevant portions highlighted: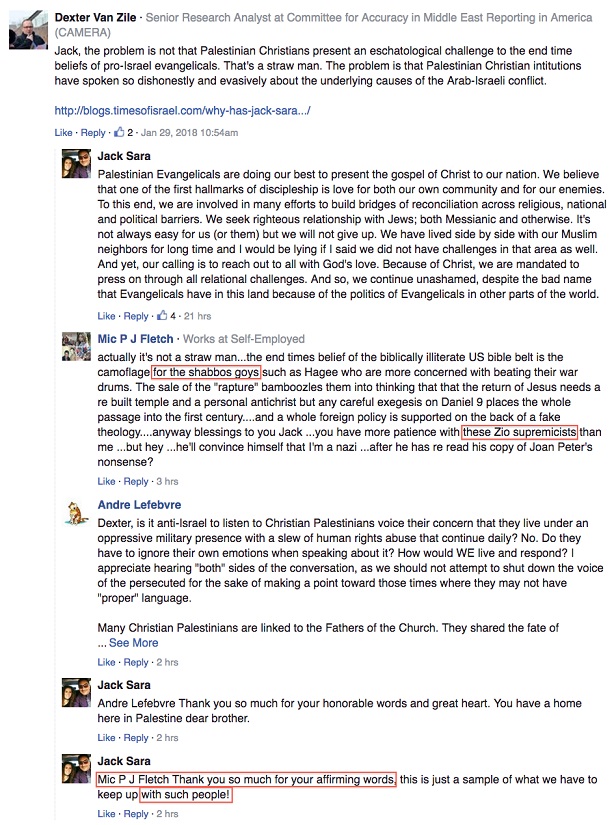 For some more background about Sara's ugly attacks on Evangelical Protestants who support Israel, read this article in The Times of Israel.

Posted by dvz at January 30, 2018 02:52 PM
Comments
Guidelines for posting
This is a moderated blog. We will not post comments that include racism, bigotry, threats, or factually inaccurate material.
Post a comment