« Updated: AFP Photo Captions Mislead on Gaza 'Smuggling Tunnels' | Main | Where's the Coverage? Palestinian Leader Buys $50 Million Private Jet »
January 22, 2018
NBC's Andrea Mitchell Takes Heat for Inaccurate Knesset Tweet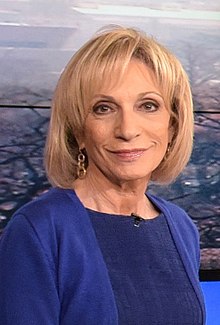 After NBC anchor Andrea Mitchell posted an inaccurate and inflammatory comment on Twitter about the Knesset, Israel's parliament, she was quickly corrected by Israeli journalists.
In her Monday morning tweet, Mitchell asserted that "the 13 Israel-Arab members" of parliament were removed from the Knesset floor after a disruption, and suggested this should be seen through the lense of American racism:
The 13 Israeli-Arab members of Israel's Parliament held up signs saying "Jerusalem is the Capital of Palestine" and were forcibly removed by security as Pence started to speak. Can you imagine Capitol Police dragging members of the congressional black caucus off the House floor?

— Andrea Mitchell (@mitchellreports) January 22, 2018
Lahav Harkov, Knesset reporter for the Jerusalem Post, responded:
Hi, I'm an expert on the Knesset and I was in the room during this incident. You have several points wrong here. I'd be happy to explain them to you.

— Lahav Harkov (@LahavHarkov) January 22, 2018
Harkov elaborated,
Wrong on several points. 1, they are not "THE 13 Israeli-Arab members" - there are others. 2, it is always against the Knesset rules to hold up signs or use props and there are examples spanning decades of ppl being removed bc of it. 3, ushers, not security guards led them out https://t.co/JgIGkUFpda

— Lahav Harkov (@LahavHarkov) January 22, 2018
Indeed, a page on the Knesset website lists 18 current Arab MKs: Talab Abu Arar, Saeed Alkharumi, Hamad Amar, Youssef Atauna, Joumah Azbarga, Zouheir Bahloul, Esawi Frej, Masud Ganaim, Abd Al Hakeem Haj Yahya, Akram Hasoon, Yousef Jabareen, Ayoob Kara, Ayman Odeh, Saleh Saad, Ahmad Tibi, Aida Touma-Sliman, Jamal Zahalka, and Hanin Zoabi.
Seth Franzman, a Jerusalem Post editor, offered another challenge to Mitchell's numbers:
Where did you get the number 13? The 13 members of the Joint List are not all Arab. Dov Khenin is Jewish. Isn't he still in the Knesset and a member of the Joint List? #think

— Seth Frantzman (@sfrantzman) January 22, 2018
Responding to the reference to black members of congress, political analyst Omri Ceren noted that this isn't quite as unimaginable as Mitchell wanted her readers to think:
Oh for crying out loud Andrea. A member of the congressional black caucus was removed from the House floor just a few years ago just for a dress code violation, let alone for disrupting a session, which is what these clowns were doing.

So yeah I think I can imagine it happening. https://t.co/QISJv1XHYM

— Omri Ceren (@omriceren) January 22, 2018
As Harkov suggested, it is certainly not unimaginable for people to be removed from the Knesset floor when violating the chamber's rules. Jewish Knesset member Moshe Gafni, for example, was escorted off the floor in response to his loud protest.
Ze'ev Elkin was not merely a member of Knesset, but also a government minister, when he was forced from the floor — at the behest of Ahmad Tibi, an Arab MK and a deputy speaker of the Knesset.
In the U.S., Janet Nguyen, the country's first Vietnamese-American woman state legislator, was removed from the floor of the California state senate just last year.
According to the policies and guidelines of NBC News, Twitter posts "should meet the journalistic standards of NBC News." CAMERA has contacted NBC editors. We will update this space if Mitchell corrects her tweet.

Posted by GI at January 22, 2018 10:55 AM
Comments
Sorry Andrea, I once had to put my scrawny body in front of a podium where Gov Milton Shapp was speaking and demonstrators left their seats, waved signs and rushed the podium. Even that long ago, that group action, very coordinated, was a clear sign to get up there and protect the speaker. Even in Philly.
The applause started before the demonstration, was for the speaker, and not for removal of the demonstrators.
Best wishes to you and your family.
Posted by: Jeff Polaski at January 23, 2018 02:31 PM
Andrea Mitchell did not know, because she did not do any research, that a Jewish political party known as Kach was barred from having its members sit in the Knesset due to its antiArab rhetoric. In contrast, no Arab political parties, no matter how hostile to the State of Israel, have been barred from serving in the Knesset. This alone demolishes Andrea Mitchell's theme.
Posted by: Herman Goldfarb at January 23, 2018 05:00 PM
If you do not post comments that include bigotry, how can Ms. Mitchell respond at all?
Posted by: Daniel at January 25, 2018 01:41 PM
Andrea Mitchell's tweet is, sadly, typical of the kneejerk leftist response. As a journalist, however, one might expect higher standards.
Posted by: Zvi at January 26, 2018 05:36 AM
If anyone is an expert on what racism is its the folks at NBC. What she should know as a Journalist is what parliamentary procedure is apparently she is ignorant of fact. Protesters of Ryan one in a wheel chair conflicted with Ryan and began chanting they were escorted out of the building.
Does NBC actually pays Mitchell to say racist stupid things and and advocate exactly the opposite of what she claims?

Posted by: jeb at January 27, 2018 09:11 AM
Guidelines for posting
This is a moderated blog. We will not post comments that include racism, bigotry, threats, or factually inaccurate material.
Post a comment