« Where's the Coverage? Palestinian Leaders Spend Christmas Celebrating a Terrorist | Main | The Palestinian Authority Paid Terrorists $347 Million in 2017 »
January 09, 2018
Foreign Policy Fails To Tell The Truth About UNRWA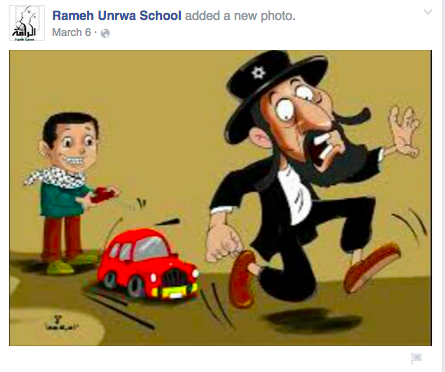 An image posted on the official Facebook page of an UNRWA school

As its headline illustrates, a Jan. 5, 2018 Foreign Policy article, "Nikki Haley's Diplomacy of Revenge Targets U.N. Relief Agency," substituted editorializing for reporting, while omitting key facts about the United Nations Relief and Works Agency (UNRWA). The dispatch, by reporter Colum Lynch, ostensibly detailed U.S. warnings that it would cut aid to UNRWA.
But Foreign Policy—which pitched the article as an "exclusive" report—failed to explain UNRWA's curious mission and history.
As CAMERA has highlighted, UNRWA is the only U.N. organization whose stated mission is to assist a specific group of refugees, Palestinian Arabs. All other refugee populations in the world fall under the jurisdiction of the United Nations High Commissioner for Refugees (UNHCR) ("The Washington Post Whitewashes UNRWA," Jan. 5, 2018).
UNRWA was established after Israel's 1948 War of Independence, which occurred when Arab states rejected the U.N. partition plan and declared war on the fledgling Jewish state. Although the agency was created to resettle Palestinian Arab refugees from the conflict, it soon changed course—beginning with changing the definition of what constitutes a "refugee."
Unlike UNHCR, UNRWA considers people generations removed from the 1948 War and people who are citizens of other countries to be "Palestinian refugees." This definition is exclusive to Palestinian "refugees" and, as CAMERA has noted, enables people like the twenty-year-old Los Angeles-born fashion model, Bella Hadid, to be classed as a "refugee" to a war that occurred seventy years ago.
The result of UNRWA's policies? More "refugees." Although there were an estimated 700,000 refugees in 1950, there will be a projected 6.4 million in 2020—2 million of whom are Jordanian citizens, according to the publication Middle East Quarterly ("Why a Special Issue on UNRWA?"). Created to resettle refugees, UNRWA instead manufactures them. All for the purpose of "right of return," a novel legal claim that asserts that generations of Palestinians have a "right" to return to a country their forefathers sought to destroy.
Yet, Foreign Policy omitted UNRWA's history while noting that the U.S. State Department "decided to put on hold more than $100 million in funding to the U.N. Relief and Works Agency (UNRWA) that was scheduled to be paid on the first working day of January, according to two diplomatic sources." UNRWA is almost entirely reliant on the donations of individual member states, with the U.S. being the chief donor country, donating $360 million dollars in 2017—40 percent of the organization's budget.
As The Washington Post detailed, U.S. President Donald Trump threatened to cut aid since "the Palestinians [are] no longer willing to talk peace," asking "why should we make massive future payments to them?" Instead of highlighting this aspect—that the U.S. is using aid as leverage in pursuit of a policy goal—Foreign Policy portrayed the funding halt as largely one of "revenge" against Palestinians for introducing U.N. resolutions condemning the United States for implementing the 1995 Jerusalem Embassy Act.
The magazine failed to inform readers that Palestinian leaders have, on a number of occasions, rejected U.S. and Israeli offers for statehood in exchange for peace with the Jewish state.
Lynch also omitted that Palestinian Authority (PA) President Mahmoud Abbas has refused to participate in bilateral negotiations with Israel—violating the very terms of the Oslo Accords, which created the authority and which remains its source of funding. Oslo stipulates that all "outstanding issues" must be resolved "bilaterally," yet Palestinian leadership has sought to internationalize the conflict and rejected talks with Israel. Put simply: The U.S. is seeking to use aid as soft power to achieve goals that are, in part, the reason for the aid in the first place.
Foreign Policy noted that Palestinian envoy Riyad Mansour claimed that the U.S. decision to recognize Jerusalem as Israel's capital "disqualifies" the United States from a role as a neutral arbitrator. This, Foreign Policy argued, is purportedly the main reason for possibly cutting aid. But Lynch failed to tell readers that the recognition of Jerusalem as Israel's capital was mandated by the 1995 Jerusalem Embassy Act, which was reaffirmed by a bipartisan majority of 90-0 in the U.S. Senate seven months ago. The Dec. 6, 2017 decision by the United States to belatedly implement this piece of legislation explicitly does not commit the US to a position "on any final status issues, including the specific boundaries of the Israeli sovereignty in Jerusalem, or the resolution of the contested borders ("Days of Rage and Bad Reporting," The Times of Israel, Dec. 7, 2017)."
Mansour's history of antisemitism is also omitted. As CAMERA has highlighted, Mansour has previously accused Israelis of harvesting Palestinian organs; regurgitating the age-old, antisemitic blood libel ("Palestinian T.V. Favorite Accuses Israel of 'Harvesting' Terrorists' Organs," Nov. 11, 2015).
Mansour's sentiments would be at home with UNRWA's curriculum. A 2015 by the U.N. investigation found that Hamas, the U.S.-designated terrorist group, used UNRWA schools as arsenals and launch pads for missiles fired indiscriminately at Israeli civilians during the 2014 Israel-Hamas war ("U.N. Report Confirms Stored and Fired Weapons From UN Schools," The Tower, April 28, 2015). UNRWA employees have publicly advocated anti-Jewish violence and used antisemitic motifs. As the Jewish Virtual Library has noted, UNRWA unions have even included members of Hamas and Palestinian Islamic Jihad, U.S.-designated terror groups.
Yet Foreign Policy did not deem UNRWA's terror ties to be worth noting in an "exclusive" report about the agency. Instead, the self-proclaimed "global magazine of news and ideas," provided commentary masked as reporting and peppered with omissions.
Posted by SD at January 9, 2018 11:50 AM
Comments
Guidelines for posting
This is a moderated blog. We will not post comments that include racism, bigotry, threats, or factually inaccurate material.
Post a comment