« NBC's Andrea Mitchell Takes Heat for Inaccurate Knesset Tweet | Main | Is The U.S. State Department Hiding a 'Game Changer' Report on Palestinian Refugees? »
January 25, 2018
Where's the Coverage? Palestinian Leader Buys $50 Million Private Jet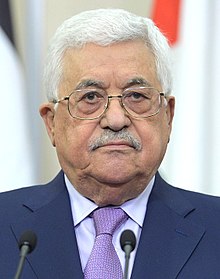 The President of the Palestinian Authority (PA), Mahmoud Abbas, has bought a private jet worth an estimated $50 million. The purchase comes after widely reported "major funding cuts from the U.S.," as The Times of Israel detailed in a Jan. 24, 2018 dispatch ("Amid funding cut fears, PA purchases $50 million private jet for Abbas"). Yet, many major U.S. news outlets have failed to report Abbas' latest acquisition.
The jet will reportedly be delivered to Amman, Jordan within the coming weeks, where it will be kept for Abbas' use. The Times of Israel said that funding for the plane was "said to have been provided both from the PA budget ($20 million) and from the Palestinian National Fund ($30 million)."
Yet, PA officials have recently complained about cuts in funding. The U.S. has recently withheld $65 million from the United Nations Relief and Works Agency (UNRWA), although $60 million will still be given to the organization from the United States. As CAMERA has recently highlighted, UNRWA was established in order to settle Arab refugees created from Israel's 1948 War of Independence, in which Arab armies sought to destroy the Jewish state. However, the organization's staff have been caught promoting anti-Jewish violence, its facilities have been used as storage depots by terror groups, and UNRWA uses a politicized, multi-generational definition of "refugee (for more, see "The Washington Post Whitewashes UNRWA," Jan. 5, 2018)."
UNRWA's failures prompted the Trump administration to call for a "fundamental reexamination" of the agency, in addition to funding cuts ("Trump cuts UNRWA funding amid Abbas Assault," The Jerusalem Post, Jan. 18, 2018).
PA officials responded to the cuts with hyperbolic language, some of which was detailed in a Washington Post reported headlined "'A death sentence': Palestinians slam U.S. decision to cut aid as U.N. pleads for new donors (Jan. 17, 2018)." Hanan Ashwari, a a high-ranking Palestine Liberation Organization (PL0) member and long-time media favorite, told The Post that withholding some UNRWA funds was "targeting the most vulnerable of the Palestinian people and depriving the refugees of the right to education, health, shelter and a dignified life." Ashwari—whose history of exaggerations and falsehoods have been documented by CAMERA—also claimed that the cuts "will generate further instability in the region."
Other major U.S. news outlets, such as The New York Times, The Baltimore Sun, and USA Today, all highlighted Palestinian complaints about the funding cuts. As of this writing, however, none of these newspapers have informed readers about the PA's $50 million private jet purchase.
As CAMERA has frequently noted, Palestinian politics and corruption are widely underreported topics (see, for example, "For Palestinians, It's Lights Out at The Washington Post," The Algemeiner, June 22, 2017). No major U.S. news outlet, it seems, is interested in pointing out that if the PA was truly worried about the impact of the U.S. withholding $65 million in UNRWA aid, it could simply not buy a private jet for its kleptocratic leadership. That, or it could encourage UNRWA to reform. But that would be out of character—both for the media and for the Palestinian Authority.
Posted by SD at January 25, 2018 11:28 AM
Comments
Posted by: Yisrael Medad at February 1, 2018 12:24 PM
Guidelines for posting
This is a moderated blog. We will not post comments that include racism, bigotry, threats, or factually inaccurate material.
Post a comment