« The Hill Omits Turkey's Support for Hamas | Main | Erin Burnett's Hostility on Display »
December 08, 2017
USA Today Cartoon Notes Palestinian Calls to Destroy Israel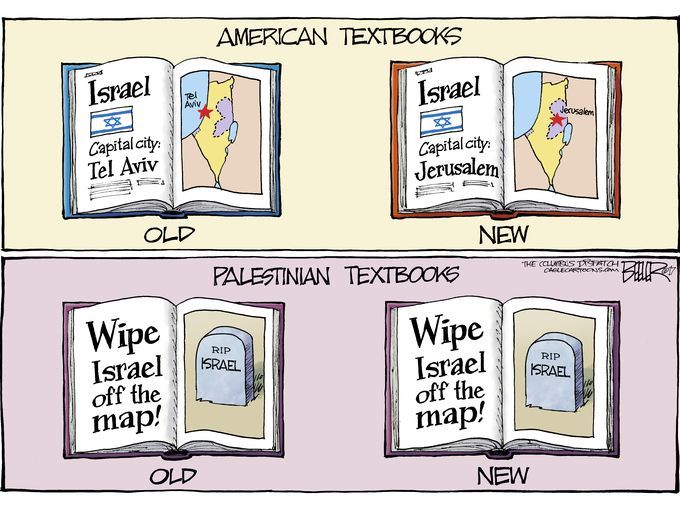 A USA Today cartoon, published on Dec. 8, 2017, detailed the response by many Palestinians to the United States recognizing Jerusalem as Israel's capital. As the cartoon, entitled "Same old Palestinian response," highlighted, not much has changed.
The illustration, by Nate Beeler, a syndicated cartoonist with The Columbus Dispatch, showed two "American textbooks," each with a map of Israel. One "old American textbook" listed Tel Aviv as Israel's capital and a "new American textbook" showed the capital city as "Jerusalem."
Juxtaposed underneath these books were two "Palestinian textbooks," one "old" and one "new." Both remained unchanged despite the U.S. recognizing Jerusalem as Israel's capital in a Dec. 6, 2017 announcement by President Donald Trump. Both said "Wipe Israel off the map!" Prior to the announcement, it was official U.S. policy to decline to "acknowledge any capital at all," as the President noted in his remarks.
As CAMERA highlighted in a Dec. 7, 2017 Times of Israel commentary, Palestinian leadership called for Israel's destruction long before the U.S. acknowledged that Jerusalem is the capital of the Jewish state—a fact that many in the media coverage failed to note ("'Days of Rage' and Bad Reporting"). And Palestinian textbooks have long shown maps that erase Israel.
With one cartoon, USA Today offered more insights than numerous media reports.
Posted by SD at December 8, 2017 11:01 AM
Comments
They burned American before Trump and they'll burn them after Trump. It's a game of getting into the Western papers with them. It's not about Jerusalem which was meaningless to them when it was under Arab control.
Posted by: Yitz at December 10, 2017 01:20 AM
How dare you suggest that the Palestinians would bless Israel by saying Rest In Peace! That is culturally insensitive and blasphemy against Allah and the Quran.
Posted by: Tom at December 10, 2017 03:48 AM
Guidelines for posting
This is a moderated blog. We will not post comments that include racism, bigotry, threats, or factually inaccurate material.
Post a comment