« International Business Times Peddles Fake News About Mossad's Gal Gadot | Main | Fatah Official: Iran is Hindering Palestinian Reconciliation »
December 01, 2017
Israeli Peace Offers Go Missing in Politico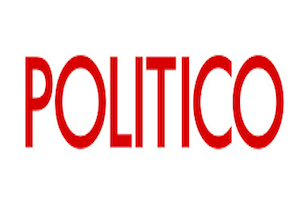 A Politico report about the Trump administration possibly moving the U.S. Embassy in Israel from Tel Aviv to Jerusalem, omitted the numerous instances of Palestinian leadership rejecting a Palestinian state if it meant peacefully co-existing with a Jewish one ("Trump inches toward moving U.S. Embassy to Jerusalem," Nov. 20, 2017).
The article, by reporters Andrew Rusticcia and Eliana Johnson, claimed that moving the U.S. Embassy "could derail Trump's attempts to restart peace talks between the Israelis and the Palestinians." Politico reported that Jordan's King Adbullah II has told administration officials that such a move "could derail efforts to reach a peace agreement in the region," and some administration officials have claimed it could "heighten tensions in the region."
However, Politico failed to inform readers that Palestinians have refused opportunities for statehood on numerous occasions, including 2000 at Camp David, 2001 at Taba and 2008 after the Annapolis Conference.
As CAMERA has detailed, the 2008 offer included 93% of the West Bank (Judea and Samaria) and a Palestinian state with its capital in eastern Jerusalem. Not only did Palestinian Authority (PA) President Mahmoud Abbas reject this proposal, he failed to either make a counteroffer or to call Israeli and American negotiators back.
Politico also stated that some Trump administration officials are worried that an embassy move could "heighten tensions in the region." Yet, as CAMERA's Senior Research Analyst Steve Stotsky has pointed out, Palestinian terrorism increased after the establishment of the PA and peace talks as part of the Oslo process during the 1990s ("The Straight Facts about the Palestinian Authority and Fighting Terrorism," Oct. 25, 2012).
In 1995, the U.S. Congress passed a law mandating that the U.S. Embassy be moved to Jerusalem, in keeping with the custom of maintaining embassies in a nation's capitol. Yet, as Politico noted, U.S. presidents have overridden that law by continually signing a six-month waiver keeping the embassy in Tel Aviv. The publication did not note, however, that failing to move the embassy didn't stop endemic Palestinian anti-Jewish violence, including during the Second Intifada, in which more than 1,000 Israelis—most of them civilians—were murdered ("Jimmy Carter's Second Draft," CAMERA, March 3, 2009).
History is clear: Palestinian leadership has rejected opportunities for peace and statehood while supporting terrorism. And they've done so without the U.S. moving an embassy to Jerusalem, as mandated by law.
Posted by SD at December 1, 2017 03:00 PM
Comments
Guidelines for posting
This is a moderated blog. We will not post comments that include racism, bigotry, threats, or factually inaccurate material.
Post a comment