« November 2017 | Main | January 2018 »
December 24, 2017
'Crux' of the Conflict, According to The New York Times
What is the crux of the Palestinian-Israeli conflict? According to a New York Times headline in yesterday's print edition, and online here, it is religious settlers encroaching on Palestinian land ("An Israeli Settler, A Dead Palestinian, and the Crux of the Conflict").
The article itself addresses tension surrounding land between Palestinians and Israelis living in the West Bank, but does not describe this friction as the "crux" of the conflict:
This is the story of one Palestinian village and an adjacent settlement in the hills south of Nablus — formerly friendly communities now tinged with hostility and suspicion. The deterioration reflects the broader strife from a volatile mix of populations, 50 years of Israeli occupation and a competition over the same land that is only intensifying.
Indeed, just six months ago, The Times cited a different issue as the "crux" or core of the conflict. The The Times reported in June:
For Israel, the capture of the Old City, with its ancient holy sites, from Jordanian control was the emotional pinnacle of its swift victory in 1967. It is the nucleus of the city that Israel has declared its sovereign and eternal capital. It is also the hotly contested core of the conflict.
In a lengthy 2015 feature ("Netanyahu and the Settlements"), The Times quoted Israeli Prime Minister Benjamin Netanyahu who rejected the notion that the settlements sit at the crux of the conflict:
Mr. Netanyahu now explains his building initiatives as an inevitable accommodation to natural growth and says they have not materially affected the map, only added, as he put it, "a few houses in existing communities." He rebuts any suggestion that settlements are the core of the conflict, noting that Arabs and Jews were fighting in this land long before they existed.

"From 1920, when this conflict effectively began, until 1967, there wasn't a single Israeli settlement or a single Israeli soldier in the territories, and yet this conflict raged," he said in a May interview with Bloomberg View. "What was that conflict about? It was about the persistent refusal to recognize a Jewish state, before it was established and after it was established."
So, while The New York Times promises holiday readers facts "in abundance all year" and urges them to "[g[ive the gift of understanding, with on the ground reporting from more than 140 countries," it fails to deliver understanding on the crux of the Israeli-Palestinian conflict.
Posted by TS at 03:22 AM | Comments (0)
December 21, 2017
Where's the Coverage of New Jersey Imam's Call for Genocide?

On December 8, MEMRI, the Middle East Media Research Institute, translated a sermon given in a New Jersey mosque. The organization summarized as follows:
Sheikh Aymen Elkasaby, imam of the Islamic Center of Jersey City, dedicated his Friday sermon on December 8 to U.S. President Trump's recognition of Jerusalem as the capital of Israel. Imam Elkasaby defied the assumption that Israel is invincible, quoting from the Quran to demonstrate that the Jews "are the most cowardly of nations." "So long as the Al-Aqsa Mosque remains prisoner in the hands of the Jews… So long as the Al-Aqsa Mosque remains under the feet of the apes and pigs, this nation will remain humiliated," he said. Towards the end of the sermon, Imam Elkasaby prayed for Allah to grant him "martyrdom on the threshold of the Al-Aqsa Mosque" and to annihilate "the plunderer oppressors" down to the very last one.
The video with subtitles is available for viewing here.
While one local news outlet originally reported on the antisemitic comments, the AP and several other local news outlets covered the story only after the Imam was suspended, over a week later.
By waiting until the Imam was suspended, these news outlets are able to turn the focus of the story away from the Imam's call to "kill them down to the very last one."
Instead of being a story about a call to genocide issued from within the US, the story is now about a mosque that is making amends for its misstep. Further, one wonders whether, if the Imam had not been suspended, these news organizations would have covered the story at all.
Other than local news and the brief AP story, Sheikh Aymen Elkasaby's comments have been prominently reported only in Jewish, Middle East, and right-of-center news organizations.
Another sermon with similar themes, given last summer in a Northern California mosque, was prominently covered by mainstream media after that Imam apologized – again, after the focus was turned away from the original, hateful, content.
Meanwhile, similar comments made by Sheikh Raed Saleh Al-Rousan of the Tajweed Institute in Houston, Texas have also come to light. Al-Rousan recited the prediction that "the Muslims will kill the Jews, and the Jews will hide behind the stones and the trees, and the stones and the trees will say: Oh Muslim, oh servant of Allah, there is a Jew hiding behind me, come and kill him." He then said ""All these games in the Muslim and Arab countries are from them. They do not want a Muslim leader."
Will the media do better this time?

Posted by kabe at 01:39 PM | Comments (0)
December 13, 2017
DPA Captions Wrongly Blame Israel for Islamic Jihad Deaths
Deutsche Presse Agentur (DPA) published photo captions yesterday which incorrectly imply that an Israeli strike was responsible for the deaths of two Islamic Jihad members in Gaza. The photos and captions, distributed by major photo agencies including Agence France Presse (AFP) and Associated Press, note the funeral procession for the Islamic Jihad men "follow[ed] an Israeli strike in Beit Lahia, Northern Gaza Strip."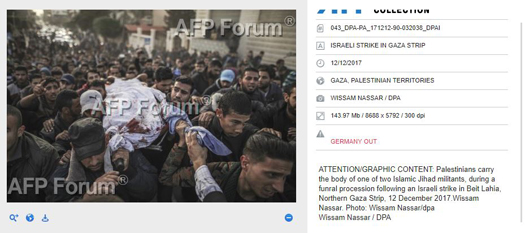 ATTENTION/GRAPHIC CONTENT: Palestinians carry the body of one of two Islamic Jihad militants, during a funral procession following an Israeli strike in Beit Lahia, Northern Gaza Strip, 12 December 2017.Wissam Nassar.
ATTENTION/GRAPHIC'CONTENT: Palestinians mourn and shout slogans as they carry the body of one of two Islamic Jihad militants, during a funral procession following an Israeli strike in Beit Lahia, Northern Gaza Strip, 12 December 2017.Wissam Nassar.
But as DPA reported today ("Israeli air force bombs Gaza Strip after rocket attacks"):


Also on Tuesday, two Palestinian militants were confirmed dead after an explosion in the Gaza Strip, the Gaza Health Ministry said.

The Palestinian Islamic Jihad group said that the two militants - Hassan Ghazi Nasrallah and Mustafa al-Sultan - were preparing rockets when the explosion occurred. (Emphasis added.)
In addition, Haaretz reported yesterday ("Gaza-based Islamic Jihad Drops Claim of Israeli Drone Strike"):
The Islamic Jihad militant group in Gaza now says the blast that killed two of its members was an accident.

The group earlier Tuesday accused Israel of killing the men in an airstrike. But it has issued a new statement saying the men had mishandled explosives.

Ealier [sic] reports from Gaza's Hamas-controlled Health Ministry said Tuesday that two Palestinians were killed in what was described as an assassination by an Israeli military drone. Palestinians say the two killed were members of the Al-Quds Brigade, the military wing of Islamic Jihad.

The Israeli army denied any role in the incident and said that contrary to the Palestinian report, the military had not carried out any such drone strike in Gaza. Israeli army officials said that the explosion was believed to have been the result of a "work accident," the term generally used when explosives intended to be used by militants against Israel explode prematurely.
CAMERA has contacted DPA to request a clarification. Stay tuned for an update.

Posted by TS at 01:17 PM | Comments (1)
December 12, 2017
Reuters Rushes to Publicize Claim of "Israeli Attack." You Won't Believe What Happened Next
There may be times when "local residents" are good sources for a news story. But the death of two members of the Islamic Jihad terror group, killed in an explosion as they raced through Gaza on a motorcycle, is clearly not one of those times.
Before the metaphorical dust had a chance to settle, the Reuters World Twitter account sent to its 236,000 followers the following, in which Israel is named as the culprit:
Two Palestinians killed in Israeli attack in Gaza: local residents https://t.co/CO9FLNmZUl

— Reuters World (@ReutersWorld) December 12, 2017
Turns out it wasn't an Israeli attack. At some point after this was posted on Twitter, the Reuters article updated to note that, by all indications, the terrorists were involved in a planned attack against Israel, but their explosives detonated prematurely. Not only did Israel indicate it wasn't responsible, but Islamic Jihad announced that its two dead members were "martyrs of preparation," indicating that their own weapons did them in.
Still now, hours after the article was updated, the Reuters headline frames the story as one about Israel denying responsibility for an "attack," as opposed to Islamic Jihad bungling plans to strike at Israel.
The conclusion is pretty straightforward. Reuters should be aiming more for accuracy and less for intrigue in headlines and tweets. If a mysterious explosion kills Palestinians, dubious allegations about Israeli involvement don't belong front and center, at least not until they become something more than dubious allegations. And when they become something less than dubious allegations — inaccurate claims — the headline should focus on what happened, not on Israel's denial of something Israel didn't do.
Impatient journalism might get more clicks. But readers expect more from serious news organizations.
Posted by GI at 02:32 PM | Comments (6)
What Were the Motives of the Port Authority Bomber?
What were the motives of Ayaked Ullah, the Port Authority bomber in yesterday's attack? There are many news headlines that address the issue, and they advance differing theories, each of them presented as fact.
Thus, Haaretz's English print edition page-one headline states as fact: "N.Y. bomb suspect sought revenge for Israel's Gaza actions."
The accompanying article, however, is more cautious about determining the motive. It qualifies:
The suspect in a failed suicide bombing in New York City on Monday told police he was motivated by Israeli actions in the Gaza Strip, CNN reported. (Emphasis added.)
Haaretz's headline for the digital version of the same article was also more careful, likewise attributing the Gaza claim to a "report," as opposed to presenting it as fact: "New York City Bomber Tells Police He Carried Out Attack Due to Israeli Actions in Gaza, Report Says."

Meanwhile, others are equally certain that it's Jerusalem that motivated Ullah to strap a bomb to his body in hopes of killing as many commuters as possible. Thus, for example, The Times of London proclaims as fact:
The article itself, however, is much less certain that Jerusalem was a factor. It reports:
Akayed Ullah, 27, is thought to have been inspired by Islamic State, but without having been in direct contact with the jihadist group. According to some reports he shouted that he was acting in the name of Isis. Others said he shouted the word "Jerusalem" — a reference to President Trump's decision last week to recognise it as the Israeli capital.
Still a third theory -- again depicted as fact in headlines -- is that the ISIS-inspired terrorist was angered by the Christmas decorations in Port Authority. Business Insiderposits: "The ISIS-inspired NYC bomber chose to attack Port Authority because of its Christmas posters."
Is it possible that a combination of the above factors could have motivated Ullah? Yes, but until the facts are established, media outlets would do well to present theories as just that.
Posted by TS at 06:54 AM | Comments (2)
December 08, 2017
Erin Burnett's Hostility on Display
Media bias can manifest in a variety of ways. Selective omissions, lack of balance, and errors that seem to favor one side are common. In television news, journalists can, in addition, betray their bias with their voices, facial expressions, and gestures. Erin Burnett's December 6 interview with Israeli Ambassador Ron Dermer, following President Trump's recognition of Jerusalem as the capital of Israel, was a case study in a journalist's expression of personal bias.
None of Burnett's questions to Dermer were, in terms of content, out of line. It's reasonable to ask about the Arab response to the announcement, the effect on the peace process, and even a video clip in which Dermer appeared to be reacting to a gaffe made by the US President. Throughout the interview, however, her tone, and at times her language, is hostile and accusatory.
My interview tonight with @ErinBurnett on @OutFrontCNNhttps://t.co/fcpFytaWCB

— Amb. Ron Dermer (@AmbDermer) December 7, 2017
(You can also watch it here.)
In her first question to Dermer, Burnett begins:
Look I know this is a day you have wanted for a very long time and I know it matters a lot to you. That is important. But, of course, the situation that we're seeing now is crucial, the State Department warning of violence because of the move, leaders of countries throughout the region, across Europe, warning of violence, Palestinians calling for three days of rage. A crucial question for you tonight, Ambassador: are you willing to accept violence and the possible death of Israelis in exchange for getting what you have so long desired?
Burnett announces that Palestinians have called for "three days of rage" as though national leaders calling for violence is the most natural thing in the world. She doesn't seem bothered by it, nor does she ask whether they should call for peaceful protests instead of "rage." Instead, both her language and the accusatory tone directed at Ambassador Dermer imply that any violence that occurs is the fault of the government that the Ambassador represents. Similarly, her facial expressions during his response betrays her skepticism of anything he said.
After Dermer responds, Burnett continues with her second question:
Two senior US White House officials are telling CNN that this decision has temporarily derailed the peace process. And as you know, Ambassador, the Palestinian Authority President Mahmoud Abbas saying Trump's announcement means the United States has completely withdrawn – completely withdrawn – its role in mediating the Middle East peace process.
Once again, Burnett's accusatory tone suggests that the Palestinian reaction to the US President complying with US law is the fault of Ambassador Dermer and the government he represents.
Ambassador Dermer, to his credit, ignored Burnett's animus, and simply made the points he wanted to make. Burnett's antipathy, however, is conveyed to viewers, who will come away from the segment with the subtle message that Israel, again, is to blame for the violence against it, and Israeli government officials are not to be trusted.
Posted by kabe at 11:42 AM | Comments (1)
USA Today Cartoon Notes Palestinian Calls to Destroy Israel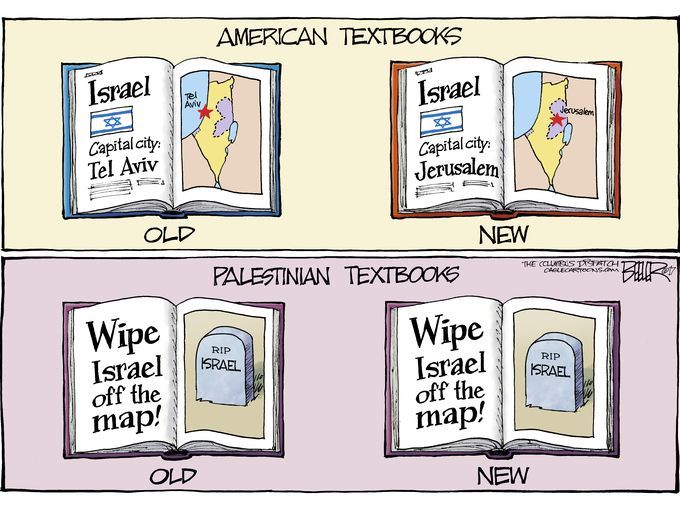 A USA Today cartoon, published on Dec. 8, 2017, detailed the response by many Palestinians to the United States recognizing Jerusalem as Israel's capital. As the cartoon, entitled "Same old Palestinian response," highlighted, not much has changed.
The illustration, by Nate Beeler, a syndicated cartoonist with The Columbus Dispatch, showed two "American textbooks," each with a map of Israel. One "old American textbook" listed Tel Aviv as Israel's capital and a "new American textbook" showed the capital city as "Jerusalem."
Juxtaposed underneath these books were two "Palestinian textbooks," one "old" and one "new." Both remained unchanged despite the U.S. recognizing Jerusalem as Israel's capital in a Dec. 6, 2017 announcement by President Donald Trump. Both said "Wipe Israel off the map!" Prior to the announcement, it was official U.S. policy to decline to "acknowledge any capital at all," as the President noted in his remarks.
As CAMERA highlighted in a Dec. 7, 2017 Times of Israel commentary, Palestinian leadership called for Israel's destruction long before the U.S. acknowledged that Jerusalem is the capital of the Jewish state—a fact that many in the media coverage failed to note ("'Days of Rage' and Bad Reporting"). And Palestinian textbooks have long shown maps that erase Israel.
With one cartoon, USA Today offered more insights than numerous media reports.
Posted by SD at 11:01 AM | Comments (2)
December 05, 2017
The Hill Omits Turkey's Support for Hamas
Recep Tayyip Erdogan

A Hill dispatch about Turkey threatening to cut ties with Israel, omitted key information about Ankara's support for Hamas, a U.S.-designated terror group committed to the Jewish state's destruction ("Turkey: Recognizing Jerusalem as Israeli Capital Would Be 'Red Line' for Muslims," Dec. 5, 2017).
Reporter Max Greenwood noted a Dec. 5, 2017 speech by Turkey's President, Recep Tayyip Erdogan, before his country's parliament. Erdogan stated that a potential decision by the U.S. to recognize Jerusalem as Israel's capital is a "red line for Muslims." The Turkish leader added: "We could go as far as cutting diplomatic ties with Israel over the issue."
Yet, The Hill failed to inform readers that Erdogan—the leader of Turkey's Islamist Justice and Development Party, also known as the AKP—has been a long-time supporter of Hamas, which routinely launches terror attacks against Israel.
Erdogan's support for Hamas is well documented.
As Politico highlighted in an Aug. 16, 2016 article: "Turkey has worked with Islamist groups and supported militant organizations in the Middle East for years, according to the German government ("German government: Turkey supports terror groups in the Middle East")."
The German foreign ministry even issued an August 2016 statement, based on information from its Federal Intelligence Service, pointing out that "as a result of the gradually Islamized domestic and foreign policy of Ankara since 2011, Turkey has become the central platform for action for Islamist groups in the Middle East." Hamas and Egyptian and Syrian Muslim Brotherhood groups were among those listed by the German diplomatic service.
Indeed, as CAMERA has noted, Turkey has supported "humanitarian agencies" with ties to Hamas. In February 2017, a man named Muhammad Murtaja, the Gaza coordinator for the Turkish Cooperation and Development Agency, was arrested by the Israeli security agency, Shin Bet. Murtaja was accused of "funneling funds earmarked for humanitarian projects to Hamas," according to a Jerusalem Post report.
Murtaja's employer, the Turkish Cooperation and Development Agency is a government-run agency that operates on five continents. The agency is a department of the Prime Minister of Turkey and is tasked with providing development assistance to select countries and regions.
Another Turkish "charity," the IHH, "has a record of supporting terrorist groups" and "has close relations with Turkey's AKP government," per a study by the Meir Amit Intelligence and Terrorism Information Center.
Although relations between Ankara and Jerusalem have waxed and waned since the ascension of Erdogan and the AKP in 2003, Turkey's support for Hamas has been a constant, according to Jonathan Schanzer, the Vice President of the Foundation for Defense of Democracies, a Washington D.C.-based think tank, and a former U.S. Treasury Department terror analyst ("Turkish Organizations Under Fire for Alleged Hamas Support," FDD Policy Brief, March 22, 2017).
On several occasions, Hamas has even thanked Erdogan for his support. In a June 28, 2016 statement posted on its official website, Hamas "expressed its deep appreciation of Turkish official and popular efforts" to bolster the group's propaganda efforts against Israel.
Such expressions of gratitude shouldn't go unmentioned.
Posted by SD at 02:24 PM | Comments (0)
December 04, 2017
Palestinian Textbooks Are 'Significantly More Radical' Than Before

The hatred taught in Palestinian schools is only increasing, according to an Algemeiner article by correspondent Shiri Moshe ("Report: New Palestinian Curriculum Praises 'Martyrdom,' Significantly 'More Radical' Than Before," Dec. 3, 2017). Moshe highlighted a recent study by the Institute for Monitoring Peace and Cultural Tolerance in School Education (IMPACT-se), which found that Palestinian textbooks "groom young Palestinians to sacrifice themselves to martyrdom," promote the idea of a mass "return" to Israel and "feature a radical Islamist, and occasionally, a Salafi worldview."
The report noted that—as with previous Palestinian textbooks—the newer ones include maps that erase Israel, depicting all of the land as "Palestinian."
Anti-Jewish violence is also encouraged in the curriculum. A fifth grade language textbook defined "martyrdom" and "jihad" as "the most important meanings of life." The book even extolled the benefits of becoming a "martyr," claiming that those who commit terror attacks teach "people that drinking the cup of bitterness with glory is much sweeter than a pleasant long life accompanied by humiliation." It also proudly admitted that in Palestinian society, such attackers are honored:
"We give their names to our children; we put their names on our streets and squares and the cultural places."
This hateful indoctrination starts early. Moshe noted that a third grade textbook included a poem calling to "sacrifice my blood" in order to "eliminate the usurper from my country." In keeping with this theme—that Jewish people, indeed that non-Muslim people have no right to the land—some textbooks even categorize Palestinian figures like Dalal Mughrabi and Yasser Arafat, as "heroes," along with figures like Tariq ibn Ziyad, an 8th century Berber general who helped conquer Spain.
History is not the only field to be contaminated with Palestinian Authority (PA)-sanctioned perversion.
Moshe detailed that IMPACT-se found a seventh grade science textbook that "teaches Newton's Second Law through a cartoon depicting a Palestinian youth with a slingshot facing off against armed Israeli soldiers." Similarly, fourth graders learning math are instructed to perform calculations using "martyrs."
IMPACT-se presented their report in meetings with representatives from the European Union (EU) and major European donors to the PA, such as Belgium, Finland, Germany and the United Kingdom. The Joint Financial Agreement, a pooled funding system that supplies half of the budget for the PA's Ministry of Education, funds the curriculum. That agreement is currently co-chaired by Belgium which, the Algemeiner noted, halted future construction on two Palestinian schools in November 2017 after it was revealed that a PA school would be named after Mughrabi, a terrorist who murdered 38 Israelis—13 of them children—during the 1978 Coastal Road massacre.
In other words, Palestinian schoolchildren would be taught in a school named after a child-murdering terrorist. As CAMERA has highlighted, numerous sports teams, streets, and even stores—or what the textbook refers to as Palestinian "cultural places"—are named after Mughrabi and/or are adorned with her likeness (see, for example "Missing the Palestinian after-terror after party," The Washington Examiner, July 6, 2016).
The PA Ministry of Education has, for many years, provided a curriculum that encourages anti-Jewish violence and is frequently antisemitic. Palestinian Media Watch (PMW), a non-profit organization that monitors Arab media in the West Bank (Judea and Samaria), has also documented, both on its website and in reports, the PA's use of education to promote terrorism.
A 2015 PMW report noted "the PA teaches its children to reject Israel's right to exist, encourages them to view Jews as evil and directs them to embrace terrorist murderers as role."
Indeed, as CAMERA's Executive Director Andrea Levin noted in a June 1, 1999 article, this hateful education violates the 1993 Oslo agreements that created the authority. Levin cited the following passage:
"Israel and [the Palestinians] will ensure that their respective educational systems contribute to the peace between the Israeli and Palestinian peoples and to peace in the entire region, and will refrain from the introduction of any motifs that could adversely affect the process of reconciliation." -Interim Agreement, Chapter 4, Article XXII, Par. 2 (1995)
For years, the PA has been doing precisely the opposite—often without consequence. A brief and belated attempt in the fall of 2017 by the United Nations Relief and Works Agency for Palestinian Refugees (UNRWA) to change the PA's curriculum was met with an outcry from official PA media, who claimed that it would "harm the Palestinian identity and history."
By its own admission, the PA considers "Palestinian identity" and "history" to be inseparable from anti-Jewish violence. The decision to double down on hateful indoctrination suggests that the future will be equally grim.
The famed French novelist Victor Hugo once observed: "He who opens a school door, closes a prison." Mr. Hugo, however, never set foot in a Palestinian school.
Posted by SD at 01:54 PM | Comments (0)
Fatah Official: Iran is Hindering Palestinian Reconciliation
Top Hamas operatives Yahya Sinwar and Ismail Haniyeh

The man tasked with leading efforts to reconcile Fatah and Hamas has accused the Islamic Republic of Iran of working to prevent reconciliation between the two Palestinian groups, which rule the West Bank (Judea and Samaria) and the Gaza Strip, respectively.
Fatah and Hamas are rivals for power. They engaged in a brief and bloody civil war in the summer of 2007, after Fatah lost elections in 2006. That conflict ended with Hamas seizing control of the Gaza Strip, which had previously been run by Fatah, the movement that dominates both the U.S.-supported Palestinian Authority (PA) and Palestine Liberation Organization (PLO).
As CAMERA has noted, Hamas and Fatah have been in reconciliation talks for nearly four months ("The Washington Post Belatedly Covers Hamas-Fatah Talks," Oct. 6, 2017).
On Nov. 27, 2017, a senior Fatah official named Azzam al-Ahmad told al-Arabiya, a Saudi Arabian outlet, that, "Iran is the number one sponsor of the division…the number one financier." The Times of Israel's Dov Lieber noted the significance of al-Ahamd's comments, calling them "rare" and "full-throated ("Senior Fatah Official: Iran the key source of Palestinian division," November 28)."
Tehran is a chief supporter of Hamas and other groups that rival Fatah, such as Palestinian Islamic Jihad (PIJ).
Both Hamas and PIJ challenged Fatah's support for diplomatic engagement with Israel during the 1990s Oslo process that created the PA. Both groups, as well as Fatah elements like Tanzim—which was supported by then-Fatah and PLO-head Yasser Arafat—perpetrated terrorist attacks against Israelis.
Iran's support for Hamas dried up as a result of a disagreement over Tehran's involvement in the Syrian civil war. However, Iran recently renewed its support of the U.S.-designated terrorist group and, in a widely underreported move, senior Hamas operative Saleh al-Arouri visited Iran in late October 2017 ("Where's the Coverage? Hamas Visits Iran," CAMERA, Oct. 27, 2017).
Indeed, in an August 2017 interview, Hamas' Gaza chief, Yahya Sinwar, admitted that Iran is now "the largest backer financially and militarily" of the terror group.
In his interview with al-Arabiya, Al-Ahmad stated, "It seems that one of the conditions for the return of Iranian support [to Hamas] is the continuation of the division." As part of the ongoing talks, PA President Mahmoud Abbas has insisted that the authority be in sole control of all weapons and security in the Gaza Strip. Hamas has refused to give up its arsenal.
Azzam al-Ahmad's remarks were widely ignored by major U.S. news outlets, including The Washington Post, USA Today, The Washington Times, and others. By contrast, The Times of Israel provided a detailed report, complete with essential background and context.
A Palestinian official highlighted Iran's efforts to thwart a "unity deal" between two rival and warring factions and many in the media were nowhere to be found.
Posted by SD at 11:02 AM | Comments (0)
December 01, 2017
Israeli Peace Offers Go Missing in Politico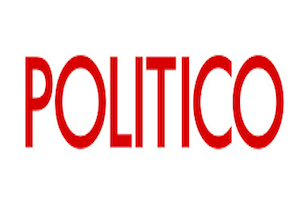 A Politico report about the Trump administration possibly moving the U.S. Embassy in Israel from Tel Aviv to Jerusalem, omitted the numerous instances of Palestinian leadership rejecting a Palestinian state if it meant peacefully co-existing with a Jewish one ("Trump inches toward moving U.S. Embassy to Jerusalem," Nov. 20, 2017).
The article, by reporters Andrew Rusticcia and Eliana Johnson, claimed that moving the U.S. Embassy "could derail Trump's attempts to restart peace talks between the Israelis and the Palestinians." Politico reported that Jordan's King Adbullah II has told administration officials that such a move "could derail efforts to reach a peace agreement in the region," and some administration officials have claimed it could "heighten tensions in the region."
However, Politico failed to inform readers that Palestinians have refused opportunities for statehood on numerous occasions, including 2000 at Camp David, 2001 at Taba and 2008 after the Annapolis Conference.
As CAMERA has detailed, the 2008 offer included 93% of the West Bank (Judea and Samaria) and a Palestinian state with its capital in eastern Jerusalem. Not only did Palestinian Authority (PA) President Mahmoud Abbas reject this proposal, he failed to either make a counteroffer or to call Israeli and American negotiators back.
Politico also stated that some Trump administration officials are worried that an embassy move could "heighten tensions in the region." Yet, as CAMERA's Senior Research Analyst Steve Stotsky has pointed out, Palestinian terrorism increased after the establishment of the PA and peace talks as part of the Oslo process during the 1990s ("The Straight Facts about the Palestinian Authority and Fighting Terrorism," Oct. 25, 2012).
In 1995, the U.S. Congress passed a law mandating that the U.S. Embassy be moved to Jerusalem, in keeping with the custom of maintaining embassies in a nation's capitol. Yet, as Politico noted, U.S. presidents have overridden that law by continually signing a six-month waiver keeping the embassy in Tel Aviv. The publication did not note, however, that failing to move the embassy didn't stop endemic Palestinian anti-Jewish violence, including during the Second Intifada, in which more than 1,000 Israelis—most of them civilians—were murdered ("Jimmy Carter's Second Draft," CAMERA, March 3, 2009).
History is clear: Palestinian leadership has rejected opportunities for peace and statehood while supporting terrorism. And they've done so without the U.S. moving an embassy to Jerusalem, as mandated by law.
Posted by SD at 03:00 PM | Comments (0)