« The Washington Post's Hollywood Approach to History | Main | International Business Times Peddles Fake News About Mossad's Gal Gadot »
November 27, 2017
Official Palestinian Media: U.S. and Israel Are Responsible for ISIS Attack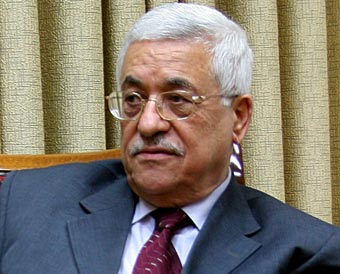 PA President Mahmoud Abbas
An Op-Ed in Al-Hayat al-Jadida, an official Palestinian Authority (PA) daily newspaper, blamed the United States and Israel for a Nov. 24, 2017 terrorist attack in which 305 Muslim worshippers were murdered in Sinai, Egypt by the Islamic State in Iraq and Syria (ISIS).
A report by Palestinian Media Watch (PMW), an organization that monitors Arab media in the West Bank (Judea and Samaria), the Gaza Strip and eastern Jerusalem, highlighted the Al-Hayat al-Jadida Nov. 26, 2017 commentary by Palestinian Omar Hilmi Al-Ghoul.
PMW noted that Al-Ghoul claimed that the U.S. and Israel are worried about a strong Egypt, and therefore used "pawns" to carry out an attack to "weaken" the Egyptian state. It was, the commentator claimed, part of "an American-Israeli decision—which is being implemented by their pawns…to continue weakening Egypt, at least, particularly because the main goal of their plan is to tear unified Egypt into small and scattered states."
This is not the first time that official Palestinian media has conspiratorially claimed that ISIS—an offshoot of al-Qaeda in Iraq (AQI)—was created by the U.S. and the Jewish state.
As PMW pointed out: An Oct. 17, 2017 Al-Hayat al-Jadida report pushed allegations by Palestine Liberation Organization political bureau member Muhammad Al-Soudi that "the Zionist enemy" was responsible for an ISIS terror attack that month, in which six Egyptian soldiers were murdered.
Al-Hayat al-Jadida is "the Palestinian Authority's daily newspaper" and its "work parallels the official line of the government of Mahmoud Abbas and his political party, Fatah," according to a Nov. 4, 2015 Washington Post dispatch.
That same Post article detailed an Al-Hayat al-Jadida cartoonist, Mohammad Sabaaneh, whose work promotes anti-Jewish violence. The Post—while citing PMW evidence—nonetheless minimized the incitement as merely "claims" by "Israeli media watchdogs ("Meet the Palestinian Cartoonist Israelis Accuse of Incitement").
Posted by SD at November 27, 2017 05:40 PM
Comments
Guidelines for posting
This is a moderated blog. We will not post comments that include racism, bigotry, threats, or factually inaccurate material.
Post a comment