« October 2017 | Main | December 2017 »
November 28, 2017
International Business Times Peddles Fake News About Mossad's Gal Gadot
A screen shot from Lebanon's Al Liwaa, which had erroneously used Gal Gadot's photograph to illustrate a story on alleged Mossad agent Collette Vianfi. Al Liwaa apologized, but The International Business Times lags far behind (Image via Times of Israel)
Update: After communication from CAMERA staff, the International Business Times corrected its article and added a notice explaining that the story "has been updated to reflect that Al Liwaa apologized for using Gal Gadot's photo to illustrate a story about an alleged Mossad agent."
Starring as "Wonder Woman," Israel's Gal Gadot has grossed more than any other super-hero origin film, capturing the imagination of untold numbers of fans. She has also captured the imagination of an International Business Times reporter, who, based on an embarrassing photographic error on the part of a Lebanese newspaper, spun her own fantasy tale about the Israeli actress.
Leaving the facts behind, Lauren Dubois wrote yesterday ("Lebanese Newspaper Claims To Reveal Gal Gadot's Alleged Alternate Identity As Mossad Agent"):

However, at least according to a Lebanese newspaper, Israeli actress Gal Gadot also has another secret identity—as a Mossad agent.

The paper, a daily known as Al Liwaa, published an image of Gadot on their front page Monday, claiming in an unsubstantiated report (via The Times of Israel), that she was actually Collette Vianfi, an agent from Israel's international spy agency who was allegedly recruited to work with Lebanese actor and playwright Ziad Itani, who was arrested on Friday on charges of "collaborating" with Israel and gathering information about political figures.

The report included an image of Gadot from 2011's "Fast Five" movie, and the report allegedly claimed the photo of her had "circulated" on social media, and hours before the report was published, the image had been shared online with some claiming that Gadot was Vianfi, who was reportedly meant to visit Itani in Beirut this week, before canceling the trip after his arrest.
But Al Liwaa never claimed that Gal Gadot was an Israeli agent or that her alter ego is someone called Collette Vianfi. Rather, it accidentally used a picture of Gadot to illustrate a story covering purported Israeli agent Vianfi. As The Arab News reports:
Israeli 'Wonder Woman' star Gal Gadot was pictured as a Mossad agent on the front page of a Lebanese newspaper yesterday.

Beirut-based Al Liwaa newspaper used a picture of the actress to illustrate a story about Colette Vianfi, an alleged Israeli Mossad officer accused of recruiting Lebanese comedian and playwright Ziad Itani as a spy.

A senior newspaper executive described the incident as "embarrassing" in a telephone interview with Arab News.

Tareq Damlaj, one of the managing editors at the newspaper, said: "People were spreading the photo of actress Gal Gadot on social media, especially through WhatsApp, believing it was a photo of the Israeli officer.

"But after receiving a phone call today from cinema enthusiasts, and not security services, we learned this was the photo of an Israeli actress."
Furthermore, an editor's note yesterday on the very Times of Israel story to which Dubois linked spelled out that the Lebanese paper didn't accuse Gadot of being a spy, but rather misused her photograph ("Lebanese paper uses photo of Gal Gadot for tale of 'Mossad agent,' apologizes").
Meanwhile, not only does The International Business Times falsely claim that Lebanon's Al Liwaa supposedly accused Gadot of being a Mossad agent, it also egregiously fails to inform readers that the paper has already apologized about the "embarrassing" misuse of Gadot's picture. Al Liwaa apologized. Will The International Business Times?
Posted by TS at 07:29 AM | Comments (0)
November 27, 2017
Official Palestinian Media: U.S. and Israel Are Responsible for ISIS Attack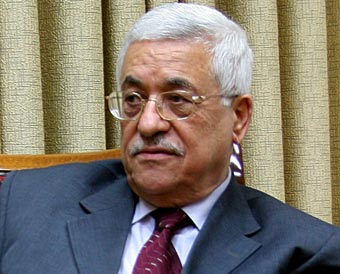 PA President Mahmoud Abbas
An Op-Ed in Al-Hayat al-Jadida, an official Palestinian Authority (PA) daily newspaper, blamed the United States and Israel for a Nov. 24, 2017 terrorist attack in which 305 Muslim worshippers were murdered in Sinai, Egypt by the Islamic State in Iraq and Syria (ISIS).
A report by Palestinian Media Watch (PMW), an organization that monitors Arab media in the West Bank (Judea and Samaria), the Gaza Strip and eastern Jerusalem, highlighted the Al-Hayat al-Jadida Nov. 26, 2017 commentary by Palestinian Omar Hilmi Al-Ghoul.
PMW noted that Al-Ghoul claimed that the U.S. and Israel are worried about a strong Egypt, and therefore used "pawns" to carry out an attack to "weaken" the Egyptian state. It was, the commentator claimed, part of "an American-Israeli decision—which is being implemented by their pawns…to continue weakening Egypt, at least, particularly because the main goal of their plan is to tear unified Egypt into small and scattered states."
This is not the first time that official Palestinian media has conspiratorially claimed that ISIS—an offshoot of al-Qaeda in Iraq (AQI)—was created by the U.S. and the Jewish state.
As PMW pointed out: An Oct. 17, 2017 Al-Hayat al-Jadida report pushed allegations by Palestine Liberation Organization political bureau member Muhammad Al-Soudi that "the Zionist enemy" was responsible for an ISIS terror attack that month, in which six Egyptian soldiers were murdered.
Al-Hayat al-Jadida is "the Palestinian Authority's daily newspaper" and its "work parallels the official line of the government of Mahmoud Abbas and his political party, Fatah," according to a Nov. 4, 2015 Washington Post dispatch.
That same Post article detailed an Al-Hayat al-Jadida cartoonist, Mohammad Sabaaneh, whose work promotes anti-Jewish violence. The Post—while citing PMW evidence—nonetheless minimized the incitement as merely "claims" by "Israeli media watchdogs ("Meet the Palestinian Cartoonist Israelis Accuse of Incitement").
Posted by SD at 05:40 PM | Comments (0)
The Washington Post's Hollywood Approach to History

A Nov. 22, 2017 Washington Post article, "How the Netflix action series 'Fauda' shows the human side to the Israeli conflict," gave a distorted look at the Arab-Israeli conflict.
Tellingly, the headline omits the party—Palestinian Arabs—responsible for that conflicts' continuation. As CAMERA has frequently noted, Palestinian leadership has rejected U.S. and Israeli offers for statehood in exchange for peace with the Jewish state in 2000 at Camp David, 2001 at Taba and 2008 after the Annapolis Conference, among other instances.
The Post's dispatch, from the Jerusalem bureau's Ruth Eglash, highlighted the popular TV show Fauda, which is about an elite undercover Israeli unit and their fight against Palestinian terrorists. The Post, however, described its "main subject matter" as "a decades-old intractable conflict and military occupation that has brought myriad wars and deaths, and eluded a succession of U.S. Presidents who have sought peace."
Yet, the Arab-Israeli conflict is far more than "decades-old." It did not begin, as this description implied, with Israel's obligatory "military occupation" of disputed territories, which itself only ensued after the Arab states launched an unsuccessful war against the Jewish state in 1967. The Arab states, aided by Palestinian Arab "irregulars," waged wars against Israel in the decades before 1967—including during the country's 1948 War of Independence.
Indeed, as CAMERA has noted, the history of organized and endemic anti-Jewish violence in pre-state Israel is extensive and goes back at least a century—not "decades" (see, for example Anti-Jewish Violence in Pre-State Palestine," Aug. 23, 2009).
The Post also quoted Avi Issacharoff, an adviser to the show and "a prominent journalist" who "said it was important…to show Israelis that the Palestinians are real people." Issacharoff then stated: "It is very convenient for Israelis to ignore Palestinians." Building on this, the paper editorialized, claiming: "Most see little of the Palestinians except through the lens of the military."
That Palestinian media routinely shows distorting—and frequently antisemitic—depictions of Israelis goes unmentioned by The Post. As Palestinian Media Watch (PMW), an organization that monitors Arab media in the West Bank (Judea and Samaria), the Gaza Strip and eastern Jerusalem, has highlighted, official Palestinian media often depicts Israelis as the "sons of apes and pigs" and has stated that murdering Israelis makes "gardens bloom," among other incitements to anti-Jewish violence.
Indeed, many Palestinians "see little" of Israelis because it is illegal to sell—or to even rent—land to a Jew in areas that are controlled by the Palestinian Authority. Per policy, those areas are largely Judenrein. This was one of the first laws passed by the Palestinian Authority. By contrast, Arabs sit on Israel's Supreme Court, hold high-ranking government positions, and have their own political party.
Further, it is The Washington Post that often ignores Palestinian politics and culture. As CAMERA pointed out in a June 22, 2017 Algemeiner Op-Ed, The Post seems incapable of reporting on the Palestinians unless the stories can somehow be connected to Israel ("For Palestinians, It's Lights Out at The Washington Post").
For example, in February 2017, Mahmoud al-Aloul—an unrepentant terrorist nicknamed Abu Jihad—was appointed to be a possible successor to the octogenarian head of the Palestinian Authority (PA), Mahmoud Abbas. Nearly a year later, The Washington Post has yet to note his appointment, as CAMERA pointed out in a Washington Jewish Week Op-Ed ("The Media and the Missing Abu Jihad," Oct. 4, 2017). Similarly, The Post only briefly—and belatedly—reported on the recent reconciliation attempt by Abbas' Fatah movement and Hamas, the U.S.-designated terror group that rules the Gaza Strip ("The Washington Post Belatedly Covers Hamas-Fatah Talks," Oct. 6, 2017).
That is: If people are uninformed about Palestinians and/or the Arab-Israeli conflict, The Washington Post is partly to blame.
Posted by SD at 01:31 PM | Comments (2)
November 22, 2017
Duke University Press Criticized for Publication of Jasbir Puar's "Right to Maim"
Jasbir Puar is the Rutgers University professor who first coined the term "pinkwashing" to denigrate Israel's progressive record on LGBTQ rights, and who made the baseless claim at a 2016 lecture at Vassar College that Israel harvests organs from the bodies of dead Palestinians, a modern day blood libel.
Despite being called a "raving crackpot" by the editorial board of the liberal-leaning New York Daily News, Puar has a new book out this month from Duke University Press. The book has generated a firestorm of controversy for the publisher as well as for Duke and Rutgers.
In an Op-Ed published in the Durham, North Carolina paper the Herald-Sun, Peter Reitzes writes,
In "The Right to Maim," Puar continues what appear to be thinly veiled comparisons of Israelis to Nazis. Puar wonders if Gaza is "not a death camp but a debilitation camp," asks, "Is Gaza an experimental lab for the production, maintenance, and profitability of biopolitical debilitation?" and states, "The understanding of maiming as a specific aim of biopolitics tests the framing of settler colonialism as a project of elimination of the indigenous through either genocide or assimilation."

Poor scholarship – what one historian called "academic garbage" – plagues "The Right to Maim." For example, Puar quotes a professor of psychiatry from Al Jazeera America (not from a peer reviewed study) saying, "Palestinian children in Gaza are exposed to more violence in their lifetime than any other people, any other children, anywhere in the world." Puar attempts to support this allegation by citing the study, "Effect of Trauma on the Mental Health of Palestinian Children and Mothers in the Gaza Strip" published in the Eastern Mediterranean Health Journal. I took the time to obtain and read this study and was surprised to see that it appears to conclude the opposite: "Compared to other types of conflict in war zones, events [in Gaza] were not as acute," it reports, and "The most common type of traumatic event was seeing victims' pictures on television."

Why would DUP publish a book like Puar's with such poor scholarship and obvious anti-Semitic overtones? Why, in fact, has DUP brought Puar aboard as an editor?

Perhaps the problem lies within bias in DUP's own staff and policies. …

[T]here are a large number of personnel involved with DUP who appear to selectively attack Israel and advocate for positions that delegitimize, demonize, and utilize double standards against Israel. Does DUP staff treat other countries in this manner, or is it just Israel, the only Jewish majority country in the world, which receives such treatment?
Moreover, Asaf Romirowsky, Executive Director of Scholars for Peace in the Middle East, has told the Duke Chronicle that he "considered the book's thesis of 'maiming individuals in order to dehumanize' a 'total fallacy.'… Romirowsky added that in conflict areas, violence exists on both sides, but Israel abides by rules of engagement."
For a certain segment of the population, there is simply no right way that Israel can defend itself from attack. Unfortunately, such individuals are increasingly finding comfortable homes in academia.

Posted by kabe at 04:18 PM | Comments (1)
CAMERA Featured Letter-Writer
A recent review of Reem's Bakery in the New York Times' travel section referred to convicted terrorist Rasmeah Odeh, featured in a mural on the bakery's wall, as an "activist," and failed to provide any information about Odeh's crimes.
The Times subsequently appended an Editors' Note acknowledging that the story had "lacked context," and added to the review, "In 1970, Ms. Odeh was convicted by Israeli courts for her role in the murder of two students. In 2014, she was convicted of immigration fraud in U.S. federal court and deported to Jordan in 2017." However, the paper continued to refer to her as an "activist," and refused to run a correction in the print edition.
Letter-writer Sara Miller wrote to the paper:
Editor: Thank you for adding the information that Rasmeah Odeh is a convicted terrorist. However, it doesn't ever make sense to call someone who targeted and killed civilians an "activist." Would you call anyone who targeted civilians in another country "a controversial activist"? Shouldn't you reserve the term "activist" for people like me, who contact you repeatedly with (surely annoying) letters but would never hurt anyone?

You should also run an editor's note in this Sunday's paper to make your addition/correction clear. The note should clearly state that Odeh was convicted of murdering two students and trying to kill other civilians, that she was a member of PFLP, and that she was deported from the U.S. for lying about her record. A lot of people may not realize that you added the information to the article about her terrorism, so it should be clearly stated that you did.

Thank you.

Sara Miller
Posted by kabe at 12:28 PM | Comments (0)
November 20, 2017
NBC's Anachronism: Israel's 'Ongoing Occupation' of Gaza
Nov. 21 Update: NBC Corrects About 'Ongoing Occupation' of Gaza
NBC's Vivian Salama seems to be stuck some dozen years in the past. In her Nov. 15 news story ("'An open secret': Saudi Arabia and Israel get cozy"), she writes:
An Israeli-Saudi alliance would also be vastly unpopular on the Arab street given the ongoing occupation of the West Bank and Gaza. (Emphasis added.)
In 2005, Israel withdrew every last one of its citizens, both living and dead (having exhumed remains from the cemeteries), as well as all of its soldiers, from the Gaza Strip in 2005, ending its occupation of the territory.
Following the 2005 withdrawal, then Secretary of State Rice said in a May 1, 2006 briefing:
And in fact, the Israelis do not any longer occupy Gaza; it is Palestinian territory. And that is in no small part thanks to the tireless efforts of Jim Wolfensohn, who worked day and night to make certain that that could happen. (Emphasis added).
While the United Nations and Human Rights Watch regard Gaza as still occupied, Hamas' Mahmoud Zahar disagrees, stating in 2012: "Against whom could we demonstrate in the Gaza Strip? When Gaza was occupied, that model was applicable."
In addition, a number of legal scholars disagree with the NGO position that Gaza is still occupied.
Indeed, after similarly stating that Gaza is occupied, The Los Angeles Times last year commendably published the following correction, the paper's second correction on this topic: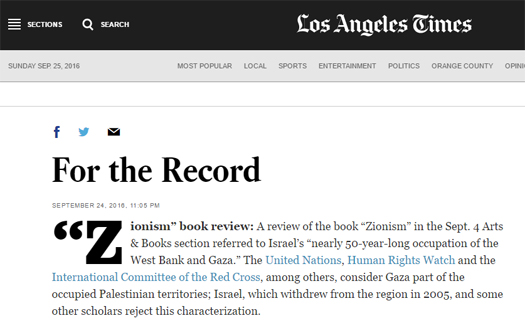 In addition, last month The Evening Standard also corrected this point.
CAMERA has contacted NBC to request a correction.
Posted by TS at 03:21 AM | Comments (0)
November 17, 2017
Where's the Coverage? Israel Offered to Help Iranian and Iraqi Earthquake Victims

An Israeli offer to assist Iranian and Iraqi earthquake victims was "immediately rebutted" by Baghdad and Tehran—and widely ignored by major U.S. news outlets.
As The Times of Israel reported on Nov. 14, 2017, Israeli Prime Minister Benjamin Netanyahu told a group of North American Jewish leaders that "Israel had offered the aid via the Red Cross, following Sunday's magnitude 7.3 quake that killed at least 530 people in Iran and several people in Iraq, and injured thousands across the region ("Israel offers quake help to Iran, Iraq, but immediately turned down")."
Netanyahu said that he saw "heartbreaking images of men and women and children buried under the rubble," prompting him to offer assistance to two countries that fail to recognize the Jewish state.
As CAMERA and others have noted, Iran routinely calls for Israel's destruction and supports terrorist groups, such as Hamas, Hezbollah and Palestinian Islamic Jihad (PIJ) that wage war against it. Yet, the Israeli Prime Minister said: "We have no quarrel with the people of Iran. Our quarrel is only with the tyrannical regime that holds them hostage and threatens our destruction. But our humanity is greater than their hatred."
Despite the devastation of the earthquake, both Iran and Iraq refused the aid, leading an official from Netanyahu's office to note: "This shows the true face of the Iranian regime."
While Iran and Iraq rejected the offer, the media rejected coverage.
Many major U.S. news outlets, including The Washington Post, USA Today and The Baltimore Sun, failed to provide a detailed report on Israel's offer. The Post did, however, republish a November 14 Associated Press brief that noted Israel's offer—but not the subsequent rejection.
The Post's failure to offer readers an original report on the subject is striking. As CAMERA has pointed out, the paper has reported on Chinese tourists purportedly being overcharged at an Israeli restaurant, among other comparably frivolous stories.
Posted by SD at 09:21 AM | Comments (0)
November 16, 2017
Tucker Carlson Allows Max Blumenthal's Anti-Israel Comments to Slide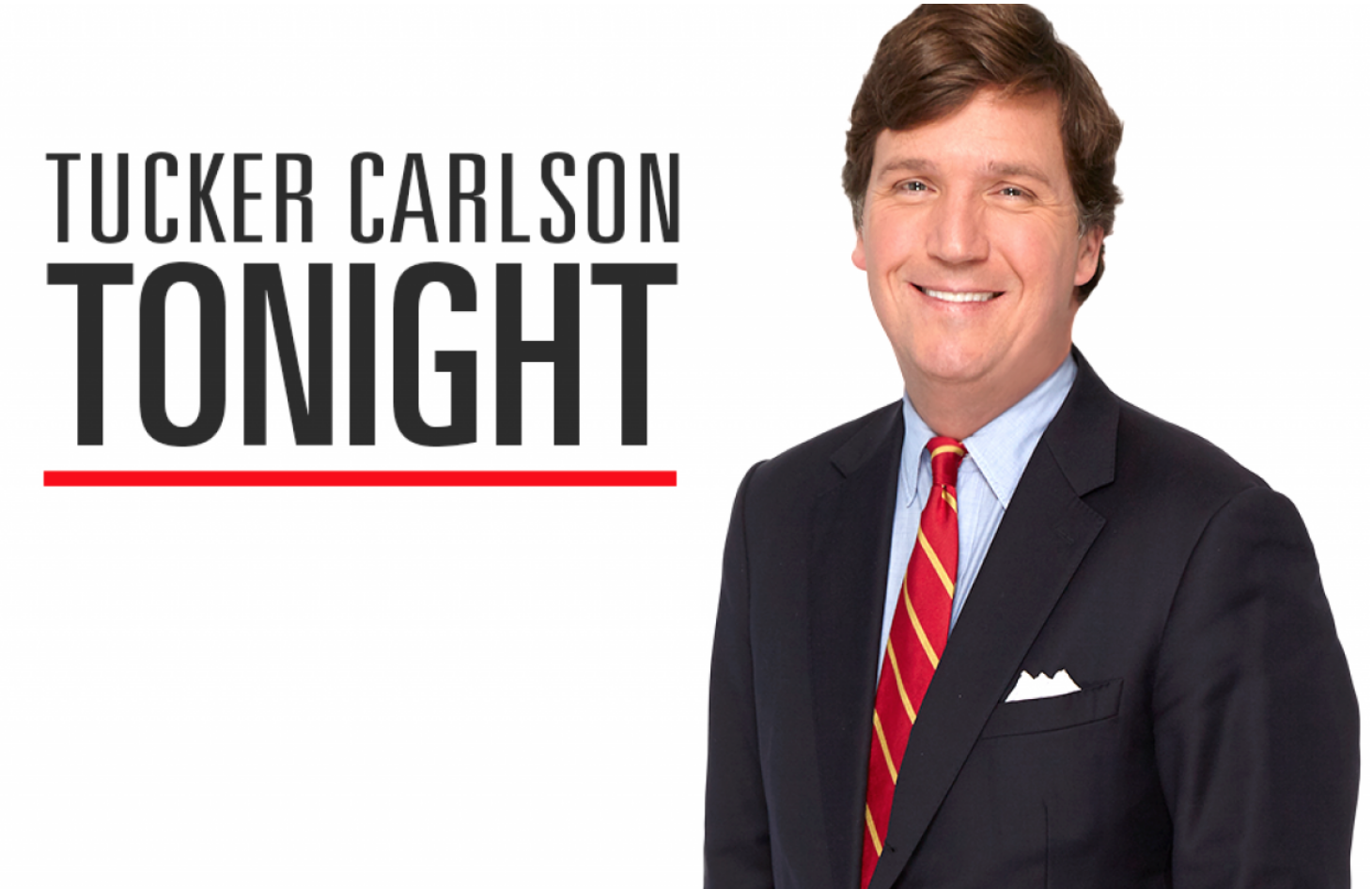 This past Tuesday, on his Fox News television show Tucker Carlson Tonight, host Tucker Carlson interviewed Max Blumenthal about the Russian government-funded cable network RT and the Trump administration's attempt to have that station register as a foreign agent. For those familiar with Blumenthal and his anti-Israel vitriol, there was nothing surprising in what he said. What was surprising, though, was that Carlson let Blumenthal's false and toxic allegations go unchallenged.
Responding to Carlson's question about why some journalists seem unconcerned about the administration's request, Blumenthal asserted that he enjoys his appearances on RT because "they let me talk about, for example, what the real sources of foreign influence are in this town, including the Israel lobby, and organizations like AIPAC, which have been promoting a humanitarian catastrophe in the Gaza strip, war on Lebanon, war on Iran, and which is not required for some reason to register as a foreign agent, and I don't know why that is."
Of course, AIPAC does not promote any of these things, and the reason it is not required to register as a foreign agent is that its leadership and members are U.S. citizens, and it doesn't take money or direction from foreign governments. Similar claims about an all-powerful "Israel lobby" have been debunked many times over. Carlson, however, did not challenge any of these assertions. After a few more softball questions, he simply replied, "Max, thank you, appreciate that analysis."
This was not the first time that Max Blumenthal (who is the son of Clinton confidante Sidney Blumenthal) has appeared on Carlson's show. After Blumenthal's July appearance, several conservative commentators criticized Carlson's decision to host him. Yet, this week, Carlson brought Blumenthal back.
Carlson might not have been so appreciative of Blumenthal's comments if he were more familiar with his guest's shaky track record. CAMERA has documented Blumenthal's falsehoods going back years. As we've written before, "Max Blumenthal has demonstrated a willingness to spread fabricated, distorted, and disavowed quotes." The Simon Wiesenthal Center included his book Goliath in its list of "Top Ten 2013 Anti-Semitic, Anti-Israel Slurs." One German newspaper even referred to Blumenthal and compatriot David Sheen as "lunatic Israel-haters" after they pursued a German politician into a bathroom.
Carlson frequently brings guests of various political persuasions to his program. He is known, however, for challenging them when he disagrees. In this case, Carlson invited onto his show a guest who is known for slandering Israel, but he was unprepared to dispute him and instead allowed his baseless comments to stand.

Posted by kabe at 01:19 PM | Comments (4)
November 14, 2017
Anti-Israel NGO Admits: Palestinian Children Commit Terror for 'Status'
A PFLP operative

The program director for Defence for Children International-Palestine (DCI-P), a Palestinian NGO, admitted in an interview that Palestinian minors commit terror attacks to enhance their societal status. The admission contradicts DCI-P's propaganda, which is often disseminated by an uncritical press.
Ayed Abu Qteish, DCI-P's accountability program director, acknowledged as much in an Oct. 11, 2017 interview on the show Personal Encounter, which is broadcast on official Palestinian Authority (PA) TV. Palestinian Media Watch (PMW), a non-profit organization that monitors Arab media in the West Bank (Judea and Samaria), the Gaza Strip and eastern Jerusalem, translated Qteish's remarks:
"There are children who, when they were in prison, told the lawyer: 'I want to be imprisoned.' The first time [the child] was imprisoned, he didn't confess, and they released him because there was no evidence to convict him in the Israeli military court. The second time, there was no evidence either. The third time, he wanted to be imprisoned so that his image wont be hurt in the eyes of his friends, even though he is actually innocent…In several cases [Palestinian children] carried out stabbing operations because of the way the public looks at them. They realized 'the best way to clear myself of this image [of helping Israel] is to participate in the resistance operations [emphasis added].'"
As CAMERA has noted, "resistance operations" is a euphemism for committing terrorist attacks.
PMW pointed out that DCI-P "has unjustifiably been accusing Israel of breaching the rights of Palestinian minors who are arrested on suspicion of committing terror attacks." PMW noted that Oteish's admission is significant because "in stark contrast to the claims of DCI-P in its campaign, it demonstrates that when Palestinian minors are arrested but the investigation ends without finding sufficient evidence, the suspect is released." Put simply: Oteish's interview highlights the hollowness of DCI-P's claims.
According to NGO Monitor, an organization that monitors non-governmental groups that are active in the Israeli-Palestinian conflict, DCI-P supports the boycott, divestment and sanctions movement (BDS), which seeks to delegitimize Israel and calls for its ends as a Jewish state.
DCI-P also has ties to the Popular Front for the Liberation of Palestine (PFLP), a U.S.-designated terrorist group. In its report on the non-profit, NGO Monitor noted that Shawan Jabarin, "an alleged PFLP activist" was a member of DCI-P's board, as were alleged PFLP affiliates Nassar Ibrahim and Dr. Majed Nasser. The board's secretary Fatima Daana is the widow of Raed Nazzal, the former commander of PFLP's Abu Ali Mustafa Brigades. One DCI-P employee, Hashem Abu Maria, was celebrated by the PFLP as a "commander" after his death in 2014.
Yet, as CAMERA highlighted in a June 15, 2016 Washington Jewish Week Op-Ed, the media and policymakers frequently omit DCI-P's anti-Israel agenda and links to the PFLP ("The Greatest Threat to Palestinian Arab Youth"). The New York Times, The Hill, and others have all broadcast DCI-P's claims, but failed to provide essential background about the organization and its aims.

Posted by SD at 11:00 AM | Comments (1)
November 13, 2017
The Washington Post's Selective Language on Israel

The Washington Post often displays two standards of language in its international coverage: one for Israel and another for the rest of the world.
Take, for example, the paper's use of the term "terrorist." Post reporting on the Israeli-Palestinian conflict shows an aversion to the word, with the less descriptive "militant" often being a preferred substitute. An Oct. 30, 2017 report "Seven Palestinian militants killed as Israel blows up tunnel from Gaza," is but one of many examples.
When he was The Post's Jerusalem bureau chief, William Booth almost exclusively relied on the term "militant" to describe members of U.S.-designated terrorist groups, such as Hamas, Palestinian Islamic Jihad, the Popular Front for the Liberation of Palestine (PFLP), among others who target Israel (see, for example "While Israel held its fire, the militant group Hamas did not," July 15, 2014). By contrast, the paper's reporters hardly—if ever—used the term "terrorist" to describe those perpetrating and planning terror against the Jewish state.
Now chief of the paper's London bureau, Booth has reported on terrorist attacks by the Islamic State in Iraq and Syria (ISIS) in Europe (see, for example "Barcelona suspect says terrorist cell planned to bomb monuments in city," Aug. 22, 2017). And now, he uses the more precise "terrorist" instead of "militant." Yet, both ISIS and Hamas, to name two examples, are U.S.-designated terrorist groups who commit terror attacks; it's unclear what difference there is beyond the fact that one is primarily engaged in the realm of the Israeli-Palestinian conflict.
The Post exhibits similar selectivity elsewhere. For example, the paper has referred to the West Bank (Judea and Samaria) and the Gaza Strip as "Palestinian territories (for example, see "A daily commute through Israel's checkpoints," May 29, 2017)." Yet, as CAMERA has informed Post staff—and as the paper acknowledged in a Sept. 5, 2014 correction that it disregards at will—"the status of the territories is disputed and no Palestinian state has ever existed." Nonetheless, the paper has shown a proclivity for, at times, inaccurately labeling the territories as "Palestinian" instead of "disputed." It has even defended doing so on the grounds that while it might not be accurate, its use is frequent ("The Washington Post: We Print 'Commonly Used' Falsehoods," CAMERA, June 12, 2017).
By contrast, the paper has no compunction using the term "disputed"—or a variant—when talking about other conflicts. In one recent example, the paper reported on Iranian-supported Iraqi forces seizing "contested areas" in what was then Kurdish-held Kirkuk ("Iraqi leader's acclaim grows after retaking of Kirkuk," Oct. 26, 2017). Elsewhere, the article referred to areas—which once belonged to Iraq but were declared in a Sept. 25, 2017 Kurdish referendum to be part of Kurdistan—as "disputed territory."
The Washington Post, along with other major news media, has also shown a selective use of adjectives when it comes to Israel. As CAMERA has noted, the paper has a recurrent practice of describing countries larger than Israel, such as Georgia, the United Arab Emirates and Jordan, among others, as "tiny" but virtually never highlights the Jewish state's size and population. If unintentionally, this minimizes the threats that Israel faces from much larger, and often hostile, countries.
"The aim of language," the French philosopher Jean-Paul Sartre once observed, is to "reveal the situation…[to] reveal it to myself and to others in order to change it." When it comes to its coverage of Israel, the language used by The Washington Post is revealing indeed.
Posted by SD at 12:46 PM | Comments (0)
New York Times Whitewashes Convicted Bomber as 'Controversial Activist'
Cross posted with updates here
Days after a New York Times arts piece about the Louvre Abu Dhabi covered up an official Emirati ban on Israeli symbols at the international Grand Slam judo tournament last month, the paper of record this week published a travel article which whitewashes convicted bomber Rasmeah Odeh as a "controversial Palestinian activist."
The Nov. 11 "Bites" New York Times food review is all about love, community organizing and social justice ("An Arab Bakery in Oalkland Full of California Love"). Rebecca Flint Marx writes:
Reem's is one of a handful of Arab bakeries in the Bay Area — but it is likely the only one where you'll find the children's book "A Is for Activist" on the shelves and an enormous mural of the controversial Palestinian activist Rasmeah Odeh on the wall.
But there is not a word about the source of Odeh's "controversy," as The Times delicately puts it. As The New York Times itself reported May 27, 2017, Odeh "was convicted in Israel of playing a role in the bombing of a supermarket that killed two civilians in 1969."
Odeh was convicted of perpetrating the bombing in which Hebrew University students Leon "Arie" Kanner, 21, and Edward Joffe, 22, were murdered. That makes her a convicted terrorist, not an "activist."

The Associated Press reported that this past September, Odeh
was deported from the United States for concealing a decades-old bombing conviction arrived in Jordan on Wednesday. . . .

Odeh didn't disclose her criminal record when applying for a U.S. visa and later for U.S. citizenship.
The depiction of a convicted bomber responsible for the killing of two civilians who was deported from the U.S. after she concealed her criminal records from authorities as a "controversial Palestinian activist" is a complete whitewash of her crime.
At the end of the article, Flint Marx dances around Odeh's conviction, still withholding the key information from readers:
While Ms. Assil's food has drawn plenty of praise, the bakery's mural has invited criticism: in late June, an online op-ed charged that Mrs. Odeh's portrayal glorified terrorism, and the bakery's Yelp page was besieged by a slew of one-star reviews. "It was really scary," Ms. Assil said of the experience, but added that it won her new allies.
By concealing Odeh's crimes and her victims, readers would have no way of knowing the reason why some might accuse restaurant owner Reem Assil of glorifying terrorism. Uninformed readers might conclude that Assil's accusers were motivated by nothing more than bigotry at worst or differing politics at best. Ignoring the real victims in this story -- Kanner and Joffe -- Flint Marx casts the purportedly social minded, loving Assil as the victim who was really scared.
In September National Geographic removed a similarly misleading mischaracterization, identifying notorious hijacker Leila Khaled as a "Palestinian activist." Khaled, like Odeh, was affiliated with the Popular Front for the Liberation of Palestine – a group designated as a terror organization by the European Union and the United States, as well as Israel and Canada.
CAMERA has contacted The Times to ask for a clarification noting that Odeh was convicted in Israel of two bombings, including one that took the life of two university students, and that she was deported from the United States for concealing her criminal record.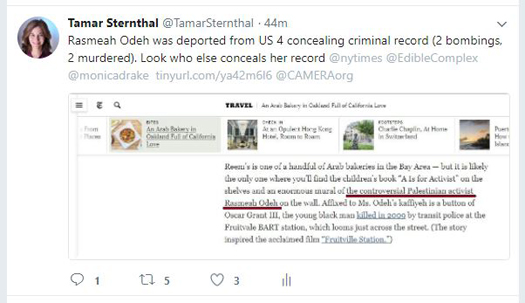 Posted by TS at 03:09 AM | Comments (1)