« Another Chapter in Yusef Daher's One-Man Propaganda War | Main | Palestinian Authority Admits to Supporting BDS—Violating Oslo »
October 27, 2017
Where's the Coverage? Hamas Visits Iran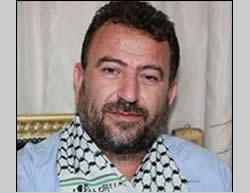 Saleh al-Arouri, the founder of the Izz ad-Din al-Qassam brigades

Top leaders from Hamas, the U.S.-designated terror group that rules the Gaza Strip, visited the Islamic Republic of Iran, in late October 2017. Hamas is currently engaged in reconciliation talks with its rival Fatah, which dominates the U.S. and E.U.-supported Palestinian Authority (PA).
Many major U.S. media outlets ignored Hamas's Iran trip—which was blasted by U.S. peace envoy Jason Greenblatt, who stated:
"Hamas, which has only brought ruin and misery to Palestinians, now begs Iran for help and again vows to destroy Israel."
Indeed, in its report on the visit of Hamas officials, such as Saleh al-Arouri, The Times of Israel noted that the terror group's decision to go to Iran violated Israel's conditions for recognizing a Hamas-PA unity government ("Hamas leader's visit to Iran defies Israel's condition for Palestinian unity," Oct. 23, 2017).
Israel has also requested that Hamas disarm and recognize the Jewish state. Hamas, however, has categorically rejected Israel's preconditions. Al-Arouri openly admitted as much, exhorting to Iranian media that "Our presence in Iran is the practical denial of the third precondition—cutting ties with Iran."
As CAMERA has highlighted, some analysts and policymakers have claimed that Hamas is becoming more "moderate." Others have asserted that reconciliation talks between the Gaza-based terror group and Fatah—both of which have called for Israel's destruction—somehow make peace with the Jewish state more likely (see, for example "Palestinian Official: Unity Deal Will Make Peace More Likely," Oct. 19, 2017, Al-Jazeera).
The Washington Post, for example, ran a story that, if implicitly, indicated Hamas-Fatah reconciliation could make peace more likely and that the U.S. and Israel were wrong not to embrace it ("Trump envoy balks at Palestinian reconciliation, insisting Hamas must disarm"). That October 19 report—published a mere two days before al-Alouri's Tehran visit—quoted several PA and Hamas officials, as well as an Israeli professor named Moshe Maoz, who asserted: "They [the U.S. and Israel] should look at the positive side of this arrangement. In a sense, it carries some promise, as it could be a good chance for Israel to negotiate with the entire Palestinian people."
For its part, Tehran has been a long-time backer of Hamas. However, Iran's support for Syrian dictator Bashar al-Assad caused fissures in the relationship since the beginning of the Syrian civil war in 2011. But now, "out of cash and isolated, Hamas is in search of backing from a major regional power, and is returning to Iran's orbit," according to terror analyst Yaakov Lappin ("Hamas Rejoins Iran's Terrorist Axis," Investigative Project on Terrorism, Oct. 26, 2017).
Lappin stated that the renewed relationship could result in Hamas benefitting from Iranian proxy Hezbollah in neighboring Lebanon, which is "now seeing the arrival of Hamas members who have set up a new command center." The next possible step could be setting up "terror cells in the West Bank [Judea and Samaria]."
Cash will once again flow from the Islamic Republic to Hamas, as will weapons and the technical know-how required to use them. Indeed, according to analyst Grant Rumley of the Washington D.C.-based think tank, Foundation for the Defense of Democracies, Hamas now says that "they've doubled the range of their rockets since the 2014 war—[which] can now reach over 160km."
Needless to say, this heightens the chance for another Israel-Hamas war. Unfortunately, this hasn't translated into increased media coverage.
A Lexis-Nexis search, however, shows that major U.S. news outlets, such as The Washington Post, USA Today and The Baltimore Sun, among others, failed to report Iranian-Hamas reconciliation. Should another conflict erupt, many readers will be ill prepared. The Post's failure to cover the story is particularly striking, as the paper ran a profile of al-Arouri on July 10, 2014— noting his role in sparking the last war ("The enigmatic Hamas leader allegedly behind the Israeli kidnappings that ignited the war").
Posted by SD at October 27, 2017 11:45 AM
Comments
Guidelines for posting
This is a moderated blog. We will not post comments that include racism, bigotry, threats, or factually inaccurate material.
Post a comment