« Where's the Coverage? Hamas Visits Iran | Main | Tablet Fails to Clarify Alleged Knife Incident at Soccer Game »
October 27, 2017
Palestinian Authority Admits to Supporting BDS—Violating Oslo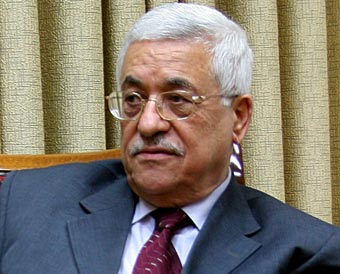 PA President Mahmoud Abbas
A top Palestinian Authority (PA) official has acknowledged that the authority supports the boycott, divestment and sanctions (BDS) movement. BDS unfairly maligns the Jewish state and denies its existence any legitimacy. The PA's support for BDS violates the Oslo accords which created the authority and from which it is funded.
In secret recordings obtained by The Washington Free Beacon, Mahmoud al-Aloul stated: "We have relations with BDS, our people work there and we have delegates there. We cooperate with BDS on all levels, and not only with the BDS, but every group whose aim is to boycott Israel, we are with. Every group working to lay siege on Israel and isolate it from the world, we are with."
Mahmoud al-Aloul is the deputy to PA President and Fatah movement head, Mahmoud Abbas. As CAMERA has highlighted, he is both an unrepentant terrorist and a likely successor to Abbas (see, for example "Backgrounder: Tanzim," Sept. 5, 2017).
Al-Aloul was recorded making these comments in March 2017—one month after he was appointed to his current position. Free Beacon reporter Rachel Frommer noted that in another audio recording, from August 2017, al-Aloul was asked by an Arabic-language news outlet if he supported BDS. The PA official responded, "Yes, of course." When asked how they do so, he said that the PA shows its support "in every way…We actively participate in the events they organize."
In a Sept. 9, 1993 letter to then-Israeli Prime Minister Yitzhak Rabin, Palestine Liberation Organization (PLO) and Fatah head, Abbas's predecessor Yasser Arafat wrote that the PLO "recognizes the right of the State of Israel to exist in peace and security." Further, "the PLO affirms that those articles of the Palestinian Covenant which deny Israel's right to exist, and the provisions of the Covenant which are inconsistent with the commitments of this letter are now inoperative and no longer valid."
That letter served as the preamble for the Oslo accords, which created the PA and allowed Palestinian leaders to return from Tunisia and have limited self-rule in the Gaza Strip and the West Bank. The PA receives U.S. and E.U. support, financial and otherwise, as a result of Oslo.
By supporting—and working with—BDS, the PA is assisting efforts to delegitimize Israel and which, as CAMERA has noted, call for the end of the Jewish state.
Rachel Frommer's Washington Free Beacon report can be found here.
Posted by SD at October 27, 2017 01:17 PM
Comments
This is merely confirmation the Palestinians have never had any intention of honoring the spirit of the Peace Process and a two state solution, only before they had reason to hope by "right of return" and other political concessions they could annihilate the Jews and deconstruct the Israeli state, their number one priority at any time, The PA has come to the premature conclusion the EU is so inundated with Islam and sharia's progress that they needn't take pains to hide their infamy.
Posted by: jeb at November 2, 2017 01:04 PM
Guidelines for posting
This is a moderated blog. We will not post comments that include racism, bigotry, threats, or factually inaccurate material.
Post a comment