« Fatah: A 'Sea of Blood' Will 'Create the State of Palestine' | Main | The Journalists Bin Laden Could Count On »
October 16, 2017
Where's the Coverage? Egyptian Army Destroys Sinai Homes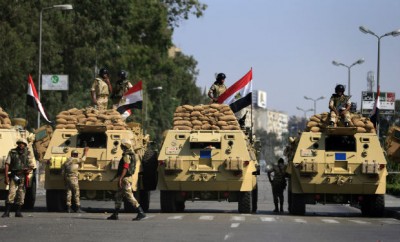 In a widely underreported move, the Egyptian Army began demolishing the homes of civilians in the city of Rafah on Oct. 4, 2017. The move, an Al-Monitor report noted, was "part of the third stage of building a border buffer zone with the Gaza Strip ("Egypt's army destroys Sinai homes to expand Gaza buffer," Oct. 11, 2017)."
The buffer line, the dispatch stated, is part of an attempt to destroy tunnels used by terrorist groups, such as Hamas, to smuggle operatives and materials between Gaza and the Sinai Peninsula. The process has been ongoing since October 2014. In its third phase, as with the preceding two, an area of 500 meters was added.
Al-Monitor claimed to have received a copy of the press statement of the governor of northern Sinai, Abdel Fattah Harhoor. Among other things, it said that the third phase of the buffer zones development was essential to "protecting Egypt's national security and countering terrorism," Al-Monitor said.
Those residents who have been displaced as a result of its construction are "facing difficulties in finding alternative housing," the paper reported. The publication added:
"Hundreds have resorted to building huts from the remains of houses and palm trees in desert areas in the surroundings of Sheikh Zuweid, Rafah and el-Arish. But their presence in these areas puts their lives at risk because there has been constant military combing and launching of random missiles between the army and the Egyptian branch of the Islamic State, Wilayat Sinai, since 2013."
During the first phase of the buffer zone's construction, displaced residents were offered compensation by the Egyptian government. At present, it's unknown if compensation of any form will be offered to those forcibly relocated during the ongoing third phase.
Egypt's decision to construct the buffer zone has been widely ignored by many major Western news outlets. A Lexis-Nexis search of major U.S. news outlets, such as The Washington Post, USA Today and The Baltimore Sun, among others, shows no mention of the recent phase and its accompanying displacement of Egyptian residents due to security concerns.
By contrast, as CAMERA has highlighted, Israeli security measures, such as the security barrier, are both well covered and frequently misreported (see here for examples and CAMERA-prompted corrections).
Posted by SD at October 16, 2017 09:27 AM
Comments
Guidelines for posting
This is a moderated blog. We will not post comments that include racism, bigotry, threats, or factually inaccurate material.
Post a comment