« Imaginary BDS Demon Gets Haaretz Photo Editor | Main | Where's the Coverage? Egyptian Army Destroys Sinai Homes »
October 16, 2017
Fatah: A 'Sea of Blood' Will 'Create the State of Palestine'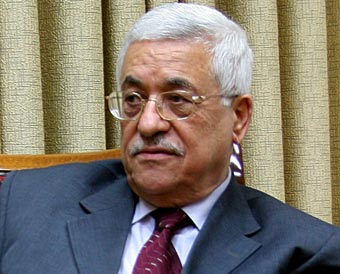 PA President Mahmoud Abbas

Fatah is the movement that dominates the Palestinian Authority (PA), the entity responsible for governing the West Bank (Judea and Samaria). Controlled by PA President Mahmoud Abbas, the movement is frequently labeled "moderate" by many news outlets. But even a cursory look at Fatah's Facebook page should dispel that myth.
According to Palestinian Media Watch (PMW), a non-profit organization that translates media in the West Bank, eastern Jerusalem and the Gaza Strip, Fatah recently authored a social media post that spelled out its objectives.
PMW noted that, in an Oct. 3, 2017 post on its official Facebook page, Fatah proclaimed:
"From the blood of the Martyrs (Shahids) we will create the State of Palestine."
Having enunciated its methods for state building, Fatah's Nablus branch offered more details in an Oc. 4, 2017, Facebook post, which stated:
"The Palestinian blood is not oil or water, but rather the salt of the earth and the gunpowder of the revolution."
Images of Palestinian "leaders," such as Fathi Shaqaqi, the founder of U.S. designated terror group Palestinian Islamic Jihad (PIJ), Ahmad Yassin, the deceased founder of Hamas, and others, accompanied the Facebook post.
As CAMERA has highlighted, Fatah's Facebook page frequently disseminates antisemitic material and exhortations to anti-Jewish violence. In March 2017, Facebook took the page down. However, it was back up within three days and Facebook had not removed "any of the terror promoting material that is regularly posted on the page," PMW noted.
Enraged at having its page briefly removed, Fatah accused Facebook of having a "blind bias in favor of the occupation."
Facebook never explained its reasons for removing—or for reinstating—Fatah's page. Less than a year later, Fatah continues to violate the social network's stated guidelines against threatening language. And it continues to make its motives and desires clear.
Posted by SD at October 16, 2017 08:44 AM
Comments
I would have put the empahsis on the claim Martyr's blood is fuel for the "revolution".
Revolution is a carged wod in the west especially with liberals who seem to believe that all revolutions are progressive social justice movements when in fact very few revolutiions result in more good than bad.
There is the second aspect that the PA is acting more in concert with Hamas and other Islamist extremists. However in the west, criticism of "Jihad" is criticized to spare "Moderate" Muslims sentiiments on the "meaning" of jihad and make such criticisms of Jihad Islamophobia. Suggesting they are not truly moderate Musims at all they simpy are not on the front line of the "revolution".
Posted by: jeb at October 21, 2017 08:40 AM
Guidelines for posting
This is a moderated blog. We will not post comments that include racism, bigotry, threats, or factually inaccurate material.
Post a comment