« Dictionary.com's Unfortunate Choice of Usage | Main | The Media Misses the Palestinian Crackdown on Palestinian 'Journalists' »
August 23, 2017
The PA and Hamas Employ the Al-Aqsa Libel, Again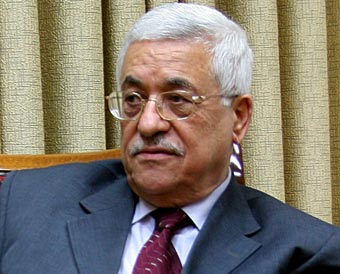 PA President Mahmoud Abbas

Both the Palestinian Authority (PA) and Hamas have once again made use of the so-called "'al-Aqsa is in danger' libel." This is the lie that Jews plan to destroy or defile the al-Aqsa mosque, which sits near Judaism's holiest site, the Temple Mount. Its use by Palestinian leaders often precedes anti-Jewish violence (for some examples, see "The Battle over Jerusalem and the Temple Mount," CAMERA, July 24, 2017).
On Aug. 22, 2017, both the PA, which rules the West Bank (Judea and Samaria), and Hamas, which controls the Gaza Strip, "revived the lie that a Jew or Jews were behind the 1969 arson of the Al-Aqsa Mosque by a Christian fundamentalist," The Times of Israel reported ("PA, Hamas rehash lie that Jews planned 1969 burning of al-Asqa mosque," August 22).
On Aug. 23, 1969, a mentally ill Australian named Denis Michael Rohan set fire to the al-Aqsa mosque, destroying part of its roof and an 800-year-old pulpit. Although Rohan was a Christian fundamentalist, the Palestinians and other Arabs blamed Israel for the arson attack—which the Israeli government had, in fact, extinguished.
Palestinian leaders have continually revived this lie. In a recent interview with the official PA news site Wafa, Dr. Mahmoud Abbash claimed "the fires that erupted in the Al-Aqsa Mosque 48 years ago by a Jewish terrorist of Australian origin are still burning today, as long as the noble sanctuary and the holy city [of Jerusalem] are violated by the Israeli occupation." Abbash is a top adviser to PA President Mahmoud Abbas, who is frequently labeled a "moderate" by many in the press.
Palestinian Media Watch (PMW), a non-profit organization that monitors media in the West Bank, the Gaza Strip and eastern Jerusalem, highlighted a PA-broadcast documentary that claimed that the 1969 fire was "planned by senior Jews of high position."
Similarly, Hamas released an Aug. 22, 2017 statement claiming that a "Zionist criminal" committed the arson attack.
Abbas himself has used the al-Aqsa libel. For example, in a Sept. 16, 2015 statement on official PA TV, Abbas exhorted: "The Al-Aqsa [Mosque] is ours, the Church of the Holy Sepulchre is ours, and they [Jews] have no right to defile them with their filthy feet. We will not allow them to…we bless every drop of blood that is spilled in Jerusalem."
Abbas' remarks were followed by the so-called stabbing intifada, in which Palestinians armed with guns, vehicles, knives, and rocks, among other weapons, attacked Israelis over the course of several months.
Posted by SD at August 23, 2017 11:30 AM
Comments
Guidelines for posting
This is a moderated blog. We will not post comments that include racism, bigotry, threats, or factually inaccurate material.
Post a comment