« Journalist: The Palestinian Authority is 'Destroying the Judiciary' | Main | AFP Dissembles: Palestinian Clown Incarcerated for Activity in 'Leftist' Group »
August 31, 2017
Report: Al Jazeera Airs False Testimony on IDF Child Killing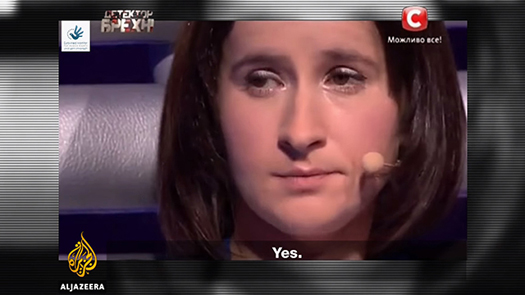 Elena Zakusilo on Lie Detector
Ynet reports:
The Qatari-based Al Jazeera TV network aired an investigative report last week showing an Israeli-Ukrainian woman who alleged that she murdered civilians and children while serving in the IDF.

The woman, Elena Zakusilo, did volunteer for the IDF and served in a junior administrative position, but her testimony, which was proven to be false shortly after it came out, was taken from a Ukrainian TV show called Lie Detector and aired in November 2013. . .

The Lie Detector host follows up by asking whether she killed people. She responds "yes," and the lie detector on the show determines she is speaking the truth.

"The first time I killed was difficult for me. I threw the weapon, and said I wasn't going anywhere. But I went," she elaborates.

The host then asks whether she was willing to return to service in the Israeli army and to killing its enemies, and whether she was asked to kill children. She responds in the affirmative to both questions. When asked how many people she killed, she says she doesn't know.

Zakusilo's story was refuted in late 2013. At the time, the story caused outrage among the Muslim community in Ukraine, leading Israel to examine the matter with the IDF, eventually learning Zakusilo was lying.

The findings were transferred to Ukrainian authorities. At the same time, the Ukrainian security services conducted their own examination of the matter, which found in December of that year that Zakusilo was in fact lying on live television.

"Elena Zakusilo did not participate in military confrontations, including between Lebanon and Israel," the Ukranian security services said at the time. "Everything she said on Lie Detector does not conform to reality. Her answers on the show were given based on a script prepared by the main editor of the TV show."

Then-Foreign Ministry spokesman Yigal Palmor examined the matter, finding that while Zakusilo did serve in the IDF, she had a junior administrative position and was never involved in the kind of combat activities she described.
See also: Al Jazeera English Corrects: Haifa Not in 'Northern Occupied Palestine'
Posted by TS at August 31, 2017 04:39 AM
Comments
Guidelines for posting
This is a moderated blog. We will not post comments that include racism, bigotry, threats, or factually inaccurate material.
Post a comment