« AFP Omits Israeli Victims In List of Car Ramming Attacks | Main | Dictionary.com's Unfortunate Choice of Usage »
August 18, 2017
Palestinian Dictator Abbas Congratulates North Korean Dictator Jong-Un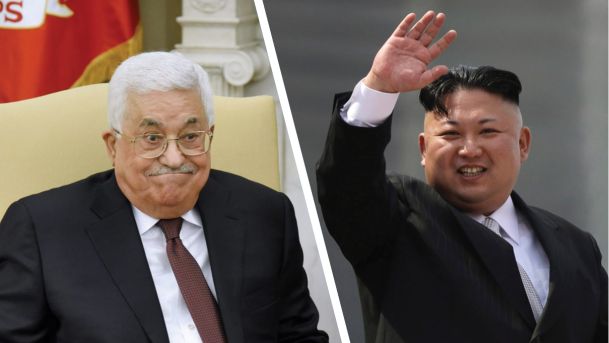 Associated Press (AP) photo

Palestinian Authority President Mahmoud Abbas recently congratulated and praised President Kim Jong-Un of North Korea. The AP account of the incident, reported in only a few American Websites, was ignored by American television and print media. The Times of Israel using the AP report that referred to the Palestinian official news outlet Wafa as a source, said:
Palestinian Authority President Mahmoud Abbas on Tuesday [Aug. 15, 2017] congratulated North Korean Leader Kim Jong-Un on the occasion of his country's "Liberation day" … "The Korean people offered the most precious sacrifices for their freedom and dignity."

[…]

Abbas expressed his appreciation for North Korea's "firm solidarity in support of the rights [of the Palestinian] people and its just struggle to end the occupation and establish our independent state with East Jerusalem as its capital."

The PA president also expressed wishes for Kim's "health and happiness," for North Korean "prosperity" and for the "historic relationship between Palestine and North Korea to further develop."
Abbas' message, made no mention of North Korean continuing nuclear weaponry threats against the United States and its allies.
Abbas and Jong-Un are birds of a feather — both are dictators. The North Korean dictator's brutal perpetual regime allows no opposition, including reportedly ordering the recent assassination of the dictator's half-brother Kim Jong Nam, and the public execution of his uncle General Jang Song-thaek in 2013 on charges of corruption. Meanwhile, in 2017, Abbas is in his twelfth year of a four-year term having called off every election for president of the PA since his original one in 2005.
The Abbas dictatorship repeatedly endorses violence against its Jewish neighbors. For example, a few years ago, Abbas set the release of murderers as a precondition for negotiations. When Israel complied, Abbas welcomed these killers home, including praising as a hero Issa Abd Rabbo who had murdered two Israeli university students who were hiking.
Palestinians are continuously incited to hatred and violence against Jews by Palestinian communications media, in mosques and schools. Sometimes it's the Palestinian leadership very publicly doing the inciting. For example, on Sept. 16, 2015, responding to an unfounded rumor, Abbas on Palestinian Television, declared, "We won't allow Jews with their filthy feet… to defile our Al-Aqsa mosque… we bless every drop of blood spilled for Jerusalem…"
Previously, during the Arafat dictatorship, according to Abu Daoud, the mastermind of the 1972 Munich Olympic Massacre which left 11 Israeli athletes murdered, Abbas provided the funding for the operation.
What to take from all this? For one thing, U.S. news outlets have generally failed to cover news exposing the true nature of West Bank Palestinian leadership.
Posted by MK at August 18, 2017 05:26 PM
Comments
Guidelines for posting
This is a moderated blog. We will not post comments that include racism, bigotry, threats, or factually inaccurate material.
Post a comment