« Charlottesville Is the New Cudgel Against the Israeli PM | Main | Palestinian Dictator Abbas Congratulates North Korean Dictator Jong-Un »
August 17, 2017
AFP Omits Israeli Victims In List of Car Ramming Attacks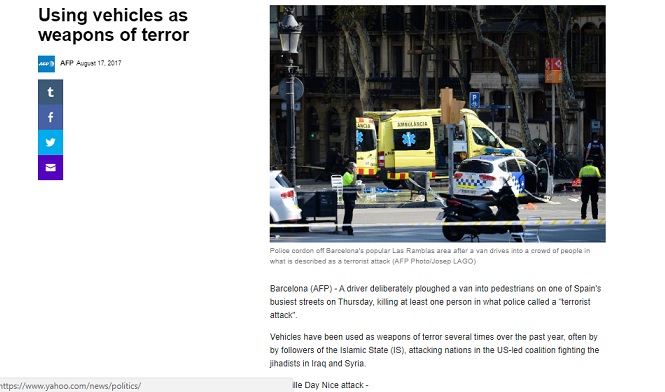 A few hours ago, at least 12 people were murdered in Barcelona by a Spanish national of North African descent who drove a van into a restaurant. One news source in Europe reports that prior to the attack, the perpetrator posted anti-Israel propaganda on social media. Ninety people were injured in the attack; more deaths are likely.
In its coverage of the attack, Agence France Press has included a list of car ramming attacks that have taken place over the past year, with the list beginning with an attack that took place in Nice, France in 2016. The language (which is in the screenshot above) used to frame the list is as follows:
Vehicles have been used as weapons of terror several times over the past year, often by by followers of the Islamic State (IS), attacking nations in the US-led coalition fighting the jihadists in Iraq and Syria.
The list includes car ramming attacks perpetrated in France, Germany, Sweden, and England. Predictably, AFP's list omits car ramming attacks that have targeted Israelis.
There were at least three such attacks, probably others.

For example, there was an attack in Adam on Jan. 25, 2017. This attack injured three Israeli civilians.
Another took place on April 6, 2917 near Ofra in the West Bank, which killed one Israeli and injured another.
And yet another took place on April 19, 2017. This attack, which resulted in light wounds outside of Gush Etzion.
All of these attacks took place within the time span used to frame AFP's list.
Given that Israel has been the proving ground for many methods of terrorism that have made their way to other parts of the world, Europe especially, it seems reasonable to include at least a mention of the many car ramming attacks that have taken place in the Jewish state. AFP owes such context to its readers.

Posted by dvz at August 17, 2017 03:36 PM
Comments
Guidelines for posting
This is a moderated blog. We will not post comments that include racism, bigotry, threats, or factually inaccurate material.
Post a comment