« Vox: Israeli-Arab Conflict One of World's "Most Violent" Disputes | Main | Al Jazeera: Haifa in 'Northern Occupied Palestine' »
August 28, 2017
Palestinian Leader Promises to Pay Terrorists 'Until My Dying Day'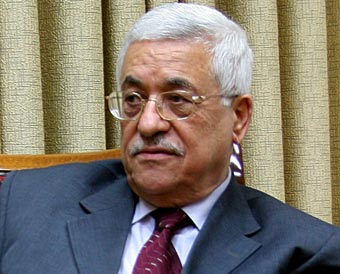 PA President Mahmoud Abbas

Mahmoud Abbas, the president of the Palestinian Authority (PA) and the head of the Fatah movement that dominates it, has vowed to pay terrorists "until my dying day."
Abbas' remarks were highlighted on a special banner that was posted on Fatah's official Facebook page on Aug. 26, 2017, according to the Middle East Media Research Institute (MEMRI), a non-profit organization that monitors Arab, Russian and Iranian media. That banner, MEMRI noted, said:
"I will never stop [paying] the allowances to the families of the prisoners and released prisoners, even if this costs me my position and my presidency. I will pay them until my dying day."
As CAMERA has highlighted, many Western news outlets frequently refer to Abbas as a "moderate." However, the Palestinian leader has rejected U.S. and Israeli offers for a "two-state solution," including a 2008 offer that would have given Palestinians more than 93.7 percent of the West Bank and a Palestinian state with a capitol in eastern Jerusalem.
More recently, Abbas refused then-U.S. Secretary of State John Kerry's 2014 framework to restart negotiations and then-U.S. Vice President Joe Biden's March 2016 offer. Instead—and in full violation of the 1990s Oslo accords under which the PA was created and funded—he has refused to resolve outstanding issues with Israel in "bilateral negotiations," and has even denied the Jewish state's right to exist.
Yet, as CAMERA has pointed out, major U.S. news outlets, such as The Washington Post, failed to detail either the March 2016 rejection or recent June 2017 revelations that Israeli Prime Minister Benjamin Netanyahu had accepted—and Abbas had rejected—the 2014 framework ("50 Years of Palestinian Rejection," Commentary, June 8, 2017).
Indeed, an Aug. 25, 2017 Post story ("U.S. calls Kushner's Mideast talks 'productive,' doesn't commit to two-state solution") on U.S. efforts to restart negotiations completely omitted this history of Palestinian rejectionism.
MEMRI noted that Abbas' stated commitment to funding terror was a response to these recent U.S. efforts. As a May 17, 2017 CAMERA Op-Ed in The Hill detailed, Palestinian law stipulates terrorists and their families be paid for acts of anti-Jewish violence ("How the Palestinian Authority's 'social safety net' encourages terrorism").
Posted by SD at August 28, 2017 12:04 PM
Comments
Guidelines for posting
This is a moderated blog. We will not post comments that include racism, bigotry, threats, or factually inaccurate material.
Post a comment