« Al Jazeera: Haifa in 'Northern Occupied Palestine' | Main | Report: Al Jazeera Airs False Testimony on IDF Child Killing »
August 30, 2017
Journalist: The Palestinian Authority is 'Destroying the Judiciary'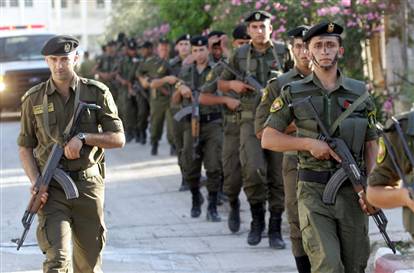 PA security forces
The Palestinian Authority (PA) is working to destroy the judiciary, according to an Aug. 28, 2017 Gatestone Institute report by the Israeli-Arab journalist Khaled Abu Toameh.
Toameh said that a new piece of legislation "aims at amending the law of the judicial authority so that [PA President Mahmoud] Abbas and his government would be able to tighten their grip over the work of the courts and judges." The proposed law would allow Abbas and other top PA officials to interfere with a Palestinian judiciary that was at least nominally independent.
Palestinian judges, attorneys and activists are planning protests against the law. The chairman of the Palestinian Judges Forum, Osama al-Kilani, declared, "The new bill will place the judicial authority under the tutelage of the executive authority."
Similarly, a statement from an association of Palestinian lawyers warned: "This will put an end to the independence of the judiciary."
The Palestinian Basic Law stipulates that only the Palestinian Legislative Council can introduce changes and amendments to existing laws. However, the legislation supported by Abbas would allow the executive branch to dismiss judges and would make the prosecutor-general subordinate to the head of the PA.
As Toameh noted, this latest bit of autocracy follows an authority crackdown on journalists. Recently, Abbas "approved a Cyber Crimes Law that gives his security forces expanded powers to silence his critics on social media." According to Toameh, this legislation was passed secretly and without consultation with the Palestinian Journalists Syndicate or the Palestinian Legislative Council.
It is yet another sign of how state building has gone awry in PA-ruled lands. When it's not busy bankrolling antisemitic sermons by PA officials or increasing payments to imprisoned terrorists, the authority is dismantling many of the key components widely acknowledged to be essential for a free, prosperous and democratic society.
Yet, as CAMERA has recently highlighted, the media continues to ignore growing PA repression. Indeed, the passage of the Cyber Crimes Law and the attacks on the judiciary have been omitted in recent coverage by major U.S. news outlets, such as USA Today, The Washington Post, The Washington Times, and elsewhere.
Posted by SD at August 30, 2017 12:16 PM
Comments
Guidelines for posting
This is a moderated blog. We will not post comments that include racism, bigotry, threats, or factually inaccurate material.
Post a comment