« July 2017 | Main | September 2017 »
August 31, 2017
Report: Al Jazeera Airs False Testimony on IDF Child Killing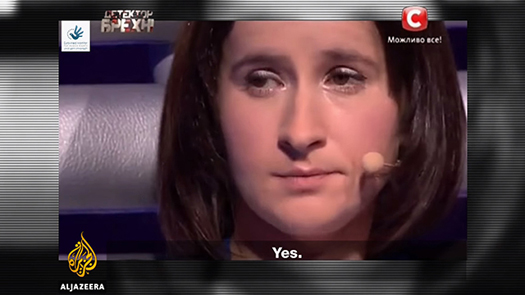 Elena Zakusilo on Lie Detector
Ynet reports:
The Qatari-based Al Jazeera TV network aired an investigative report last week showing an Israeli-Ukrainian woman who alleged that she murdered civilians and children while serving in the IDF.

The woman, Elena Zakusilo, did volunteer for the IDF and served in a junior administrative position, but her testimony, which was proven to be false shortly after it came out, was taken from a Ukrainian TV show called Lie Detector and aired in November 2013. . .

The Lie Detector host follows up by asking whether she killed people. She responds "yes," and the lie detector on the show determines she is speaking the truth.

"The first time I killed was difficult for me. I threw the weapon, and said I wasn't going anywhere. But I went," she elaborates.

The host then asks whether she was willing to return to service in the Israeli army and to killing its enemies, and whether she was asked to kill children. She responds in the affirmative to both questions. When asked how many people she killed, she says she doesn't know.

Zakusilo's story was refuted in late 2013. At the time, the story caused outrage among the Muslim community in Ukraine, leading Israel to examine the matter with the IDF, eventually learning Zakusilo was lying.

The findings were transferred to Ukrainian authorities. At the same time, the Ukrainian security services conducted their own examination of the matter, which found in December of that year that Zakusilo was in fact lying on live television.

"Elena Zakusilo did not participate in military confrontations, including between Lebanon and Israel," the Ukranian security services said at the time. "Everything she said on Lie Detector does not conform to reality. Her answers on the show were given based on a script prepared by the main editor of the TV show."

Then-Foreign Ministry spokesman Yigal Palmor examined the matter, finding that while Zakusilo did serve in the IDF, she had a junior administrative position and was never involved in the kind of combat activities she described.
See also: Al Jazeera English Corrects: Haifa Not in 'Northern Occupied Palestine'
Posted by TS at 04:39 AM | Comments (0)
August 30, 2017
Journalist: The Palestinian Authority is 'Destroying the Judiciary'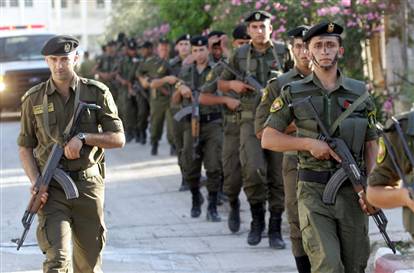 PA security forces
The Palestinian Authority (PA) is working to destroy the judiciary, according to an Aug. 28, 2017 Gatestone Institute report by the Israeli-Arab journalist Khaled Abu Toameh.
Toameh said that a new piece of legislation "aims at amending the law of the judicial authority so that [PA President Mahmoud] Abbas and his government would be able to tighten their grip over the work of the courts and judges." The proposed law would allow Abbas and other top PA officials to interfere with a Palestinian judiciary that was at least nominally independent.
Palestinian judges, attorneys and activists are planning protests against the law. The chairman of the Palestinian Judges Forum, Osama al-Kilani, declared, "The new bill will place the judicial authority under the tutelage of the executive authority."
Similarly, a statement from an association of Palestinian lawyers warned: "This will put an end to the independence of the judiciary."
The Palestinian Basic Law stipulates that only the Palestinian Legislative Council can introduce changes and amendments to existing laws. However, the legislation supported by Abbas would allow the executive branch to dismiss judges and would make the prosecutor-general subordinate to the head of the PA.
As Toameh noted, this latest bit of autocracy follows an authority crackdown on journalists. Recently, Abbas "approved a Cyber Crimes Law that gives his security forces expanded powers to silence his critics on social media." According to Toameh, this legislation was passed secretly and without consultation with the Palestinian Journalists Syndicate or the Palestinian Legislative Council.
It is yet another sign of how state building has gone awry in PA-ruled lands. When it's not busy bankrolling antisemitic sermons by PA officials or increasing payments to imprisoned terrorists, the authority is dismantling many of the key components widely acknowledged to be essential for a free, prosperous and democratic society.
Yet, as CAMERA has recently highlighted, the media continues to ignore growing PA repression. Indeed, the passage of the Cyber Crimes Law and the attacks on the judiciary have been omitted in recent coverage by major U.S. news outlets, such as USA Today, The Washington Post, The Washington Times, and elsewhere.
Posted by SD at 12:16 PM | Comments (0)
August 29, 2017
Al Jazeera: Haifa in 'Northern Occupied Palestine'
Aug. 29 Update, 7:45 am EST: Al Jazeera English Corrects: Haifa Not in 'Northern Occupied Palestine'
In an Aug. 20 article, Al Jazeera English places the Israeli coastal city of Haifa in "northern occupied Palestine" ("UK: Palestine activists face prison over Elbit protest"). Shafik Mandhai redraws the map:
Based in the city of Haifa in northern occupied Palestine, Elbit produces military and civilian-use equipment, including drones, aircraft, weapon control systems, and artillery. (Emphasis added.)
This is a completely false characterization of Haifa. According to the United Nations (as well as an "Oslo status quo" map published by Al Jazeera) the Israeli northern coastal city of Haifa is not in the "Occupied Palestinian Territories," which include the Gaza Strip, West Bank, and by some definitions eastern Jerusalem.
See also: Reuters Uses Ellipses to Downplay Al Jazeera Journalist's Quote
Posted by TS at 05:00 AM | Comments (0)
August 28, 2017
Palestinian Leader Promises to Pay Terrorists 'Until My Dying Day'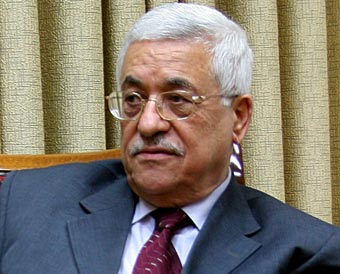 PA President Mahmoud Abbas

Mahmoud Abbas, the president of the Palestinian Authority (PA) and the head of the Fatah movement that dominates it, has vowed to pay terrorists "until my dying day."
Abbas' remarks were highlighted on a special banner that was posted on Fatah's official Facebook page on Aug. 26, 2017, according to the Middle East Media Research Institute (MEMRI), a non-profit organization that monitors Arab, Russian and Iranian media. That banner, MEMRI noted, said:
"I will never stop [paying] the allowances to the families of the prisoners and released prisoners, even if this costs me my position and my presidency. I will pay them until my dying day."
As CAMERA has highlighted, many Western news outlets frequently refer to Abbas as a "moderate." However, the Palestinian leader has rejected U.S. and Israeli offers for a "two-state solution," including a 2008 offer that would have given Palestinians more than 93.7 percent of the West Bank and a Palestinian state with a capitol in eastern Jerusalem.
More recently, Abbas refused then-U.S. Secretary of State John Kerry's 2014 framework to restart negotiations and then-U.S. Vice President Joe Biden's March 2016 offer. Instead—and in full violation of the 1990s Oslo accords under which the PA was created and funded—he has refused to resolve outstanding issues with Israel in "bilateral negotiations," and has even denied the Jewish state's right to exist.
Yet, as CAMERA has pointed out, major U.S. news outlets, such as The Washington Post, failed to detail either the March 2016 rejection or recent June 2017 revelations that Israeli Prime Minister Benjamin Netanyahu had accepted—and Abbas had rejected—the 2014 framework ("50 Years of Palestinian Rejection," Commentary, June 8, 2017).
Indeed, an Aug. 25, 2017 Post story ("U.S. calls Kushner's Mideast talks 'productive,' doesn't commit to two-state solution") on U.S. efforts to restart negotiations completely omitted this history of Palestinian rejectionism.
MEMRI noted that Abbas' stated commitment to funding terror was a response to these recent U.S. efforts. As a May 17, 2017 CAMERA Op-Ed in The Hill detailed, Palestinian law stipulates terrorists and their families be paid for acts of anti-Jewish violence ("How the Palestinian Authority's 'social safety net' encourages terrorism").
Posted by SD at 12:04 PM | Comments (0)
August 24, 2017
Vox: Israeli-Arab Conflict One of World's "Most Violent" Disputes
According to Vox, the conflict between Israel and the Palestinians is one of the "most violent" in the world.
Vox gained notoriety when it reported that Israel limits traffic on the bridge connecting the West Bank and Gaza Strip. In fact, Israel doesn't limit traffic on the bridge because the bridge doesn't exist.
In this week's story about Palestinian infighting, journalist Shira Rubin writes that the battle between the Palestinian Authority and Hamas "has major stakes for one of the world's longest-running, and most violent, political disputes."
Is that a fair characterization? A recent Reuters overview shows that, even during the he bloodiest year of Arab-Israeli fighting in decades, 2014, the number of casualties in Israel, Gaza and the West Bank paled in comparison to Syria, Iraq, Afghanistan, Nigeria, South Sudan, Pakistan, Sudan, Ukraine, Somalia, Central African Republic, and Libya. The 2014 Gaza conflict accounted for about 2,000 of 100,000 battle-related deaths worldwide that year. (The graphic along the left margin, by the Peace Research Institute Oslo (PRIO), shows the fatalities from Arab-Israeli fighting in the context of 2014's conflicts worldwide.)
And again, 2014 was an an outlier. A year earlier, in 2013, fewer than 50 people were killed in Israeli-Palestinian fighting, less than 0.1 percent of the 70,000 killed in the rest of the world's conflicts. In 2015, there were roughly 150 killed as a result of violence in Israel, the West Bank, and the Gaza Strip, and 100,000 fatalities from conflict worldwide. You can check out PRIO's graphic of 2016's most deadly conflicts on page three of this document. Can Vox find Israel on the chart?
No. Because, in fact, the Arab-Israeli conflict is can hardly be described as one of the world's most violent disputes. So does Vox do so? It seems to be a case of the media believing its own obsession. There's some circular logic involved, which looks something like this:
"Why does the Arab-Israeli conflict get so much media coverage?"
Because it's one of the world's deadliest conflicts!
"But how do we know it's one of the worlds deadliest conflicts?"
Well, look how much media coverage it gets!
In reality, there's a glaring disproportion in coverage and prominence of the Arab-Israeli conflict in the Western media, a phenomenon documented by, among others, Virgil Hawkins in his book Stealth Conflicts: How the World's Worst Violence is Ignored. The media's Israel-obsession is likely to cultivate a mistaken understanding of the world and its violence in the minds of those who read the news. And, it seems, in the minds of those who write the news, too.
Posted by GI at 02:27 PM | Comments (1)
August 23, 2017
The Media Misses the Palestinian Crackdown on Palestinian 'Journalists'
Majid Faraj, the director of the PA's General Intelligence Service

The Palestinian Authority (PA) has been imprisoning and harassing Palestinian journalists. And many major U.S. outlets have failed to cover the repression.
The PA's General Intelligence Service arrested five Palestinian journalists on Aug. 8, 2017. They were held on suspicion of "leaking sensitive information to hostile authorities," according to a Jerusalem Post report ("Palestinian Authority arrests five journalists for 'leaking' sensitive information," August 9). All five were arrested on the same night. Two of the "journalists," Tariq Abu Zayd and Ahmad Halaika, work for al-Aqsa TV, a propaganda outlet for Hamas, a rival of the Fatah movement that dominates the PA. The other three were Qutaiba Kasem of the Asdaa website, Amer Abu Arafa of the Shebab news agency, and Mamdouh Hamamreh of the pro-Hamas al-Quds television.
The Jerusalem Post quoted an anonymous who Palestinian journalist who speculated, "The arrests might be aimed at pressuring Hamas to release Fouad Jaradah, a reporter for the PA's Palestine TV, who was arrested in Gaza on June 8 and was later accused of collaborating with the authority." The paper also highlighted that the arrests came on the heel of increased PA repression of journalists, including the June 2017 decision to block access to websites that support Hamas or Muhammad Dahlan, a rival who was exiled by PA President Mahmoud Abbas several years ago.
The families of those arrested by the PA characterized the detention as Abbas' "revenge," Ha'aretz noted.
Several organizations, including the Committee to Protect Journalists (CPJ), decried the crackdown. On Aug. 15, 2017, the PA released the journalists and required them to pay bail—but did not offer any formal indictments.
Many major U.S. news outlets, including USA Today, The Washington Post, The Washington Times and others, failed to detail any of the above arrests or the repression of information by the PA. In contrast to their blackout of PA autocracy, The Washington Post has instead run recent dispatches detailing Palestinian pigeon ownership ("An old pastime thrives in a Palestinian enclave," August 13) and Gazan Arab school children on a field trip to Jerusalem ("Children from Gaza visit Jerusalem for the first time," August 20).
The Post also offered a report on Israeli Prime Minister Benjamin Netanyahu's calls to close the Israel offices of Al Jazeera, the Qatari-funded propaganda outlet. As CAMERA has highlighted, Al Jazeera frequently broadcasts sermons of clerics linked to terrorist groups, including Al Qaeda and Hamas. One Al Jazeera "journalist" named Elias Karram openly described his job as "resistance" against Israel.
However, The Post's report on Netanyahu's comments on Al Jazeera omitted crucial information and was implicitly—and unprofessionally—critical of the decision of the Israeli government (for more details see "Can The Washington Post Google Anti-Jewish Incitement?" CAMERA, Aug. 8, 2017).
Yet, the PA's decision to imprison journalists without charge—and to effectively impose fines on them for their criticisms—elicited little to no attention from their nominal colleagues in the Western press.
Posted by SD at 02:53 PM | Comments (0)
The PA and Hamas Employ the Al-Aqsa Libel, Again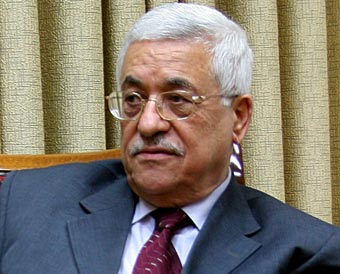 PA President Mahmoud Abbas

Both the Palestinian Authority (PA) and Hamas have once again made use of the so-called "'al-Aqsa is in danger' libel." This is the lie that Jews plan to destroy or defile the al-Aqsa mosque, which sits near Judaism's holiest site, the Temple Mount. Its use by Palestinian leaders often precedes anti-Jewish violence (for some examples, see "The Battle over Jerusalem and the Temple Mount," CAMERA, July 24, 2017).
On Aug. 22, 2017, both the PA, which rules the West Bank (Judea and Samaria), and Hamas, which controls the Gaza Strip, "revived the lie that a Jew or Jews were behind the 1969 arson of the Al-Aqsa Mosque by a Christian fundamentalist," The Times of Israel reported ("PA, Hamas rehash lie that Jews planned 1969 burning of al-Asqa mosque," August 22).
On Aug. 23, 1969, a mentally ill Australian named Denis Michael Rohan set fire to the al-Aqsa mosque, destroying part of its roof and an 800-year-old pulpit. Although Rohan was a Christian fundamentalist, the Palestinians and other Arabs blamed Israel for the arson attack—which the Israeli government had, in fact, extinguished.
Palestinian leaders have continually revived this lie. In a recent interview with the official PA news site Wafa, Dr. Mahmoud Abbash claimed "the fires that erupted in the Al-Aqsa Mosque 48 years ago by a Jewish terrorist of Australian origin are still burning today, as long as the noble sanctuary and the holy city [of Jerusalem] are violated by the Israeli occupation." Abbash is a top adviser to PA President Mahmoud Abbas, who is frequently labeled a "moderate" by many in the press.
Palestinian Media Watch (PMW), a non-profit organization that monitors media in the West Bank, the Gaza Strip and eastern Jerusalem, highlighted a PA-broadcast documentary that claimed that the 1969 fire was "planned by senior Jews of high position."
Similarly, Hamas released an Aug. 22, 2017 statement claiming that a "Zionist criminal" committed the arson attack.
Abbas himself has used the al-Aqsa libel. For example, in a Sept. 16, 2015 statement on official PA TV, Abbas exhorted: "The Al-Aqsa [Mosque] is ours, the Church of the Holy Sepulchre is ours, and they [Jews] have no right to defile them with their filthy feet. We will not allow them to…we bless every drop of blood that is spilled in Jerusalem."
Abbas' remarks were followed by the so-called stabbing intifada, in which Palestinians armed with guns, vehicles, knives, and rocks, among other weapons, attacked Israelis over the course of several months.
Posted by SD at 11:30 AM | Comments (0)
August 22, 2017
Dictionary.com's Unfortunate Choice of Usage
The popular online dictionary, dictionary.com, has become a valuable online resource since its inception more than 20 years ago -- which makes it all the more regrettable that the single example of "contemporary usage" for the word "venerate" is taken from a 4-year-old, politically biased opinion piece. The offending sentence is:
How else to explain what just happened: An Israeli government decided to venerate land over justice, and over life itself.
Without the context that this is simply one person's negative and controversial anti-Israeli government viewpoint, readers see only a defamatory statement that may be construed as a statement of fact, representing common contemporary usage. It is hardly the sort of neutral example one might expect from an academic resource like a dictionary, and leaves one to wonder whether this was just an unfortunate oversight or whether the editor responsible for the choice harbors some anti-Israel bias him or herself.
CAMERA has contacted the dictionary to suggest that the offensive example be replaced with a more neutral one.
Readers can fill out a form here about the problematic content at Dictionary.com.
Posted by RH at 02:25 PM | Comments (4)
August 18, 2017
Palestinian Dictator Abbas Congratulates North Korean Dictator Jong-Un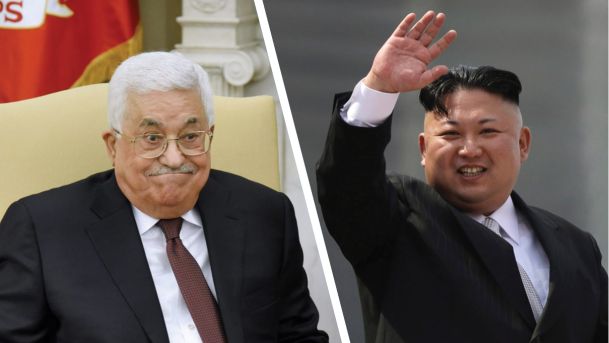 Associated Press (AP) photo

Palestinian Authority President Mahmoud Abbas recently congratulated and praised President Kim Jong-Un of North Korea. The AP account of the incident, reported in only a few American Websites, was ignored by American television and print media. The Times of Israel using the AP report that referred to the Palestinian official news outlet Wafa as a source, said:
Palestinian Authority President Mahmoud Abbas on Tuesday [Aug. 15, 2017] congratulated North Korean Leader Kim Jong-Un on the occasion of his country's "Liberation day" … "The Korean people offered the most precious sacrifices for their freedom and dignity."

[…]

Abbas expressed his appreciation for North Korea's "firm solidarity in support of the rights [of the Palestinian] people and its just struggle to end the occupation and establish our independent state with East Jerusalem as its capital."

The PA president also expressed wishes for Kim's "health and happiness," for North Korean "prosperity" and for the "historic relationship between Palestine and North Korea to further develop."
Abbas' message, made no mention of North Korean continuing nuclear weaponry threats against the United States and its allies.
Abbas and Jong-Un are birds of a feather — both are dictators. The North Korean dictator's brutal perpetual regime allows no opposition, including reportedly ordering the recent assassination of the dictator's half-brother Kim Jong Nam, and the public execution of his uncle General Jang Song-thaek in 2013 on charges of corruption. Meanwhile, in 2017, Abbas is in his twelfth year of a four-year term having called off every election for president of the PA since his original one in 2005.
The Abbas dictatorship repeatedly endorses violence against its Jewish neighbors. For example, a few years ago, Abbas set the release of murderers as a precondition for negotiations. When Israel complied, Abbas welcomed these killers home, including praising as a hero Issa Abd Rabbo who had murdered two Israeli university students who were hiking.
Palestinians are continuously incited to hatred and violence against Jews by Palestinian communications media, in mosques and schools. Sometimes it's the Palestinian leadership very publicly doing the inciting. For example, on Sept. 16, 2015, responding to an unfounded rumor, Abbas on Palestinian Television, declared, "We won't allow Jews with their filthy feet… to defile our Al-Aqsa mosque… we bless every drop of blood spilled for Jerusalem…"
Previously, during the Arafat dictatorship, according to Abu Daoud, the mastermind of the 1972 Munich Olympic Massacre which left 11 Israeli athletes murdered, Abbas provided the funding for the operation.
What to take from all this? For one thing, U.S. news outlets have generally failed to cover news exposing the true nature of West Bank Palestinian leadership.
Posted by MK at 05:26 PM | Comments (0)
August 17, 2017
AFP Omits Israeli Victims In List of Car Ramming Attacks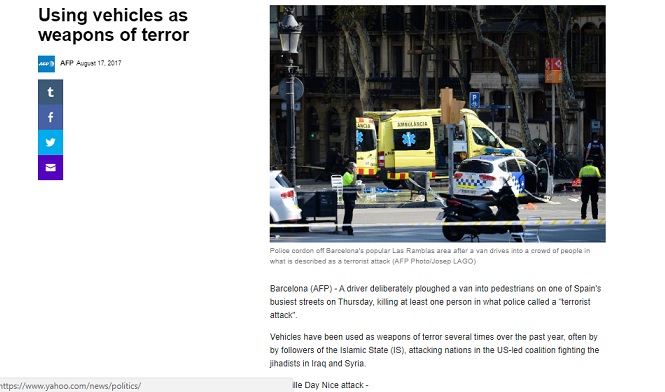 A few hours ago, at least 12 people were murdered in Barcelona by a Spanish national of North African descent who drove a van into a restaurant. One news source in Europe reports that prior to the attack, the perpetrator posted anti-Israel propaganda on social media. Ninety people were injured in the attack; more deaths are likely.
In its coverage of the attack, Agence France Press has included a list of car ramming attacks that have taken place over the past year, with the list beginning with an attack that took place in Nice, France in 2016. The language (which is in the screenshot above) used to frame the list is as follows:
Vehicles have been used as weapons of terror several times over the past year, often by by followers of the Islamic State (IS), attacking nations in the US-led coalition fighting the jihadists in Iraq and Syria.
The list includes car ramming attacks perpetrated in France, Germany, Sweden, and England. Predictably, AFP's list omits car ramming attacks that have targeted Israelis.
There were at least three such attacks, probably others.

For example, there was an attack in Adam on Jan. 25, 2017. This attack injured three Israeli civilians.
Another took place on April 6, 2917 near Ofra in the West Bank, which killed one Israeli and injured another.
And yet another took place on April 19, 2017. This attack, which resulted in light wounds outside of Gush Etzion.
All of these attacks took place within the time span used to frame AFP's list.
Given that Israel has been the proving ground for many methods of terrorism that have made their way to other parts of the world, Europe especially, it seems reasonable to include at least a mention of the many car ramming attacks that have taken place in the Jewish state. AFP owes such context to its readers.

Posted by dvz at 03:36 PM | Comments (0)
Charlottesville Is the New Cudgel Against the Israeli PM
It took no time at all for the mainstream media to transform the tragic events in Charlottesville, VA -- or rather the reaction to them -- into a cudgel with which to beat Israeli Prime Minister Netanyahu.
Does Netanyahu support white supremacists and neo-Nazis? Of course not.
Did he condemn them? Yes, below is his tweet from the Prime Minister's office.
So what has spawned all these articles critical of Netanyahu? Obviously, it does not take much to trigger articles condemning Netanyahu, but let's take a look at the specific criticism.
Only after Trump delivered a statement Monday against "the KKK, neo-Nazis, white supremacists and other hate groups" did Netanyahu tweet his own condemnation: "Outraged by expressions of anti-Semitism, neo-Nazism and racism. Everyone should oppose this hatred."

Critics pointed out that Netanyahu tweeted his statement in English — not to Israeli followers in Hebrew — and from his official "PM of Israel" Twitter account of 494,000 followers rather than his more popular personal account of 1.07 million followers.
Netanyahu issued no immediate statement following the weekend's violence, which involved neo-Nazis, Ku Klux Klan and other racist groups. On Tuesday, in his only comment on the events so far, Netanyahu tweeted "Outraged by expressions of anti-Semitism, neo-Nazism and racism. Everyone should oppose this hatred," but, as critics were quick to point out, the post was made only in English and not on the prime minister's personal account."
Benjamin Netanyahu has remained largely silent during the unfolding crisis in Virginia. While issuing a terse condemnation of neo-Nazis and racists, he has said nothing about Trump's apparent defense of the actions of white supremacists during last weekend's deadly violence.
If Israel's PM has trouble denouncing US neo-nazism, it's possibly because the far right of both countries support the concept of a secure homeland based on race
But as Efraim Zuroff, the director of the Simon Wiesenthal Center and a prominent historian of Nazism and the Holocaust, points out:
"I think he was right not jump in," said Zuroff, the US-born director of the Simon Wiesenthal Center's Israel office, who often calls on Jerusalem to act against anti-Semitism in other parts of the world. "The government doesn't have to respond as if the fate of the Jews depends on a statement of the prime minister. That's not the case."

In fact, it could be considered "bad manners" for an Israeli leader to comment on the events in Charlottesville, he said. "On a certain level, it's insulting to the host country if Israel has to [preach] on every event of this sort."

Noting the special relationship between Washington and Jerusalem, Zuroff said, "I don't think the Israeli government has to do it everywhere and every time… I would say that the most important responses by the Israeli government to such cases are where there is a physical danger to Jews on a large scale, where it's clear that the local government is incapable or unwilling to deal with it."

While the rally in Charlottesville — during which neo-Nazis marched in broad daylight through the streets waving swastika flags and chanting "Jews will not replace us" — was a "blatant demonstration of racism," Zuroff said there was no need for Israeli leaders to publicly denounce it because the local authorities could be relied upon to take care of the matter without any prompting from Jerusalem.
Posted by RH at 03:31 PM | Comments (1)
August 15, 2017
Iran Increases Military Spending and the Media Fumbles
IRGC members

Iranian lawmakers voted to increase military spending, while chanting "Death to America," on Aug. 13, 2017. Many major U.S. news outlets ignored the event, while others offered incomplete reporting.
Iran's parliament voted to increase funding for the country's ballistic missile program and what The New York Times called "foreign operations by the Revolutionary Guards ("Iranian Parliament, Facing U.S. Sanctions, Votes to Raise Military Spending," Aug. 13, 2017)."
Citing Iran's state media, Times reporter Thomas Erdbrink said that Tehran would spend $260 million on its ballistic missile program and "around $300 million on activities by the Quds brigade, the international arm of the Revolutionary Guards Corps." Additional funds, approximately more than $200 million, "will go to other defense and intelligence projects."
Ali Larijiani, the speaker of the parliament, described the legislation as a "first step," The Times reported. Out of 247 legislators present, all but seven voted for the bill.
As CAMERA has noted, the U.S. State Department has designated Tehran as the leading state sponsor of terrorism. The parliament, which has erroneously been described by some media outlets as containing "moderates," is largely a rubber stamp for the theocratic dictatorship led by Ayatollah Ali Khamenei ("The Media and the Myth of the Moderate Mullahs," March 2, 2016).
The Times' report omitted key information about Iran. The dispatch failed to mention that the Islamic Revolutionary Guards Corps is actively involved in training U.S.-designated terrorist groups, including Hezbollah. As CAMERA has highlighted, the IRGC is supporting Popular Mobilization Units (PMUs) who are threatening U.S. troops and committing atrocities in Iraq and Syria ("Politico Whitewashes Iranian Militias," April 20, 2017). Instead, reporter Erdbrink simply stated that the IRGC is "advising Iraq and Syria."
The paper also treated Iranian claims with an uncritical eye. For example, it quoted the regimes' assertions that "Iran says it does not want to make nuclear warheads, something the International Atomic Energy Agency verified during continuing inspections." Yet, The Times failed to note that in every single instance in which an ICBM program was launched it was accompanied by an attempt to attach a nuclear payload to it. Similarly, the paper failed to note that the IAEA is only allowed access to sites that the Iranian government has "declared ("Iran deal limits inspectors' access to suspicious sites," Bipartisan Policy Center, July 17, 2015)."
Indeed, on the same day that Erdbrink filed his dispatch, the deputy chief of the IRGC, Hossein Salami, rejected U.S. demands to inspect Iranian military sites, stating "we'll not let them even watch the doors of the sites." In a November 2016 speech covered by the Iranian state media that Erdbrink cites, Salami proclaimed that Iran is able to target the U.S. "anywhere in the world."
The Times failed to cover Salami's remarks. It also treated as credible Iranian claims that pressure from the Trump administration—specifically the passage of recent U.S. sanctions aimed at Tehran—was responsible for the military increase. However, as CAMERA highlighted in January 2017, Iran voted on Jan. 9, 2017 to "expand military spending"—eleven days before Donald Trump was sworn in as President. That is: Iran was increasing military spending before U.S. sanctions were increased—a key fact omitted by the paper.
Major U.S. news outlets largely ignored that earlier increase, including Politico, The Baltimore Sun and USA Today, among others. And yet again, all three outlets omitted Iran's recent defense appropriation.
Posted by SD at 03:29 PM | Comments (0)
August 14, 2017
The Washington Post and The Case of the Missing Abu Jihad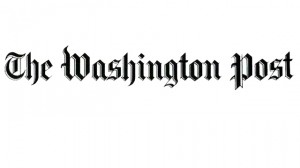 The Washington Post continues to neglect internal Palestinian affairs. Six-months after he was appointed deputy to Fatah head and Palestinian Authority (PA) President Mahmoud Abbas, a man named Mahmoud al-Aloul has yet to be featured in the pages of The Post. Fatah is the dominant movement in the PA, which rules the West Bank (Judea and Samaria).
As CAMERA has noted, al-Aloul is a convicted and unrepentant terrorist who goes by the nom de guerre Abu Jihad ("Father of Jihad"). Since his appointment in February 2017, al-Aloul is potentially in line to succeed Abbas—an ailing octogenarian autocrat who leads entities that receive considerable U.S. and international aid. His ascension should be a news story—particularly given The Post's frequent coverage of the future of the "peace process" with Israel and recent U.S. congressional efforts aimed at addressing PA payments to terrorists (for more details, see here).
The United States, Israel and others could potentially be looking at the day in which a man named Abu Jihad leads the Palestinian Authority. Indeed, Abbas' decision to activate the Tanzim faction of Fatah during the latest Temple Mount dispute, led to analyst Grant Rumley proclaiming that "the end of the Abbas era" might be here.
In a Feb. 24 2017 Algemeiner Op-Ed entitled "Terrorist Appointed as Mahmoud Abbas' Deputy, But the World Stays Silent," CAMERA pointed out the lack of media attention that Abu Jihad's appointment was receiving. In conversations with Post staff, and in several Op-Eds since then, CAMERA highlighted the importance of the media devoting attention to Palestinian political developments commensurate with their attention to Israeli affairs.
Yet, six months later, The Washington Post has yet to note Abu Jihad's rise. Instead, The Post's Jerusalem bureau has filed dispatches on Palestinian pigeon ownership ("An old pastime thrives in a Palestinian enclave," Aug. 13, 2017), a Palestinian winning an 'Arab Idol' song contest (Feb. 26, 2017) and the Palestinian used car market ("How junkyard cars from Israel have become deadly Palestinian treasures," March 29, 2017)—along with numerous reports on Israeli political developments and the future of the peace process.
Abu Jihad, however, is still missing in the paper's pages. And it's not as if the paper is unaware of who he is.
A March 15, 2011 Post dispatch ("Palestinians rally for unity in Gaza, West Bank") described a gathering in which "Mahmoud al-Aloul, a senior Fatah official, threw his arm around Hussein Abu Kweik, a Hamas leader, in a show of brotherhood." An Aug. 23, 2013 report by Jerusalem bureau chief William Booth even uncritically quoted Abu Jihad's claims that Israelis "do not want a peace process." The paper, describing al-Aloul as "the former governor of Nablus district," omitted his record as a convicted terrorist. ("Fatal West Bank clash threatens peace talks, Palestinians say").
Yet, now that al-Aloul has risen in Palestinian politics, The Post has nothing to say. By contrast, Israeli affairs are covered extensively, with reports about who the Israeli prime minister's dog is biting at a dinner party, an Israeli restaurant purportedly overcharging tourists, and politicians like Naftali Bennett being profiled.
Bennett, The Post tells readers, is "hardline." Fatah's deputy head, Abu Jihad, however, is nowhere to be found.
Posted by SD at 03:35 PM | Comments (0)
August 09, 2017
C-SPAN's Orgel Again Facilitates Disinformation and Defamation Concerning Israel
Paul Orgel
C-SPAN's Washington Journal daily three-hour morning call-in show uses a revolving roster of approximately 10 hosts often guilty of journalistic malpractice when Israel or Jews is mentioned. Host Paul Orgel is a prime example.
On Aug.7, 2017 at 9:34 a.m. (Eastern), Orgel, during a segment soliciting viewers' comments on news of the day, fielded a lunatic fringe call from "Mitch from Memphis, Tennessee":
I have a comment on your recent [previous segment] guest. Since all wars are bankers' wars, all you have you to do is turn down the TV and watch the guy's eyes to tell that he's lying and he was squirming around on some of the calls. So, when ISIS – which also stands for 'Israeli Secret Intelligence Service' [Sic. No such entity exists] is what it really should be spelled out as – attacks Tel Aviv, the Vatican, or Washington D.C., that's when you'll know it's real and not 'green screen terrorism' [fake terrorism]. And the only reason they are talking about North Korea is because that war never actually ended. And that is the only card they have left to play where they don't have to go to Congress and declare war. That is why they are pumping that up. That is all I have to say.
Orgel replied, "Thanks for calling, Mitch. Sherry, calling from Florida ..."
The previous segment referred to by caller "Mitch from Memphis" was "The cost of combating ISIS [Islamic State terrorist entity]." The guest (insulted by Mitch) is Charles Johnson, managing director of international affairs and trade issues at the U.S. Government Accountability Office (GAO).
Thus, Orgel, thanking the lunatic fringe caller, characteristically failed to even comment on a defamatory anti-Israel charge and an anti-Jewish canard ("all wars are bankers' wars").

In a previous instance of host Orgel's frequent unprofessional performance (at least as it pertains to Israel or Jews) as Washington Journal host, he indulged a lunatic fringe caller's identical inflammatory views defaming Israel twice only 22 hours apart in January 2010. The caller used two different names and claimed two separate (distant) locations, saying virtually the same thing each time and in the same distinctive voice. Orgel indulged "Janet from Birmingham, Alabama" on January 1, 2010 at 9:51 AM and then (the same individual again) on January 2 at 7:50 AM indulging "Carol from Scottsville, Arizona."
Some previous Orgel examples are Dec. 26, 2016 (morning calls at 7:17, 8:54, 9:03) and Nov. 15, 2015 (calls at 7:07, 7:29, 7:40, 7:56).
Meanwhile, the news media fails to expose C-SPAN's transgressions misleading potentially millions of viewers.
Posted by MK at 07:33 PM | Comments (0)
August 07, 2017
The Washington Post Minimizes Islamic Hate Preacher's Sermon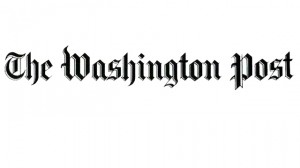 A Washington Post report on a California imam's calls to "annihilate" Jews minimized and obfuscated the cleric's comments and overt antisemitism ("California imam apologizes for sermon seen as inciting to Jews, condemns antisemitism").
As CAMERA has noted, on July 21, 2017 Imam Ammar Shahin delivered a sermon at the Islamic Center of Davis. Middle East Media Research Institute (MEMRI), a non-profit organization that monitors and translates Arab, Iranian and Russian media, translated the Shahin's remarks—after it was first posted on the mosque's website.
MEMRI highlighted that the imam called to "liberate the al-Aqsa mosque from the filth of the Jews," and to "count them one by one and annihilate them down to the very last one," among other statements. The imam's exhortations happened after Palestinian violence against Jews occurred after Israel discussed increased security measures at the Temple Mount, Judaism's holiest site, following a July 14, 2017 terror attack. During that attack, three Arab-Israeli citizens murdered two Israeli Druze police officers with weapons hidden in the al-Aqsa mosque that sits near the Temple Mount.
Major U.S. news outlets ignored the story. Writing at Legal Insurrection, a conservative blog that often focuses on the Middle East, antisemitism and other matters, David Gerstman noted that The Washington Post failed to report the imam's comments until July 28, 2017—fully a week later and only after the mosque issued a non-apology apology that CAMERA termed "insulting (for more, see "Insulting Apology from Islamic Center of Davis")."
Post reporter Michelle Boorstein noted that Shahin's "widely distributed sermon about Jews in Jerusalem set off controversy and fear of violence." Boorstein minimized Shahin's call for anti-Jewish violence, claiming that the sermon merely "called [for] Muslims to come together to protest the closure" at the al-Aqsa mosque" and "prayer for God to destroy Muslims' opponents at the site."
Boorstein failed to report an earlier July 14, 2017 sermon in which Shahin called to turn "Jerusalem and Palestine into a graveyard for the Jews."
Making matters worse, the reporter also sought to impugn MEMRI, implicitly questioning its translation and its motivations. Boorstein claimed that MEMRI monitors media coverage, "particularly about Israel," which, as noted above, is false. The Post correspondent also uncritically quoted the mosque's statement, which falsely claimed that MEMRI had "cut and past" the imam's remarks.
Boorstein even quoted Nazir Harb Michel, a senior fellow at Georgetown University's Center for Muslim-Christian Understanding, who provided a whitewashed translation of Shahin's sermon. Michel, without evidence, "expressed concern that MEMRI was hoping to stir up anti-Muslim sentiment…"
In fact, Shahin was advancing, not just anti-Jewish sentiment, but condoning and encouraging anti-Jewish violence. As CAMERA pointed out to in correspondence to the Post reporter, the cleric was making use of the "al-Aqsa libel"; the false claim that Jews are seeking to destroy or defile the al-Aqsa mosque. Palestinian Arab leaders have often employed this lie to provoke anti-Jewish violence (see, for example "The Battle over Jerusalem and the Temple Mount," CAMERA, July 24, 2017).
The Post also failed to note that the imam was wearing a scarf that bears a resemblance to a scarf distributed by the Fatah movement during the recent crisis over the Temple Mount. As Mordechai Kedar, an Israeli specialist on Islam has noted, the scarf has emblazoned on it the words, "Jerusalem is ours."
Contra to The Post's headline, the sermon was not merely "seen as inciting to Jews," it was an impassioned call for violence against Jews. And contra to The Post's attempt to muddy the waters, the meaning of "annihilate" the "Jews" is clear in any language.
Posted by SD at 09:50 AM | Comments (0)
August 03, 2017
AFP Wrong on Western Wall
In a series of captions earlier this week regarding the observance of Tisha B'Av, a Jewish day of mourning marking the destruction of the First and Second Temples as well as other catastrophes that fell on that day, Agence France Presse errs on the Western Wall, wrongly identifying it as "the last remaining vestige of the Second Temple." Examples of the erroneous captions follow:
The Western Wall, a retaining wall of the Temple Mount, (not a wall of the Temple itself,) is not the last remaining vestige of the Temple complex. In fact, there are many extant remains of the Temple complex. The southern, eastern and northern retaining walls are also still extant. Surviving features abutting the southern walls include a broad stairway leading up to the Temple Mount's entrance and two gates, known as the Huldah Gates, which provided access to the Temple Mount (Hershel Shanks, Jerusalem: An Archeological Biography, p. 143.) Some of the interior part of the Herodian Double Gate (which is one of the Huldah Gates) is also still intact. There are also surviving underground remnants of the Temple complex, including the area known as Solomon's Stables. In addition, an area called Robinson's Arch, in the south-western corner of the Temple complex, still remains. In his book, Shanks provides details concerning numerous other vestiges.
Multiple media outlets have corrected this same error in the past, including most recently The Los Angeles Times and Associated Press.
CAMERA has contacted AFP about the errors, but editors have yet to correct.
Posted by TS at 02:18 PM | Comments (0)
August 02, 2017
Jordan Confirms Attack on Guard, Reuters Conceals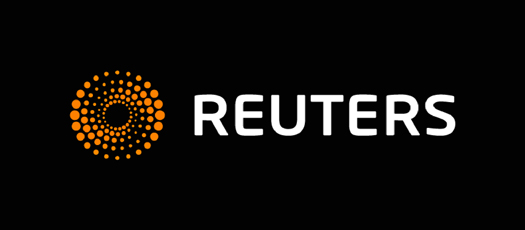 Jordanian officials agree with Israeli officials that Jordanian carpenter Mohammed Jawawdah attacked Israeli embassy guard Ziv Moyal with a screwdriver before Moyal shot him dead. But Reuters refuses to report the Jordanian confirmation. In story after story, rather than reporting Jawawdah's attack on Moyal as fact, the influential wire service attributes the information to Israel, as if Jordan has not confirmed the attack, and as if the facts are not known.
Here's what Jordan's Public Security Directorate concluded last week, and what Reuters refuses to tell readers:
Based on statements by eyewitnesses, Two persons came at the apartment located inside the compound to furnish the bedroom.

during [sic] the work inside the apartment, a dispute has erupted between carpenters as one of them is the son of carpentry owner, a verbal arguments delayed the completion of work. the [sic] son of carpentry owner attacked the Israeli diplomat who responded by shooting the carpenter the apartment owner. Injuries of both wounded led to instantaneous death upon arrival to the medical hospital.

Testimonies of eyewitnesses revealed that during the verbal argument between the carpenter and the son of carpentry owner, the carpenter attacked the Israeli diplomat who responded by shooting. The owner of the apartment was shot and pronounced dead. The testimony of the door man was the same of other eye witnesses.
The fact that multiple Jordanian eyewitnesses concur that Jawawdeh attacked the Israeli guard has not prevented Reuters from attributing the information only to Israel. Today, for example, in an article about an averted face-off between a Jordanian and an Israeli lawmaker ("Netanyahu calls off fistfight between Israeli, Jordanian lawmakers"), Reuters qualifies:
The July 23 shooting to death of two Jordanians by an Israeli embassy guard who said he was acting in self-defense has outraged Amman, stirred up pro-Palestinian sentiment in the kingdom and prompted U.S. mediation efforts.
In a July 28 article ("Jordanian protesters at Israeli embassy call for ending peace treaty"), Reuters likewise concealed the Jordanian finding that Jawawdeh attacked Moyal:
Israel said the guard had been defending himself after Jawawdeh assaulted him with a screwdriver in a "terrorist attack".
On July 27 ("Jordan's king demands Israel put guard on trial for killing Jordanians") as well Reuters attributed the information only to Israel, ignoring the Jordanian confirmation that Jawawdeh attacked the Israel:
Israel said the guard had been defending himself after Jawawdah attacked him with a screwdriver in a "terrorist attack".
CAMERA contacted Reuters about the failure to note that a Jordanian investigation found that the Jordanian worker attacked the Israel embassy guard, but the wire service stands by its reporting and continues to churn out the skewed account.
In contrast, the Associated Press has explicitly reported that Jordanian authorities confirmed that Jawawdeh attacked the Israeli:
Jordanian authorities have said the guard opened fire Sunday after a 16-year-old attacked him with a screw driver during a furniture delivery to the embassy.
See also: How Reuters Twists a Fistfight That Never Was
Posted by TS at 11:41 AM | Comments (0)
August 01, 2017
From Palestine to Gaza Area Settlements, Journey Into Times Coverage
Aug. 7 Update: New York Times "Journeys" Corrects on Gaza Area "Settlements"
In an illuminating and ironic gem, The New York Times markets its "Journeys" tour to Israel and the West Bank as follows:
On this nine-day itinerary, travel with experts from The New York Times, a leader in its evenhanded coverage of Israel, Palestine and the Middle East.
Referring to the West Bank as "Palestine" contravenes standard New York Times style. References to a modern "Palestine" in the West Bank and Gaza are inaccurate, and those areas should be referred to the West Bank and Gaza or, where appropriate "Palestinian Authority territories." National Geographic, The Los Angeles Times, and Voice of America have commendably corrected this very same point in recent weeks.
By inaccurately referring to the West Bank as "Palestine," The New York Times unintentionally tips off perceptive and informed readers that far from being "a leader in its evenhanded coverage," the Gray Lady has a longstanding tilt against Israel. As Margaret Sullivan, then public editor exhorted in 2014:
Strengthen the coverage of Palestinians. They are more than just victims, and their beliefs and governance deserve coverage and scrutiny. Realistic examinations of what's being taught in schools, and the way Hamas operates should be a part of this. What is the ideology of Hamas; what are its core beliefs and its operating principles? What is Palestinian daily life like? I haven't seen much of this in The Times.
(The Times recently eliminated its public editor positon. Not a promising sign for those concerned about "evenhanded coverage.")
The "Journeys" promotional material also refers to "settlements surrounding the Gaza Strip." But the term "settlements" in The New York Times (and in common usage) is used specifically to denote communities built in disputed territory, and in the Western milieu it is not used in reference to villages inside Israel. This usage is especially problematic in light of the fact that the newspaper often raises questions about the legal legitimacy of "settlements." The inaccurate message to readers, then, is that these towns in Israel near the Gaza Strip are somehow controversial or disputed.
So while The Times gears up for an "evenhanded" tour around "Palestine" and the "settlements surrounding the Gaza Strip" to mark "Seventy Years of the State of Israel," we invite readers to a discovery journey of over 80 New York Times errors -- all of them tilted in one direction (against Israel) -- and all of them corrected after CAMERA's intervention.
Posted by TS at 12:43 PM | Comments (1)