« Former Peace Negotiator Acknowledges Mistakes | Main | Insulting Apology from Islamic Center of Davis »
July 26, 2017
Israel Dismantles Security Measures, But Palestinian Leaders Continue to Encourage Riots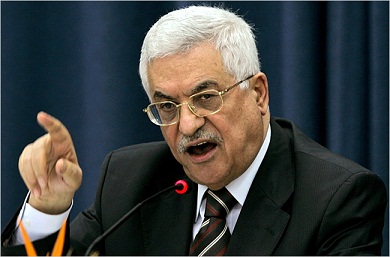 Perhaps Palestinian President Abbas did not believe that Israel would so quickly back down from its newly implemented security measures for the Temple Mount following the murders of Israeli security guards near there. Perhaps he didn't think the metal detectors and cameras would be dismantled so quickly. After all, the perpetrators of the July 14th attack came directly from the Temple Mount with weapons they had smuggled there that same morning. And it is not as if metal detectors and security cameras are not routinely used everywhere -- from airports to religious sites -- to avoid such attacks. Visitors to the Western Wall pass through metal detectors, as do visitors to Mecca.
But this was simply another pretext for Abbas and his Fatah party to once again sound their battle cry "Defend Al Aqsa", as they've done before and as did their predecessors before them -- to great effect. Their calls for violent jihad on the basis of the bogus allegation that Jews are trying to destroy or take over Muslim holy sites has resulted in the murders and maiming of hundreds of Israelis, Jews and foreign visitors.
The last time Abbas used this pretext, calling on Muslims to defend their holy sites from Jews who would "defile" the site with "their filthy feet", the result was a wave of violence that included stabbings, car rammings and shootings, in which dozens of innocents were killed and hundreds more wounded. Thus, the installation of metal detectors provided a new excuse to re-invigorate anti-Israel violence. But after just a week of riling up the masses with calls to defend Muslim holy sites (a week in which three people at a Shabbat meal were slaughtered in a bloody terror attack inspired by the incitement), Abbas and his cohorts are not yet ready to stop, never mind the offending metal detectors and cameras having been removed. So they continue to accuse Israel of taking steps to change the status quo and Abbas, as well as Hamas, are calling for a "Day of Rage" (violent riots) on Friday. Palestinian Media Watch reports on Abbas' encouragement to anti-Israel rioters, published in today's official PA daily:
You have objected to all of the [Israeli] steps, and we have supported you in what you have done and what you are doing. We are with you in everything that you have done and are still doing, as you are causing us pride, and you are taking care of your Al-Aqsa Mosque, your land, your dignity, your people, your religion, and your holy sites. This is the response to everyone who wants to harm our holy sites. Jerusalem is ours. It is our capital and it is [under] our sovereignty, and therefore what you [Palestinians] are doing is right.'
Posted by RH at July 26, 2017 02:44 PM
Comments
One of the best concise articles about this deplorable affair of unnecessary Israeli capitulation appears on Debka - http://www.debka.com/article/26157/Israel-capitulates-to-Palestinian-escalation
the only valid criticism of the completely legitimate use of metal detectors is that they would not be completely effective at times when the throngs of pilgrims/worshippers/would-be rioters and/or terrorists are too massive.
The evidence of Palestinian Arab profanation of the Al Aqsa compound is overwhelming and yet the Israelis did not go on the offensive with this. Since there is now, on balance, a friendly US administration and various other governments of important countries are showing themselves more friendly - or at least not currently disposed to pursue one-sided anti-Israel diplomatic initiatives, there would have been no real negative consequences if Israel for once had put Abbas and his criminal Palestinian Authority on the defensive.
Even those media who refuse to provide full reports, by supplying the necessary historic context of the Al-Aqsa "blood libel", would find themselves under pressure to report Palestinian Arab weapons smuggling, if it was repeatedly publicly denounced by leading Israeli politicians with a high media presence - as well as Palestinian Arab readiness to profane sites they proclaim to be holy.

Posted by: Paul at July 27, 2017 06:26 AM
Guidelines for posting
This is a moderated blog. We will not post comments that include racism, bigotry, threats, or factually inaccurate material.
Post a comment