« DPA Places Jerusalem in 'Palestinian Territories' | Main | NBC's Blinders on Egyptian Blockade »
June 27, 2017
Yusef Daher Descends to New Low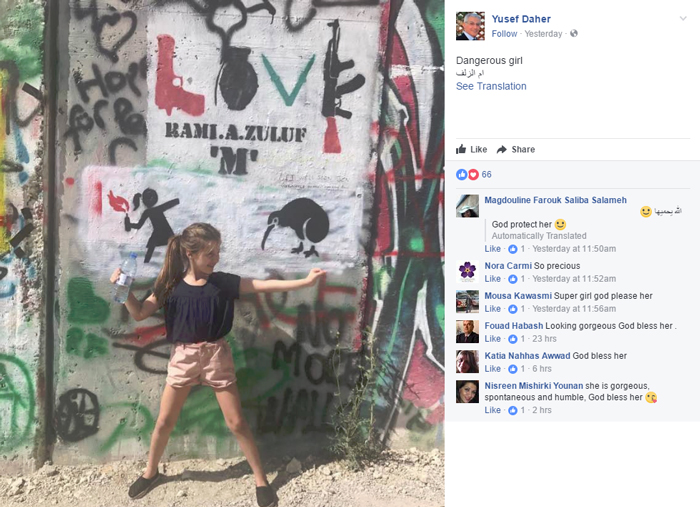 A screenshot of an image posted on Yusef Daher's Facebook page.
Yusef Daher, the Executive Secretary of the Jerusalem Inter-Church Center, has posted some ugly stuff on his Facebook page and on his Twitter timeline. Daher is supposed to promote peace at the JICC — which is supported by the World Council of Churches — but for one reason or another, the licensed tour guide has posted a number of images that legitimize, promote or downplay the horror of Palestinian violence against Israelis.
It's something that CAMERA has written about on a number of occasions, including here, here, and here.
But yesterday, June 26, 2017, Daher hit a new low, posting an image of a young girl holding a plastic water bottle as if to throw at a target off in the distance. She's standing in front of a stenciled image of a young girl — with a pigtail just like hers — throwing a Molotov cocktail.
The comments posted in response praise the young girl, calling her "precious" and "spontaneous" and "humble."
Both the image and the comments are indicative of a thoughtlessness and contempt for the victims of Palestinian violence on the part of both Daher and his friends on Facebook.
Do Daher and his friends on Facebook really want to encourage young Palestinian girls to aspire to throwing firebombs at Israelis? Is that the proper message for the Palestinian Christian community to be showing to Christians (and Muslims) in the region?
Ayala Shapira testifying before the European Parliament earlier this year.
Exactly how is Ayala Shapira, a 13-year-old victim of a 2015 firebomb attack, supposed to respond to Daher's posting? Shapira, if you don't know, was attacked when she
was travelling in the car with her father Avner late at night on her way home from a class for gifted children to their home in the settlement of Maale Shomron in Samaria.

A firebomb thrown by two Palestinians hiding at the side of the road not only hit the car, but smashed through the window and landed directly on Ayala, causing her to catch fire.

Her father stopped the car and Ayala had the presence of mind to throw herself on the ground and roll on the floor to put out the flames….

Ayala was critically injured and fought for her life for several days…
Apparently, Daher is nonplussed by such attacks, for if they bothered him, he would never post such an image in such a light-hearted manner. If he contemplated the horrific impact of a firebomb attack, he would never encourage the young girl to think that such an action is something she should aspire to.
Never.
How are Shapira's friends and relatives supposed to respond to Daher's lighthearted posting? How are victims of Palestinian terrorism supposed to respond to the image and the comments they see on Daher's Facebook page? What are they supposed to think of the Christian "peacemakers" in Jerusalem from the WCC who regularly demonize Israel?
Does Rev. Olav Fyske Tveit, General Secretary of the World Council of Churches expect to be taken seriously when he speaks words of peace to the inhabitants of Jerusalem despite his failure to hold Daher accountable?

Posted by dvz at June 27, 2017 03:52 PM
Comments
Guidelines for posting
This is a moderated blog. We will not post comments that include racism, bigotry, threats, or factually inaccurate material.
Post a comment