« May 2017 | Main | July 2017 »
June 29, 2017
Expert in Nazi Propaganda Omits James Wall's Affiliation With Neo-Nazi Publication in Wikipedia Article
James M. Wall meeting with Martin Luther King in 1967. (Screenshot from The Link.)
James M. Wall, former editor of The Christian Century, is notorious for his hostility toward Israel and its supporters in the United States.
On his blog, Wall has referred to Israel's supporters in the United States as a "fifth column" and for a while, he was associate editor for a website called Veterans News Now, a publication that promotes hostility toward Jews throughout the world and has promoted the work of David Duke, a former Grand Wizard of the Klu Klux Klan. His behavior is a huge embarrassment for his former employer, The Christian Century, the flagship publication of mainline Protestantism in the United States.
CAMERA has written extensively about Wall's descent into the netherworld of antisemitism on a number of occasions, including articles that can be seen here and here. Articles on the failure of Christian Century and the United Methodist Church to hold Wall accountable for his hateful writings about Israel and its Jewish supporters can be seen here and here.
All this is worth recounting because a few weeks ago, a well-known historian, Randall Bytwerk, who taught for many years at Calvin College in Grand Rapids Michigan, apparently wrote an article about Wall at Wikipedia.
The article, which can be read here, is a pretty straightforward text, detailing his career as a journalist, movie critic and Democratic politician and activist. The documentation demonstrating that Bytwerk wrote the Wikipedia article in question can be seen here and here.
What is amazing is that the text makes no mention whatsoever of Wall's affiliation with Veterans News Now, which was so embarrassing to Christian Century that it was forced to issue a statement about the controversy here.

It is almost impossible that a historian would miss this controversy (even after a quick Google search), and no responsible historian would omit it from an article, but Bytwerk did. After the controversy broke, National Vanguard, a neo-Nazi publication came to Wall's defense, as did Veterans Today, another racist publication affiliated with Veterans News Now. (No links.)
What makes Bytwerk's omission even more astounding is that he is an expert on Nazi propaganda and is the curator of Calvin College's online archive of German Propaganda. Veterans News Now, where Wall served as associate editor, traffics in many of the antisemitic tropes that the Nazis used and would be familiar to Professor Bytwerk.
Did Randall Bytwerk not know about the controversy surrounding James M. Wall's affiliation with Veterans News Now and his unwholesome enmity toward Israel and its supporters which manifested itself as his career progressed and came into full bloom in his retirement?
How could he miss it?
In any event, CAMERA supporters can be glad because Wikipedia can be edited by its readers. It may take some effort, but the information about James M. Wall's transformation from a respected mainline Protestant journalist into a purveyor of hate can be inserted into the Wikipedia article by anyone with a computer and a modem.
It is a sad subject, but the fact is, James M. Wall tarnished his legacy all by himself and no encyclopedia article about his life can legitimately ignore the issue.

Posted by dvz at 04:39 PM | Comments (2)
June 28, 2017
The Washington Post Manages to Outdo the BBC with Anti-Israel Headline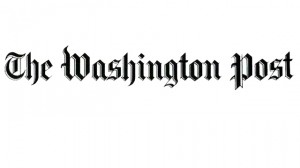 The Washington Post not only failed to offer a full-length report on the June 16, 2017 terror attack in which a 23-year old Israeli Border Policewoman, Hadas Malka, was murdered, it also made misleading changes to an AP dispatch on the attack.
Malka was stabbed to death by a Palestinian assailant in a coordinated terrorist attack in Jerusalem's Old City. She was attacked while responding to the scene of another terrorist attack in which two Palestinian attackers opened fire on an Israeli Border Police patrol at Zedekiah's Cave in the Muslim Quarter. Israeli authorities killed all three Palestinian terrorists.
The initial AP report on the attack was titled "Palestinian attackers killed after killing Israeli officer." This headline made clear to AP readers the important chain of events and noted the death of the Israeli officer.
The Washington Post, however, made questionable edits to the AP brief it republished in the print version of its June 18, 2017 edition. The headline chosen by The Post was "3 Palestinians killed after attacks on police"—omitting the death of the Israeli officer and failing to mention that the Palestinians killed were terrorists carrying out an attack. As CAMERA pointed out to Post staff, this violates the ethics code of the Society of Professional Journalists (SPJ). SPJ calls for journalists to "Make certain that headlines, news teases and promotional material, photos, video, audio, graphics, sound bites and quotations do not misrepresent. They should not oversimplify or highlight incidents out of context."
As CAMERA has highlighted, the BBC, after considerable public outcry, changed a similarly misleading headline of a report about the June 16, 2017 terror attack. The BBC's statement acknowledged, ""We accept that our original headline did not appropriately reflect the nature of the events and subsequently changed it. Whilst there was no intention to mislead our audiences, we regret any offense caused."
The Post made other questionable changes to its print version of the AP dispatch. The original stated: "Since September 2015, Palestinian assailants have killed 43 Israelis, two visiting Americans and a British student, mainly in stabbing, shooting and vehicular attacks. In that time, some 250 Palestinians were killed by Israeli fire. Israel identified most of them as attackers." Yet, The Post's print version omitted this last, crucial sentence—possibly leaving readers to conclude that Israel is using "disproportionate force" and killing Palestinians without cause. By contrast, the online version republished by The Post included this important information.
CAMERA contacted The Post requesting a correction and a clarification to their print version of the AP dispatch. The paper declined to do so, claiming that it faced "space constraints" and the headline "accurately conveyed the story, within the constraints of space."
This is risible; the paper failed to offer a detailed report, on its own, on a coordinated terrorist attack—an occurrence that refutes previous Post coverage of "lone-wolf" attacks against Israelis. Further, Hamas, the Islamic State of Iraq and Syria (ISIS), and the Popular Front for the Liberation of Palestine (PFLP), all sought to claim credit for the assault—a fact which also makes the event newsworthy, to say nothing of a young Israeli woman being murdered.
Indeed, as CAMERA has noted, the paper has previously run lengthy stories on Chinese tourists being overcharged at Israeli restaurants, the used car market among Palestinians, and the Israeli Prime Ministers' dog nipping someone at a dinner party.
The Post should have spared some "space" for this terror attack—and the little bit afforded to readers should have carried the important context that other news providers managed to print.
In a Feb. 11, 2017 tweet, Post Jerusalem bureau chief William Booth claimed that "every major attack in Israel & West Bank gets covered in Wapo NYT etc and we dig deeper." That, however, is demonstrably false.
Posted by SD at 12:15 PM | Comments (2)
NBC's Blinders on Egyptian Blockade
In an article about Hamas banning dog-walking in the Gaza Strip, NBC News believes it's important for readers to know that Israel blockades the Gaza Strip. On the other hand, NBC would prefer that readers not know that Egypt also blockades the Gaza Strip, even though the Egyptian blockade is much more restrictive than the Israeli blockade by any measure ("Hamas bans dog-walking in the Gaza Strip").
The article, a collaborative effort by NBC's Wajjeh Abu Zarifa , Dave Copeland , Lawahez Jabari and F. Brinley Bruton reported:
Hamas — the militant group that runs the poor, Israeli-blockaded Gaza Strip — recently decreed dogs can't be walked in markets, roads and along beaches.
Israel allows in virtually all products aside from weapons and items defined as dual-use items (ie can be used for military purposes), a fact confirmed by the Israeli NGO Gisha, which is highly critical of Israel's policies with respect to Gaza. Both goods and people can much more easily pass through the Israeli blockade of Gaza than through the strict Egyptian blockade.

That Egypt's blockade, ignored by NBC, is significantly more restrictive than the Israeli blockade (which NBC singled out), is confirmed by recent UN data. The UN's Office for the Coordination of Humanitarian Affairs reported that this past May, for example, (the most recent UN data available), the Israeli crossing for people (Erez Crossing), was open for 25 days, enabling 6,328 times in which people crossed from Gaza to Israel. In contrast, the Egyptian crossing for people (Rafah Crossing), was open for just four days, enabling just 3,068 times in which people crossed in either direction (Egypt to Gaza and the reverse). (Graphic below from OCHA's report.)

More than 200 trucks exited Gaza into Israel via the Kerem Shalom crossing over the course of 17 days in May. Zero trucks exit Gaza for Egypt.
As for the entry of goods into Gaza, the Kerem Shalom Crossing from Israel operated for 19 days in May, enabling over 10,000 trucks carrying goods to enter from Israel. In contrast, Egypt's "Rafah crossing exceptionally opened on four days, allowing 381 truckloads of goods to enter Gaza, the largest volume through this crossing since June 2015."
In 2015 Reuters, which had likewise initially ignored the Egyptian-blockade in a graphic entitled "Gaza blockade," commendably added the information when the omission was pointed out.
CAMERA has contacted NBC to request that they likewise amend their report to include the more severe Egyptian blockade. Stay tuned for an update.
Posted by TS at 03:29 AM | Comments (0)
June 27, 2017
Yusef Daher Descends to New Low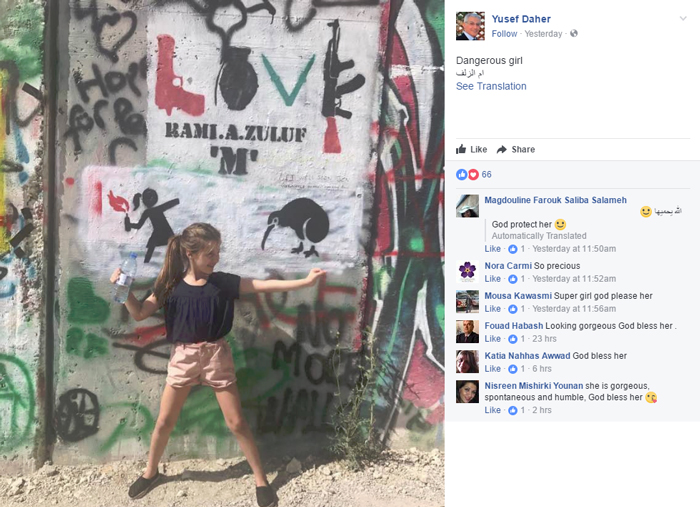 A screenshot of an image posted on Yusef Daher's Facebook page.
Yusef Daher, the Executive Secretary of the Jerusalem Inter-Church Center, has posted some ugly stuff on his Facebook page and on his Twitter timeline. Daher is supposed to promote peace at the JICC — which is supported by the World Council of Churches — but for one reason or another, the licensed tour guide has posted a number of images that legitimize, promote or downplay the horror of Palestinian violence against Israelis.
It's something that CAMERA has written about on a number of occasions, including here, here, and here.
But yesterday, June 26, 2017, Daher hit a new low, posting an image of a young girl holding a plastic water bottle as if to throw at a target off in the distance. She's standing in front of a stenciled image of a young girl — with a pigtail just like hers — throwing a Molotov cocktail.
The comments posted in response praise the young girl, calling her "precious" and "spontaneous" and "humble."
Both the image and the comments are indicative of a thoughtlessness and contempt for the victims of Palestinian violence on the part of both Daher and his friends on Facebook.
Do Daher and his friends on Facebook really want to encourage young Palestinian girls to aspire to throwing firebombs at Israelis? Is that the proper message for the Palestinian Christian community to be showing to Christians (and Muslims) in the region?
Ayala Shapira testifying before the European Parliament earlier this year.
Exactly how is Ayala Shapira, a 13-year-old victim of a 2015 firebomb attack, supposed to respond to Daher's posting? Shapira, if you don't know, was attacked when she
was travelling in the car with her father Avner late at night on her way home from a class for gifted children to their home in the settlement of Maale Shomron in Samaria.

A firebomb thrown by two Palestinians hiding at the side of the road not only hit the car, but smashed through the window and landed directly on Ayala, causing her to catch fire.

Her father stopped the car and Ayala had the presence of mind to throw herself on the ground and roll on the floor to put out the flames….

Ayala was critically injured and fought for her life for several days…
Apparently, Daher is nonplussed by such attacks, for if they bothered him, he would never post such an image in such a light-hearted manner. If he contemplated the horrific impact of a firebomb attack, he would never encourage the young girl to think that such an action is something she should aspire to.
Never.
How are Shapira's friends and relatives supposed to respond to Daher's lighthearted posting? How are victims of Palestinian terrorism supposed to respond to the image and the comments they see on Daher's Facebook page? What are they supposed to think of the Christian "peacemakers" in Jerusalem from the WCC who regularly demonize Israel?
Does Rev. Olav Fyske Tveit, General Secretary of the World Council of Churches expect to be taken seriously when he speaks words of peace to the inhabitants of Jerusalem despite his failure to hold Daher accountable?

Posted by dvz at 03:52 PM | Comments (0)
DPA Places Jerusalem in 'Palestinian Territories'
June 28 Update: DPA Corrects: Jerusalem in Israel, Not Palestinian Territories
DPA, the German news agency, has relocated Jerusalem to the Palestinian territories. Today's photo caption, which appears on the photo sites of leading news agencies Associated Press and Agence France-Presse, states:
Gilad Grossman, spokesman of the human rights organisation Jesch Din, in Jerusalem, Palestinian Territories, 26 June 2017. The Israeli government has approved the first state-sanctioned settlement in the occupied West Bank since the beginning of the Oslo peace process. The settlements are widely regarded as illegal under international law. Jesch Din is one of the organisations contesting the move. Photo by: Stefanie J'rkel
In addition, a second DPA caption refers to a future Israeli settlement to be built in "Palestinian territories." The land slated for the future settlement of Amichai is in disputed West Bank land, Area C, not under Palestinian control, and is therefore not part of the "Palestinian territories." The final status of this land is to be determined in negotiations, and has not yet been resolved.
This caption also appears on the AP and AFP photo sites:
Avichai Boaron, a spokesman for the illegal West Bank settlement of Amona, stands in front of the site upon which the Israeli government has approved the first state-sanctioned settlement in the occupied territories since the beginning of the Oslo peace process in 'Amichai', Palestinian Territories, 26 June 2017. The settlements are widely regarded as illegal under international law. Photo by: Stefanie J'rkel
CAMERA has reached out to DPA, AP and AFP for corrections. Stay tuned for updates.
See also: "DPA, AP Correct: Lebanon, Not Libya, Borders Israel"
Posted by TS at 06:39 AM | Comments (0)
June 26, 2017
BBC Misleads Again
The BBC shows a pattern of misleading its audience as to the nature of Palestinian terrorism. The grotesquely inappropriate headline is the most recent in a lengthy list of such examples. Israeli policewoman Hadas Malka was murdered by three Palestinian terrorists, yet the BBC editors decided to headline the story as "Three Palestinians killed after deadly stabbing." Only after complaints from high visibility individuals, like Donald Trump, Jr., did the BBC change the headline to more accurately reflect what occurred.
Posted by SS at 03:06 PM | Comments (0)
June 24, 2017
University Professor Who Cheered Student's Death is a BDS Supporter
Otto Warmbier crying in a North Korean court, at an undisclosed location in North Korea. Image courtesy of NBC News

A University of Delaware professor who said that student Otto Warmbier, a victim of the North Korean regime, "got exactly what he deserved," after he was held and possibly murdered by North Korea, is a supporter of the boycott, divestment and sanctions (BDS) effort which seeks to delegitimize Israel.
Kathy Dettwyler, an adjunct professor of anthropology at the University of Delaware, wrote on her personal Facebook page that Warmbier was "typical of the mindset of a lot of the young, white, rich, clueless males who come into my class."
Warmbier was a University of Virginia student visiting North Korea on a January 2016 trip. Accused by North Korean authorities of stealing a propaganda poster from his hotel, he was subsequently arrested and sentenced to 15 years hard labor. On June 13, 2017—to his parents' shock and horror—Warmbier was returned to U.S. soil, unresponsive and in a coma. Six days later, Warmbier—who was reportedly in good health at the time of his trip—died from his injuries, having been in a coma for at least 15 months.
Gordan Chang, a foreign affairs analyst who specializes in North Korea and China, pointed out that although Pyongyang claims Warmbier had contracted botulism, doctors at the University of Cincinnati Medical Center, which examined the student upon his return, "found no traces of botulism but did find dead brain tissue"—likely the result of severe trauma.
In her Facebook post, Dettwyler justified the young man's death at the hands of a brutal, authoritarian regime. Writing for the News Journal, reporter Jessica Bies noted some of the professor's troubling remarks:
"These are the same kids who cry about their grades because they didn't think they'd really have to read and study the material to get a good grade ... His parents ultimately are to blame for his growing up thinking he could get away with whatever he wanted. Maybe in the US, where young, white, rich, clueless white males routinely get away with raping women. Not so much in North Korea. And of course, it's Ottos' parents who will pay the price for the rest of their lives."
Dettwyler is also a BDS supporter, according to research by CAMERA that found that she was a signatory for the "Anthropologists for the Boycott of Israeli Academic Institutions."
The movement's co-founder, Omar Barghouti, has stated that the purpose of BDS is to permanently end Jewish self-rule in the region; he advocates a Palestinian Arab state to replace the Jewish one, not a "two-state solution." ("BDS, Academic/Cultural Boycott of Israel, and Omar Barghouti," Feb. 24, 2010, CAMERA).
As CAMERA has noted ("J Street's Unreported Pro-BDS Partner—'Jewish Voice for Peace,'" June 18, 2015), the "Palestinian civil society groups" behind the founding of the BDS movement include U.S.-designated terrorist organizations Hamas and al-Aqsa Martyrs Brigades of Fatah and non-Palestinian Syrian extremist movements. The charter of Hamas calls for the destruction of Israel and genocide of the Jews.
Indeed, in his April 19, 2016 testimony before the U.S. House of Representatives Foreign Affairs Committee, Jonathan Schanzer, a former U.S. Treasury Department terror analyst, highlighted ties between the BDS movement and Hamas-linked charities. Schanzer testified that the U.S. Coalition to Boycott Israel (also known as the Chicago Coalition for Justice in Palestine) is led by a Chicago resident named Ghassan Barakat, a member of the Palestine National Council (PNC), and its coordinator is Senan Shaqdeh. Shaqdeh is a former member of the Popular Front for the Liberation of Palestine (PFLP), a U.S.-designated terrorist group, and a self-described founder of Students for Justice in Palestine (SJP), a pro-BDS group.
Given her support for BDS, Dettwyler's decision to blame the victim of an autocratic, anti-Western regime, seemingly on the grounds of his racial/ethnic makeup, is perhaps unsurprising.
Amid calls for Dettwyler's dismissal, the University of Delaware has stated that the professor's "distressing" comments "do not reflect the values or position" of the school.

Posted by SD at 02:17 PM | Comments (1)
June 21, 2017
Newsweek: "Why Is Israel So Corrupt?"

A headline on the Newsweek website today asks why Israel is corrupt. Just how corrupt? "So corrupt," the headline states, followed in the article by anecdotes about abuse of power by Israelis in politics and business.
"So corrupt" sounds pretty bad. But there are more thorough measures out there — for example Transparency International's Corruption Perception Index, in which Israel ranks as 28th least corrupt of 176 ranked countries, which is tops in the Middle East and above a number of European countries. The index went unmentioned in the Newsweek article, as did other relevant reports.
The author — who, it should be noted, isn't responsible for the headline's strange wording — said on Twitter that the corruption he perceives isn't in "the day to day doing business," but rather at "the highest levels of business & government."

Posted by GI at 05:02 PM | Comments (0)
June 20, 2017
Huffington Post Does Not Recognize Vehicle-Ramming Terrorist Attacks Against Israel
In the wake of the recent ramming attack in London, the Huffington Post features a nearly 2 minute video on vehicle ramming attacks as a new form of terrorism. The video states "Here are the vehicle attacks that have occurred in the last year" and then it shows footage of attacks in London, Nice, Berlin and Stockholm. There is no mention of several vehicle attacks in Israel over the past year.
All told there have been over 60 ramming attacks by Palestinians against Israelis.
The Huffington Post has a long and disturbing history of anti-Israel articles, opinion pieces and on-line commenting. The failure of this featured video to even recognize the occurrence of terrorist attacks against Israel is a striking example of implicit bigotry and dehumanization of Jews. The implication is that Israeli victims of terrorism do not deserve recognition or the humanitarian empathy bestowed upon European victims.
This continues a troubling pattern where the British media does not acknowledge ramming attacks against Israelis.
Posted by SS at 02:28 PM | Comments (1)
Politico Notes Israel's Security Challenges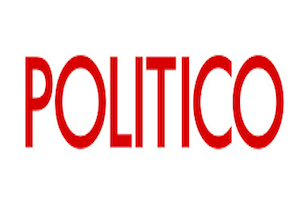 A Politico report on a bipartisan group of political analysts, pundits and lobbyists visiting Israel provided readers with a look at some of the security challenges facing the Jewish state ("Israel trip calms D.C. tensions," June 18, 2017).
Politico reporter Daniel Lippman noted that "a number of former to Trump campaign officials and prominent Democrats" went on a seven-day trip to Israel that was sponsored by the American Israel Education Foundation and organized by American Israel Public Affairs Committee (AIPAC) political director Rob Bassin.
A total of 16 U.S. former officials and political operatives met with Israeli government officials and business leaders and traveled the entire country.
Bill Burton, a former Obama administration deputy press secretary, told Politico that a "stark contrast" existed between the realities and environment that Israel faces on a day-to-day basis as opposed to those present in the U.S.
J. Toscano, a partner at the Democratic ad firm GMMB, observed:
"The fact that you can drive from one border line with an area that's controlled by Hamas to another border line with a region that's controlled by ISIS in the same time that you can drive from D.C. to New York really gives you a deep sense of the security challenge that the country faces and that the region faces."
A Washington D.C.-based publication that focuses on politics and policy, Politico doesn't often report on Israel—and when it does, its coverage is frequently flawed. As CAMERA has highlighted, the paper has called convicted Palestinian terrorist Jibril Rajoub an "urbane diplomat," erroneously claimed that Israel occupies the Gaza Strip ("Politico's Misleading Poll on the Israeli-Palestinian Conflict," Jan 12, 2017), and frequently omitted Palestinian rejection of U.S. and Israeli offers for statehood and peace ("Politico's 'Letter from Israel' is Marked to the Wrong Address," Jan. 5, 2017.
Politico should be commended for providing readers with a straightforward, albeit brief, look at the dangers Israel and Israelis face.
Posted by SD at 08:31 AM | Comments (0)
June 15, 2017
"Tragic Inaction on Congo"
An Op-Ed in the International New York Times today discusses, as its headline puts it, "The U.N.'s tragic inaction on Congo."
The piece focuses on the tragic killing of two Westerners in the Democratic Republic of Congo. The pair were working for the United Nations, which, the authors protest, has failed to investigate the killings. The authors link the incident to a wider phenomenon: "their deaths are a reminder of how little attention is paid to the killings of hundreds of Congolese in the Kasai region since last August," they say, noting the recent discovery of dozens of mass graves in the region.
The passive voice here — "little attention is paid" — means readers aren't told who, exactly, isn't paying attention. But if history is any indication, the same newspaper publishing this Op-Ed is a prominent example of those guilty of paying relatively little attention to violence in Congo.
The book Stealth Conflicts: How the World's Worst Violence is Ignored, by Virgil Hawkins, shows that The New York Times largely overlooked the deaths of nearly two million people during the first two years of fighting in the DRC.
The discrepancy between how the newspaper covered that violence and the fighting between Palestinians and Israel starting in 2000 is highlighted by a striking graphic in Hawkins' book:
Tragic inaction on Congo, indeed.

Posted by GI at 04:07 PM | Comments (0)
June 14, 2017
AFP Falsely Reports: Hamas Accepts State 'Limited to 1967 Borders'
Influential wire service Agence France Presse falsely reported yesterday that Hamas' May 1 policy document accepts a Palestinian state "limited to the 1967 borders" ("Gaza: Palestinian territory ravaged by war, poverty").
In no way does the new Hamas document signal an acceptance of a Palestinian state "limited to the 1967 borders." In fact, it says the exact opposite. The wording is:


Hamas rejects any alternative to the full and complete liberation of Palestine, from the river to the sea

. However, without compromising its rejection of the Zionist entity and without relinquishing any Palestinian rights, Hamas considers the establishment of a fully sovereign and independent Palestinian state, with Jerusalem as its capital along the lines of the 4th of June 1967, with the return of the refugees and the displaced to their homes from which they were expelled, to be a formula of national consensus. . . .

A real state of Palestine is a state that has been liberated. There is no alternative to a fully sovereign Palestinian State on the entire national Palestinian soil, with Jerusalem as its capital. (Emphases added.)
In an interview with Reuters, Hamas' Mahmoud al-Zahar emphasized that the new document is a "mechanism" for Hamas' pledge "to liberate all of Palestine." Reuters reported:


One of Hamas's most senior officials said on Wednesday a document published by the Islamist Palestinian group last week was not a substitute for its founding charter, which advocates Israel's destruction.

Speaking in Gaza City, Mahmoud al-Zahar, a regular critic of Israel, said the political policy document announced in Qatar on May 1 by Hamas's outgoing chief Khaled Meshaal did not contradict its founding covenant, published in 1988.

Trailed for weeks by Hamas officials, the document appeared to be an attempt to soften the group's language towards Israel. But it still called for "the liberation of all of historical Palestine", said armed resistance was a means to achieve that goal, and did not recognise Israel's right to exist.

"The pledge Hamas made before God was to liberate all of Palestine," Zahar said on Wednesday. "The charter is the core of (Hamas's) position and the mechanism of this position is the document.
Posted by TS at 05:27 AM | Comments (1)
June 13, 2017
CNN Errs on New Hamas 'Charter,' Gaza Unemployment
June 14 Update: CNN Corrects on New Hamas 'Charter,' Gaza Unemployment
In his article today, "What the Qatar crisis means for Hamas," CNN International's Ian Lee errs on Hamas and Gaza unemployment.
First, the article twice falsely refers to a new policy document that Hamas issued on May 1 as a "new charter." The article begins:


When Palestinian militant group Hamas announced its new charter to the world, it wasn't from Ramallah or Gaza City, but from the Sheraton hotel's gilded Salwa Ballroom in Doha.
Further down, the article repeats the incorrect reference to a "new charter," stating:
Last month, a new leader was announced -- Ismail Haniya taking over from long-time leader Meshaal -- at the same time as the militant group issued its new charter.

But as CNN correctly reported at the time, in the very article hyperlinked in the first erroneous reference to a "new charter," Hamas issued a new policy document on May 1, not a new charter. As CNN's May 3 article reported: "The Palestinian militant group Hamas unveiled a new policy document Monday . . . " The earlier CNN story repeatedly refers to the document as a "document" and not a charter, because it was not a "new charter."

Hamas itself refers to the new policy statement as "A Document of General Principles and Policies" -- not a charter.

Hamas' own Mahmoud al-Zahar made clear that the new document does not in any way replace the founding charter of 1988. As Reuters reported:


One of Hamas's most senior officials said on Wednesday a documentpublished by the Islamist Palestinian group last week was not a substitute for its founding charter, which advocates Israel's destruction.
In a second, unrelated error, Lee reports:
According to the United Nations, the unemployment rate in the strip hovers around 65% and one million people rely on food handouts from the UN's Palestinian refugee agency.
In fact, United Nations documents put Gaza's unemployment at below 45 percent, not at 65 percent. According to the "Gaza Situation Report, 197 30 May - 5 June 2017 target=_blank" published by UN Relief and Works Agency for Palestine Refugees in the Near East,


In the first quarter of 2017, according to the Palestinian Central Bureau of Statistics, the unemployment rate in Gaza stood at 41.1 per cent, one of the highest rates worldwide.
Also, according to this May 3 UN document:


In the fourth quarter of 2016, the joblessness rate stood at an average of 40.6 per cent – 68.6 per cent for women – according to the Palestinian Central Bureau of Statistics (PCBS).
CAMERA has contacted CNN to request corrections. Stay tuned for an update. Readers may also contact CNN International on Twitter.
See also: "In English, Haaretz Upgrades Hamas' New Document to New 'Charter'"

Posted by TS at 05:23 AM | Comments (1)
June 12, 2017
The Washington Post: We Print 'Commonly Used' Falsehoods

The Washington Post defends its use of inaccurate language on the grounds that its use is frequent.
As CAMERA has noted ("The Washington Post's Troubling Trend Towards Israel") a May 29 Post report ("A daily commute through Israel's checkpoints") claimed that "The Israeli occupation of the Palestinian territories of the West Bank and the Gaza Strip began 50 years ago in June [emphasis added]."
However, as CAMERA pointed out to Post staff: The status of the territories is disputed and no Palestinian state has ever existed. The Post itself noted as much in a Sept. 5, 2014 CAMERA-prompted correction, among other instances. That correction stated, in part: "The Israeli-occupied territories are disputed lands that Palestinians want as a future state."
Despite this acknowledgement, the paper continues to inaccurately describe the West Bank and the Gaza Strip as "Palestinian land"—including in a Jan. 2, 2015 article that appeared within three months of the correction noted above ("When is a Correction an Error? When The Washington Post Says So," CAMERA, Jan. 9, 2015).
When CAMERA contacted The Post about the May 29, 2017 report, it pointed out that a story in the June 6, 2017 edition rightfully stated, "The status of Gaza and the West Bank are still in dispute, with the Palestinians hoping the two territories will eventually make up an independent state."
Yet, as it has done on some previous instances, The Post declined to correct its May 29th report. The reason? The phrase "Palestinian territories" is "informal" and "widely and commonly used to refer to the West Bank and Gaza; there have been more than 1,000 such references in The Post alone in recent years."
As CAMERA pointed out in a June 8, 2017 Times of Israel Op-Ed "The Washington Post's Cognitive Dissonance," the paper has a habit of contradicting itself and displaying an alarming inconsistency when it comes to using precise—and accurate—language.
The Washington Post's own publishing guidelines claims that the paper "always seeks to publish corrections and clarifications promptly after they come to our attention." Except, it might be added, when falsehoods are "widely and commonly used."
Posted by SD at 08:08 PM | Comments (0)
Award-Winning Swedish Journalist Carries Out Terrorist Attack
Notre Dame Cathedral

The perpetrator responsible for carrying out a June 6, 2017 terrorist attack at the Notre Dame cathedral in Paris was an "award-winning journalist" who previously worked as a freelancer for Swedish public radio," according to an Algemeiner article by analyst Ben Cohen ("Islamist Perpetrator of Attack at Paris Cathedral was Award-Winning Journalist in Sweden," June 7, 2017).
That journalist turned terrorist, Farid Ikken, used a hammer to attack a French police officer outside of Notre Dame, a popular tourist spot and place of worship. Ikken reportedly yelled, "This is for Syria" during the attack. He was subsequently shot by an armed police officer. In addition to the hammer, two knives were found on his person. Ikken was taken to the hospital for treatment and questioning by French authorities.
An Algerian national, Ikken moved to Sweden to 2004 and studied journalism at Uppsala University. He worked as a freelance journalist for several Swedish media outlets, including Swedish national public radio (SR). In 2009, Ikken won a European Union (EU) journalism award for a report on healthcare and asylum seekers in Sweden.
Sweden itself has experienced several Islamist terrorist attacks in recent years. On April 7, 2017, Rakhmat Akilov, an asylum seeker from Uzbekistan, used a hijacked truck to run over men, women and children in a shopping center in Stockholm. The attack murdered five people and injured 15. Akilov had expressed support for the terror group Islamic State in Iraq and Syria (ISIS).
Vehicular assaults are a common terror tactic used by Palestinians against Israelis, as CAMERA has noted. Despite the shared threat presented by Islamist terrorism, some Swedish officials have chosen to attack the Jewish state. Among other acts, Sweden has previously granted visas to members of Hamas, U.S.-designated terror group whose charter calls for the destruction of Israel and the genocide of Jews ("Senior Israeli Official: Sweden is the Country Most Hostile to Israel," CAMERA, April 27, 2006).
As CAMERA has highlighted, Swedish schools have also been caught distributing schoolbooks that praise anti-Jewish violence and depict all of Israel as "Palestine ("School in Sweden Teaches Pupils Israel Doesn't Exist," Feb. 1, 2016)."
Posted by SD at 02:26 PM | Comments (2)
June 07, 2017
USA Today Coverage of 1967 War Blurs Important Truths

USA Today's "50 years after Six-Day War, Israel-Palestinian borders are still fuzzy" (June 5, 2017) omitted important information about the "occupation" of territories seized by Israel during the 1967 war and the anti-Jewish violence that preceded it.
The report, by journalist and writer Noga Tarnopolsky, provides readers with some key details missing in media coverage elsewhere. For example, the article correctly noted that the "Green Line," the armistice line that followed the Arab-initiated 1948 War against the Jewish state, is "temporary" and that "final borders [were] to be worked out in the future." By contrast, other major media outlets, such as The Washington Post, have incorrectly implied that the "Green Line" is a recognized and established border (see, for example "The Washington Post's Troubling Trend Towards Israel," CAMERA, June 5, 2017).
However, USA Today fails to inform readers as to why final borders weren't worked out: Palestinian and Arab rejection of peace with and recognition of the Jewish state, even at the cost of creating a Palestinian one.
As CAMERA has noted, the U.S. and Israel have extended numerous offers for a Palestinian state, in 2000 at Camp David, 2001 at Taba and 2008 among other instances. Palestinian leaders, refusing to so much as submit a counteroffer, refused each of them.
Indeed, as foreign affairs analyst Clifford May pointed out in a Washington Times commentary, shortly after Israel seized the West Bank and the Gaza Strip during the 1967, from Jordan and Egypt respectively, it extended offers to return these territories—both of which had been occupied by these Arab nations since the 1948 War. Arab leaders spurned these offers at the subsequent Khartoum conference—a fact that USA Today omits ("The Six-Day War and the 50-year occupation," June 7, 2017).
As May succinctly put it, the 1967 "war and the motive behind it"—genocide of the Jews and the destruction of Israel—"caused the occupation—not the other way around."
USA Today has previously failed to note Palestinian rejectionism, as CAMERA has highlighted (see, for example "USA Today Omits Israeli Peace Offers While Covering 'Peace Push,'" May 26, 2017). However, the omission of this pertinent information in a more than 1,500-word article on the "occupation" is stark. Particularly given that considerable portions of USA Today's report focus on eastern Jerusalem—and the rejected 2008 offer would have given Palestinians a state with its capital there.
Elsewhere, the paper omits crucial context, claiming: "Israel does not treat East and West Jerusalem equally when it comes to spending on infrastructure. The western side gets the lion's share of improvements." However, this too omits Arab responsibility. As CAMERA has pointed out ("The New York Times, the 'Newspaper of Broken Record,'" Oct. 18, 2015), Arab neighborhoods in eastern Jerusalem often build illegally, without permits, creating infrastructure problems. Additionally, many Arab-dominated areas of eastern Jerusalem refuse to pay taxes or take advantage of their ability to vote in municipal elections; hindering their ability to address such issues.

Posted by SD at 02:32 PM | Comments (0)
June 02, 2017
The Post Prints Fareed Zakaria's Fake News on Iran

A May 25, 2017 Washington Post Op-Ed by CNN host Fareed Zakaria misled readers about the extent of the Islamic Republic of Iran's connection to terrorist groups.
Zakaria's commentary ("How Saudi Arabia Played Donald Trump") focused on Saudi Arabia's connection to Islamist terror groups. The host of CNN's self-described "flagship foreign affairs show," entitled GPS, correctly pointed out that "for five decades, Saudi Arabia has spread its narrow, puritanical and intolerant version of Islam—originally practiced almost nowhere else—across the Muslim world." That ideology, Wahhabism, has influenced Islamist terror groups, including the Islamic State of Iraq and Syria (ISIS) and al-Qaeda.
Zakaria provided Post readers with details about how the Kingdom has exported Wahhabism via Saudi-funded mosques, clerics and programs. But when discussing Iran's support of terrorism the CNN host stumbled, claiming that it "would be wildly inaccurate to describe" Tehran as the "source of jihadist terror."
Doubling down, Zakaria asserted:
"More than 94 percent of deaths caused by Islamic terrorism since 2001 were perpetrated by the Islamic State, al-Qaeda and other Sunni jihadists. Iran is fighting those groups, not fueling them. Almost every terrorist attack in the West has had some connection to Saudi Arabia. Virtually none has been linked to Iran."
However, this both minimizes and misleads on Iran's role in supporting terrorism. As CNN itself has noted, in 2016 the U.S. State Department declared Iran to be the "top state sponsor of terror ("State Department report finds Iran is top state sponsor of terror," June 2, 2016)." Tehran received this dubious distinction in numerous previous years as well.
Zakaria would have readers believe that Iran is merely a "destabilizing force in the Middle East" that "supports some very bad actors."
Massive international terrorist organizations, such as Hezbollah—which, from its Lebanese safe haven controls about as much territory as ISIS—receive extensive Iranian support. Hezbollah has conducted terrorist attacks in the Western hemisphere, including the 1992 and 1994 bombings of Jewish day care and community centers in Argentina. In 2011, an Iranian plot to blow up a Washington D.C. restaurant—an attempt to murder a Saudi official—was foiled. That plot emanated from the Islamic Revolutionary Guard Corps (IRGC), a massive entity that trains U.S.-designated terrorists groups, such as Hamas, Palestinian Islamic Jihad, and others as Yaacov Katz and Yoaz Hendel noted in their 2012 book Israel Vs. Iran: The Shadow War.
Indeed, Iran funds numerous Sunni terrorist groups that have murdered Americans. In addition to Palestinian terror groups like Hamas and PIJ, Iran also has ties to al-Qaeda. The bipartisan 9/11 commission report, which investigated the Sept. 11, 2001 al Qaeda terror attacks — the largest mass casualty terrorist attack in U.S. history — pointed out that there was "strong evidence that Iran facilitated the transit of al Qaeda members into and out of Afghanistan before 9/11, and that some of these were future 9/11 hijackers." After the U.S. invasion of Afghanistan in 2001, many al Qaeda terrorists fled to neighboring Iran — where they received sanctuary under the guise of "home detention." The Islamic Republic refused to extradite them to their home countries for prosecution. And, as CAMERA noted in a September 8, 2016 Washington Times Op-Ed, the U.S. has sanctioned numerous top al-Qaeda officials who were residing in Iran—including a son of Osama bin Laden, the terror group's founder.
Many in the media have frequently failed to note the Islamic Republic's ties to terror groups, including al-Qaeda and its descendant and future rival, ISIS. Zakaria, with his academic credentials, regular Washington Post columns, and CNN show, has contributed to this misunderstanding.
Posted by SD at 02:02 PM | Comments (0)