« New York Times Downplays Clash as Demonstration | Main | USA Today Omits Israeli Peace Offers While Covering 'Peace Push' »
May 23, 2017
More Missing Peace from The Washington Post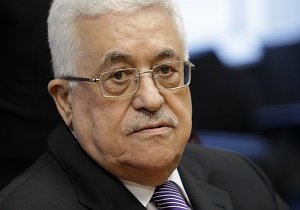 PA President Mahmoud Abbas

The Washington Post has, once again, missed an opportunity to inform readers about Palestinian leadership rejecting U.S. and Israeli offers for peace and statehood.
A May 22, 2017 report by Washington Post Jerusalem bureau chief William Booth and reporter Ruth Eglash, ostensibly about President Donald Trump's hopes to broker a peace deal between Israelis and Palestinian Arabs, noted the cynicism of analysts and area residents. It failed, however, to fully detail why such skepticism exists ("On the Israeli and Palestinian street: Shrugs, cynicism and a dash of 'crazy hope' for Trump visit").
The Post—striking a tone of false equivalency—claimed:
"President Obama's last effort to make peace between Palestinians and Israelis fell apart in 2014, with both sides blaming the other for the impasse. Presidents Clinton, Bush and Obama pressed for a 'two state solution' with a sovereign Palestinian nation the goal."
In fact, Palestinian leadership has long rejected opportunities for statehood if it meant living in peace with and recognizing the legitimacy of the Jewish state. The Palestinian Authority (PA) refused U.S. and Israeli offers in 2000 at Camp David, 2001 at Taba and 2008 after the Annapolis Conference. As CAMERA pointed out in The Baltimore Sun, the 2008 offer included unprecedented concessions, including nearly all of the West Bank and the opportunity for a Palestinian state with its capital in eastern Jerusalem ("Israeli skepticism of Abbas is justified," May 3, 2017). Yet, PA President Mahmoud Abbas rejected that offer "out of hand," and refused to so much as make a counteroffer. Ditto for Abbas' predecessor, Yasser Arafat, in 2000 and 2001.
One could go farther back: Arabs living in British-ruled Mandate Palestine refused opportunities for statehood in 1937 after the Peel Commission, refused the United Nations plan for partition in 1947 and Palestine Liberation Organization (PLO) leader Arafat spurned Egyptian President Anwar Sadat's attempts to get Palestinian autonomy in the territories of the West Bank and Gaza as part of the 1978 Camp David accords, among others. In the latter instance, as CAMERA's Alex Safian has noted, "Arafat refused and did everything he could to undermine Sadat and the Camp David Accords, with PLO gunmen even murdering West Bank Palestinians who supported Sadat's approach ("Palestinians Rejected Statehood Three Times, Claim Frustration—with Israel," Sept. 22, 2011)."
The Post omitted this relevant history, while neglecting to mention other pertinent facts. For instance, the paper quoted a Palestinian named Nader Nasser Adin, who claimed that U.S. has "done nothing for the benefit of the Palestinians," since Israel was reestablished in 1948—an event that Adin called a "catastrophe." What Adin calls a catastrophe was the decision by Arab leaders to reject a "two-state solution" and to make war on the fledging Jewish state. Further, the U.S. gives copious amounts of aid to the PA. Financial assistance from the U.S. has been preconditioned—since the authority's creation as a result of the 1990s Oslo process—on Palestinian leaders working towards peace with Israel.
Instead, PA leaders have continually violated the terms under which the authority was created, including that any outstanding issues will be resolved in bilateral negotiations and a stop to anti-Jewish incitement.
The Washington Post has a long history of ignoring Palestinian rejectionism. As CAMERA has pointed out, in 2016 the paper offered numerous reports and editorials detailing "the last gasp" and "the death of the two-state solution." Yet, the paper habitually fails to detail the party responsible for the lack of a Palestinian state: Palestinians themselves.
Posted by SD at May 23, 2017 01:03 PM
Comments
Guidelines for posting
This is a moderated blog. We will not post comments that include racism, bigotry, threats, or factually inaccurate material.
Post a comment