« USA Today Omits Israeli Peace Offers While Covering 'Peace Push' | Main | CAMERA Featured Letter-Writer »
May 26, 2017
ABC TV Popular Series Quantico Stops Demonizing Israel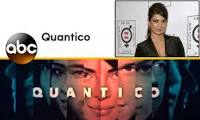 As the first season came to an end in May 2016 for ABC TV's Quantico weekly melodrama series, it ceased to demonize Israel. Its Jewish character "Simon Asher" (played by non-Jewish actor Tate Ellington pictured above) was used by the fictional series to vilify Israel.
Asher asserted that he perpetrated certain acts as an Israeli soldier ("I was in the Israeli Defense Forces [IDF]. They sent me into Gaza. I didn't just see things. I did things. Things that haunt me every single day of my life."). This suggests the image of post-war Nazis excusing their crimes on the grounds they were just obeying orders. Asher claimed that "greenhouses were bombed by the Israelis in the Gaza Strip" in the 2014 conflict. In fact, in the real world, there is not a scintilla of evidence of this. There is proof, however, that Gazans themselves vandalized these greenhouses abandoned by departing Israeli farmers.
In the real world, contradicting repeated false allegations that Israel's military has perpetrated inhumane acts against civilians, General Martin Dempsey, former chairman of the U.S. Joint Chiefs of Staff, told Congress that Israel had gone out of its way to avoid civilian casualties. "No army in the world acts with as much discretion and great care as the IDF in order to minimize damage. The U.S. and the U.K. are careful, but not as much as Israel," Colonel Richard Kemp, a former commander of British forces in Afghanistan, testified on Sept. 4, 2014.
ABC had described the premise of the melodrama as: "A diverse group of recruits has arrived at the FBI Quantico Base for training. They are the best, the brightest and the most vetted, so it seems impossible that one of them is suspected of masterminding the biggest attack on New York City since 9/11."
Asher had been confronted with the specter of his and Israel's (alleged) crimes by fellow FBI recruit "Nimah Amin" (a Muslim character played by Yasmine al-Massri, a Lebanese actress of Palestinian Arab descent) who accused him of a major bombing. The melodrama showed that Asher had acquired the material for a bomb and created the plan that led to the bombing of New York's Grand Central Station. He was abetted by another Jewish character. Oren, an Orthodox Israeli Jew, bearded and with side-curls (the facial hair of very religious Jewish men), was the bomb builder.
Season two running from Sept. 25, 2016 to May 15, 2017 contained neither demonization of Israel nor the Asher character. In fact, viewers were surprised that Asher had been transformed from being an anti-U.S. terrorist into an American hero who sacrificed his life for his country and it was shown that "Liam" (Josh Hopkins) was actually the terrorist. It was an amazing reversal for the slickly produced series that began on Sept. 27, 2015, in which only one foreign country, Israel, was defamed.
It is noteworthy that Quantico has been written and directed by a large enough team (17 writers, 29 directors) to produce alternative episodes for any of the broadcasts.
Who or what might have influenced the reversal?
The most potent online exposures of Quantico's anti-Israel propaganda were provided by CAMERA and Zionist Organization of America (ZOA). CAMERA's February 2016 report "ABC TV's Quantico Melodrama Demonizes Israel With Falsehoods" (published prior to the undemonizations) includes a 7.5 minute unique video montage of Quantico's first season anti-Israel segments.
As CAMERA's 2016 report points out, inevitably some viewers will grant authenticity to false assertions in a fictional drama if it is slickly produced and staged. Accordingly, what Quantico says matters and such dramas, therefore, need to be exposed.
Posted by MK at May 26, 2017 05:44 PM
Comments
I stopped watching the show as soon as they started to demonize Israel and have not watched it since
Posted by: Geoff Seaman at June 8, 2017 03:23 PM
Guidelines for posting
This is a moderated blog. We will not post comments that include racism, bigotry, threats, or factually inaccurate material.
Post a comment