« Where's the Coverage? New Palestinian Mayor is a Murderer | Main | Reuters Marks Six Day War Jubilee With Skewed Jerusalem Infographic »
May 19, 2017
Politico: Convicted Palestinian Terrorist is an 'Urbane Diplomat'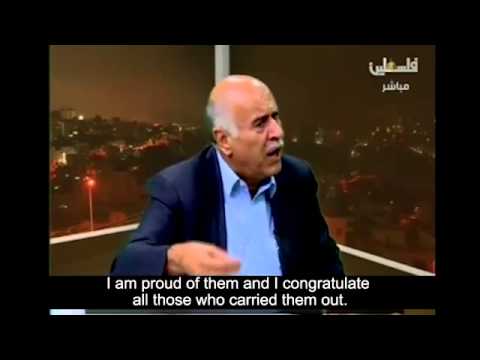 Jibril Rajoub

Politico, the Washington D.C.-based publication that covers politics and policy, has claimed that a convicted terrorist and virulent anti-Semite, Jibril Rajoub, is an "urbane diplomat." The paper's May 3, 2017 dispatch ("Palestinians for Trump") minimized Palestinian terrorism while omitting Palestinian rejection of U.S and Israeli offers for peace and statehood.
Politico, reporting on Palestinian assessments of the Trump administration, used Jibril Rajoub as a source. Reporter Bryan Bender identified Rajoub as a "member of the central committee of Fatah, the moderate wing of the Palestinian leadership." Noting that he had lunch with Rajoub at a "trendy restaurant…on Ramallah's Al Jihad Street," Bender called his source "an urbane diplomat who runs the Palestinian Football Federation and was a longtime adviser to the late Palestinian leader Yasser Arafat." But this innocuous description effectively whitewashes who Rajoub is.
Jibril Rajoub is a convicted—and unrepentant—terrorist who was sentenced to life in prison for throwing a hand grenade at an Israeli army bus in 1970. He was released in 1985 in exchange for three Israeli hostages being held by the Popular Front for the Liberation of Palestine (PFLP), a U.S.-designated terrorist group.
Shortly after his release, Rajoub served as an adviser to top Fatah and Palestine Liberation Organization (PLO) operative Khalil al-Wazir, whose nom de guerre, Abu Jihad, is Arabic for "Father of Jihad." Al-Wazir was responsible for murdering 124 Israelis, including 11 athletes at the 1972 Munich Olympics Games. He also took part in the 1978 Coastal Road massacre that killed 38 civilians, including 11 schoolchildren. His associate, Rajoub, has—on numerous occasions—voiced his support for the anti-Jewish violence that he himself once engaged in.
As CAMERA has noted, Rajoub expressed support for the so-called stabbing intifada, in which Palestinians attacked and murdered Israelis with knives, rocks, cars and guns over an eighteen-month period in late 2015-2016 ("Palestinian University Honors Terrorist with 'Cultural Event,'" Feb. 16, 2016). Speaking about such terror attacks, which including the stabbing of an infant, among other atrocities, Rajoub called them "acts of bravery, I am proud of them [terrorists]."
Rajoub's stated support for the stabbing intifada—along with other top Fatah officials like Palestinian Authority (PA) President Mahmoud Abbas—runs counter to Politico's claim that the violence was merely "lone-wolf attacks." In fact, top Palestinian officials encouraged and praised the attacks. And Middle East analyst Jonathan Halevi of the Jerusalem Center for Public Affairs has alleged that Palestinian leaders helped to "orchestrate" them ("Analyst: Palestinian Leadership Behind 'Spontaneous Attacks,'" CAMERA, Dec. 1, 2015).
Rajoub has also made use of the antisemitic trope of comparing Jews to Nazis. As The Times of Israel reported, Rajoub has called Israeli Prime Minister Benjamin Netanyahu a "Nazi" as well as a "fascist." Yet, it is Rajoub who has displayed autocratic tendencies, having had a student arrested and imprisoned for criticizing—on a Facebook post—Rajoub's management of the Palestinian soccer team.
Rajoub—when not speaking to gullible Western journalists—has also stated his tactical reason for supporting negotiations with Israel: To buy time for the Palestinians to increase their strength and destroy the Jewish state. During a May 2, 2013 interview with a Lebanese T.V. channel, Rajoub stated that negotiations were only temporary, exhorting: "I swear that if we had a nuke, we'd have used it this very morning ("Guardian's Myopia Strikes LA Times," CAMERA, June 19, 2013).
Nonetheless, Politico uncritically quotes Rajoub, who blamed Israel for the lack of peace and a two-state solution. No mention whatsoever is made of the numerous U.S. and Israeli offers for a Palestinian state in exchange for peace with the Jewish state, in 2000 at Camp David, 2001 at Taba and 2008 after the Annapolis Conference. Palestinian leadership refused all of these offers, with Rajoub's boss, PA President Abbas, rejecting the 2008 offer "out of hand."
In an article ostensibly about the prospects for a Palestinian state, the twin omissions of Palestinian rejectionism and the Palestinian Authority's support for terrorism are striking.
Posted by SD at May 19, 2017 10:43 AM
Comments
Guidelines for posting
This is a moderated blog. We will not post comments that include racism, bigotry, threats, or factually inaccurate material.
Post a comment