« April 2017 | Main | June 2017 »
May 31, 2017
New York Times Eliminating Public Editor Position
When The New York Times created the job of public editor, at the recommendation of a committee tasked with a journalism scandal at the newspaper, the newspaper's executive editor Bill Keller described the position as a benefit to the newspaper and its credibility. It represents "a pair of professional eyes, familiar with us but independent of the day-to-day production of the paper, can make us more sensitive on matters of fairness and accuracy, and enhance our credibility," he said.
Those eyes will soon be permanently shut. The newspaper today announced it is discontinuing the public editor position, even before the term of current editor Liz Spayd is set to end.
Publisher Arthur Sulzberger Jr. pointed to social media in justifying the move. While the position was once necessary, he insisted, "today, our followers on social media and our readers across the internet have come together to collectively serve as a modern watchdog, more vigilant and forceful than one person could ever be." The explanation echoed that given several years ago by the Washington Post's Marty Baron. "There is ample criticism of our performance from outside sources, entirely independent of the newsroom, and we don't pay their salaries," he said.
But Public Editors (or ombudsmen, as they are often called) should not be confused with random critics on Twitter. Unlike most social media users, they're able to lace up their shoes, walk down the hall, knock on a journalist's door, and ask pointed questions about this decision or that coverage. As importantly, they can report back to readers about what they heard, and how they assess the response, on the pages of the same newspaper where the article in question appeared.
As Minnesota Public Radio's Bob Collins wrote about Baron's comments, "That's nonsense. Newsrooms don't really care about public criticism, which is often uninformed, but historically they have cared when someone with some journalism chops questions the decisions."
Collins said the same about Sulzberger's statement. "Readers simply do not carry the weight of a fellow journalist where criticism is concerned."

Other journalists have likewise criticized the decision.
Eliminating the position of Public Editor does not seem like a great idea. Frankly, I'd love to see us add one. https://t.co/JhgxuzhS6y

— Steven Rich (@dataeditor) May 31, 2017
As a former ombudsman and newspaperman, I don't approve.

The New York Times is eliminating the public editor role https://t.co/89H4HMxaz4

— John Scalzi (@scalzi) May 31, 2017
3. The one thing an ombud or public editor can almost always do is hold feet to the fire, and get a real answer out of management.

— Margaret Sullivan (@Sulliview) May 31, 2017
The @nytimes reasons for getting rid of the public editor either mean they're lying or don't understand the Internet. Tough choice https://t.co/6HMK1OTKVN

— Joan Walsh (@joanwalsh) May 31, 2017
Posted by GI at 12:38 PM | Comments (1)
May 30, 2017
CAMERA Featured Letter-Writer
Recently, the New Jersey Jewish News featured a flattering portrayal of Breaking the Silence, an NGO with a history of publishing unreliable information attempting to portray the IDF in a negative light. CAMERA Letter-Writer Toby Block wrote to the NJJN:
Dear Editor:

The picture painted by Breaking the Silence defames the Israel Defense Forces while doing nothing to alleviate the suffering of the Palestinian people. The group doesn't report incidents of alleged abuse to Israeli military authorities who, therefore, can't correct problems and punish wrongdoers. In addition, the group promotes an inaccurate Palestinian narrative.

The Arabs of Palestine were denied their first-ever chance at sovereignty when Arab nations went to war to prevent Israel's rebirth. Jordan illegally held the currently-disputed land for nineteen years, ethnically cleansing it of its indigenous Jewish population but never making a move to establish a Palestinian state. Following Israel's liberation of the land (while defending her people from intended genocide), Palestinian leaders flatly rejected Israeli proposals for the creation of a Palestinian state. Those who want to end "the occupation" should be pressuring the Palestinian leadership to negotiate with Israel and begin preparing their people to live in their new state, peaceably, beside the nation-state of the Jews.
To join CAMERA's letter-writing team, sign up here.
Posted by kabe at 02:49 PM | Comments (0)
May 26, 2017
ABC TV Popular Series Quantico Stops Demonizing Israel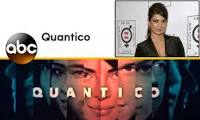 As the first season came to an end in May 2016 for ABC TV's Quantico weekly melodrama series, it ceased to demonize Israel. Its Jewish character "Simon Asher" (played by non-Jewish actor Tate Ellington pictured above) was used by the fictional series to vilify Israel.
Asher asserted that he perpetrated certain acts as an Israeli soldier ("I was in the Israeli Defense Forces [IDF]. They sent me into Gaza. I didn't just see things. I did things. Things that haunt me every single day of my life."). This suggests the image of post-war Nazis excusing their crimes on the grounds they were just obeying orders. Asher claimed that "greenhouses were bombed by the Israelis in the Gaza Strip" in the 2014 conflict. In fact, in the real world, there is not a scintilla of evidence of this. There is proof, however, that Gazans themselves vandalized these greenhouses abandoned by departing Israeli farmers.
In the real world, contradicting repeated false allegations that Israel's military has perpetrated inhumane acts against civilians, General Martin Dempsey, former chairman of the U.S. Joint Chiefs of Staff, told Congress that Israel had gone out of its way to avoid civilian casualties. "No army in the world acts with as much discretion and great care as the IDF in order to minimize damage. The U.S. and the U.K. are careful, but not as much as Israel," Colonel Richard Kemp, a former commander of British forces in Afghanistan, testified on Sept. 4, 2014.
ABC had described the premise of the melodrama as: "A diverse group of recruits has arrived at the FBI Quantico Base for training. They are the best, the brightest and the most vetted, so it seems impossible that one of them is suspected of masterminding the biggest attack on New York City since 9/11."
Asher had been confronted with the specter of his and Israel's (alleged) crimes by fellow FBI recruit "Nimah Amin" (a Muslim character played by Yasmine al-Massri, a Lebanese actress of Palestinian Arab descent) who accused him of a major bombing. The melodrama showed that Asher had acquired the material for a bomb and created the plan that led to the bombing of New York's Grand Central Station. He was abetted by another Jewish character. Oren, an Orthodox Israeli Jew, bearded and with side-curls (the facial hair of very religious Jewish men), was the bomb builder.
Season two running from Sept. 25, 2016 to May 15, 2017 contained neither demonization of Israel nor the Asher character. In fact, viewers were surprised that Asher had been transformed from being an anti-U.S. terrorist into an American hero who sacrificed his life for his country and it was shown that "Liam" (Josh Hopkins) was actually the terrorist. It was an amazing reversal for the slickly produced series that began on Sept. 27, 2015, in which only one foreign country, Israel, was defamed.
It is noteworthy that Quantico has been written and directed by a large enough team (17 writers, 29 directors) to produce alternative episodes for any of the broadcasts.
Who or what might have influenced the reversal?
The most potent online exposures of Quantico's anti-Israel propaganda were provided by CAMERA and Zionist Organization of America (ZOA). CAMERA's February 2016 report "ABC TV's Quantico Melodrama Demonizes Israel With Falsehoods" (published prior to the undemonizations) includes a 7.5 minute unique video montage of Quantico's first season anti-Israel segments.
As CAMERA's 2016 report points out, inevitably some viewers will grant authenticity to false assertions in a fictional drama if it is slickly produced and staged. Accordingly, what Quantico says matters and such dramas, therefore, need to be exposed.
Posted by MK at 05:44 PM | Comments (1)
USA Today Omits Israeli Peace Offers While Covering 'Peace Push'
Israeli Prime Minister Yitzhak Rabin, U.S. President Bill Clinton and PLO head Yasser Arafat on the White House lawn in 1993

A May 24, 2017 USA Today article on President Trump's visit to Israel discussed his hopes to broker an Israeli-Palestinian peace ("Trump's peace push a difficult path"). However, Today reporter Gregory Korte failed to inform readers about previous U.S. and Israeli offers that could have led to a Palestinian state.
The paper claimed that "deep divisions" existed between Israelis and Palestinians and noted "Every president since Richard Nixon has tried to bring about a permanent peace agreement…"
Yet, USA Today omitted U.S. and Israeli offers for a "two state solution" in exchange for peace with, and recognition of, the Jewish state. In recent years, such offers were extended to the Palestinian Authority (PA) in 2000 at Camp David, 2001 at Taba and 2008 after the Annapolis Conference. The PA rejected—without so much as a counteroffer—each of these opportunities.
The 2008 offer by the government of Israeli Prime Minister Ehud Olmert included 93% of the West Bank (Judea and Samaria) and a Palestinian state with its capital in eastern Jerusalem. Additionally, as The Jerusalem Post noted:
"Olmert essentially agreed to forgo sovereignty of the Temple Mount in Jerusalem, Judaism's holiest site, and proposed that in the framework of a peace agreement, the area containing the religious sites in Jerusalem would be managed by a special committee consisting of representatives from five nations: Saudia Arabia, Jordan, Palestine, the United States and Israel."
PA President Mahmoud Abbas rejected this plan "out of hand," and literally failed to call Israeli negotiators back.
Not only did USA Today omit this relevant information, but the paper also failed to note recent U.S. and Israeli attempts to restart negotiations. As CAMERA noted in The Times of Israel, Abbas rejected a peace initiative, presented in person, by then-U.S. Vice President Joe Biden in March 2016. Abbas similarly refused a 2014 attempt by then-U.S. Secretary of State John Kerry to restart negotiations.
In its report on Trump's visit to Israel, USA Today wrote that the president "sidestepped the question of Israeli settlements in Palestinian territory, something that he and President Obama have both said do not help the peace process." Although this could mislead readers to think that Jewish communities in the West Bank have been expanding externally, in fact, they have not; most of the expansion has been internal, the result of natural population growth and not from new arrivals.
Nor are settlements the obstacle to peace that USA Today implies; as a December 2016 Washington Post editorial pointed out, "80 percent of that growth has was in areas that Israel would likely annex in any future settlement." Further, in November 2009, Israel—in an attempt to restart negotiations with the PA—declared a 10-month settlement freeze. This too was met with Palestinian rejectionism. And this too was omitted in Today's dispatch.
To its credit, USA Today's report did note the issue of PA-payments to terrorists, reporting on the "so-called Martyrs Fund that provides payments to families of Palestinians killed or imprisoned for attacking Israelis." However, the omission of the numerous opportunities spurned by Palestinian leaders—in a report on why a "peace push" has a "difficult path"—is striking.
Posted by SD at 02:37 PM | Comments (0)
May 23, 2017
More Missing Peace from The Washington Post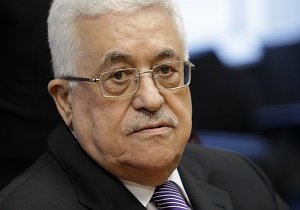 PA President Mahmoud Abbas

The Washington Post has, once again, missed an opportunity to inform readers about Palestinian leadership rejecting U.S. and Israeli offers for peace and statehood.
A May 22, 2017 report by Washington Post Jerusalem bureau chief William Booth and reporter Ruth Eglash, ostensibly about President Donald Trump's hopes to broker a peace deal between Israelis and Palestinian Arabs, noted the cynicism of analysts and area residents. It failed, however, to fully detail why such skepticism exists ("On the Israeli and Palestinian street: Shrugs, cynicism and a dash of 'crazy hope' for Trump visit").
The Post—striking a tone of false equivalency—claimed:
"President Obama's last effort to make peace between Palestinians and Israelis fell apart in 2014, with both sides blaming the other for the impasse. Presidents Clinton, Bush and Obama pressed for a 'two state solution' with a sovereign Palestinian nation the goal."
In fact, Palestinian leadership has long rejected opportunities for statehood if it meant living in peace with and recognizing the legitimacy of the Jewish state. The Palestinian Authority (PA) refused U.S. and Israeli offers in 2000 at Camp David, 2001 at Taba and 2008 after the Annapolis Conference. As CAMERA pointed out in The Baltimore Sun, the 2008 offer included unprecedented concessions, including nearly all of the West Bank and the opportunity for a Palestinian state with its capital in eastern Jerusalem ("Israeli skepticism of Abbas is justified," May 3, 2017). Yet, PA President Mahmoud Abbas rejected that offer "out of hand," and refused to so much as make a counteroffer. Ditto for Abbas' predecessor, Yasser Arafat, in 2000 and 2001.
One could go farther back: Arabs living in British-ruled Mandate Palestine refused opportunities for statehood in 1937 after the Peel Commission, refused the United Nations plan for partition in 1947 and Palestine Liberation Organization (PLO) leader Arafat spurned Egyptian President Anwar Sadat's attempts to get Palestinian autonomy in the territories of the West Bank and Gaza as part of the 1978 Camp David accords, among others. In the latter instance, as CAMERA's Alex Safian has noted, "Arafat refused and did everything he could to undermine Sadat and the Camp David Accords, with PLO gunmen even murdering West Bank Palestinians who supported Sadat's approach ("Palestinians Rejected Statehood Three Times, Claim Frustration—with Israel," Sept. 22, 2011)."
The Post omitted this relevant history, while neglecting to mention other pertinent facts. For instance, the paper quoted a Palestinian named Nader Nasser Adin, who claimed that U.S. has "done nothing for the benefit of the Palestinians," since Israel was reestablished in 1948—an event that Adin called a "catastrophe." What Adin calls a catastrophe was the decision by Arab leaders to reject a "two-state solution" and to make war on the fledging Jewish state. Further, the U.S. gives copious amounts of aid to the PA. Financial assistance from the U.S. has been preconditioned—since the authority's creation as a result of the 1990s Oslo process—on Palestinian leaders working towards peace with Israel.
Instead, PA leaders have continually violated the terms under which the authority was created, including that any outstanding issues will be resolved in bilateral negotiations and a stop to anti-Jewish incitement.
The Washington Post has a long history of ignoring Palestinian rejectionism. As CAMERA has pointed out, in 2016 the paper offered numerous reports and editorials detailing "the last gasp" and "the death of the two-state solution." Yet, the paper habitually fails to detail the party responsible for the lack of a Palestinian state: Palestinians themselves.
Posted by SD at 01:03 PM | Comments (0)
May 21, 2017
New York Times Downplays Clash as Demonstration
The New York Times downplays a Palestinian attack in an incident Thursday that ended with an Israeli settler shooting dead one of the Palestinians who bombarded his car with rocks. The Times' online headline states that the Israeli fired on Palestinian protesters and ignores the Palestinian rock-throwing, as if the Israeli fired on demonstrators doing nothing more than waving flags:
Similarly, the print edition headline is "Protester Is Shot Dead By Settler in West Bank."
The article's first three paragraphs refers to "demonstration," "protest," "demonstrators" or "protesters" a total of six times to describe violent clashes in which Palestinians attacked soldiers and/or civilians with rocks:
An Israeli settler whose car was caught up in a pro-Palestinian street demonstration in the West Bank on Thursday opened fire on the protesters, killing a 23-year-old Palestinian man and wounding a news photographer.

The protest, held in support of Palestinian prisoners on a hunger strike that has now lasted 32 days, was one of several marred by violence recently.

At a protest near the city of Ramallah on Thursday, Israeli soldiers fired on demonstrators, wounding one Palestinian. The day before, a settler fired a gun at protesters blocking roads near Ramallah and throwing stones; a 19-year-old Palestinian was injured in that episode.
Though the second paragraph does refer to "several [protests] marred by violence," it fails to indicate that in the deadly incident Thursday Palestinians used violence, while the preceding paragraph did note the Israeli shooting, which was the result of the unmentioned Palestinian attack.
Not until the fifth paragraph does The Times acknowledge: "Israelis point to video images showing the settler's car, a small silver hatchback, being pounded by rocks and surrounded by dozens of demonstrators." The digital edition also provides a hyperlink to the video.
Contrast The Times' articles downplaying the Palestinians' attack on the Israelis to those of the wire services, which clearly state that Palestinians attacked the Israeli's car. The Associated Press, whose own photographer was injured, apparently by the Israeli, noted in the headline that the "protesters" engaged in violence citing a clash: "Protester killed, AP journalist wounded in West Bank clash."
It included in the first paragraph (not the fifth, like The Times') the fact that Palestinians were throwing rocks at the Israeli's car:
An Israeli settler opened fire on Thursday at Palestinian demonstrators after his car was pelted with stones, killing a young man and wounding an Associated Press photographer who was covering the unrest, according to witnesses, video footage and medical officials.

The shooting occurred at the Hawara checkpoint in the northern West Bank, where dozens of Palestinian protesters were demonstrating in solidarity with hunger-striking Palestinian prisoners held by Israel. Hundreds of prisoners are taking part in the strike, which began on April 17.

Security camera video from the scene shows a large crowd of demonstrators blocking a main road, preventing cars, including the one driven by the settler, from passing.

As a Palestinian ambulance crosses into his lane, the man's vehicle lurches through the crowd, pushing into some of the protesters, prompting demonstrators to kick and pelt the vehicle with stones. (Emphases added.)
Reuters, also referred to "clashes" in the headline, and likewise noted in the first paragraph that Palestinians were attacking the Israeli ("Palestinian killed as settler opens fire during West Bank clashes"). Reuters' story begins:
A Palestinian man was killed in the occupied West Bank on Thursday when an Israeli settler opened fire as protesters crowded around his car and pelted it with rocks, according to multiple accounts.

A Reuters photographer and other witnesses said hundreds of Palestinians had gathered near the city of Nablus to show support for Palestinian prisoners on hunger strike in Israeli jails. During their demonstration, they blocked a main road used by both Palestinians and Israeli settlers.

The Israeli military said the Palestinians began throwing rocks at passing vehicles, including one belonging to a settler. (Emphases added.)
Posted by TS at 06:22 AM | Comments (1)
Reuters Marks Six Day War Jubilee With Skewed Jerusalem Infographic
May 23 Update: Reuters Corrects Six Day War Jerusalem Infographic, But Leaves Flawed Original in Place
Reuters marks the 50th anniversary of the Six Day War with an infographic in English, French and Spanish which explicitly states that east Jerusalem "is home to Islam's third holiest site," but which ignores the fact that the area is also home to Judaism's holiest sites. The Temple Mount is Judaism's holiest site, and the nearby Western Wall is the holiest site where Jewish prayer is permitted.
Reuters' skewed reference to the holy status of Jerusalem in Islam, while ignoring the city's even more significant sacred status in Judaism, directly counters the 2015 reassurance from a Reuters editor that "[w]hen we say that the Al Aqsa mosque compound (or Noble Sanctuary) is the holiest site in Islam outside Saudi Arabia, or that it is the third holiest site in Islam, we also point out that the Temple Mount is the holiest site in Judaism."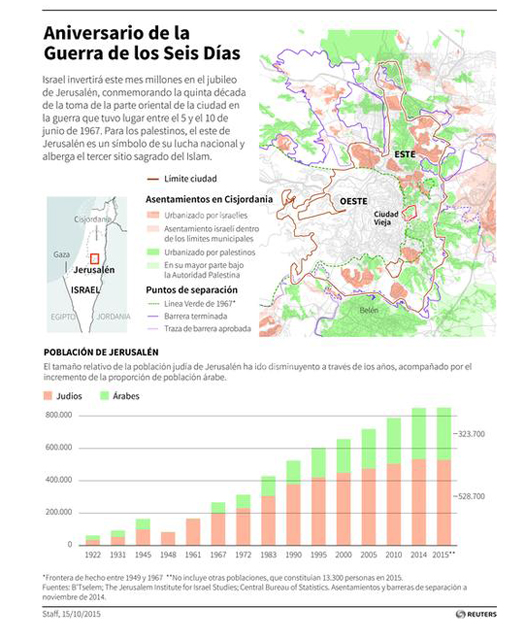 CAMERA last week contacted Reuters editors to request that they amend this tilted infographic, but they have failed to do so. Contact Reuters here to request that they add that east Jerusalem is home to Judaism's holiest sites.
Posted by TS at 01:52 AM | Comments (3)
May 19, 2017
Politico: Convicted Palestinian Terrorist is an 'Urbane Diplomat'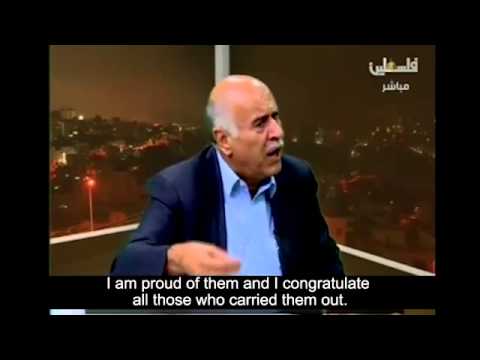 Jibril Rajoub

Politico, the Washington D.C.-based publication that covers politics and policy, has claimed that a convicted terrorist and virulent anti-Semite, Jibril Rajoub, is an "urbane diplomat." The paper's May 3, 2017 dispatch ("Palestinians for Trump") minimized Palestinian terrorism while omitting Palestinian rejection of U.S and Israeli offers for peace and statehood.
Politico, reporting on Palestinian assessments of the Trump administration, used Jibril Rajoub as a source. Reporter Bryan Bender identified Rajoub as a "member of the central committee of Fatah, the moderate wing of the Palestinian leadership." Noting that he had lunch with Rajoub at a "trendy restaurant…on Ramallah's Al Jihad Street," Bender called his source "an urbane diplomat who runs the Palestinian Football Federation and was a longtime adviser to the late Palestinian leader Yasser Arafat." But this innocuous description effectively whitewashes who Rajoub is.
Jibril Rajoub is a convicted—and unrepentant—terrorist who was sentenced to life in prison for throwing a hand grenade at an Israeli army bus in 1970. He was released in 1985 in exchange for three Israeli hostages being held by the Popular Front for the Liberation of Palestine (PFLP), a U.S.-designated terrorist group.
Shortly after his release, Rajoub served as an adviser to top Fatah and Palestine Liberation Organization (PLO) operative Khalil al-Wazir, whose nom de guerre, Abu Jihad, is Arabic for "Father of Jihad." Al-Wazir was responsible for murdering 124 Israelis, including 11 athletes at the 1972 Munich Olympics Games. He also took part in the 1978 Coastal Road massacre that killed 38 civilians, including 11 schoolchildren. His associate, Rajoub, has—on numerous occasions—voiced his support for the anti-Jewish violence that he himself once engaged in.
As CAMERA has noted, Rajoub expressed support for the so-called stabbing intifada, in which Palestinians attacked and murdered Israelis with knives, rocks, cars and guns over an eighteen-month period in late 2015-2016 ("Palestinian University Honors Terrorist with 'Cultural Event,'" Feb. 16, 2016). Speaking about such terror attacks, which including the stabbing of an infant, among other atrocities, Rajoub called them "acts of bravery, I am proud of them [terrorists]."
Rajoub's stated support for the stabbing intifada—along with other top Fatah officials like Palestinian Authority (PA) President Mahmoud Abbas—runs counter to Politico's claim that the violence was merely "lone-wolf attacks." In fact, top Palestinian officials encouraged and praised the attacks. And Middle East analyst Jonathan Halevi of the Jerusalem Center for Public Affairs has alleged that Palestinian leaders helped to "orchestrate" them ("Analyst: Palestinian Leadership Behind 'Spontaneous Attacks,'" CAMERA, Dec. 1, 2015).
Rajoub has also made use of the antisemitic trope of comparing Jews to Nazis. As The Times of Israel reported, Rajoub has called Israeli Prime Minister Benjamin Netanyahu a "Nazi" as well as a "fascist." Yet, it is Rajoub who has displayed autocratic tendencies, having had a student arrested and imprisoned for criticizing—on a Facebook post—Rajoub's management of the Palestinian soccer team.
Rajoub—when not speaking to gullible Western journalists—has also stated his tactical reason for supporting negotiations with Israel: To buy time for the Palestinians to increase their strength and destroy the Jewish state. During a May 2, 2013 interview with a Lebanese T.V. channel, Rajoub stated that negotiations were only temporary, exhorting: "I swear that if we had a nuke, we'd have used it this very morning ("Guardian's Myopia Strikes LA Times," CAMERA, June 19, 2013).
Nonetheless, Politico uncritically quotes Rajoub, who blamed Israel for the lack of peace and a two-state solution. No mention whatsoever is made of the numerous U.S. and Israeli offers for a Palestinian state in exchange for peace with the Jewish state, in 2000 at Camp David, 2001 at Taba and 2008 after the Annapolis Conference. Palestinian leadership refused all of these offers, with Rajoub's boss, PA President Abbas, rejecting the 2008 offer "out of hand."
In an article ostensibly about the prospects for a Palestinian state, the twin omissions of Palestinian rejectionism and the Palestinian Authority's support for terrorism are striking.
Posted by SD at 10:43 AM | Comments (0)
Where's the Coverage? New Palestinian Mayor is a Murderer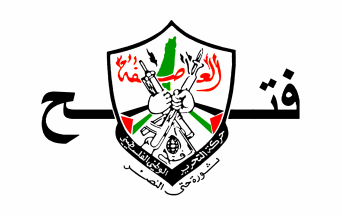 Fatah's logo

The newly elected Palestinian mayor of the West Bank (Judea and Samaria) city of Hebron is a convicted murderer. Although some outlets covered the story, such as The Jerusalem Post and The Times of Israel, the U.S. media largely ignored it.
Tayseer Abu Sneineh was elected on May 13, 2017 as part of Fatah's party list. Fatah is the movement that dominates the Palestinian Authority (PA) and the Palestine Liberation Organization (PLO). All three entities are headed by PA President Mahmoud Abbas.
Sneineh was "one of four Palestinians behind the murder of six Israeli yeshiva students in 1980," according to The Jerusalem Post. The Post, describing that attack, noted:
"The students, included two American citizens and a Canadian national, were part of a group that had danced from the Cave of the Patriarchs to Beit Hadassah in Hebron when Abu Sneineh and terror cell opened fire."
The terrorists—apparently not content with merely shooting the Jewish students—threw grenades at them as well. Six students were murdered: U.S. citizens Tzvi Glatt and Eli HaZe'ev, Canadian citizen Shmuel Marmelstein and Israelis Hanan Krauthammer, Gershon Klein and Ya'akov Zimmerman. An additional 20 others were wounded in the attack ("Palestinian terrorist in killing of 6 Jews elected Hebron mayor," The Times of Israel, May 14, 2017).
Sneineh and his accomplices were subsequently convicted of murder. In 1983, Sneineh was released in a prisoner swap.
As mayor of Hebron, the convicted terrorist will be leading one of the largest cities under PA control. According to The Times of Israel, residents of the nearby Jewish community of Kiryat reported hearing "gunfire as Hebron residents celebrated the election results."
Although the PA is a major recipient of U.S. and international aid—and PA President Abbas met with U.S. President Donald Trump in Washington D.C. the week prior—many Western news outlets ignored Sneineh's election. A Lexis-Nexis search of major papers, including The Washington Post, USA Today, The Baltimore Sun, among others, showed no coverage of Sneineh's victory or of the Palestinian elections themselves.
As CAMERA pointed out in an April 26, 2017 Washington Jewish Week Op-Ed ("The Washington Post's Jewish Home Fixation"), the press frequently fails to report on internal Palestinian political developments. If they were to do so, they would find that terror and murder are frequently prerequisites for a career in Palestinian politics. Abbas himself reportedly served as the chief financier for the 1972 Munich Olympic Games terror attack, in which Palestinian terrorists brutally murdered Israeli athletes.
Henry Kissinger, the former U.S. Secretary of State, once remarked: "The task of the leader is to get people from where they are to where they have not yet been." By continually choosing terrorists and murderers as leaders, it's worth asking just where Palestinian society is headed.

Posted by SD at 08:57 AM | Comments (1)
May 18, 2017
France 24 Arabic Headline Fail on Jerusalem Attack
France 24 Arabic has taken a page out of the book of the Jordanian government: blaming Israeli police for killing a Jordanian tourist, while ignoring the fact that the tourist repeatedly stabbed the Israeli officer in the head and neck. The wounded officer managed to fatally shoot his assailant.
France 24 Arabic's grossly distorted headline about the May 13 attack in Jerusalem was: "Israeli police kill Jordanian tourist; Amman blames Israel."
France 24's article was drawn from AFP, whose solid headline in English was: "Jordanian stabs Israeli officer in Jerusalem, shot dead: police." In addition, the accompanying Arabic article notes that, according to police, the Jordanian attacked the officer with a knife. (Video of the Jordanian's attack on the officer substantiates the police's information.)
France 24's shoddy Arabic headline earned the media outlet an entry on CAMERA's popular document "Wave of Palestinian attacks accompanied by spate of bad writing." CAMERA has contacted Arabic France 24 editors to request a correction.
Meanwhile, France 24 in English has failed to correct its headline which erroneously identifies the Jordanian attacker as Palestinian. That error originated with an early AFP report, which was long ago corrected.
For the Arabic version of this post, please see CAMERA Arabic.
Posted by TS at 03:55 AM | Comments (0)
May 10, 2017
Where's the Coverage? Congress Acts to Thwart Palestinian-Pay-For-Terror

Fox News Channel has been the only television news network covering the pending Taylor Force Act in Congress (H.R. 1164) aimed at discouraging Palestinian Authority bounty payments to terrorists' families (Fox News, April 30, 2017).

There's been scant coverage of the story by newspapers and magazines. The New York Times belatedly got around to covering the Congressional action and then only as a part of another story – May 3 (page A9).
Congressional Democrats seem disinclined to support the bill being pushed by Republicans.

The Sunday, April 30 Fox five-minute report aired at 12:20 p.m.

Fox Website story paralleling the broadcast:
Bill in Congress would pressure Palestinian government to cut off terror-tied payments Eric Shawn reports: Taylor Force and terror money

Taylor Force was a West Point graduate who served in Afghanistan and Iraq... Taylor, who was 28, was walking along the Mediterranean boardwalk promenade with friends in Tel Aviv, when he was savagely knifed to death on March 8, 2016. His killer was identified as a Palestinian terrorist, 22-year-old Bashar Masalha, who authorities say went on a stabbing spree that also severely wounded ten others before he was shot dead by Israeli police.

[...]

Taylor's parents say their grief was compounded by the fact that the family of their son's murderer is making money off his death. The Palestinian Authority spends hundreds of millions of dollars a year paying jihadists and their survivors who were involved in acts of terrorism, and critics say some of those funds come from U.S. taxpayer money that Washington sends to the P.A. Palestinian Authority President Mahmoud Abbas is scheduled to meet with President Trump at the White House on May 3. It is expected that Trump will raise the issue of payments during the visit.

A congressional bill named for Taylor, the Taylor Force Act, would cut off the U.S. aid unless the Palestinian Authority stops the payments.

"Can you imagine growing up in a country where your government will pay you for killing someone else through a terrorist act?" asks South Carolina Republican Senator Lindsey Graham incredulously. He is the leading sponsor of the Senate legislation. "If you die as a terrorist, as a 'martyr,' your family will get an annual stipend greater than the average Palestinian earns. In this case, the terrorist who killed Taylor Force...was hailed as a hero, was basically given a state funeral, and his family was given money by the state," Graham says.

"The practice is inconsistent with American values, inconsistent with peace, and inconsistent with decency."

The House bill is sponsored by Colorado Republican Congressman Doug Lamborn and New York Republican Congressman Lee Zeldin.

"Taylor Force is an American hero," says Zeldin. "It's about letting the Force family know that we stand with him and they stand with their son...the United States Congress and President Trump will do the right thing."The U.S. government gives the Palestinian Authority more than $300 million a year. According to the P.A.'s on-line budget, it shells out that same amount to the families, or about 7 percent of its total budget.

[...]

Taylor's parents say the payments to Masalha's family were an additional shock after learning of their son's fate. Force was golfing when he suddenly received the phone call that no parent ever wants.Since that harrowing moment, the Forces and Taylor's sister, Kristen, have embarked on a deeply meaningful mission in Taylor's memory. They are trying to ensure that the incentives to commit terrorism are removed so that there will be no more victims. An important step, they say, is for Congress to pass the Taylor Force Act.

"Our main mission is to spread the word about the legislation," Force says."The Taylor Force Act is a good thing. It is not a Democrat thing, it is not a Republican thing, it's not Conservative or Liberal. It is to get things going in the right direction, the way they should be.

"It is so important that the Taylor Force Act passes, so that other sons and daughters, brothers and sisters aren't lost in this way," he says. "It's just a senseless loss."
This isn't the only example of Fox News Channel alone of the television news networks doing its due diligence concerning the Israeli-Palestinian conflict. Example where Israel was blamed in circumstances involving the death of several Palestinian Arabs but it was later shown that the actual culprits were Hamas Palestinians – CAMERA report – "CNN's Wolf Caught in Palestinian Trap." The same report was provided by The Washington Times with the title, "A Wolf that cried 'boy.'"
Does the media tend to limit news coverage negatively portraying the Palestinian Arabs in the conflict with the Jewish state? The evidence says yes for most media entities.
Posted by MK at 11:31 AM | Comments (2)