« March 2017 | Main | May 2017 »
April 28, 2017
CAMERA Featured Letter-Writer
When the New York Times recently printed an Op-Ed by convicted murderer Marwan Barghouti, Letter-Writer Elinor Weiss sent them the following:
The New York Times recently ran a guest editorial by Marwan Barghouti that rationalized his hunger strike in an Israeli prison. Some of Barghouti's demands include more television channels and cell phone availability.

The Times described Barghouti as a "Palestinian leader and parliamentarian," while Barghouti described himself as a "victim." Left out of the editorial is the fact that Marwan Barghouti is a terrorist who has organized suicide bombings of innocent people as they went about their daily lives. To many in the civilized world, those that died at the hands of Barghouti are the real victims.

The editorial only justifies the mistrust that many have in the New York Times. By withholding pertinent information and glorifying a murderer's credentials the Grey Lady has badly tarnished its own reputation. The Times has taken journalism to a new low.
Eventually, after contact from the Public Editor, Opinion Editors were persuaded to append an Editors' Note to the article, which explained that the piece had "neglected to provide sufficient context" about the offenses of which Barghouti was convicted.
Posted by kabe at 06:28 PM | Comments (0)
April 26, 2017
Palestinian Women Tried to Smuggle Explosives as Cancer Medicine, Media Shrugs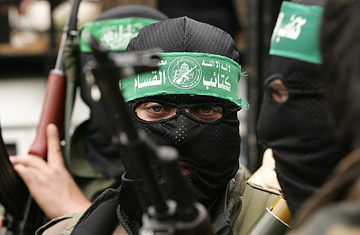 Two Palestinian sisters tried to smuggle explosives into Israel from Gaza by labeling them as cancer medication. The Israeli security service Shin Bet caught the two women on April 19, 2017. Many major U.S. news outlets failed to report the event.
Judah Ari Gross, a military correspondent for The Times of Israel, reported that the two sisters, both residents of Gaza, "received permits to enter Israel as one of them suffers from cancer and was traveling to an Israeli hospital for treatment." The women were carrying tubes labeled "medical materials" which, in fact, contained explosives.
Shin Bet stated that they believe the sisters, whom they would not identify, were smuggling the explosives on behalf of Hamas, the U.S.-designated terror group that rules the Gaza Strip. The explosives were found during a security check. Gross said that Israeli Prime Minister Benjamin Netanyahu recently mentioned Hamas plots to use sick Gazans who posses Israel travel permits to smuggle weapons.
The Times of Israel pointed out:
"While Israel tightly controls its crossings in and out of Gaza as part of a security blockade, it allows tens of thousands of Palestinians to leave the Strip to receive medical treatment in Israel, the West Bank and Jordan each year."
A few U.S. news media outlets, such as Fox News, covered the incident. However, many in the U.S. press, such as USA Today, The Washington Post, The New York Times and The Baltimore Sun, among others, failed to inform their readers about the smuggling attempt.
The Post's omission is particularly egregious, as the paper has, in the past, run several Op-Eds that have criticized Israeli border security measures. For example, The Post gave column space to U.S. Congressman Keith Ellison (D-MN) whose July 29, 2014 commentary was entitled "End the Gaza blockade to achieve peace." Other prominent Op-Ed writers, such as former President Jimmy Carter, have also, in years past, taken to the paper's editorial section to decry Israel's border security policies towards Gaza.
Posted by SD at 11:33 AM | Comments (0)
April 25, 2017
WCC Leader Deceives His Readers in RNS Op-Ed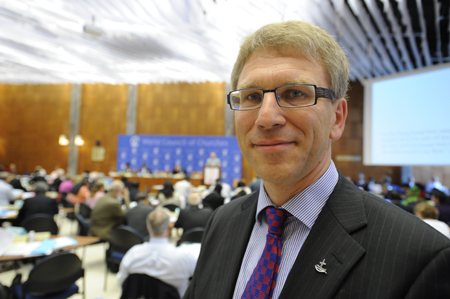 WCC General Secretary Rev. Dr Olav Fykse Tveit recently penned an evasive and deceptive op-ed for the Religion News Service (RNS).
Rev. Olav Fyske Tveit, the General Secretary of the World Council of Churches, has recently penned an op-ed defending the organization from criticism leveled by NGO Monitor, an Israel-based organization that highlights how non-governmental organizations (NGOs) cooperate with the effort to de-legitimize the Jewish state.
Close observers of Christian organizations such as the World Council of Churches, World Vision and more recently, World Relief will not be surprised to find that Tveit failed to deal honestly and directly with the charges leveled at the organization he leads.
Instead of dealing with the allegations as they are laid out against the WCC, Tveit distorts what was written, and then defends against charges that were never leveled. This is the type of behavior expected from politicians, not religious leaders.
Tveit's highly deceptive piece, which was published by the Religion News Service (RNS) on April 19, 2017, denies the allegation of "political warfare" leveled by NGO Monitor's Executive Director Gerald Steinberg in a piece published by RNS in late March.
Tveit reports that Steinberg's allegation of political warfare is based on the WCC's opposition to "attempts to redefine anti-Semitism to encompass any criticism directed toward the government of Israel." He then invokes a statement from Jewish Voice for Peace, which declares "definitions of anti-Semitism that treat criticism of Israel or of Zionism as inherently anti-Semitic are inaccurate and harmful."
Tveit's argument needs some unpacking. In order to do that we must look at what Steinberg actually wrote:
Ironically, the church body deserves much of the credit for inspiring the entry ban through its campaign to isolate and demonize Israel internationally.

For years, the WCC has played a leading role in this harsh political warfare. The organization's top officials participated in the virulently anti-Semitic NGO Forum of the 2001 U.N. Durban Conference, at which Israel was labeled as an apartheid state.

WCC leaders were instrumental in removing a paragraph in the NGO final declaration that condemned the "prevalence of antizionism and attempts to delegitimize the State of Israel through wildly inaccurate charges of genocide, war crimes against humanity, ethnic cleansing and apartheid, as a virulent contemporary form of anti-Semitism."
Here, Steinberg is on solid footing. At the 2001 UN Conference against Racism, Racial Discrimination, Xenophobia and Related Intolerance, a WCC delegation did exactly what Steinberg said it did – it moved for the elimination of a paragraph that condemned anti-Zionism and attempts to de-legitimize Israel with wildly inaccurate charges of genocide, war crimes, crimes against humanity, ethnic cleansing an apartheid.
The deleted paragraph described these wildly inaccurate charges against Israel as a "contemporary form of antisemitism leading to firebombing of synagogues, armed assaults against Jews, incitements to killing, and the murder of innocent Jews, for their support for the existence of the State of Israel…"
How do we know this? Because the WCC said so in a report it published soon after the Durban conference. The report, which is no longer displayed on the WCC's website (but can be seen here), stated that "the Ecumenical Caucus (i.e., delegates from the World Council of Churches), called for its deletion. Here is a screenshot of the text in question.
When we see what Steinberg actually wrote and compare it with what the WCC published in 2001, we can discern Tveit's deceptiveness when he writes the following:
Steinberg accuses the World Council of Churches, where I serve as general secretary, of "political warfare" because it has in the past opposed attempts to redefine anti-Semitism to encompass any criticism directed towards the government of Israel. (Emphasis added.)
What Tveit wrote is simply not true. Steinberg did not complain about the WCC's opposition to attempts redefine antisemitism to include "any criticism" of the Israeli government.
The paragraph that WCC delegates called to be removed from the Durban resolution was quite specific in its condemnation of "wildly inaccurate charges of genocide, war crimes against humanity, ethnic cleansing and apartheid."
Such charges cannot be characterized as what the JVP calls "criticism of Israel or of Zionism" as Tveit would have his readers believe. The paragraph was talking about inaccurate and defamatory charges against the Jewish state that lead to violence against Jews throughout the world.
The upshot is that Tveit mischaracterized Steinberg's allegation and then defended himself and the WCC from this straw man accusation.
Tveit engages in a similar deception in another paragraph:
Steinberg also criticizes the WCC for encouraging its members to read and respond to the Kairos Palestine document, written by a group of Christian Palestinians, which advocates nonviolent resistance to occupation. Since it contains language that also looks at root causes of violence and analyzes the conditions under which violence has been seen as legitimate in other contexts, Steinberg treats promotion of the document as an aggressive act — even though the document actually rejects violence. (Emphasis added.)
Again, it is necessary to read exactly what Steinberg wrote:
More recently, the Geneva-based WCC is a central promoter of the notorious Kairos Palestine Document, which characterizes terrorist acts of "armed resistance" as "Palestinian legal resistance," denies the Jewish historical connection to Israel in theological terms, calls to mobilize churches worldwide in the call for BDS (boycott, divestment and sanctions) of Israel and compares Israel with the South African apartheid regime.
Steinberg was quite explicit, precise and accurate in his complaints about the Kairos Palestine Document.
For example, in paragraph 1.5 the text portrays Palestinian armed resistance against Israel as "legal resistance," just as Steinberg reported.
Palestinian suicide bombers have, among other things, targeted Israeli civilians in hotels and restaurants. For the authors of the Kairos Document to suggest such attacks are "legal" is outrageous, and Steinberg is right to express his outrage over this aspect of the Kairos Document.
Steinberg also complains that the Kairos Document denies the Jewish connection to the land in theological terms. Again, he is on pretty solid footing.
In paragraph 2.2 the text declares that the Old Testament by itself, without the New Testament is a "dead letter" used to deprive the Palestinians of their rights. And in paragraph 2.3, the text declares that the land has a universal mission and that "the promise of the land has never been a political program, but rather the prelude to complete universal salvation."
These and other passages in the Kairos Document prompted the Central Conference of American Rabbis to conclude that while the text, opposes and negates "the applicability of scriptural texts, historical presence, and theological discourse to justify the existence of a Jewish state," it does "exactly that in making its case for a Palestinian State."
Steinberg levels two more charges about the Kairos Document. It mobilizes "churches worldwide in the call for BDS (boycott, divestment and sanctions) of Israel and compares Israel with the South African apartheid regime."
Again, Steinberg is on solid footing. The text's title ("Kairos Palestine") is borrowed from a document published in 1985 by anti-Apartheid protesters in South Africa. The whole point of the document was to portray Israel as an apartheid regime just like South Africa.
And as far as BDS is concerned, paragraph seven of the Kairos Palestine Document calls for "the beginning of a system of economic sanctions and boycott to be applied against Israel." (This call for a system of economic sanctions undermines Tveit's assertion that the WCC does not call for a general or cultural boycott of Israel — written elsewhere in his op-ed — for if the WCC does not support a general boycott, then why is it promoting the Kairos Document, which does?)
Rather than admit that everything Steinberg wrote about the Kairos Palestine is accurate, Tveit evades the issues raised. He writes that "Steinberg treats promotion of the document as an aggressive act — even though the document actually rejects violence."
The WCC's General Secretary is partially correct on this score. The document in question does reject violence, but at the same time, it uses theology to delegitimize Israel's claims to the land, portrays illegal attacks against Israeli civilians as "legal resistance," compares Israel to South Africa and calls for economic warfare against Israel.
In sum, the Kairos Document promotes contempt for Jewish presence and sovereignty in the Holy Land, downplays the horror of Palestinian terrorism and encourages people to engage in economic warfare against the Jewish state in a manner that is clearly reminiscent of historical Arab boycotts of Israel. All this lends substance and credence to Steinberg's assertion that the WCC has engaged in "campaigns to isolate and demonize Israel internationally."
Tveit simply cannot bring himself to admit that Steinberg's concerns about the Kairos Palestine Document and the WCC's promotion of this text are entirely legitimate.
Tveit must know that Steinberg is not alone in his concerns about the Kairos Document. Rabbi David Sandmel, Interfaith Director for the ADL spoke to the WCC's Central Committee in 2016. During his talk, Rabbi Sandmel declared explicitly that the Kairos Document was marred by "theological antisemitism." He also declared that the document's
treatment of the universal mission of the land is built on the supersessionist idea that the Jews' particular connection to the land was abrogated by the coming of Christ. The WCC's silence on this is disturbing.
Was Tveit not present during this talk? Or did he just forget what Sandmel said when it came time to respond to Steinberg's commentary?
In his defense of the WCC Tveit writes that "it is our Christian principles and teachings that compel us to insist on an equal measure of justice and dignity for all people, for Israelis and Palestinians alike."
If the WCC is truly committed to insisting on an equal measure of justice and dignity for Israelis and Palestinians, then why does the organization tolerate the ugly images and polemics put forth by Yusef Daher, the General Secretary of the Jerusalem Interchurch Center (JICC)? Daher, as many Snapshots readers will know has lamentably posted troublesome cartoons and commentaries on his Facebook page. Such images, detailed here and here, do not offer a message of dignity, but legitimate contempt and hostility toward Israeli Jews and the very existence of the Jewish state.
Despite repeated complaints about Daher's Facebook postings, which clearly contradict Tveit's assurances that the WCC is committed to promoting a message of dignity for Israelis, the WCC has yet to issue a public statement distancing itself from these postings.
Whether Tveit wants to admit it or not, the WCC has a problem with Israel, the Jewish state, and has been an intimate bystander to increasingly virulent expressions of contempt toward the Jewish people world wide. Steinberg is not alone in drawing attention to this problem.
For proof, watch this video. It's worth your time.
As the above video demonstrates, the previously mentioned Rabbi David Sandmel from the ADL made it perfectly clear that there was a problem with the WCC's approach to the Arab-Israeli conflict. He offered this message when he spoke to the WCC's Central Committee in 2016. His remarks, which included the following, were met with applause:
I have to wonder to what extent the persistence of antisemitism predetermines and distorts the WCC's approach to this conflict. I wonder how much the presence of antisemitism in the WCC contributes to global antisemitism, which has real world implications for me and my people.
Rather than write evasive and deceptive editorials like the one just published by RNS, Rev. Olav Fyske Tveit should exercise some leadership and confront the problems of antisemitism and anti-Zionism in the organization he leads.
Posted by dvz at 01:56 PM | Comments (0)
April 20, 2017
Politico Whitewashes Iranian Militias


Politico's report "Iranian-Americans, livid over Trump visa ban, to get their day in court," (April 17, 2017) sanitizes the role of Iranian militias fighting in Iraq and Syria.
In an article about a lawsuit brought forth by Iranian-American groups against a U.S. visa ban, Politico reporters Josh Gerstein and Nahal Toosi claim that "Iranian-supported militias have fought alongside U.S.-backed Iraqi forces to beat back the Islamic State." Although this is true—and Politico does note Tehran's role as a state-sponsor of terror—it omits important information about the militias.
Iranian-backed militias are indeed fighting the Islamic State in Iraq and Syria (ISIS). However, they are not doing so out of some altruistic motive as the Politico article might lead some to believe. Rather, the groups—also known as Popular Mobilization Units (PMUs)—are seeking to extend Tehran's influence. And, as CAMERA has noted, they are frequently committing atrocities while doing so ("Washington Times Covers Underreported Iran-backed Shi'ite Militias," CAMERA, Sept. 16, 2016). For example, mass graves of hundreds of executed Sunni Muslim civilians who were "liberated" from the Islamic State by PMUs, have been discovered.
The militias also have ties to terrorist groups, as Michael Pregent, an adjunct fellow at the Hudson Institute and a former intelligence adviser to U.S. Army Gen. David Petraeus, told CAMERA in a September 2016 interview. Indeed, the deputy commander of the PMUs, Abu Mahdi al-Muhandis, is the leader of Kata'ib Hezbollah.
Although the PMUs are, like the U.S. and its allies, fighting the Islamic State, they also serve as leverage for Iran. As CAMERA has pointed out, the Islamic Republic has threatened to use the Shi'ite militias against U.S. troops in the region should Washington not acquiesce to some of Tehran's wishes ("Where's the Coverage? Iran Threatens U.S. Troops," Dec. 11, 2015)
Iran is also backing Shi'ite militias, such as the newly formed so-called Golan Liberation Army, who have as their immediate goal the destruction of Israel. In a March 8, 2017 interview announcing that group's formation, militia spokesman Hasham Al-Mousawi, blamed the Jewish state for "Iraq's destruction" and claimed that the United States created ISIS.
Posted by SD at 12:34 PM | Comments (0)
April 18, 2017
The Post Attacks Israel While Reporting Jerusalem Terror Attack
PA President Mahmoud Abbas

A Washington Post report on an April 14, 2017 Palestinian terror attack omitted important context about the international community's anti-Israel bias. In so doing, the paper used the occasion of a terrorist attack to gratuitously attack the Jewish state.
In a dispatch ("Woman fatally stabbed in Jerusalem amid Good Friday gatherings," April 14, 2017), Post reporter Ruth Eglash detailed the fatal stabbing of a 21-year-old British exchange student, Hannah Bladon, by a Palestinian attacker named Jamil Tamimi. Bladon was murdered while she was riding the light rail in Jerusalem.
The Post described the incident as "the latest in a spate of stabbing, shooting and vehicular attacks by Palestinians over the last 18 months." But then the paper alleged:
"Israel has been accused internationally of being too heavy-handed in response to the attacks, which have left nearly 50 Israelis and more then 200 Palestinians dead. Israel says most of the Palestinians killed were attempting to carry out attacks against Israeli civilians, soldiers or police officers."
The report does not specify what "internationally" means. Presumably it means the United Nations, which includes countries such as Syria, Saudi Arabia, or Iran, oppressive regimes whose track record of singling out the Jewish state for opprobrium is well established.
According to U.N. Watch, a non-profit organization that monitors that international body, in 2016, the U.N. General Assembly adopted 20 resolutions condemning Israel and only 6 against the rest of the world combined: Bashar al-Assad's regime that uses poison gas on its own citizens only received three and North Korea and Iran, only one each. As CAMERA has noted, the U.N.'s own Secretary General recently admitted that his organization has an anti-Israel agenda.
Contrary to the claim pushed by The Post, Israel has been praised for exercising extraordinary judiciousness in its counter terror efforts. As the former chairman of the U.S. Joint Chiefs of Staff, Gen. Martin Dempsey, noted, among others, "the Jewish state has gone out of its way to avoid unnecessary casualties when fighting terror." Indeed, following the Israel-Hamas War in 2014, a multinational group of former top military professionals concluded that "Israel not only met a reasonable standard of observance of the laws of armed conflict, but in many cases significantly exceeded that standard ("Israel 'exceeded legal standards' in Gaza conflict, group tells U.N.," The Times of Israel, June 3, 2015)."
The Post report on the Jerusalem attack also omitted important information regarding the Palestinian leaderships' role in encouraging anti-Jewish violence. The paper claims that the so-called stabbing intifada that began in October 2015 "contrasts with the first and second intifadas of the 1980s and 2000s, which were centrally organized and included mass unrest." In fact, the violence began after Palestinian Authority President Mahmoud Abbas exhorted on official PA TV on Sept. 16, 2015: "We welcome every drop of blood that is spilled in Jerusalem." The terror that followed, while differing from the previous intifadas in scope, nonetheless received support from Palestinian officials.
As CAMERA has highlighted, The Post failed to report Abbas' incitement at the time ("The Washington Post: Palestinian Anti-Jewish Violence is an Israeli 'Sensational Charge,'" Sept. 16, 2016). Now, it seems that amnesia has settled in.
Posted by SD at 07:06 PM | Comments (2)
April 06, 2017
New Iranian-backed Group Targets Israel, Media M.I.A
Qasem Soleimani, head of the IRGC's Quds Force
An Iranian-backed Iraqi Shi'ite militia, Al-Nujaba, has announced the formation of the "Golan Liberation Army" to target Israel. The group's stated objectives have largely been ignored by the press.
According to the Middle East Media Research Institute (MEMRI), a non-profit organization that translates Arab, Iranian and Russian media, Al-Nujaba's spokesman Hashem Al-Mousawi, was interviewed by Iran's Tasnim News Agency on March 8, 2017. Al-Mousawi said:
"This army has been trained and has detailed plans. If the Syria regime asks us to, we are ready to act to liberate the Golan [from Israel] along with our allies."
Al-Nujaba's spokesman called Iran "a powerful country" that was "the only country that helped us and sent us its military advisors."
In the interview, Al-Mousawi also claimed that the United States and Saudi Arabia were responsible for the creation of the Islamic State in Iraq and Syria (ISIS). He blamed Israel for "Iraq's destruction."
Al-Nujaba was established by Akram Al-Ka'bi, who had previously been with the Iraqi Shi'ite militia Asaeb Ahl Al-Haqq before moving to Syria. Al-Nujaba has participated in the Syrian civil war, defending the country's embattled dictator Bashar Al-Assad. The group has fought in Aleppo Province, Damascus and Al-Raqqa. MEMRI's report says that Al-Nujaba operates Iranian drones and is trained by Iran's Islamic Revolutionary Guard Corps (IRGC) and Hezbollah, the Lebanese-based terror group that is also, in large measure, an Iranian proxy.
Despite threatening the United States and its key regional allies, some Western press have failed to note the formation of the "Golan Liberation Army."
A notable exception to the media's ignoring the story is the Washington Post dispatch (Netanyahu urges Putin to block Iranian power corridor on Israel's border, March 9, 2017) by reporters Ruth Eglash and David Filipov highlighted the threat facing the Jewish state by Iranian-backed militias. The Post noted the establishment of the Golan Liberation Army and that "Iran is also thought to have deployed missiles in Syria capable of reaching deep inside Israeli territory."
Other major U.S. news media outlets, such as USA Today and The Baltimore Sun, failed to report on Al-Nujaba's activities aimed at making war on the Jewish state.
With Bashar al-Assad having brutally maintained his grip on Syria, thanks in no small part to Russia and Iran, Tehran is likely to expect quite a bit in return. This is almost certain to include keeping its forces and proxies in position to attack Israel, a country that the Islamic Republic has sworn to destroy.
Posted by SD at 04:37 PM | Comments (0)