« In Haaretz in English, Petah Tikvah Attack Is Only 'Suspected' | Main | Jewish Voice for Peace Hosts Convicted Palestinian Terrorist »
February 13, 2017
Hamas Members Defect to ISIS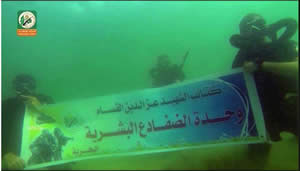 Hamas naval commandos

Hamas, the U.S.-designated terror group that rules the Gaza Strip, is losing operatives to the Sinai-affiliate of the Islamic State in Iraq and Syria (ISIS). The two groups, while rivals, share similar long-term objectives.
According to a recent Times of Israel report, a high-profile member of Hamas' naval commando unit, Abed al-Wahad Abu Aadara, defected to ISIS a year ago. Numerous other Hamas members have also joined ISIS in the Sinai, which is both a competitor and a sometime collaborator with the Gaza-based terror group.
Avi Issacharoff, a Times of Israel Middle East analyst, noted:
"In recent years Hamas has lost dozens of members of its military wing — the Izz ad-Din al-Qassam Brigades — to IS's Sinai Province, including a number of its fighters from the elite Nukhba unit. Many of these operatives left for Sinai with their families and relatives and now serve as the Sinai Province's main points of contact with Hamas. These defectors include a number of Hamas's experts on operating anti-tank missiles and assembling roadside bombs, who have provided substantial assistance to IS in its war against the Egyptian army."
Some of the Hamas defectors have been fairly high-profile operatives. Abu Malek Abu Shweish, a former "top assistant to the commander of Hamas' military wing in the Rafah area," and Abed al-Hila al-Qishta, a leader in Hamas' Izz ad-Din al-Qassam Brigades, are among the more noteworthy defectors, highlighted by Isaacharoff.
Despite the defections, Hamas and Islamic State operatives have cooperated on certain mutually beneficial objectives. For instance, members of Hamas' military wing in Rafah assist Islamic State Sinai operatives with weapons smuggling and transporting injured ISIS fighters into Gaza for medical care.
CAMERA has previously noted ("Hamas Cooperates with ISIS-Sinai," March 3, 2016) allegations of cooperation between Hamas and the Islamic State's Sinai province—including claims from an ISIS fighter that Hamas was providing communications and weapons systems to its fellow terror group. Both movements, while differing on strategy and tactics, share the same goals: The imposition of sharia law and the destruction of the West and Israel.
Despite their similar Islamist ideologies, some commentators have previously claimed that Hamas would never work with the Islamic State. Vox magazine's Max Fisher (now a New York Times reporter) treated with contempt Israeli Prime Minister Benjamin Netanyahu's March 2014 tweet comparing Hamas to the Islamic State. In an Aug. 25, 2014 article ("Hamas is not ISIS. Here's why Netanyahu says it is anyways") , Fisher wrote:
"As an analytical matter, Netanyahu's argument is flatly false. While Hamas and ISIS are both rightly classified by the US as terrorist groups, both target civilians, and both espouse Islamic and Arab supremacism, that does not make them at all linked, much less identical."
"The two groups are totally distinct. It's not just that there is no known connection, operational or otherwise, between Hamas and ISIS, although there isn't. They ultimately follow very different ideologies: Hamas will talk about Islamist extremism, but it is ultimately a Palestinian nationalist group first and foremost, one that is fighting to establish its vision of a Palestinian state."
Moreover, Fisher noted, "Hamas leader Khaled Meschaal [sic] publicly rejected any Hamas-ISIS comparison." Perhaps Fisher shouldn't have taken a Hamas leader at his word.
As CAMERA has noted, Hamas is only a Palestinian national group if one takes Palestinian nationalism to have as its cause bête noire the destruction of Israel—a fair argument, but one that Fisher, a frequent Israel critic, is unlikely to make.
Posted by SD at February 13, 2017 10:41 AM
Comments
Guidelines for posting
This is a moderated blog. We will not post comments that include racism, bigotry, threats, or factually inaccurate material.
Post a comment