« You Can't be Pro-Peace (Or Pro-Palestinian) If You Don't Hold Palestinian Leaders Accountable | Main | German School Hails Opposition to Holocaust Remembrance Day »
January 31, 2017
Yusef Daher At It Again, Lionizing "Terrorism's Christian Godfather"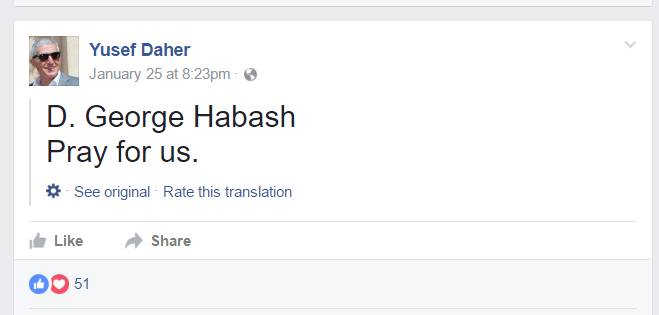 Yusef Daher, a Christian "peacemaker" in Jerusalem who enjoys the support of the World Council of Churches, is at it again. Daher, who serves as executive secretary of the WCC-supported Jerusalem Interchurch Center (JICC), recently posted a statement on Facebook asking for George Habash to "pray for us."
Daher posted this entry (screenshot above) on January 25, 2017, one day before the ninth anniversary of Habash's death in 2008. Daher's friends on Facebook responded with variations of the phrase, "God rest his soul."
Habash was a terrorist. He was a leader of the Popular Front for the Liberation of Palestine (PFLP), which was responsible for the Lod Airport Massacre, which resulted in the death of two dozen tourists, most of them Christians, in 1972. In 2008, Time published an article declaring Habash, "Terrorism's Christian Godfather." Here's a brief excerpt from the article:

Habash's group, the Popular Front for the Liberation of Palestine (PFLP), pioneered the hijacking of airplanes as a Middle East terror tactic — one eventually employed by the al-Qaeda hijackers on 9/11 — way back in 1968 when three PFLP armed operatives commandeered an Israeli El Al airliner enroute from Rome to Tel Aviv. Checking in for a flight has never been the same since.

Many PFLP operations remain etched into history as some of the most infamous acts of terrorism. In 1970, PFLP terrorists hijacked four airliners at one time, flew three of them to Jordan, blew them up, and triggered the Black September civil war between Jordan's Hashemite monarchy and Palestinian guerrillas. In 1972, Japanese Red Army terrorists working with the PFLP massacred 24 people at Israel's Lod International Airport (now called Ben Gurion International Airport).
The article assesses Habash's career as follows: "Habash succeeded in raising awareness of [the Palestinian], yet his extreme, vengeful methods also helped drench it in blood, and likely brought Palestinians no closer to freedom and dignity."
Why would Daher ask for prayers from such a man on the anniversary of his death? And how can the World Council of Churches not hold Daher to account for his ongoing incitement against Israel on his Facebook page?
(For more information about Daher's irresponsible postings, please click here, here, and here.)

Posted by dvz at January 31, 2017 02:37 PM
Comments
Guidelines for posting
This is a moderated blog. We will not post comments that include racism, bigotry, threats, or factually inaccurate material.
Post a comment