« CAMERA Featured Letter-Writer | Main | Major Catholic Outlets in U.S. Pass Over Archbishop's Death in Silence »
January 24, 2017
Updated: Peacemaker Supported by World Council of Churches Promotes Lie About Israel
Update: January 25, 2017
Yusef Daher has edited the Facebook post described below, deleting a link to an article from a fake news site that broadcast a lie about Israel's President Reuvin Rivlin. Here is a screenshot of the post below.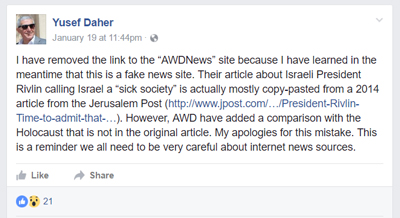 CAMERA commends Daher for doing the right thing and calls on him to remove other hateful posts from his social media accounts. It's what a peacemaker would do.
Here is the original post that drew attention to the fake news article on Daher's Facebook page:
Peacemaker Supported by World Council of Churches Promotes Lie About Israel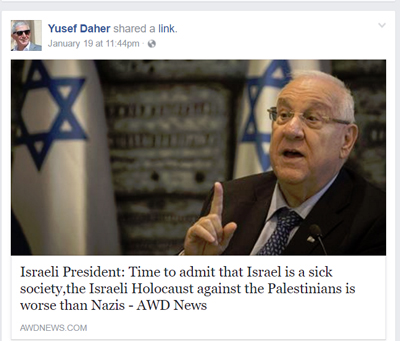 Yusef Daher just can't help himself.
Daher, who works as executive secretary of the Jerusalem Interchurch Center, an ecumenical "peacemaking" organization supported by the World Council of Churches, has a nasty habit of posting ugly anti-Israel propaganda on his Twitter and Facebook accounts. For example, in January 2016, he posted a picture an Israeli soldier getting kicked in the rear end by Jesus who is hanging on the cross.
And on October 13, 2015, Daher posted a picture that lionized Palestinian rock throwers. (Snapshot readers can read more about Daher's habit of posting hateful images here and here.)
Posting images like this is in direct contradiction to Daher's status as part of the ecumenical peacemaking community in Jerusalem supported by the World Council of Churches. Instead of promoting peace, Daher posts images that incite hostility toward Israel. CAMERA has prepared two articles about Daher's work, but the World Council of Churches has not responded publicly to Daher's postings, nor has Daher himself refrained from posting anti-Israel propaganda.
He's still at it.

For example, he recently posted a link to an article published on AWD, a well-known fake news side, that falsely attributes a quote to Israeli Presidnet Reuvin Rivlin. The article falsely reports that that Rivlin stated that Israel's treatment of the Palestinians is worse than the Holocaust. Here is a picture of the Facebook Post (which also appears at the top of this entry).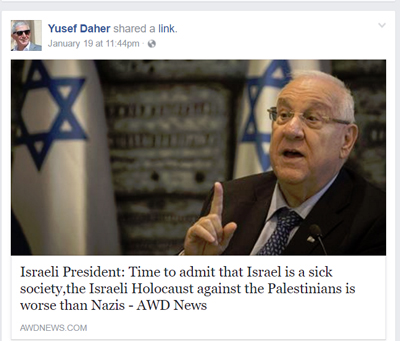 Just how many acts of incitement does Daher have to engage in before the people at the World Council of Churches who support his work in Jerusalem take notice and bring him to account?

Posted by dvz at January 24, 2017 03:45 PM
Comments
Even though I have zero regard for the WCC (their record of being perfectly fine with how Jerusalem was run between 1948 and 1967, and then shocked/SHOCKED! by the city since it's dared to have Israeli rule, makes them a DQ for ever trying to be part of any discussions on this or any other important matter again) I still thought that this was below even one of their barn boys, so I did some research and found something interesting: the fake news that Daher found is based on a real article from 2014 in the Jerusalem Post--and the only line the fake news site adds is the fraudulent one about Palestinians and Nazis. I sent the link to Facebook along with a block on Daher. Pretty sure they'll do nothing with it but it felt good to post anyway.
Posted by: Ben at January 25, 2017 12:13 PM
Guidelines for posting
This is a moderated blog. We will not post comments that include racism, bigotry, threats, or factually inaccurate material.
Post a comment