« December 2016 | Main | February 2017 »
January 31, 2017
German School Hails Opposition to Holocaust Remembrance Day
Benjamin Weinthal
In Germany, Muslim students of Arab and Turkish origins refused to participate in International Holocaust Remembrance Day events—and the school applauded the students' decision.
Benjamin Weinthal, a Jerusalem Post correspondent and fellow at the Washington D.C.-based think tank, Foundation for Defense of Democracies, covered the widely underreported story ("German Muslim Students Protest Holocaust Remembrance, Attack Israel," Jan. 27, 2017).
Muslim students at The Weiterbildungskolleg Emscher-Lippe high school in Gelsenkirchen, Germany refused to participate in Holocaust commemoration events held at the school. Part of the event included students holding signs saying "I Remember" or "We Remember." Instead, some Muslim students reportedly defaced the school's blackboard, writing "F**ck Israel, Free Palestine."
The school's director, Günter Jahn, approved of the student's decision, telling German newspaper Der Westen: "It is important that there is criticism. That is the basis for a discussion." Yet, as CAMERA and others have noted, antisemitism often masks itself as anti-Zionism; unprincipled and frequently discriminatory opposition to the world's sole Jewish state.
Antisemitism in Germany is on the rise, as Weinthal noted. Earlier in January 2017—shortly before the 75th anniversary of the Wannsee Conference in which Nazi leaders decided on the "final solution" for the so-called "Jewish problem"—German courts reaffirmed a legal decision that excused the torching of a synagogue in the city of Wuppertal by three Muslim men. The court claimed that the arson was merely an attempt to "draw attention to the blazing conflict between Israel and the Palestinians."
Antisemitic attacks in Germany doubled from 2015 to 2016, according to a World Jewish Congress report cited by Weinthal. The actual number of attacks may in fact be higher due to the "lack of standards to identify contemporary antisemitism in the Federal Republic."
That lack of standards is readily apparent if certain German schools and courts are an indicator.
Nor is Germany alone in Europe for blaming Jews for anti-Jewish violence. In France, for example, 60 percent of French citizens believe that Jews are at least partially responsible for rising antisemitism ("Poll: Majority in France Believe Jews Responsible for Antisemitism," CAMERA, Feb. 12, 2016).
As CAMERA has noted, many Western news media outlets routinely underreport the burgeoning antisemitism in Europe. A 2015 study by Tel Aviv University found that anti-Jewish violence went up forty percent in 2014 ("Violent antisemitic attacks up 40 percent—Where's the Coverage?" April 21, 2015). That report went received scant mention in the press.
By contrast, The Jerusalem Post's Weinthal frequently writes on antisemitism in Europe. His most recent report can be found here.
Posted by SD at 04:23 PM | Comments (1)
Yusef Daher At It Again, Lionizing "Terrorism's Christian Godfather"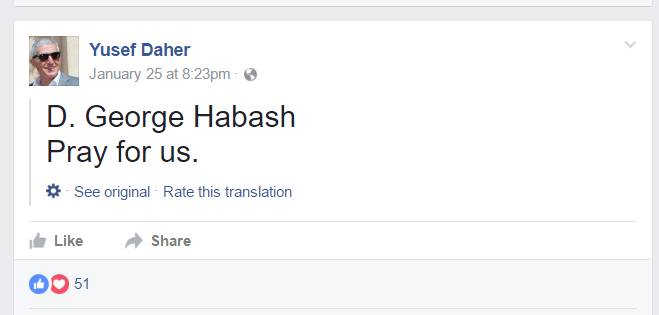 Yusef Daher, a Christian "peacemaker" in Jerusalem who enjoys the support of the World Council of Churches, is at it again. Daher, who serves as executive secretary of the WCC-supported Jerusalem Interchurch Center (JICC), recently posted a statement on Facebook asking for George Habash to "pray for us."
Daher posted this entry (screenshot above) on January 25, 2017, one day before the ninth anniversary of Habash's death in 2008. Daher's friends on Facebook responded with variations of the phrase, "God rest his soul."
Habash was a terrorist. He was a leader of the Popular Front for the Liberation of Palestine (PFLP), which was responsible for the Lod Airport Massacre, which resulted in the death of two dozen tourists, most of them Christians, in 1972. In 2008, Time published an article declaring Habash, "Terrorism's Christian Godfather." Here's a brief excerpt from the article:

Habash's group, the Popular Front for the Liberation of Palestine (PFLP), pioneered the hijacking of airplanes as a Middle East terror tactic — one eventually employed by the al-Qaeda hijackers on 9/11 — way back in 1968 when three PFLP armed operatives commandeered an Israeli El Al airliner enroute from Rome to Tel Aviv. Checking in for a flight has never been the same since.

Many PFLP operations remain etched into history as some of the most infamous acts of terrorism. In 1970, PFLP terrorists hijacked four airliners at one time, flew three of them to Jordan, blew them up, and triggered the Black September civil war between Jordan's Hashemite monarchy and Palestinian guerrillas. In 1972, Japanese Red Army terrorists working with the PFLP massacred 24 people at Israel's Lod International Airport (now called Ben Gurion International Airport).
The article assesses Habash's career as follows: "Habash succeeded in raising awareness of [the Palestinian], yet his extreme, vengeful methods also helped drench it in blood, and likely brought Palestinians no closer to freedom and dignity."
Why would Daher ask for prayers from such a man on the anniversary of his death? And how can the World Council of Churches not hold Daher to account for his ongoing incitement against Israel on his Facebook page?
(For more information about Daher's irresponsible postings, please click here, here, and here.)

Posted by dvz at 02:37 PM | Comments (0)
January 30, 2017
You Can't be Pro-Peace (Or Pro-Palestinian) If You Don't Hold Palestinian Leaders Accountable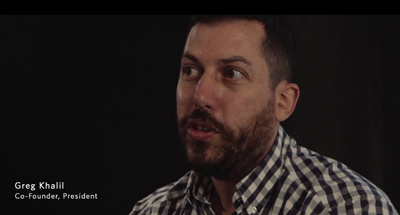 In early March, an organization called the Telos Group is going to hold its annual leadership conference in Washington, D.C. Billing itself as an activist organization that is pro-Palestinian, pro-peace and pro-Israel, the Telos Group is allegedly promoting a new understanding of the Arab-Israeli conflict — an understanding that allows outsiders (Evangelical Protestants mostly) to embrace the flattering notion that they can somehow bring peace between Jew and Arab in the Holy Land.
It's a naïve and arrogant view for people to embrace because it portrays the Israelis and the Palestinians as pawns that will do the bidding of well-meaning Christians from North America, as if the two groups of people are unable to discern for themselves the decisions they need to make for peace. Such a narrative denies the agency, intelligence and accountability of people in both Israel and in Palestinian society.
The condescension however, is mostly directed at the Palestinians. Examine the Telos Group's website for yourself and you'll find very little information about the antisemitic incitement in Palestinian society, nor will you see much condemnation of the corruption of Palestinian elites. By failing to hold Palestinian leaders accountable for their misdeeds, Telos Group activists reveal their underlying contempt for the Palestinians.
Noah Summers, an analyst writing in the Gatestone Institute has examined the organization and has documented some contradictions with the organization's message. She writes that while Telos staffer Greg Khalil (pictured above) invokes UN Resolution 242 in a manner that obligates Israel to yield territory to the Palestinians, he "neglects to mention that this "land-for-peace" resolution was premised on the Palestinians halting all violence against Israelis and recognizing the State of Israel."

Summers also complains that the Telos Group activists irresponsibly promote ties between Palestinian elites and Western donors. While promoting economic development in Palestinian society is a legitimate goal, Summers asks if the folks at the Telos Group have addressed the prospect of foreign funds being stolen by Palestinian elites or used to fund acts of terror. She writes:
While every pro-Israeli, pro-Palestinian, and pro-peace American longs for the day when Palestinians experience genuine economic freedom, they undoubtedly understand that money is fungible, and that in the West Bank and especially in Gaza, financial resources and economic products often end up in the hands of government and terrorist organizations instead of in the hands of impoverished Palestinians. The PayPal4Palestine movement (supported by the Palestinian companies who met with Telos) offered its assistance to PayPal to work around any legal issues by working with "officials." But those PA and Hamas officials are part of the very regimes responsible for stealing resources from the Palestinian people. The unsuccessful PayPal4Palestine movement did not call for the serious internal Palestinian reforms necessary to enable genuine economic prosperity to reach the average Palestinian suffering under an oppressive government.
Read the whole thing here.

Posted by dvz at 03:21 PM | Comments (1)
Netanyahu Supports Silent on Trump Travel Ban
"PM's anti-Jewish support for Trump's anti-Muslim decree" is a front-page headline of Haaretz's English print edition yesterday.
Similarly, Haaretz's online headline states: "Netanyahu's anti-Jewish Support for Trump's anti-Muslim Decree."

But Israeli Prime Minister Benjamin Netanyahu has not expressed any support for President Trump's move against immigration. In fact, Netanyahu has come under criticism for keeping silentabout Trump's executive order. The Times of Israel reported yesterday:

Former Likud party stalwart Dan Meridor on Sunday harshly criticized Prime Minister Benjamin Netanyahu for failing to condemn the new US administration's entry ban on citizens from certain Muslim states, arguing that the Jewish state should place Jewish values above political expediency. . .

In December 2015, Netanyahu himself issued a statement rejecting then-presidential candidate Trump's vow to ban Muslims from entering the US. On Sunday, however, he did not comment on the matter, and his spokesperson refused to respond to several Times of Israel queries.

In December 2015, Netanyahu himself issued a statement rejecting then-presidential candidate Trump's vow to ban Muslims from entering the US. On Sunday, however, he did not comment on the matter, and his spokesperson refused to respond to several Times of Israel queries.
Nor does the analysis by Chemi Shalev accompanying the erroneous Haaretz headline substantiate the claim that Netanyahu supports Trump's executive order. Shalev instead focuses on the timing of Netanyahu's tweet expressing approval Trump's decision to build a wall on the Mexican border -- in close proximity to the executive order regarding Syrians and Muslim immigrants. Shalev writes:
On Saturday, the Israeli prime minister applauded Trump's decision to set up a wall with Mexico, with the disputable claim, phrased in Trump-style syntax, "I built a wall along Israel's southern border. It stopped all illegal immigration. Great success. Great idea." Netanyahu's intervention on a topic that is in sharp political dispute in the U.S. is questionable enough, but the timing of his decision to identify so strongly with Trump, just after the president issued his executive order on Syrian refugees and Muslim immigrants - a move viewed widely as a declaration of hate against Muslims - is a reckless gamble.
Posted by TS at 05:54 AM | Comments (0)
January 27, 2017
Major Catholic Outlets in U.S. Pass Over Archbishop's Death in Silence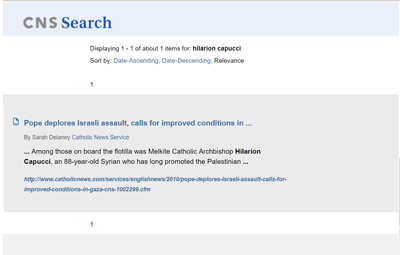 Catholic news outlets such as the Catholic News Service remained silent about the death of Archbishop Hilarion Capucci, who spent two years in an Israeli jail for smuggling guns for the PLO in the mid-1970s. Above is a screenshot of the search engine results for Archbishop Capucci's name in the Catholic News Service. The one link that appears is to a story about Capucci protesting the blockade of Gaza, but there's no story about his death and conviction on gun-smuggling charges.
Death came for the Archbishop; it got a lot of press. When Hilarion Capucci, a Melkite Archbishop who spent two years in an Israeli prison for smuggling guns for the PLO, died on Dec. 31, 2016, the New York Times wrote about it.
So did the BBC, The Washington Post, and the Associated Press. Crux, the Boston Globe website dedicated to covering the Catholic Church, also covered Capucci's death at the age of 94.
His death was lamented in a number newspapers in the Middle East as well.
The secular press covered Capucci's death, but most, if not all, Catholic media outlets in the United States appear to have passed over the Archbishop's passing in silence.
America Magazine didn't cover the story. Neither did the National Catholic Reporter, nor did the National Catholic Register. And interestingly enough, the Catholic News Service made no mention of Archbishop Capucci's death. CNS, did however, report about Capucci's involvement in a Gaza flotilla in 2010. (Screenshots of efforts to find articles related to Capucci's death on the websites of the outlets just listed are appended to the bottom of this entry.)

Clearly, Capucci's death was an important news story. Here is an excerpt of an article from CAMERA's main website about Capucci's career as a weapons smuggler:
Capucci was arrested by Israeli police on Aug. 18, 1974 and charged with smuggling weapons into the West Bank. The following day the New York Times reported that Capucci, who was born and raised in Syria, was accused of "acting as undercover liaison man between Al Fatah guerrilla group [in Lebanon] and Palestinian guerilla cells" in the West Bank. According to a Times summary, police reported that

large quantities of weapons and explosives were found hidden in his Mercedes sedan in Aug after he returned from visit to Lebanon. Source says Capucci was associated with abortive incident in May during Sec Kissinger's visit in which 3 Katyusha rockets were aimed at the center of Jerusalem. Rockets were discovered before they went off.

Later that month (Aug. 24), the Times reported that Capucci had allegedly told Israelis that he was "forced into guerrilla service by threats of blackmail." Capucci told the Israelis that he was threatened with physical violence and "the disclosure of actions that might jeopardize his position" within the church. The Times also reported that Capucci faced charges of being accessory to murder because three men who were accused of murdering a Jerusalem taxi driver obtained their weapons from one of Capucci's drop points.

During the trial, Capucci refused to give a statement or sworn evidence because he said Jerusalem was Arab territory and that "Israeli law does not apply in the city" (New York Times, Oct. 30, 1974).

Eventually, Capucci was convicted and sentenced to 12 years in prison. He spent two years in prison before the Israeli government released him after a special request from the Vatican.
Archbishop Capucci's misdeeds were a shameful episode of Catholic-Jewish relations. It's unfortunate that Catholic publications failed to report on his death and the controversy surrounding his life in a timely manner.
Appendix
Below are the screenshots of the efforts to find articles about Archbishop Capucci's death in America Magazine, the Catholic News Service, the National Catholic Reporter and the National Catholic Register.
America Magazine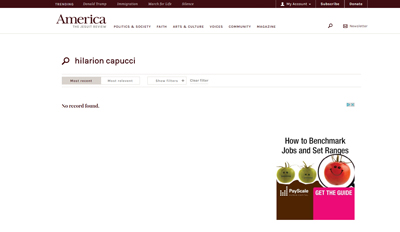 Catholic News Service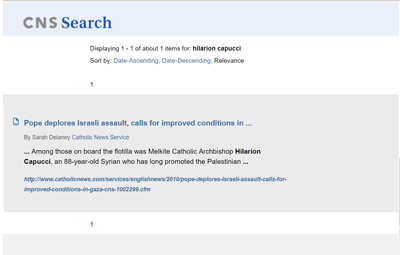 National Catholic Reporter
National Catholic Register
Posted by dvz at 01:51 PM | Comments (3)
January 24, 2017
Updated: Peacemaker Supported by World Council of Churches Promotes Lie About Israel
Update: January 25, 2017
Yusef Daher has edited the Facebook post described below, deleting a link to an article from a fake news site that broadcast a lie about Israel's President Reuvin Rivlin. Here is a screenshot of the post below.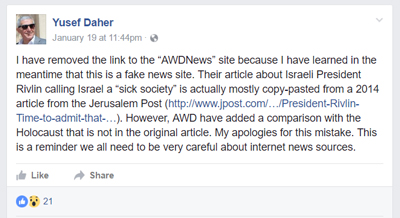 CAMERA commends Daher for doing the right thing and calls on him to remove other hateful posts from his social media accounts. It's what a peacemaker would do.
Here is the original post that drew attention to the fake news article on Daher's Facebook page:
Peacemaker Supported by World Council of Churches Promotes Lie About Israel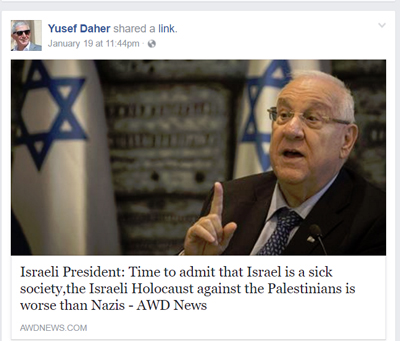 Yusef Daher just can't help himself.
Daher, who works as executive secretary of the Jerusalem Interchurch Center, an ecumenical "peacemaking" organization supported by the World Council of Churches, has a nasty habit of posting ugly anti-Israel propaganda on his Twitter and Facebook accounts. For example, in January 2016, he posted a picture an Israeli soldier getting kicked in the rear end by Jesus who is hanging on the cross.
And on October 13, 2015, Daher posted a picture that lionized Palestinian rock throwers. (Snapshot readers can read more about Daher's habit of posting hateful images here and here.)
Posting images like this is in direct contradiction to Daher's status as part of the ecumenical peacemaking community in Jerusalem supported by the World Council of Churches. Instead of promoting peace, Daher posts images that incite hostility toward Israel. CAMERA has prepared two articles about Daher's work, but the World Council of Churches has not responded publicly to Daher's postings, nor has Daher himself refrained from posting anti-Israel propaganda.
He's still at it.

For example, he recently posted a link to an article published on AWD, a well-known fake news side, that falsely attributes a quote to Israeli Presidnet Reuvin Rivlin. The article falsely reports that that Rivlin stated that Israel's treatment of the Palestinians is worse than the Holocaust. Here is a picture of the Facebook Post (which also appears at the top of this entry).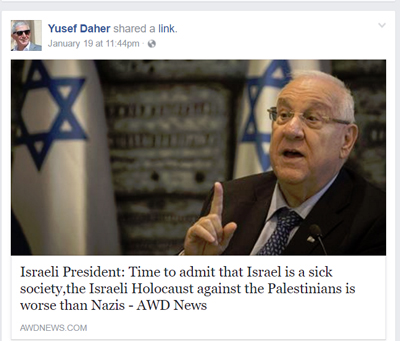 Just how many acts of incitement does Daher have to engage in before the people at the World Council of Churches who support his work in Jerusalem take notice and bring him to account?

Posted by dvz at 03:45 PM | Comments (1)
CAMERA Featured Letter-Writer
After CAMERA researcher Gilead Ini highlighted the New York Times' double standard with respect to Israel in an article in The Tower, letter-writer D. Lubinsky sent the following to that newspaper:
Dear NY Times,
In recent articles you refer to "occupied Palestinian territory" rather than "disputed land" or even "occupied West Bank." Why does the Times use such distorted terms against Israel and no other country?
You don't talk of Kashmir as "occupied Pakistani territory" or "occupied Cyprus" or "occupied Cypriot territory" for the Turkish controlled part of the island, nor use analogous terms on Tibet, Kurdistan, Western Sahara ...
How long will it take the NY Times to stop its singling out of Israel? There never was a Palestinian state in the West Bank and when Jordan controlled that land till 1967, it did not talk of it as Palestinian territory. Moreover, Israel conquered it in a war of survival, and was prepared to hand it over to Palestinian leadership, if the latter were only prepared to agree to a peace that would end the conflict and allow a permanent Israel with definite boundaries.
In no other conflict, is so much bias directed at the party that was repeatedly attacked (namely Israel) over vitally strategic land, conquered in a war of survival, and that, if handed to implacable foes, would lead not to peace, but to more attacks - as stated openly by Palestinian leaders. How long will it take the NY Times to live up to a semblance of fairness?
D. Lubinsky
Posted by kabe at 01:07 PM | Comments (0)
January 23, 2017
Where's the Coverage of Iran's Military Buildup?

In a widely underreported event, Iranian lawmakers voted on Jan. 9, 2017 to expand military spending.
Citing Iranian Tasnim news, Reuters noted that the Islamic Consultative Assmbly, also known as the Majils, voted to increase military spending to five percent of the total budget. Iran had previously allocated slightly less than two percent of its 2015-16 budget for military expenditures.
In its report, Reuters described the vote as a "boost to Iran's military establishment ("Iran to expand military spending, develop missiles," Jan. 9, 2017)." The increase is part of a growth plan for 2016-2021 that was announced Iran's Supreme Ruler, Ayatollah Ali Khamenei, in July 2015. That plan calls for developing long range missiles, armed drones and cyber-war potential.
One hundred seventy-three Majils members voted in favor of the increase. Only ten cast votes against the buildup.
Many U.S. news outlets failed to report the vote, despite Iran being a frequent news topic. A Lexis-Nexis search of major print media, including The Washington Post, USA Today and The Baltimore Sun, among others, turned up not a single mention of the vote.
The lack of coverage is puzzling. The day before the vote, four Iranian vessels aggressively approached an American navy ship in the Strait of Hormuz—prompting the US Navy to fire warning shots. That event, reported by The Washington Post and others, received only a few sentence brief in USA Today and The Sun. As CAMERA has noted, Iran has previously threatened U.S. ships and personnel, although the media has often failed to cover such occurrences.
Reuters also highlighted that in a recent U.N. Security Council report, the organization's departing Secretary-General, Ban Ki-Moon, "expressed concern that Iran may have violated" a U.N. arms embargo "by supplying weapons and missiles to Hezbollah." Hezbollah is a Lebanese-based, Iranian-backed Shi'ite terrorist group that calls for Israel's destruction.
Iran itself has frequently pledged to destroy the Jewish state. As it arms itself and its proxies, it's worth asking: Where's the coverage?
Posted by SD at 12:35 PM | Comments (1)
January 18, 2017
UKMW Prompts Correction to SKY News Claim on US View of Settlements
On January 15, 2017, Sky News ran a segment titled 'Two-state solution under Trump', focusing on concerns that Israeli settlement construction and the president-elect's pledge to move the US embassy from Tel Aviv to Jerusalem could "spell the end of the two-state solution".
At roughly the two-minute mark of the roughly five-minute segment, the presenter, Sky News Middle East correspondent Alex Rossi, asserts – in an effort to contextualise construction across the green line – that the US views the settlements as "illegal".  
This claim is not accurate.
The US position since the early 80s has been that settlements are "illegitimate", not "illegal". Most notably, in September, Associated Press (AP) issued a correction (following communication with CAMERA's Jerusalem office).
UKMW alerted Sky to the error in the following tweets – which we followed up with an email to the network.
Earlier today, UKMW heard back from Sky producers that they upheld the complaint and thanked UKMW for bringing the information to their attention – particularly the AP correction.  Sky deleted the video in question, and re-published it without the false information on the US view of settlements. Sky also revised the accompanying online article, and deleted the Tweets and Facebook posts linking to the original video.
The full report on the correction can be read at:
https://ukmediawatch.org/2017/01/16/ukmw-prompts-correction-to-sky-news-claim-on-us-view-of-settlements/
Posted by SS at 02:56 PM | Comments (0)
January 16, 2017
If Hamas Assaults a Journalist, Does it Even Make the News?

On. Jan. 12, 2017, Hamas, the U.S.-designated terror group that rules the Gaza Strip, assaulted an Agence France-Press (AFP) photographer and detained—at gunpoint—an Associated Press journalist. Western media outlets largely ignored the violence against members of the press.
The unidentified photographer and journalist were covering a protest in which "thousands" of Palestinians "took to the streets…to protest chronic power cuts in the Hamas-ruled Gaza Strip," the AP reported ("In Rare Demonstration, Thousands Protest Power Cuts in Gaza," Jan. 12, 2017).
Hamas blocked journalists attempting to cover the event and the AP journalist "was briefly detained at gunpoint until he handed over his mobile phones to plainclothes security men."
The Foreign Press Association, which represents international media, reported that an AFP photographer was severely beaten in the head by Hamas members after he refused to hand over his camera.
Iyad Bozom, a Hamas spokesperson, denied that that the assault happened and that a journalist had been detained at gunpoint.
In its statement on the incident, the FPA said it "condemns this violent behavior in the strongest terms, and finds it especially shocking in light of verbal promises we have received from the Hamas officials to respect the freedom of the press. We hope that Hamas will properly investigate this incident and provide an explanation and apology for this unacceptable behavior by their forces."
As CAMERA has frequently noted, Hamas is a violent terror group—and similar to its rival Fatah that rules the West Bank—it has a long history of lying and intimidating and manipulating press outlets.
What is shocking isn't that Hamas—in a despicable act—attacked members of the press, but how little press coverage the assault received. The AP, for instance, expended three sentences on this incident. Curiously, in their report on the protests, The New York Times failed to mention the attack ("With Electricity in Short Supply, 10,000 Protest in Gaza, Defying Hamas," Jan. 13, 2017).
Other major U.S. news outlets, such as The Washington Post, USA Today and The Baltimore Sun, failed to provide their own reports on either the protests or the assault on the journalists. The Post, for example, merely carried an AP dispatch and only online. It's hard to fathom a similar lack of coverage had Israeli officials assaulted a journalist or thousands of people protested in Israel.

In fact, back in February 2016—during a period of extreme tension in Israel and frequent Palestinian terrorist attacks—Israeli border police briefly detained two Washington Post correspondents for 30 minutes for questioning. Israeli authorities later apologized and said the incident was an "unfortunate misunderstanding." Both The Washington Post ("Israel briefly detains two Post journalists, calls it an 'unfortunate misunderstanding,'" February 16) and The New York Times ("Israeli Officers Briefly Detain Two Journalists," February 16) provided readers with detailed reports on the incident.
Indeed, its particularly astonishing that The Washington Post and The New York Times failed to cover the assault given what they have deemed to be newsworthy in the not-so-recent past. The New York Times previously devoted an entire article—both in print and online—to the Israeli Prime Minister's dog biting someone at a dinner party ("Netanyahu's Dog Sinks Teeth Into Guests," Dec. 12, 2015). And as CAMERA has noted, in September 2016, The Washington Post ran a lengthy piece on Chinese tourists purportedly being overcharged at an Israeli restaurant.
Posted by SD at 04:21 PM | Comments (0)
January 12, 2017
Politico's Misleading Poll on Israeli-Palestinian Conflict

A Dec. 28-29 national tracking poll of American public opinion by Politico asked misleading questions about the Israeli-Palestinian Conflict.
The survey by Morning Consult and Politico asked multiple more than 60 questions, the vast majority of which had nothing to do with the Middle East, Israel or terrorism. However, two poll questions sought to ascertain the sentiment of respondents on UNSC Res. 2334, which deemed Israeli settlements in the West Bank illegal. The resolution was passed under Chapter 6 of the U.N. Charter and is thus considered advisory; it does not create any binding obligations and its passage does not make settlements "illegal ("Res. 2334: Game Changer or Not?" CAMERA, Dec. 24, 2016)." \
Poll question 13 asked, "How much have you seen, read or heard about a recent United Nation's resolution regarding Israel settlements in certain territories, including the Palestinian territory and West Jerusalem?"
In fact, there are no Israeli "settlements"—Jewish communities—in "West Jerusalem." West Jerusalem has been under Israeli sovereignty since the Jewish state was proclaimed in 1948. The poll evidently meant "East Jerusalem" which Israel captured in the 1967 war.
Similarly, question 14 asked respondents what they thought about "Israel's creation of settlements for Jewish people in territories such as West Bank and Gaza…."
But Israel has no settlements in the Gaza Strip, which is ruled by Hamas, a U.S.-designated terrorist group whose charter calls for a Jewish genocide. In fact, in the absence of negotiations with the Palestinian Authority (PA), Israel unilaterally withdrew from Gaza in 2005.
Commendably, Politico issued a correction on January 5 that noted the two errors above. However, the conclusions of the poll had already been broadcast. For example, The Times of Israel ran a January 4 story citing the poll's conclusions, entitled "More Americans support UN resolution on Israel than oppose it." That article highlighted that "while 35% or respondents back the anti-settlements Security Council resolution and 26% reject it, a plurality of 36% holds no opinion." But given the inaccurate wording of the poll's questions, it's fair to question its results.
Moreover, it's worth asking how such factually flawed questions managed to be included in a survey conducted by a leading, major publication in the first place.
Posted by SD at 04:34 PM | Comments (0)
Iran Planned Terror Attacks Against German Pro-Israel Advocates
Ayatollah Ali Khamenei, the Supreme Ruler of Iran

The Islamic Republic of Iran planned to assassinate a German pro-Israel advocate, according to The Jerusalem Post("Iran planned terror attacks against Israel advocates in Germany," Jan. 7, 2017).
Journalist Benjamin Weinthal, citing German media reports, noted that German federal prosecutors indicted a 31-year-old Pakistani named Syed Mustafa on Jan. 2, 2017 for espionage. Mustafa, a German Aerospace Center employee, is accused of working for Iran's Revolutionary Guard Corps.
Tehran reportedly paid Mustafa to gather information on the former president of the German-Israel Friendship Society, Reinhold Robbe. West German Broadcasting (WDR) reported, "Iran's intelligence agency's goal was to assassinate." Mustafa created a "movement profile" of Robbe and collected information on the headquarters of the German-Israeli Friendship Society. German authorities called these activities a "clear indication of an assassination attempt."
In addition to his work on behalf of the German-Israel Friendship Society, Robbe is also a former German Social Democratic Party deputy and parliamentary commissioner for the country's armed forces.
The Jerusalem Post noted:
"The indictment states Mustafa had been in contact with a person from Iran's intelligence agency responsible for espionage in Europe since 2011. German media said Mustafa's espionage activity was part of a larger Iranian operation to target pro-Israel groups in France, Germany and other European countries."
Mustafa is also accused of spying on a French-Israeli professor at a business college in Paris.
In addition to Mustafa, another Pakistani suspect was arrested. The unnamed individual was later released due to insufficient evidence—but only after he reportedly scrubbed his computer server of possibly incriminating information.
WDR reported that one theory for Iran's targeting of European pro-Israel groups is a desire to retaliate in the event of an Israeli strike against Tehran's nuclear facilities.
As Weinthal highlighted, "Tehran's targeting of a German politician is the first reported case of an Iranian intelligence operation working to assassinate a government representative in the Federal Republic."
It is, however, a sign of Iran's increasingly active intelligence operations on European soil. Weinthal noted, "Iran has a vast espionage network in the country [Germany] which coordinates with its embassy in Berlin." In July 2016, a 32-year old man was sentenced to two-and-a-half years in prison for spying on Iranian dissidents in Germany.
Iran assassinated Iranian dissidents in Germany and Austria in the early 1990s and late 1980s, as CAMERA has noted (see, for example "Iranian Agent Hides in Washington Post as U.S. Prof," Sept. 8, 2015). Many of those attacks were both planned out of Iran's Berlin embassy.
Henry Kissinger, the former U.S. Secretary of State, once argued that the Islamic Republic has to decide, "Whether it is a nation or a cause." If Kissinger's dictum is true, Iran's decision seems clear.
Posted by SD at 01:59 PM | Comments (0)
January 09, 2017
Modern Languages Association Votes Down BDS Resolution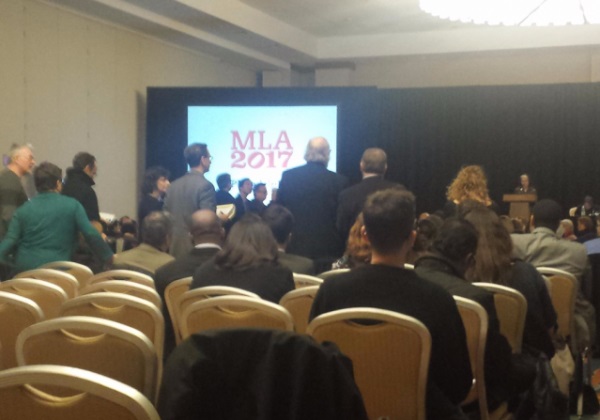 On January 5, 2017, The Modern Languages Association (MLA) has voted down a resolution calling for a boycott of Israeli academic institutions. The vote was 113 against the resolution and 79 in favor (59-41 percent margin). Moreover an anti-boycott resolution passed, with 101 voting in favor to 93 opposed. This is the second defeat of pro-boycott resolutions by academic associations notable for their leftward political orientation. Last spring the American Anthropological Association also voted down a boycott resolution.
The MLA was founded in 1883. It claims 25,000 members in over 100 countries. It "promotes the study and teaching of languages and literatures through its programs, publications, annual convention, and advocacy work."
An anonymous delegate at the MLA convention described the scene of the vote,
For the other 99% of conference attendees, on the other hand, the MLA was business as usual. The bar in the lobby of the Philadelphia Downtown Marriott was constantly packed, the atmosphere was social, festive, and gregarious. In the corridors just outside the rooms where the BDS focused sessions were taking place, you'd be hard pressed to detect that anything other than great fun. It's not clear how many of the estimated 8,000 or so conference attendees even knew, much less cared, about the drama at the Delegate Assembly this weekend.

Inside Grand Ballroom GH, where the Delegate Assembly meeting was held, you could feel the tension, but you also couldn't help but notice how empty the room was. The front half of the room, reserved for the actual delegates, was relatively full (although, given vote tallies, approximately two thirds were in attendance). The back half of the ballroom, reserved for the non-delegate audience, was strikingly vacant. A handful of activists and members of the press crowded the front two or three rows, followed by seven or eight rows of mostly empty seats.

This is the state of play at many of the BDS debates at student governments, faculty senates, and academic associations across the country.

Despite the press, the pomp, the social media storms, etc., the number of those invested is strikingly small. Yet the activist fringes constantly attempt to seize upon this apathy to hijack these associations with agendas of their own.
The defeat of the boycott resolution by an association that is situated within a political milieu in which anti-Israel activism is commonplace represents a significant setback for the BDS movement. Many MLA members commenting upon the vote indicated that they are tired of political grandstanding and want to see the association focus on issues directly relevant to their academic discipline.
The vote also reflects the hard work of academics opposed to anti-Israel resolutions. "Our work is not over with," said Cary Nelson, the Jubilee Professor of Liberal Arts and Sciences at the University of Illinois at Urbana-Champaign and the co-editor of The Case Against Academic Boycotts of Israel. Nelson said that "it will be a challenge" to garner enough votes in support of the anti-boycott resolution to meet that 10 percent threshold.
Posted by SS at 03:54 PM | Comments (0)
January 06, 2017
Global Immersion Project Ignores Incovenient Truth
On our main website, we recently posted an article about a poll of Palestinian public opinion conducted by the Palestinian Center for Policy and Survey Research headquartered in Ramallah.
The poll, which hasn't gotten much attention in the English-speaking media, offers some pretty discouraging information. It reveals that 62 percent of the respondents interviewed want to abandon the peace process as enunciated by the Oslo Accords and that 53 percent of respondents support an armed intifada against Israel.
The report also shows that more than 70 percent of the respondents want Mahmoud Abbas, President of the Palestinian Authority, to step down. Palestinians do not want Abbas as their president. This raises serious questions about the prospects for peace at least in the near term. Palestinians have apparently given up on a two-state settlement, support violence against Israel and do not support the presidency of the man Israel is supposed to negotiate with.
For one reason or another, this poll has not gotten much play in the international media, probably because it highlights the problems in Palestinian society that hinder the prospects for peace. Problems such as incitement, a refusal to acknowledge Israel's right to exist, corruption in the Palestinian Authority, and a crisis of legitimacy suffered by Mahmoud Abbas, contradict the "It's all Israel's fault" narrative that has taken root in many newsrooms and think tank offices.
Just to get a sense of how taboo the subject of Palestinian intransigence and hostility is, take a look at the image posted above. Yes, it's kind of grainy and disorienting, but it documents just how deep the denial goes.

The image is cell-phone photo taken by CAMERA researcher Dexter Van Zile, who had submitted a question to a webinar organized by the Global Immersion Project, a Christian organization that supports activists dealing with a number of issues throughout the world.
The webinar, which took place on Jan. 2, 2017, was offered as an opportunity to hear activists and experts about the issues surrounding UN 2334, the Security Council resolution which condemned the construction of homes for Israelis in the West Bank. The passage of this resolution on Dec. 23, 2016 sparked an enormous amount of debate, so the Immersion Project's to host a webinar on the subject was very timely.
As you can see from the photo, Dexter asked a very specific question in the "chat" window displayed alongside the vide of the webinar. The question read as follows:
Khaled Abu Toameh has reported that 62 percent of Palestinians support abandoning Oslo accords and 53 percent support armed intifada. Will this resolution intensify hostility?
As it turns out, the source for Toameh's information was the poll cited above, which had just been released a few days prior to the webinar.
For one reason or another, the question never got answered either in the discussion during the webinar itself, nor was it responded to in the "chat" window. It was simply ignored by both the organizers and the activists who were participating in the discussion. On one hand, that's no big deal, not every question gets answered.
But in this case, it was the only "chat" question submitted that was treated this way. All seven of the other questions were acknowledged and answered one way or another, but not this one.
Now why is that? It was a perfectly reasonable question in light of the history of the Arab-Israeli conflict. UN resolutions are regularly invoked to justify violence against Israelis by Palestinian terrorists. In light of this history, it seems perfectly reasonable to ask if UN Resolution 2334 will be used to justify another round of Palestinian violence.
Was the question ignored because Khaled Abu Toameh is the "wrong" type of Arab journalist, one who is willing to hold Palestinian elites accountable?
Is it because the person asking the question works for CAMERA?
Or is it because the question itself contradicts the narrative that the folks at the Global Immersion Project want to broadcast?
The last guess seems like the best explanation. When it comes to dealing with the Arab-Israeli conflict there are some things that the pro-Palestinian crowd simply does not want to talk about so they ignore questions (and public opinion polls) they don't want to hear. If data can't be used to justify the "It's Israel's fault" narrative, many so-called journalists and peacemakers simply ignore it.
But if the events of the past two decades have taught us anything, it is that we ignore reality at our own peril.
Posted by dvz at 02:11 PM | Comments (0)
January 05, 2017
Free Speech Crackdown on the Temple Mount
The Palestinians are trying to change history by outlawing the term "Temple Mount."
First they simply denied that there had ever been any Jewish Temples on the Temple Mount.
Then they sent out media advisories to journalists telling them that the term "Temple Mount" was illegitimate.
They brought resolutions to UNESCO that verbally erased the term "Temple Mount" and described it only in Muslim terms.
And now they've cracked down on an archaeologist who used the term during a tour he guided for university students on the Temple Mount. As the Jerusalem Post reports:
Jerusalem Prize winner and Temple Mount Sifting Project cofounder Dr. Gabriel Barkay said he was guiding an interfaith group of 22 undergraduates from UCLA when he was interrupted by an Arab guard for making the seemingly innocuous reference.

"I was lecturing about the history of the Temple Mount to the students, some of whom were Muslim and Christian, and one of the Wakf guards tried to listen to my explanations, and when he heard the words 'Temple Mount,' he got upset," Barkay said.

The guard then consulted with nearby police officers stationed on the compound, who told Barkay to cease using the term for the duration of the visit.
What next? Will they burn all books that mention the Temple Mount? Destroy all historical accounts?
Read more about the battle over Jerusalem and the Temple Mount here.
Posted by RH at 01:34 PM | Comments (1)
January 04, 2017
Incomplete Headlines Mislead on Elor Azaria Shooting
After an Israeli military court today convicted Israeli soldier Elor Azaria of manslaughter for fatally shooting a wounded Palestinian assailant in Hebron last April, several media outlets published incomplete and misleading headlines, ignoring the fact that Fatah al-Sharif was an assailant while noting only that he was wounded.
Clearly, obscuring the fact that the wounded Palestinian subsequently shot dead is an assailant who just carried out an attack is a gross distortion of the facts surrounding the case. Several months ago, Presspectiva, CAMERA's Hebrew department, called out Haaretz's English edition for repeated headlines failing to identify the wounded Palestinian as an assailant while the Hebrew edition did commendably note the key fact that he was an attacker. Since then, Haaretz's English edition has significantly improved and has routinely identified the wounded Palestinian whom Azaria shot dead as an assailant.
Today, several international media outlets are guilty of publishing similarly misleading headlines. The New York Times' original headline , for instance, was: "Elor Azaria, Israeli Soldier Who Shot Wounded Palestinian, Guilty of Manslaughter."

Following CAMERA's communication with The Times, editors promptly revised the headline to reflect the fact that the Palestinian was an assailant. The amended headline reads: "Israeli Soldier Who Shot Wounded Palestinian Assailant Is Convicted of Manslaughter."
Similarly, AFP's original headline noted that al-Sharif was "prone," but ignored the fact that he was an attacker:

After CAMERA objected to the misleading headline, AFP editors implemented a marginal improvement. Instead of adding the information that the Palestinian was an attacker, they opted for less information, removing the fact that he was prone. As of press time, the most current AFP headline is:

CNN, too, originally went with the skewed headline, as the following early screen shot shows:
As of press time, CNN improved its headline, which now states:

Al Jazeera's headline likewise refers to the fact that Al-Sharif is wounded and ignores that he was an attacker: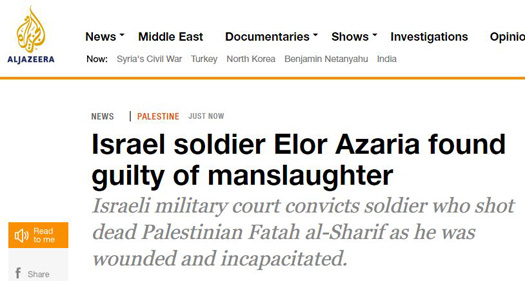 The story was much the same at The International Business Times:
In addition, CAMERA's UK Media Watch has flagged the same misleading headlines at The Guardian and The Telegraph.
Posted by TS at 06:51 AM | Comments (2)